Create a traditional Christmas look at home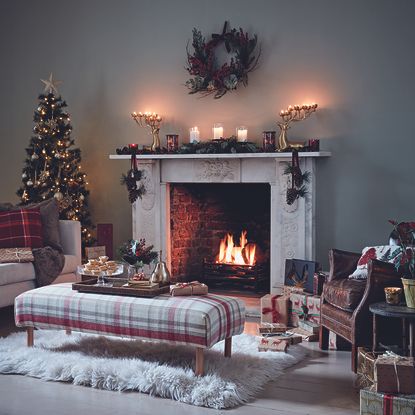 Promotional Feature
When it comes to Christmas, we all appreciate a snug, relaxed feel. From crackling logs on the fire to soft candlelight and glittering decorations in red and green, we love a bit of tradition, too. So when decorating your home this holiday, turn to the Winter Cottage collection by Sainsbury's. Packed with charming seasonal delights, rich colours and classic decorations, it's all you need to create a welcoming, cosy cottage look.
A tree that sparkles with lights and baubles has to be at the heart of any living room and, if you want one you can reuse year after year, we'd recommend an artificial Christmas tree. Decorate it with fabulous gold and silver baubles, as well as some delicate stars, and it'll draw your guests' eyes towards it as soon as they enter the room.
Now turn your attention to the mantelpiece. We love these stunning Reindeer Tea Light Holders (opens in new tab), £30 each, which would also look amazing as a dining table centrepiece. As well as creating an interesting shape above a fireplace, they add instant height. Layer the base of the mantelpiece with a few sprigs of natural-looking faux foliage, berries and pine cones, then place a Large Pillar Centrepiece (opens in new tab), £25, in the middle. Finish with smaller red tealight holders at either end. With its gentle candlelit glow, your mantelpiece will look effortlessly elegant. As a bonus, the rich, spicy aroma of cinnamon and cloves, created specially for Winter Cottage candles collection, is fabulously festive.
For a side table, echo your mantel decoration with more faux foliage and a display of glistening baubles and cones. And provide a focus in a cosy corner with a Wooden LED House (opens in new tab), £6, a glass-domed festive scene, or a pretty gel candle. You could even decorate a chest of drawers with deer doorknobs from the Winter Cottage collection. Then add a few special touches by hanging an illuminated Heart Wreath (opens in new tab), £15, on the wall, or place a pear decoration on a wooden tray stacked with tempting mince pies.
Finally give your furniture a warm winter feel with some faux fur and traditional plaid textiles, such as a rich red Check Cushion (opens in new tab), £12. Finish with a few luxurious throws and you'll have the perfect festive scene to welcome your guests and make them feel relaxed and ready to join in the celebrations. A Merry Christmas to all!
The Winter Cottage collection is available in store now at selected Sainsbury's stores. To see more and find your nearest store, visit sainsburyshome.co.uk (opens in new tab)