The forgotten ones? The people behind the headlines of Covid-19 care homes crisis
We spoke to three women about what it's like to live and work in a care home during Covid-19.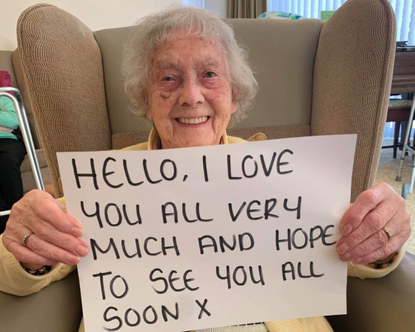 (Image credit: Craig Healthcare)
woman&home newsletter
Sign up to our free daily email for the latest royal and entertainment news, interesting opinion, expert advice on styling and beauty trends, and no-nonsense guides to the health and wellness questions you want answered.
Thank you for signing up to Woman & Home. You will receive a verification email shortly.
There was a problem. Please refresh the page and try again.
Our relationship with care homes is deeply personal.
For those with a relative in care, it's a safe place for our loved ones, where the vulnerable are protected. But the current narrative around care homes is truly terrifying.
It's estimated that around 2,400 are dying in care homes from Covid-19 related deaths per week, with experts predicting that daily figures will soon mirror those in hospitals. Media reports have circulated about staff resorting to bin bags for protection. There have been chilling tales of relatives denied the chance to say goodbye. Hans Kluge, WHO regional director for Europe, has called the situation "an unthinkable human tragedy".
The statistics are ominous, with over 2,000 homes affected. But behind the stats and headlines is another story of remarkable courage in the face of dire adversity. woman&home spoke to three women affected by the current Covid-19 crisis in care homes about how they, and their care home residents, are coping.
How carers are uplifting residents during the Covid-19 crisis
"When we had to close the doors of the home, the first thing we made clear was that the mental and social stimulation of our residents is absolutely key to their life," Lucy Craig, who runs two care homes under Craig Healthcare in the North East, Cramlington House and West Farm Care Centre, told us."Allowing them to still feel happiness is crucial - and the response from the team has been phenomenal."
So far there have been no cases of Covid-19 within these homes, but Lucy and her team are bracing themselves for what they believe is the inevitable. In order to curb anxiety and uplift the residents, the team have introduced new activities. "We have an entertainer called Alfie, and he now sings from the car park," she told us. "We've put Alexas throughout the rooms so residents can have joint singalongs. There was a movie night last week, where the team created a kiosk in the lounge and set up a big screen, so it was like a little cinema. They've even been playing dance music on the Alexas and having a little rave."
Karen is a care worker for disabled adults in Greater Manchester. She believes this difficult time has revealed some truly exceptional professionalism and dedication within her team, and wants to nominate a colleague, Amy, who has recently joined the team, for an award. "Amy should win Carer of the Year, as she's displayed such incredible individual care to lift the spirits of residents when they can't see family. One resident loves the Sound of Music, so she organised a singalong karaoke night. Another loves Easter, so she decorated his room with bunting and chocolate eggs."
Maintaining a positive outlook during this time is not easy. For many working and living in care homes, the worst is yet to come."The virus will come to us, we know it will," Lucy told us. "There's nothing we can do. But all we can do is wait until we have our first outbreak and learn about how we manage it. We've never had to deal with something as brutal as this virus. The anxiety throughout the team comes in peaks and troughs."
The impact on residents of being separated from family
"It's almost more heartbreaking for the relatives, than it is the residents in care" Lucy told us. "People are really really really missing them - their mum, their dad, their grandad, their brother and they feel helpless because they're on the outside. It's awful - really, really awful. But we have no choice at the moment."
With ominous headlines saturating front pages and news feeds, the anxiety of living in a care home can become overwhelming - for both residents and their relatives. Carol, whose mum suffers from dementia and lives in a care home in Greater Manchester, has found seeing her mum upset particularly difficult. "I skype mum on Mondays, and my brother does the same on Fridays. At first she didn't understand and would cry, which was upsetting and we both used to dread communicating with her, thinking we were just upsetting her more. Sometimes, she would be really upset and the carer would give her a hug and she'd cling on to them. Now she's more used to it and smiles, and also sings. We show her pictures and videos of her grandson, which she likes."
Uncertainty about the future and when she will be reunited with her mum, is another big worry for Carol. "We don't know when we will see her again. It was a relief when Matt Hancock said that relatives could go and visit the dying, when previously we thought we wouldn't be able to. But we would like to see her alive!"
Matt Hancock's new proposals to allow relatives to be with those in care homes who are gravely ill curbed some anxiety regarding a final goodbye with loved ones. Revised guidance stated that while care homesshould limit unnecessary visits, "we are clear that visits at the end of life are important both for the individual and their loved ones and should continue".
"If we do have a situation where it is the end of life, we'll invite the relatives in, and do it safely," Lucy told us. "I'm not letting them die alone, just because someone said you need to close your doors."
Have care homes been forgotten during the Covid-19 crisis?
The government has been widely criticised for its treatment of care homes during Covid-19, withthe Association of Directors of Adult Social Services (Adass) calling the national delivery of protective equipment to care homes 'shambolic', as reported by the Guardian.
When George Eustice, Secretary of State for Environment, Food and Rural affairs wasasked whether the risk of spread in care homes had been overlooked by the government, he told BBC Radio 4's Today programme, "I don't accept it was overlooked but obviously there was a real focus on the NHS because there were concerns it might be overwhelmed. But in the case of care homes we've always recognised there was more vulnerability there and that residents were more susceptible to this virus. That is why a lot of things were done in making sure they could get some PPE – we all know there have been challenges with PPE."
Unsettling reports have circulated within the media of care workers having to resort to bin bags for protection, prompting the obvious question of whether more could have been done, and more quickly. "The government just passed the buck over to the owners, when they should have funded and distributed it themselves," Carol told us. "The government is trying to 'flatten the curve' of their own bad public relations and their failure to buy stocks of PPE in January when this virus started to spread."
Testing in care homes has been another overriding issue. As of this week, testing will now be made widely available to all care home residents, including care home staff, with or without symptoms. Yvonne Doyle,director of health protection for Public Health England, offered some words of reassurance for care workers on testing. Speaking at the daily parliamentary briefing on Wednesday, she said, "There has been a huge effort at both national and local level to get the tests to the homes, to make sure staff get the testing they need. This will continue for some considerable time until we are convinced that we have got under this epidemic in the care homes. People are absolutely passionate about getting this right, but it is a massively complex sector."
Karen argues that while testing will undoubtedly help, there are other, deep-rooted issues that need to be addressed. "The main thing is that because many of us are on a low income, we don't have cars and are still having to come in on public transport," Karen, who works at a care home in Altrincham, Manchester, told us. "That's obviously a risk to ourselves and the residents."
What the future holds for care homes
Covid-19 has shone a stark spotlight on the vulnerabilities of our society - but also its great strengths. Most specifically, the strength of those on the front line and how their commitment and resilience is our only lifeline when it comes to protecting what we value most, our loved ones.
Carers, like doctors, nurses, shop assistants, cleaners, porters and any other key workers who are risking their health so we can be safe, truly are superheroes and their protection is vital for us all.
"I agree with Rachel Reeves that there should be a Royal College of Social Care like there is a Royal College of Nursing to raise the status of carers and caring in general," Carol told us. "There need to be proper changes. We need laws to ensure proper funding and recognition of care being a vital part of life at various stages. We need honesty about how we value them - it has to be more than a one-minute silence for those who have died in service."
For those working in homes, they're planning for the future as best they can. "Even when it hits us, the joy and happiness we bring the residents has got to continue. We're going to be living with this for a long long time and, in the short term, it's learning how to live with it.
"Once the government opens our homes, we certainly won't open our doors and let everyone in on that day as normal. It will be a phased return and we'll have to be exceedingly careful. A percentage of the population may go back to normal, but for us in care homes, that won't be for an incredibly long time."
Sign up to our free daily email for the latest royal and entertainment news, interesting opinion, expert advice on styling and beauty trends, and no-nonsense guides to the health and wellness questions you want answered.
Lauren is the former Deputy Digital Editor at woman&home and became a journalist mainly because she enjoys being nosy. With a background in features journalism, Lauren worked on the woman&home brand for four years before going freelance. Before woman&home Lauren worked across a variety of women's lifestyle titles, including GoodTo, Woman's Own, and Woman magazine.