Ten brilliant authors reveal their all-time classic reads—and why they love them
Your favorite writers, including Bernardine Evaristo and Richard Osman, share their all-time classic reads and why they love them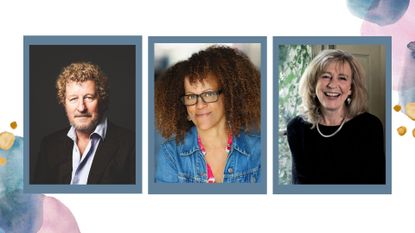 (Image credit: Future)
Some of our favourite authors have revealed their all-time classic reads below and no, they didn't choose their own books!
It's one thing reading the works of fabulous writers such as Sebastian Faulks, Paula Hawkins, or Richard Osman. But hearing them share the literary work they themselves adore is very special, and a great way to discover new reads.
Below, you'll discover some of the best books of 2021 as well as classic reads that the pros themselves love to dive into—from Isabel Allende's feminist books pick, to Deborah Moggach's favourite set in 1850's Pakistan.
Whether you are looking for a new book club book to read in 2022, or just want some literary inspiration for your downtime, discover the classic books that some of the best authors of the moment love, as well as the reasons behind their admiration. After all, they're the experts...
All-time classic reads as chosen by top authors
Isabel Allende
Born in Peru and raised in Chile, Isabel Allende is the world's most widely read Spanish-language author. She has written a number of critically acclaimed books that have sold more than 74 million copies worldwide, including The House of the Spirits and A Long Petal of the Sea. Her newest book is a feminist memoir, The Soul of a Woman. She lives in California with her husband and two dogs.
Isabel's all-time classic read is: Cassandra Speaks by Elizabeth Lesser
Elizabeth says about her chosen read, "Cassandra Speaks is a feminist book exploring the myth of a beautiful woman who is cursed by Apollo. He gives her the power to see the future, but nobody will believe her or hear her voice. That's the curse of women—we know better, yet our voices are ignored."
Linwood Barclay
American-born Canadian author Linwood Barclay is known for writing some of the best thriller books and has over twenty novels to his name. This includes Time For Goodbye, which was one of the biggest selling books in the UK when it was released in 2008. His latest book, Find You First, sees tech billionaire Miles facing a terminal illness. Deciding to track down the children who aren't even aware he exists, he finds there's someone a step ahead of him—a killer—and now it's a race against time. Linwood lives with his wife in Toronto and they have grown-up children.
Linwood's all-time classic read is: The Goodbye Look by Ross Macdonald
Linwood says about his favorite read, "I discovered The Goodbye Look when I was 15, and in many ways it changed my life. Here was a detective novel that was about so much more than solving a mystery. It tackled social issues, family dysfunction. No author has made a greater impression on me than Macdonald."
Erin Kelly
Sunday Times bestseller, Erin Kelly, knows a thing or two about what makes a compelling psychological thriller—she's written a few of them. Author of He Said/She Said, Stone Mothers, and The Poison Tree, Erin also wrote the novelization of popular TV crime drama, Broadchurch. Her new novel, Watch Her Fall (one of our best mystery books this year), is set in the cut-throat world of ballet—the perfect backdrop for a twisty thriller that's sure to leave you breathless. Erin lives in North London with her husband and two daughters.
Erin's all-time classic read is: Astonish Me by Maggie Shipstead
Erin explains, "There is hardly any fiction for adults about ballet, it's mostly YA. Astonish Me is about a ballet dynasty set in 70's New York—a stunning book about a ballerina who moves to the suburbs after her career is over. It's about how she comes to terms with that and is loosely based on the American Ballet Theatre. This is a beautifully written story."
Lucinda Riley
Lucinda Riley sadly passed away in June 2021, just as the newest book in her acclaimed Seven Sister series rocketed to number one across the globe. Irish-born Lucinda was the best-selling author of many successful stand-alone novels, but it is the Seven Sisters series that became her magnum opus. Based on the legends surrounding the Seven Sisters star cluster, her books follow the journey of each adopted sister as they visit their past. In her newest novel, The Missing Sister, we finally got to meet the last sibling.
Lucinda's all-time classic read was: Tender Is The Night by F. Scott. Fitzgerald
In an interview before her passing, she told w&h about her classic read, "I aspire to be like Francis Scott Fitzgerald. He can say in a sentence what I have to say in a paragraph. His writing is simply exquisite and he is most certainly my hero. Jeffrey Archer once said to me, 'I always read up.' I thought that was very interesting. I want to read books that are beautifully written, which Tender Is The Night most certainly is."
Deborah Moggach
Novelist and screenwriter Deborah Moggach, OBE, is perhaps best known for writing These Foolish Things—the book behind the hugely successful film The Best Exotic Marigold Hotel. However, her celebrated works also include historical fiction books such as Tulip Fever and a screenplay for Pride and Prejudice, for which she was BAFTA-nominated. Deborah's 20th novel, The Black Dress follows the misadventures of Prudence, a funeral crasher who would quite like a nice, wealthy widower. Deborah spends her time between London and a cottage on a beach in Kent. She has two children and three grandchildren.
Deborah's all-time classic read is: The Siege of Krishnapur by JG Farrell
Deborah says about her top read: "I lived in Pakistan for a couple of years so I particularly love The Siege of Krishnapur. It's set in the Indian mutiny in the 1850s, about a whole lot of Brits barricaded in a government building during attacks by the Indian army. It takes a historical incident and makes it human. It's very touching. Everyone has their foibles and failings and vulnerabilities. There's a moment when one of the men keeps blinking and invents modern cinema without even realizing it. It's heaven."
Paula Hawkins
Best known for her global phenomenon The Girl On The Train—later turned into a successful film starring Emily Blunt—Paula Hawkins returned this year with her third novel A Slow Fire Burning. Exploring how far people will go when put in extreme circumstances, we meet Laura, a character who has been judged most of her life, which is all too evident when she finds herself in the wrong place at the wrong time.
Paula's all-time classic read is: No Country For Old Men by Cormac McCarthy
She says, "I think everyone should read No Country For Old Men just because of his great writing—and he's so smart. At the sentence level, it's magnificent, but it's also a very insightful portrait of America at a particular time with an old man looking back at things going wrong. It's extremely powerful."
Celia Imrie
Writer and actor Celia Imrie has set three of her previous books in Nice, and Orphans of the Storm—her first historical novel—takes us back to the city in 1911. Celia is an Olivier Award-winning actress who's featured in some of our best-loved TV shows and films, including The Best and The Second Best Exotic Marigold Hotels, Calendar Girls, and Nanny McPhee.
Celia's all-time classic read is: The Woman In White by Wilkie Collins
The actress says about her favourite read, "There are so many different characters in The Woman In White, all telling the story from their own point of view—and with each one, you think, 'This is my favorite'. As an actor, you start casting the parts in your mind. The more wonderful the characters are, the more you want to play them."
Sebastian Faulks
An author featured on our best books of all time list, Sebastian Faulks CBE, is perhaps best-known for Birdsong—now a classic of modern English literature. In his latest book, Snow Country, we journey to Austria where Anton, a young journalist, and Lena, born with nothing but a strength of character, fatefully cross paths at a sanatorium. Fans will recognize the setting from his much-loved book Human Traces. He lives in west London with his bookseller wife, Veronica. They have three children and a blue whippet called Hector. Sebastian's last book was dedicated to Hector, who is his best friend.
Sebastian's all-time classic read is: Towards The End Of The Morning by Michael Frayne
Sebastian says about his choice, "This comic novel, Towards The End Of The Morning, set at an obscure national newspaper in 1960s Fleet Street, sees a journalist's dream of fame and gentlemanly life realized. I like it because it made me laugh so much I fell out of bed."
Richard Osman
Presenter, comedian and producer Richard Osman is certainly having a moment. Not only can you see him on your TV, but his debut novel The Thursday Murder Club was also a runaway success, making it one of the biggest-selling books of last year. In his second book The Man Who Died Twice, he re-visits our favorite residents in a retirement community, Coopers Chase, and they're all set to solve yet another murder—only this time the stakes are even higher. Richard lives in London and has two grown-up children.
Richard's all-time classic read is: Grown Ups by Marian Keyes
Explaining his choice, Richard said, "I think Marian Keyes is the most wonderful woman and the most wonderful writer. She just gets better and better. She is a writer who believes in the best of us. She shows people's foibles but she also shows the love that binds us together in a very real way. I'm a big fan and really enjoyed Grown Ups."
Bernardine Evaristo
Bernardine Evaristo is a British author and academic. In 2019, she became the first black woman to win the Booker prize for her eighth book, Girl, Woman, Other. She is a professor of creative writing at Brunel University London and a fellow of the Royal Society of Literature. Her new book Manifesto On Never Giving Up is an intimate and inspirational memoir about her journey as a writer. She lives in London with her husband.
Bernardine's all-time classic read is: Burnt Sugar by Avni Doshi
"Burnt Sugar is Avni Doshi's debut novel, which was shortlisted for the Booker prize last year," she said. "It's a razor-sharp tale of love and betrayal, focussing on the dysfunctional relationship between a grown-up daughter and her troubled mother. It's the kind of story that will have you totally gripped."