A tribute to best-selling novelist Lucinda Riley—the woman behind the fantastic Seven Sisters series
With the sad news of Lucinda Riley's death, Books Editor Zoe West reflects on the time she spent talking to the author about her life and career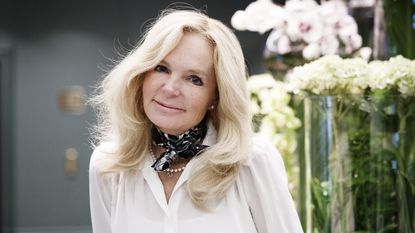 (Image credit: Roni Rekomaa/Lehtikuva)
woman&home newsletter
Sign up to our free daily email for the latest royal and entertainment news, interesting opinion, expert advice on styling and beauty trends, and no-nonsense guides to the health and wellness questions you want answered.
Thank you for signing up to . You will receive a verification email shortly.
There was a problem. Please refresh the page and try again.
It was just ahead of The Missing Sister release this year that I caught up with Lucinda Riley, the best-selling novelist who wrote many successful standalone books. She was perhaps best known for her Seven Sisters series which took its readers around the globe on a journey of self-discovery and mystery. Sadly, Lucinda died on June 11th of this year, following a battle with cancer.
Lucinda was one of those lovely warm, compassionate people you felt like you'd known your whole life. An interview that was meant to last an hour, went on for three as we happily talked about her books, life, her beloved Ireland and generally putting the world to rights. Lucinda's books were hugely popular, but like the sisters, and indeed Pa Salt himself, she was quite a mystery to her readers. She didn't really like to give interviews in the UK and was a very private person. Who would have guessed that she'd once been a successful actress, notably playing Bomber's daughter in the popular '80's program Auf Wiedersehen Pet.
Lucinda sadly passed away in June, just as her book rocketed to number one across the globe and was proclaimed by man. as one of the best books of 2021. From the readers who have been in touch with me,—and from what Lucinda told me herself—it is clear her books have meant so much to so many people and helped many through difficult times.
Lucinda's family have heard from many readers offering their condolences and asking to send flowers. Instead, they have asked for people to send donations to Mary's Meals, a charity, which readers of The Seven Sisters series will know Lucinda has supported for many years.
There is something for Lucinda Riley fans to take heart from though...
The eighth final novel in Lucinda Riley's Seven sisters story will be released in 2023
And, as fans of her books will know, Lucinda announced an eighth final novel in which she would reveal the question at the heart of the Seven sisters story: Who Is Pa Salt and why did he adopt the sisters? It has recently been announced that her son, Harry—armed with all the secrets of the series—will write that book, due to be released in Spring 2023.
w&h's interview with Lucinda Riley
Zoe West, Woman&Home Books Editor spoke with Lucinda in February 2021 about her highly-anticipated seventh book in the Seven Sisters series, as well as her life, career, and her writing.
---
Irish-born Lucinda Riley was the best-selling author of many successful stand-alone novels, but it is the Seven Sisters series that became her magnum opus. Based on the legends surrounding the Seven Sisters star cluster, we follow the journey of each adopted sister as they visit their past. In her newest novel, The Missing Sister, we finally get to meet the last sibling. Lucinda lives with her husband, Stephen, in Norfolk and West Cork. They have seven children between them, a Labrador named Maia and two cats, Murphy and Tiggy.
As a novelist, I've spent the past 28 years in a lockdown of sorts because of the way I write—which is in a solitary state wherever in the world I am researching.
So, it has been interesting. I have a large family, and when they announced the first lockdown, I already had two of my children at home, and the rest flew home immediately. We moved house the week before lockdown was announced, so it's been busy, but I look at it in a positive light. It's like borrowed time—extra time with the children. I always say to my husband, 'Tomorrow will be quiet,' but it tends to end up busier.
I studied classical dancing as a child, but unfortunately, I have the constitution of a lamb rather than an ox.
One of my knees gave out at 16. My mum was an actor and I just happened to be at a ballet school where directors scouted for young performers. I got to play one of the lead roles in a BBC1 TV series, The Story of the Treasure Seekers, and later Auf Wiedersehen, Pet, so it was quite a smooth transition from letting go of my dreams of dancing to becoming an actor. It wasn't until I contracted Epstein- Barr virus that I found myself bedridden and wrote my first book, Lovers and Players.
The idea of The Seven Sisters came to me rather unromantically, standing outside the back door of our home in Norfolk.
It was that time between Christmas and New Year when I still had all the family staying with me. I went outside to get some air. As I stood there, looking up into the sky and thinking about whether to cook turkey again or spaghetti bolognese, I looked up at the Seven Sisters, as I often did. I knew at some point I wanted to write a series, and it was then I had this light-bulb moment. I rushed into everyone and sat in front of the fire with the family gathered around me, and I told them about it. I knew I'd found my inspiration.
I then read more about the Seven Sisters.
They are in every mythology in every single country. I followed Greek mythology. There are so many anagrams through my books, which allude to mythology and history. I would always urge my readers to go back and read the stories again for more historical detail and clues.
I tell my Dictaphone everything first. It's just the two of us.
The sisters fill up my world for the three to four months of writing, and I work 24/7 just to get that initial story plot and characters down. I am so emotionally involved. I'm the first person to laugh and cry at what the sisters do. And before I start writing the stories, I have gone on their journeys, researching in their stead. I have stepped where Ally went in Norway, I have been to Granada where Tiggy visited. This last book, The Missing Sister, is perfectly set mainly in my valley, in Ireland.
I thought I knew about Irish history.
But, as I began researching this last book, I realized what I knew was full of holes. Fortunately, my fantastic West Cork community helped me through. There's nothing like speaking to the people who live where you're writing about. A lot of history is subjective and based on memory. With this book, in particular, I had to get the research right and make it locally accurate.
History has always been my passion since I was a little girl.
If I wasn't a novelist I would be in the bowels of The British Library, surrounded by dusty history books. The way the subject is sometimes taught can put students off – you're just given a lot of dates. In historical fiction, you're not patronized but you learn through the characters. Like osmosis, it makes history interesting by turning it into a story.
To choose one of the sisters is like choosing between my children, but…like when you have a new baby, they take up a lot of your life for a while and I guess that's the missing sister for me at the moment.
If I was to be one of the sisters, I would probably be a mix between Ally and Tiggy. Someone did my chart once and said I'd always be torn between the two sides of my life because I was born on a full moon at an eclipse. I am quite needy domestically and want that grounding of my family. But the other half of me is creative, spiritual, and free, believing in another level to life.
You're only as good as your next book, so it's terrifying starting a new one.
But this time I felt real pressure, as readers seem to be very excited about meeting the last sister. These books have become my life and the sisters have become my imaginary sisters.
I have written a children's book with my son, Harry.
When the children were younger and about to encounter a scary situation, I'd send them off with a guardian angel, someone to look over them when I couldn't–the Tiggy side of me. It's now going to be a series, illustrated by the talented Jane Ray. We're all excited about it. The first one is called Grace and the Christmas Angel, and is out in October.
And in other news…
It looks like The Seven Sisters will soon be made into a TV series. I can hardly believe it!
Shop The Seven Sisters series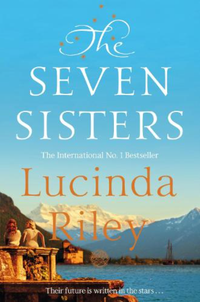 (opens in new tab)
The Seven Sisters by Lucinda Riley | $10.23/£7.37, Amazon (opens in new tab)
Released in 2014, this is the first book in the series about the lives and loves of the sisters.
---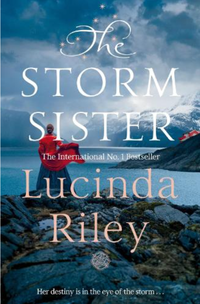 (opens in new tab)
The Storm Sister by Lucinda Riley | $10.23/£7.37, Amazon (opens in new tab)
The second book in the series, released in 2015, it follows the story of Ally D'Aplièse.
---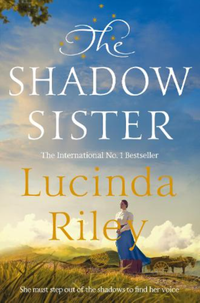 (opens in new tab)
The Shadow Sister by Lucinda Riley | $10.23/£7.37, Amazon (opens in new tab)
The third book released in 2017 focuses on Star D'Aplièse.
---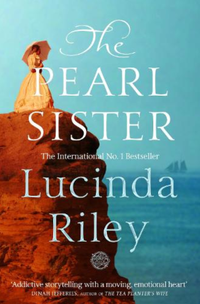 (opens in new tab)
The Pearl Sister by Lucinda Riley | $10.23/£7.37, Amazon (opens in new tab)
Follow the story of CeCe in the fourth book in the series, released in 2017.
---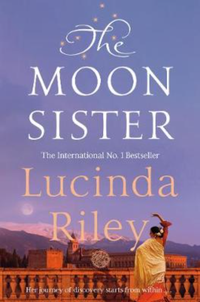 (opens in new tab)
The Moon Sister by Lucinda Riley | $10.23/£7.37, Amazon (opens in new tab)
The fifth epic story follows Tiggy. This book was released in 2018.
---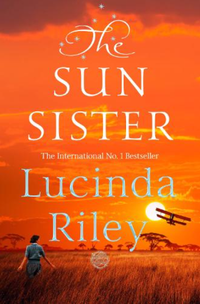 (opens in new tab)
The Sun Sister by Lucinda Riley | $9.70/£6.99, Amazon (opens in new tab)
The sixth novel in the series tells the story of Electra—released in 2019.
---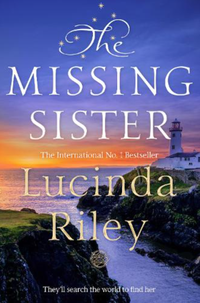 (opens in new tab)
The Missing Sister by Lucinda Riley | $10.23/£7.37, Amazon (opens in new tab)
The seventh installment released earlier this year in 2021 sees the six sisters on a mission to find the seventh sister.
Books Editor - Woman&Home
It's safe to say, woman&home's Books Editor, Zoe West has read a LOT of books.
As an avid young bookworm obsessed with the adventures of The Magic Faraway Tree and the misadventures of red-haired orphan, Anne Shirley, Zoe never lost her love of reading - and the fact she now gets to do it as her job is a constant source of wonderment for her.
When Zoe isn't reading she is interviewing authors, hosting live events where she gets all the gossip, and seeking out exciting new writers she can't wait to tell her readers about.