Cyber Monday deals 2021: the very best discounts to shop before they go
The Cyber Monday deals have officially arrived, so if you missed out on the big sales this week, there are still amazing savings you can shop right now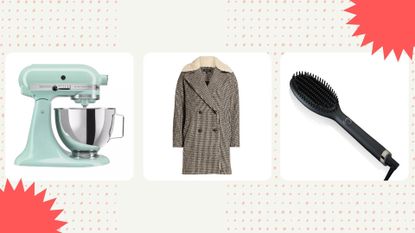 (Image credit: Future)
Cyber Monday 2021 has officially landed, with some of the best deals we've seen all Cyber weekend. Remember: today's your last chance to shop some major deals, so don't miss out on the savings.
Just when we think the Black Friday sales can't get any better, Cyber Monday deals come along and knock us off our feet.
Cyber Monday officially kicks off today, and we're already seeing some major savings from the likes of Amazon, Boots, John Lewis, & Other Stories and many more.
It doesn't come as a surprise, then, that previous years have seen almost double the number of discounts on fashion and footwear on Cyber Monday compared to Black Friday. So whether you're shopping for brilliant Christmas gifts, or just, you know, some seriously good gifts to self, there's no doubt that these last chance deals are worth your attention.
The best Cyber Monday deals and discounts to shop today
Where to find the best Cyber Monday deals in the UK
Where to find the best Cyber Monday deals in the US
Everything you need to know about Cyber Monday
HOW TO GET THE BEST DEALS ON CYBER MONDAY
"If you spot what you want with 'bargain' price tag, plug the details into a shopping comparison site like Idealo or PriceSpy to check you've bagged the best price, or with Amazon, its own price tracker camelcamelcamel.com/ number crunches prices all year so you'll know if today's deal really is the best price," advises Personal Finance Expert Sue Hayward (opens in new tab).
If you've waited for the Cyber Monday sales, chances are you're well practiced in patience, so pay caution on the day and don't just pounce on the first discount you see.
Luckily, though, our editors will be regularly keeping you up to speed with the biggest and best savings throughout Cyber Weekend, and sharing them on this page. So be sure to bookmark this article and check back for a regular briefing on the very best Cyber Monday bargains throughout the day.
"The way you pay can boost your rights," Sue adds. "If you're buying something over £100, paying by credit card means you can tap up your card company for a refund if the company goes bust or items are faulty and the company won't play ball. Debit card payment offers protection under the 'Chargeback' scheme but it's a voluntary scheme. Never ever pay by bank transfer, however convincing the seller's excuse."
Remember: set yourself a budget (and stick to it), only buy what you can afford, and never buy something that you wouldn't want at full price anyway.
HOW IS CYBER MONDAY DIFFERENT FROM BLACK FRIDAY?
Black Friday and Cyber Monday used to be distinctly different, in that Black Friday was typically reserved for in-store shopping (remember all those 6am queues?), and Cyber Monday was its e-commerce equivalent.
Now, though, as most people turn to shopping solely online, the two days have become more interchangeable, with most retailers now offering a whole weekend of deals (hence why you're probably seeing the term Cyber Weekend everywhere), as opposed to just one day of deals.
That doesn't mean that Cyber Monday isn't worth getting excited about, though.
Historically, Cyber Monday offers better deals than Black Friday, with retailers keen to see out the last of their pre-Christmas sales with pizzaz.
There's also the fact that shoppers tend to spend more in the Cyber Monday sales, with research from Adobe's yearly shopping insights report finding that retailers reported a landmark $10.8 billion in overall revenue on Cyber Monday versus Black Friday's $9.0 billion last year. With that in mind, brands are more likely to come down on price on Cyber Monday if they know that we customers are willing to spend more money.
WHAT IS THE BENEFIT OF SHOPPING ON CYBER MONDAY?
Aside from the obvious – i.e. shopping your favorite brands for a fraction of their original price – there are many benefits of shopping on Cyber Monday.
Firstly, there's the fact that some retailers tend to save their biggest and best discounts until the final day of Cyber Weekend. Why? Because the incentive of the sales may have worn off for some customers, meaning retailers will want to up the stakes in an attempt to make as many sales as possible before the offers begin to disappear. (And disappear they will, so be sure to head to checkout as early as possible on Monday.)
There's also the very practical benefit of waiting, rather than blowing your whole Cyber Weekend budget on the first day. Saving your spending until Cyber Monday allows you to mull over your purchases; ensuring you only spend money on something you really want, rather impulse buying a number of things for the sake of it.
Make a list, tally up the Christmas gifts for her and Christmas gifts for men that you want to buy, do your research into the best hair dryers or best straighteners so you know which ones you want to get and then prepare to pounce on the best Cyber Monday deals when they drop. With stock levels already running low, these deals will only be around 'while stocks last' - which doesn't look like long to us.