The best blenders for smoothies to help you mix up your favourite combinations
Give your diet a nutrient boost with our pick of the best blenders for smoothies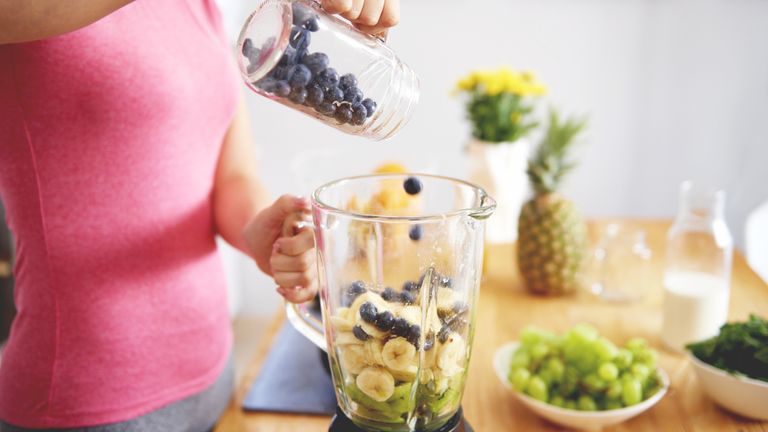 (Image credit: Getty Images)
On the hunt for one of the best blenders for smoothies? Look no further than our guide to the top picks currently on the market.
Be honest – do you always get your five portions of fruit and veg every day? You're not alone. According to Gunter Kuhnle, a professor at the School of Food and Nutritional Sciences at the University of Reading, "Less than a third of UK adults eat at least five portions of fruit and vegetables a day". One of the best ways to up your intake of fruit and veg quickly is to throw your favorites into your best blender – or one of the best food processors – and blitz it up, making our fruit and veg much easier to digest.
The difference between a smoothie blender compared to a general blender, is that the best blenders for smoothies are generally smaller and more compact, to reduce food wastage and to make the perfect size smoothie for one or two. Smoothie blenders are also generally designed to better whizz up frozen fruit and veg - two main smoothie ingredients - than regular blenders.
Nowadays, once we've got to grips with how to use a blender, we're getting much more adventurous with what we put into our smoothies – beyond the classic strawberry and banana combination, we're more open to experimenting with nuts, leafy vegetables, oats... the list goes on. As a result, we need a blender that can cope with every aspect of our five-a-day, like frozen produce, ice, harder fruits and vegetables (such as apples and celery), as well as the aforementioned nuts, and still produce a super-smooth glass of goodness.
The best blenders for smoothies as reviewed by our experts
1. Smeg 50's Style Blender
Best for a product stylish enough to leave on display
Specifications
Power: 800W
Dimensions: H19.7cm x W16.3cm x D38.7cm
Weight: 4.1kg
Dishwasher-safe parts: Yes
Extras: Yes
Reasons to buy
+Good looks+Variety of speeds and programmes
Reasons to avoid
-Not as powerful as some others
We like that this blender looks and feels sturdy while also being stylish. It has a 800W motor that can pulverise ice with little effort and has seven speeds and different programmes for blending smoothies and ice as well as a pulse option for quick blending top-ups.
2. NutriBullet Balance
Best for those looking to track their nutrition goals
Specifications
Power: 1200W
Dimensions: H38 x W13 x D13cm
Weight: 2.8kg
Dishwasher-safe parts: Yes
Extras: Yes
Reasons to buy
+Can track nutrition information+Dishwasher safe
Reasons to avoid
-Quite pricey
So much more than a blender, this NutriBullet has what they term Smart Nutrition Sensor Technology, which weighs each ingredient you put into it and tracks the nutritional value via the NutriBullet Balance app. The app also allows you to set and track nutrition goals and download hundreds of recipes. Clever technology aside, it has a 1200W motor, is dishwasher-safe and comes with two cups with lids. If you're a little confused however, see here to find more information on how to use a NutriBullet blender.
3. Vitamix Ascent countertop blender A2500i
Best for those who want a blender that can blitz practically anything
Specifications
Power: 1400W
Dimensions: H43.18 x W20.32 x D27.94cm
Weight: 15.28kg (total)
Dishwasher-safe parts: No (except for the plastic jug)
Extras: Yes
Reasons to buy
+Extremely powerful+Automatic functions
Reasons to avoid
-Very expensive-Heavy, at more than 15kg
The most powerful model on our list at 1400W, this Vitamix blender (as with all of the brand's offerings) has a loyal following. This one has 10 speeds, so you can fine-tune the texture of your smoothie easily, a digital timer for recipes that require exact blending times and – as you'd hope with something that costs over £400 – it goes without saying that this machine can tackle more blender recipes than just smoothies. Three programme settings (smoothies, hot soups and frozen desserts) automatically adjust to the container size you have selected, process your ingredients, and stop the blender when complete. The plastic jug is dishwasher-safe too.
4. Lakeland personal blender and smoothie maker
Best for those who want a budget blender
Specifications
Power: 350W
Dimensions: H32.5 x W12 x D15.5cm
Weight: 2.2kg
Dishwasher-safe parts: No
Extras: Yes
Reasons to buy
+Great price+Compact size
Reasons to avoid
-Low power at 350W-Small jug (600ml)
Considering that this blender comes in at under £40, we're impressed that it has a glass jug rather than a plastic one. It's compact too, making it ideal if you don't have much worktop or cupboard space. The trade off here is that the jug is fairly small. While it's not the most powerful blender, if you're looking to just blitz fruit and veg, it'll do the job well. We also like its retro looks that, combined with the toughened glass jug, belie its low price.
The best smoothie blender for cocktails
Specifications
Speeds: Five
Programmes: Three
Guarantee: 5 years
Reasons to buy
+Range of 11 colours+Suitable for hot liquids
Reasons to avoid
-Glass jug is heavy-Limited capacity
Available in a range of glossy colours, this gorgeous blender looks good while packing a punch in the power department too. It does its job so well that not only does it deliver creamy smoothies it's also a dream when it comes to crushing ice - meaning of course we're all here for doubling it up as a cocktail maker. It even comes with bonus functions and speeds so you can make soups, sauces, doughs and frozen desserts. The heavy glass jug is a bit smaller than some others, but there are different accessories that you can pair with this one - including a lighter 1.6-litre plastic jug. And because we're lazy - we love the self-cleaning programme on the dial too.
See our full KitchenAid Artisan K400 blender review
Deals on best blenders for smoothies
If you're still unsure about which blender for smoothies is the right option for you, then read on for guidance on choosing the best model to suit your needs.
Frequently asked questions about the best blenders for smoothies
What should I look for when buying the best blender for smoothies?
It goes without saying that you want to invest in a blender that can blitz anything you throw at it in order to put together your favourite smoothie - but there are other things to consider when buying one. Are you planning to have it on show on your kitchen counter, or hidden away in a cupboard? If it's on display, you can afford to choose one that's a little heavier, as you won't be moving it much, but go for a lighter model if you need to lift it in and out of a cabinet every time you use it.
Noise is a big factor too. No blender is going to be whisper quiet, but you also don't want one that's going to wake the dead every time you want to make a smoothie, so check the decibel levels when buying – 88dB is about average.
If you're using a blender you're going to have to clean it, sadly, so we've created a handy guide on how to clean a blender. But in a nutshell, you want one that has parts that are easy to remove, reach and clean. Blenders with glass jugs fare better than plastic designs in the dishwasher, but if you don't have a dishwasher or are happy to clean it by hand, a plastic one might be a better – and cheaper – option.
Finally, ease of use and price will always be driving factors when choosing a new kitchen gadget, so look for a blender that is easy to put together (and take apart), doesn't have more buttons and dials than you'd find in an aeroplane cockpit and doesn't cost more than the kitchen itself.
What smoothie ingredients can I use in my blender?
All of these blenders will be able to deal well with most common smoothie ingredients.
When it comes to making the best smoothies, we would suggest balancing a mixture of fruit and vegetables with a good amount of liquid to stop blades getting stuck and ensuring that you have a smoother finish.
We also love to top up our smoothies with nuts or seeds for some extra nutrition and maybe a touch of syrup for a little extra flavour.
How to make the perfect smoothie
Choose from our favourites for the perfect smoothie recipe:
Fruit & vegetables
Bananas
Strawberries
Blueberries
Cherries (pitted)
Oranges (peeled)
Apple (cored)
Spinach
Kale
Grapes
Pineapple
Mango
Celery
Avocado - for a touch of creaminess!
Liquids
Filtered water
Coconut water
Almond milk
Oat milk
Chocolate milk - for an indulgent option!
Greek yoghurt
Coconut yoghurt
Extras
Peanut butter
Almond butter
Cashew butter
Pumpkin seeds
Sunflower seeds
Chia seeds
Cacao powder
Maca powder
Maple syrup
Agave syrup
Carob syrup