This Black Friday Ninja Grill deal can save you £50 – and it's perfect for me as I don't have a clue how to cook turkey
Grabbing a bargain with this Black Friday Ninja Grill deal will certainly make Christmas dinner taste even better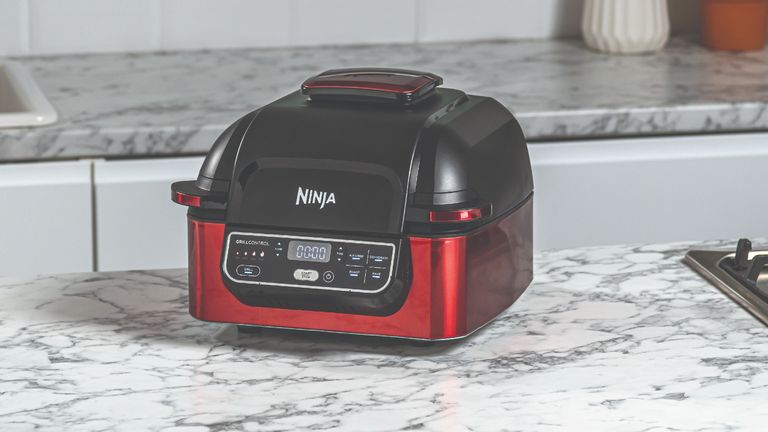 (Image credit: Ninja)
To say I was happy to see a  Black Friday Ninja Grill deal this week is an understatement. And the reason may surprise you. You see, if I'm being brutally honest, no one likes coming to my house for dinner. And it's not just because my cat will make guests feel uncomfortable with her intense stare. No, it's because I don't eat meat. So, therefore, I don't have a clue how to cook it and how to know whether it's ready – or not, as the case may be. And, unfortunately, most of my family found this out the hard way a few years ago when a turkey breast at mine on Christmas Day ended up with multiple A&E visits on Boxing Day.
But a Black Friday Ninja Grill deal takes all that hassle away. It's one of the best Black Friday deals I've seen. Haven't used one before? It can change the way you cook. The only way to describe it is like comparing flying Concorde to a budget airline. I honestly don't look at my oven in the same way now. It will give you the cooking confidence of Gordon Ramsay instantly. That's because, not only can a Ninja Foodi Health Grill & Air Fryer grill, bake, roast and dehydrate your food. But it uses cyclonic air technology to do it with temperatures of up to 265C – so it's super fast. 
What's more, it's accurate. Want to tell if your turkey is properly cooked? You can set the temperature to the exact level you need, and it's all automated to let you know when it's reached that point. Plus, it's great if you're looking to make healthier choices as you hardly need any oil, and won't splatter everywhere like a standard grill.
Here's the Black Friday Ninja Grill dealin full...
Ninja Foodi Health Grill & Air Fryer
£149.99, was £199.99 (save £50) | Ninja
Bright red, this stylish pick not only looks good but does the job, too. It's ideal for grilling, roasting, baking and dehydrating evenly, in less time than a conventional oven. Plus, despite being £50 off, you also get a free skewer set, roasting rack and Ninja apron! We love.View Deal
Despite whatever happens with Covid and Christmas this year, whether I will be forgiven for those culinary "errors" of years gone by and family want to return to my house is yet to be seen. But I know this Black Friday Ninja Grill deal will see me through all year round. In fact, I can't wait to try the Bake setting and whizz up some Bake Off-inspired treats! And, if I make a mess, the internal trays are dishwasher safe so you don't have to spend hours scrubbing off burnt bits from your fave pans.
The Black Friday Ninja Grill deal, where you can save £50, is only available until 1 December, or until stock runs out. So, make sure you get in quick!
Happy cooking!