I Had My Daughter With The Help Of A Sperm Donor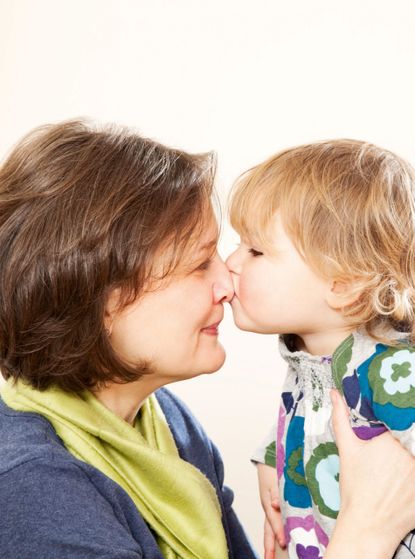 With the press reporting growing numbers of women are turning to sperm donors, we have decided to re-tell the touching story of one woman's experience...
"It was my best friend that started me thinking about having a child with an anonymous sperm donor. I'm godmother to one of her three children and one evening, during a long phone call, I admitted I was desperate to have a child. She warned me, "It's now or never." I was 42 and single.
I never imagined I would bring up a child by myself. I got married at 23 and always assumed we'd have children, but sadly the relationship didn't work out and i found myself divorced at 37. It was devastating and after my divorce, I left my job and lived off my savings while deciding what to do next. I had friends in Amsterdam, so I moved there for four months. My job in human relations was enjoyable, but not my main focus. Eventually, I decided to throw myself into my career and returned to the UK to retrain as a business consultant.
My efforts paid off. By my 40th birthday, I'd built up a great network of friends, was enjoying my career and was also studying for a business- related masters degree. Life was coming together, but I still hadn't met the right man. I'd read about donor conception and I began to accept this was my only chance of having a child.
When I talked to my GP, she was sympathetic and referred me to a clinic in Southampton. I was anxious about telling my mother, but was keen to get her support.
At the clinic, I was shocked to discover I was considered too old to use my own eggs. From here, it felt as if i was on autopilot, as I put myself totally in the hands of the clinic staff. I was given a basic price list, but the eventual cost was much more, as every blood test, scan or extra medication prescription bumped up the bill. the whole process cost me around £12,000, which I paid with a small inheritance.
The clinic advised me to go to a recommended clinic in spain for treatment, as they claimed it offered better success rates. And whereas waiting lists for donor eggs in the UK can run to over two years, in Spain it was weeks. I was asked to list my physical characteristics: height, weight and type of build, plus my eye and hair colour, so they could match me with a suitable donor. I have blue eyes, but when I heard that waiting for a blue-eyed donor could take an extra three months, I explained this wasn't vital.
I had just returned home from a hectic two-day conference when I received a phone call from the clinic in Barcelona to say they'd found a donor for me. I felt a moment of panic. What was I doing? Going to Spain meant my donors can remain anonymous (unlike in the UK, where a donor-conceived child can trace its roots at 18), so my child would never know its biological parents.
I took the next day off to steady myself, but I knew this was something I truly wanted. The next three months were a blur of medication and surreptitious phone calls from work to arrange appointments. I was given hormone patches and nasal sprays in order to match my cycle with my donor's and prepare my body to receive the egg.
I also went to the southampton clinic for scans and blood tests. my donor gave me 12 eggs, of which four fertilised with the donor sperm the clinic had found. When the time came, a friend joined me on a flight to Barcelona. At the clinic, one of the embryos was transplanted inside me. usually they transfer two, but I was terrified, should they both take, that I wouldn't be able to manage twins.
Before boarding the plane home the next day, I was inundated with texts from friends wishing me well. One said: "take care of yourself and your precious cargo." It is this outpouring of love and support that has helped me throughout the entire process. Two weeks later, I discovered i was pregnant. At work the following monday, a colleague asked if I'd done anything exciting over the weekend. I shook my head, but I was bursting to explain my life-changing news.
My friends were extremely supportive throughout my pregnancy, and the friend who'd come with me to Barcelona was also my birth partner when Katharine was born at my local hospital.
Two years on, life with my beautiful daughter Katharine is everything I'd hoped. My mother is tremendously supportive, but I would never expect her to take on endless childcare, and Katharine goes to nursery while I'm at work. All my close friends know the details of Katharine's conception, but now that she's older, I'm mindful that it's her life and tend to skirt around the issue. Research shows that it's best to tell donor-conceived children their origins from the start, so when she's having a bath, I often tell her the story of how she was made from a gift that two people in Spain gave mummy.
There were times when she cried much of the night and I felt alone and overwhelmed, and like any working mum, I sometimes exist on very little sleep. I don't have a man to help or share the joy of her first words or seeing her take her first steps, but I also don't have to share the decisions I make.
I tell Katharine she's always been a twinkle in my eye, and when she calls me "mummy" or puts her small arms around my neck, my heart turns over. I've never doubted that having her is the best thing I've ever done."