Could the contraceptive pill help fight coronavirus - or make it worse?
Could it help - or could it make symptoms worse?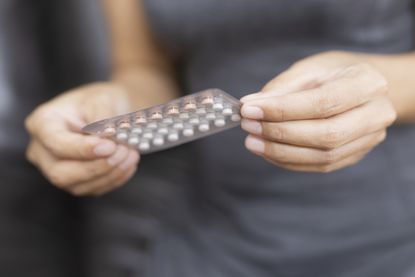 (Image credit: Getty Images/EyeEm)
When Covid-19 hit, the virus presented many unknowns.
Initially, it was unclear just how devastating the virus could be - with researchers and doctors in the dark the beginning of the pandemic about the risk factors for the disease, the symptoms, and the recovery time.
Over the last few months though, medical professionals have learnt more and more about the virus, and the ways in which it can affect us.
And recently, research has emerged about the impact that the contraceptive pill, and oestrogen, might have on those diagnosed with coronavirus.
Could the pill make Covid-19 symptoms worse?
One study, from Boston University School of Medicine,has stated that those who take an oestrogen form of birth control, those who take hormone replacement therapy, and pregnant women, could be at a higher risk of blood clots if they were to contract coronavirus.
According to the researchers, blood clots are already a potential - and frequent - complication for those who have been diagnosed with Covid-19. In fact, according to medical experts, up to 30% of coronavirus patients are developing 'dangerous' blood clots, which they say could be contributing to the number of deaths. They explain that severe inflammation in the lungs, which is a natural response from your body to fighting the virus, could be the cause.
The researchers from Boston point out that oestrogen, the 'female' hormone, already puts women taking the contraceptive pill or HRT, or women who are pregnant (oestrogen is produced during pregnancy), at higher risk of blood clots.
The research,published in the medical journal Endocrinology last week, stated that if women in these categories were to catch Covid-19, the risk of blood clotting could in fact be even higher.
The paper asked that more research be undertaken with regards to these potential risks, to understand how it could affect those concerned, and what should be done if they are diagnosed with coronavirus.
MORE:Are those with diabetes at higher risk with coronavirus? And what steps can you take to protect yourself?
Daniel Spratt, the study's corresponding author from Tufts University School of Medicine in Boston, said, "During this pandemic, we need additional research to determine if women who become infected with the coronavirus during pregnancy should receive anticoagulation therapy, or if women taking birth control pills or hormone replacement therapy should discontinue them,"
"Research that helps us understand how the coronavirus causes blood clots may also provide us with new knowledge regarding how blood clots form in other settings and how to prevent them."
Or - could the contraceptive pill actually cause less serious coronavirus symptoms?
However, it appears that the matter has divided some in the medical community - with researchers from King's College London investigating the idea that oestrogen may actually protect women against Covid-19.
Researchers at the university have claimed that high levels of oestrogen (from pregnancy, taking the pill, or taking HRT), may help women to suffer less severe symptoms if they are diagnosed.
They say that it could be one reason that men appear to suffer more serious symptoms, if they contract coronavirus.
The researchers have analysedmore than half a million women during May and June, by using their Covid-19 symptom tracking app launched at the beginning of the pandemic. They have since stated that those taking the combined oral contraceptive pill (whichcontains versions of the female hormones, oestrogen and progesterone), were on average 13% less likely to develop serious symptoms of the virus.
But why might this be the case?
Oestrogen has long had a link to immunity. Dr Louise Newson, of Newson Health, has been working on the Covid-19 symptom app to explore the link between coronavirus and oestrogen. She explained to the BBC how important oestrogen can be for immunity.
Dr Louise also pointed out that women naturally have a lot more oestrogen in their bodies than men.
MORE:Anxious about leaving lockdown? Why post-lockdown anxiety is completely normal
She said, "Women have a lot more oestrogen in our bodies, and we know that oestrogen is a really important hormone for immunity, for our immune function. So we have oestrogen receptors cells all over our bodies, but also on the cells that fight infection.
"Oestrogen can change the way these cells work, it can make them more efficient, and also increase the number.Does this mean that they [women] have a weaker disease - they have a less severe form of Covid-19, they're less likely to die?"
In fact, it's reported that doctors in the US are trialling giving men the female sex hormone, to try and improve their coronavirus symptoms and save lives. Presenter Kate Garraway, whose husband Derek Draper has been in hospital since March battling the fallout of his coronavirus illness, says that doctors told her that they would be keen to put the entire nation - including men - on the pill.
It appears that there is not yet a definitive answer on whether oestrogen can help in the battle against coronavirus, or put women at increased risk of blood clotting during the illness.
Amy Hunt is an experienced digital journalist specialising in homes, interiors and hobbies. She began her career working as the features assistant at woman&home magazine, before moving over to the digital side of the brand where she eventually became the Lifestyle Editor up until January 2022. Amy won the Digital Journalist of the Year award at the AOP Awards in 2019 for her work on womanandhome.com.