5 Ways To Make Shop-Bought Soup Low Calorie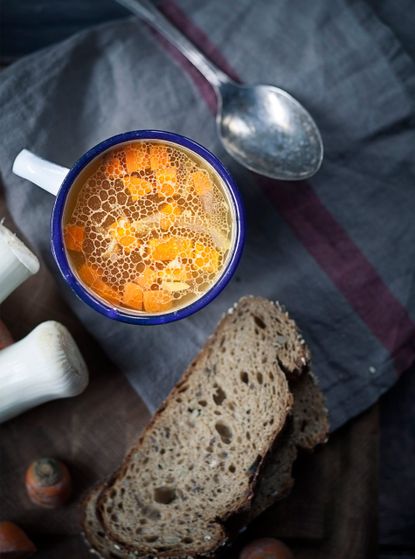 (Image credit: Rex Features (Shutterstock))
Jump on the souping bandwagon and get all the benefits of soup without all the hassle of cooking it from scratch.
Low-calorie soup seems to be having a moment in the diet and health world. 'Souping is the new juicing' Los Angelenos Angela Blatteis and Vivienne Vella declared when they created their detox soup delivery, Soupure earlier this year. Low-calorie soup can warm you up and give you a more satisfying and healthy meal with added fibre that you won't find in juice.
But you don't need to order a pricy soup cleanse or cook up soup from scratch every night (although we have plenty of tasty recipes if you have the time) to enjoy the health benefits of low-calorie soup. You can add in a few mix-ins to a shop-bought soup for a nutritional powerhouse that will warm you up and help you lose weight.
Keep clicking to find out how to make shop-bought soup low calorie...
1. Shop Smarter
What exactly makes a soup healthy? Here's what to look for on the label:
Less than 500 milligrams of sodium
Contains 3 to 5 grams of fibre
Avoid any soups labelled "creamy" as they will be higher in fat
The most important point is to buy a low-fat soup, as there are ways to lower the sodium per serving in soup and add in more fibre to store-bought soup. Read on for our genius tips.
2. Use Purees for Creaminess Without Fat
Do you miss the creaminess in a low-fat soup? Not to worry. Puree vegetables in your blender to thicken a broth-based soup without adding fat. Carrots, squash, peas or beans are all a good choice.
3. Add-Ins for Tomato Soup
Start with a basic shop-bought tomato soup and add in a handful of some fresh or even frozen veggies to add more nutrients and fibre to your meal. Chuck in some grilled or baked chicken for extra protein. Think of it as a tomato-based stew.
4. Thicken Soup with Greek Yoghurt
For any soup that you'd use cream to thicken, substitute fat-free Greek yoghurt instead. Greek yoghurt is a sneaky way to add more protein and creaminess to soup without adding any fat.
5. How to Make Soup Low-Sodium
Look for soups marked low-sodium or read the label and try for soups containing less than 500 milligrams of sodium per serving. You can always dilute a high-sodium soup by adding more water. If you're afraid of diluting the flavour, get creative by adding in more spices such as ginger and garlic to this miso soup.
Want More Ideas?
Our Top 36 Most Popular Soup Recipes