The Sweaty Betty Black Friday sale has landed—here's where to get leggings, sports bras and more for 40% off
You can get 25% off everything in the Sweaty Betty Black Friday sale, but there's also 40% off Sweaty Betty leggings elsewhere, too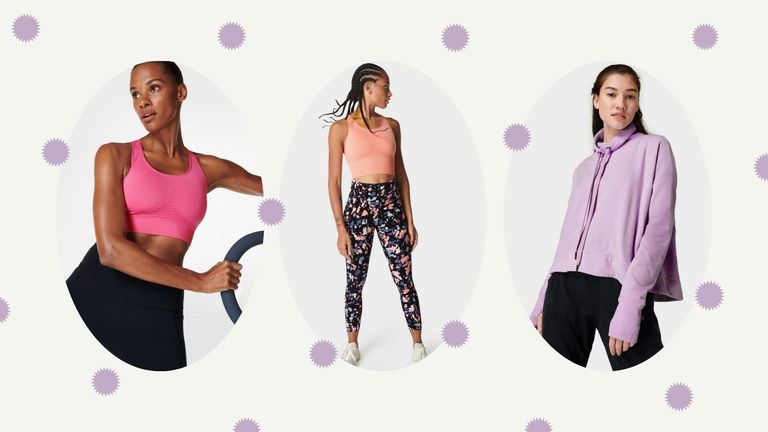 (Image credit: Sweaty Betty)
The Sweaty Betty Black Friday sale has kicked off on the brand's official site with 25% off everything, but there are even better deals and discounts on everyone's favourite activewear to be found.
The Sweaty Betty Black Friday sale will get you 25% off sitewide until 1st December - so you've got plenty of time to shop. Simply enter the code 'CHEERS' at checkout to see the total price drop.
However, if you're after even better bargains, there are some to be found, with up to 40% off the brand's bestselling, butter-soft leggings to be had–but only while stocks last.
See where to find all the best Sweaty Betty Black Friday bargains and deals below...
Where to shop the best Sweaty Betty Black Friday deals in the UK
The best Sweaty Betty Black Friday deals in the UK
Super Sculpt performance leggings: £85 £51 (save £34) | Farfetch
A Sweaty Betty bestseller, the Super Sculpt leggings are not only good for performance but they also look and feel great too. With 40% off while stocks last, these leggings are perfect for workouts or wearing as flattering activewear out and about - your choice.
Stamina Workout Bra: £40 £24 (save £16)| Farfetch
Ready to up your workout with a super supportive bra? The stamina style from Sweaty Betty is highly rated with its seamless, 4-way stretch design. At 40% off across multiple sizes, you might as well stock up on a few.
Cocoon Down Puffer Wrap Coat: £345 £258.75 (save £86.25) | Sweaty Betty
This puffer coat is as cosy as it looks! The thermal (yet breathable) material, padded with responsibly sourced down is one not to miss. It also has a handy inner pocket and fleece-lined outer pockets to keep you extra snug.
Harmonise Luxe Fleece Sweatshirt: £115 £86.25 (save £28.75) | Sweaty Betty
We love bright activewear and this comfy fleece will be perfect for outside workouts, or just lounging around the house. Available in eight colors, the recycled cotton style is super-soft.
Eco Yoga Mat: £40 £30 (save £10) | Sweaty Betty
Yogis listen up, the Sweaty Betty yoga mats are 25% off, too. Perfect for practicing at home or on the go, this style is recyclable and eco-friendly.
Where to shop the best Sweaty Betty Black Friday deals in the U.S.
The best Sweaty Betty Black Friday deals in the U.S.
Betty Ski Base Layer Top: $108 $81 (save $27) | Sweaty Betty
For the ski fanatics, this base layer thermal, sweat-wicking top is the perfect layering tool. It also looks so good and you can get the matching leggings.
Power High-Waisted 7/8 Workout Leggings: $100 $75 (save $25) | Sweaty Betty
These super high rise leggings are perfect for high intensity workouts. Staying put as you move, the sweat-wicking fabric with bum-sculpting technology is worth every dollar.
Cashmere Lounge Socks: $48 $36 (save $12) | Sweaty Betty
Investing in a great pair of cashmere socks is the ultimate fall comfort buy. Cosy, soft and ideal for keeping the cold out, this cream pair will also be good poking out of the top of chunky boots on a cold-weather walk.
Thermodynamic Reflective Half Zip Running Top: $128 $96 (save $32) | Sweaty Betty
If you love a run, or know someone who does, then this top is the one to rely on. Perfect for outside training in the cold, the thermal and breathable material will keep you at the right temperature.
Downfall Reversible Jacket: $378 $283.50 (save $94.50) | Sweaty Betty
Puffer jackets and coats are key this season and we can see why. The cosy style is a must-have come fall. This reversible style is basically a two-for-one buy and its water-resistant fabric is ideal for fall adventures or the ski slopes.
Is there a Sweaty Betty promo code for Black Friday?
Yes, you will need a Sweaty Betty promo code to access their Black Friday discounts on site.
Add the code 'CHEERS' at the checkout to see the 25% discount applied to your basket.
The discount code will be valid up until Wednesday 1st December 2021, so you've got time to shop - just be aware that certain sizes and styles will sell out fast.
Does Sweaty Betty do a student or NHS discount?
Great news—Sweaty Betty offers 20% off for students on full-price items all year round (until they graduate). To apply for the code, you just need to sign into Student Beans or UNiDAYS, here.
And even better news for NHS workers, who get a massive 25% off full-price items. To get the exclusive code you just need to fill out the form on the Sweaty Betty site with a valid NHS email. The code will be in your inbox within the hour—sign up, here.
An internationally published digital journalist and editor who specialises in SEO strategy and content production, Rachael has worked as a writer and editor for both news and lifestyle websites in the UK and abroad.
Rachael's published work covers a broad spectrum of topics and she has written about everything from the future of sustainable travel, to the impact of the coronavirus pandemic on the world we live in, to the psychology of colour.
She prides herself on being an excellent giver-of-gifts and is equally respected and loathed amongst her friends and family for starting her Christmas shopping every year in August.
When she's not writing or editing, Rachael can be found hiking, running, surfing or enjoying other outdoor pursuits, such as standing in line for a table at the latest Big Mamma restaurant.