The Sweaty Betty Black Friday sale has landed - here's where to get leggings, sports bras and more for 50% off
You can get up to 50% off everything in the Sweaty Betty Black Friday sale, but there's also up to 50% off Sweaty Betty leggings elsewhere, too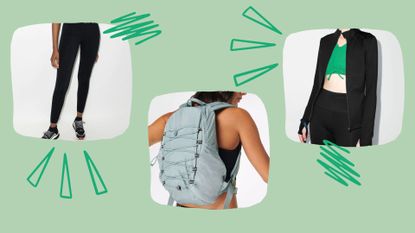 (Image credit: Sweaty Betty)
The Sweaty Betty Black Friday sale is finally here, giving fans of the brand the chance to snap up lasting stylish sportswear. From the iconic Power leggings to winter walk essentials, revamp your gym kit for the new year or get a head start on Christmas shopping with these incredible deals.
Sweaty Betty are currently offering 25% off (UK) (opens in new tab) or 30% off (US) (opens in new tab) everything on site - yes, everything. Plus, there's over 50% off hundreds of styles. We've already seen some amazing sales across the store, with some brilliant savings on cozy leggings, fleecy hoodies, and thick socks, so you can stock up for the chillier weather.
But the retailer themselves aren't the only ones who've announced deals for the big shopping weekend. There are further discounts at retailers like FarFetch in both the UK and the US, and John Lewis Black Friday is off to a great start with their own 25% saving on Sweaty Betty Power leggings. To help you find the very best savings on offer this week, we've rounded up the best Sweaty Betty deals.
Sweaty Betty Black Friday sale
Where to find the best Sweaty Betty Black Friday deals in the UK
Best Sweaty Betty Black Friday deals in the UK
Where to find the best Sweaty Betty Black Friday deals in the US
Best Sweaty Betty Black Friday deals in the US
Will there be a Sweaty Betty Black Friday sale in 2022?
Yes, the brand has officially launched its Black Friday sale with a site-wide discount. If you're buying in the US then you'll save 30% and if you're shopping in the UK, you'll save 25% on anything online right now, with the savings set to last until 29 November - the day after Cyber Monday.
Other retailers have also launched their winter deals, with FarFetch offering up to 50% off selected items like leggings, sweatshirts, sports bras, tops, jackets and accessories, so it's always worth shopping around. Retailers stocking multiple brands may do a site-wide discount that's bigger than the brand's own discount, or slash prices further to undercut rivals, but we'll be highlighting only the best deals on each of the products so you'll know that you're really getting the best one at any moment.
This year, Black Friday is set to take place on Friday 25 November but early sales have already started as of Monday 21 November. Generally, they'll run until Sunday 27 November or Monday 28 November 2022, which is Cyber Monday.
We're keeping this page up to date with all the latest deals, so keep checking back to take advantage of the Sweaty Betty Black Friday offers, and scroll down to discover the best Sweaty Betty discounts and sales happening at the moment.
Does Sweaty Betty do a special discounts?
Aside from these great Black Friday deals,Sweaty Betty offers 25% off for students on full-price items all year round (until they graduate). To apply for the code, you just need to sign into Student Beans (opens in new tab) in the US and the UK, or UNiDAYS (opens in new tab) in the UK. You can find out more here (opens in new tab).
Fitness professionals can also get 30% off full-price items, as long as they can provide a valid qualified teaching certificate. You can find out more here (opens in new tab).
Who is Sweaty Betty owned by?
Sweaty Betty is owned by Wolverine Worldwide, which is an American sportswear company. The CEO is Julia Straus.
Sweaty Betty was bought by the US company in August 2021, but its origins started in the UK. It was founded in 1998 by Tamara and Simon Hill-Norton with one boutique in Notting Hill, but the company quickly expanded and by 2003, there were five boutiques in the UK. Today, there are over 50 boutiques in the UK and six boutiques in the US, along with concessions in Harrods and Bloomingdales, and the brand shipping their luxury leisurewear items all over the world.
Where did the name Sweaty Betty come from?
What may seem an unusual name for an activewear brand actually has a very simple thought process behind it. "When I was thinking of a name, I wanted to challenge the notion that it's not cool to sweat," owner and creative director Tamara Hill-Norton explains on the brand's website. "Who cares if you're a Sweaty Betty? So I took the ultimate cool chick Betty, juxtaposed this with Sweaty and we had it."
It was important to Tamara to create a sportswear brand primarily for women. She told Cambridge Girl Talk (opens in new tab) that creating a brand for women was, "incredibly important, we aim to empower women through fitness and beyond and achieving this is definitely the most rewarding aspect of my job. I love that we help women find their confidence and that we support them in their journey to becoming fitter and stronger."
What Sweaty Betty products were in the sale last year?
Shoppers could enjoy 25% off all Sweaty Betty products in the Sweaty Betty Black Friday sale, simply by entering the code 'CHEERS' at the checkout. However, the biggest savings to be had were at other retailers, as discount site FarFetch was offering 40% off some of the brand's bestsellers.
Highlights included the Super Sculpt performance leggings, down to £51 from £85, with a saving of £34, and the much-coveted Stamina Workout Bra, which was down to £24 from £40 - a total saving of £16. Both these discounts were available at FarFetch. On the Sweaty Betty site, the biggest discounts could be seen on coats and jackets. In the UK, the Cocoon Down Puffer Wrap Coat had a saving of £86.25, while in the US, the Downfall Reversible Jacket had a saving of $94.50.