Autumn Styling Tips That Cost Nothing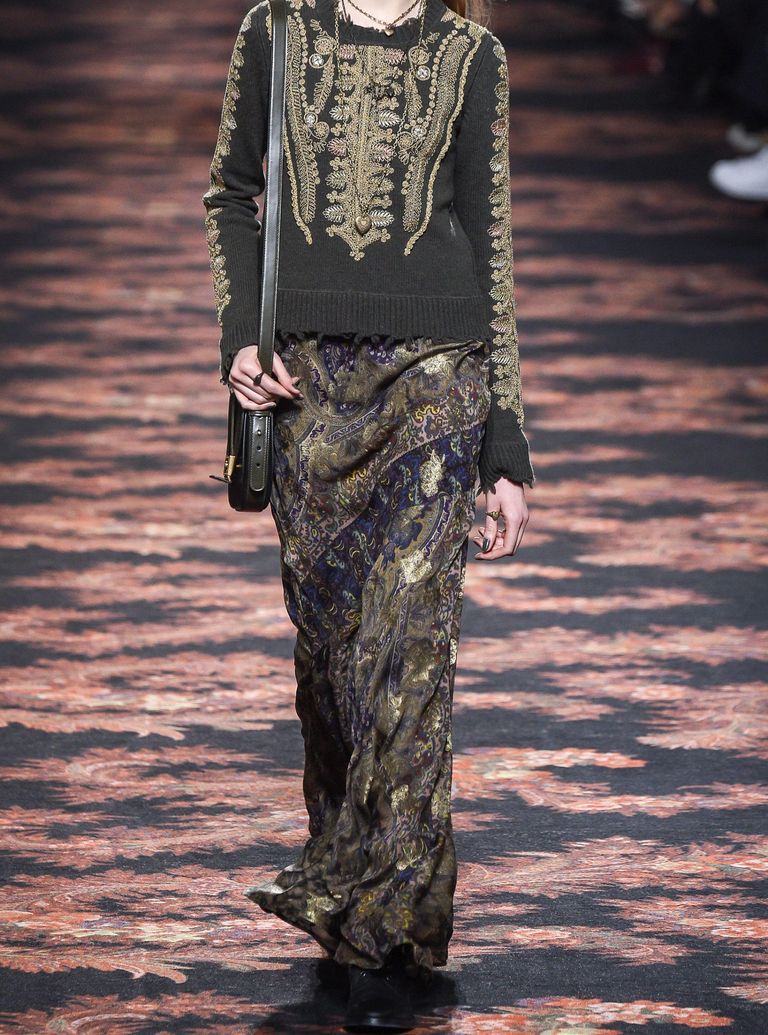 (Image credit: SIPA/REX/Shutterstock)
Feeling that hint of autumn in the air, but not quite ready to put those floaty dresses into hibernation? With these nifty stolen-from-the-catwalk styling tricks, you can carry those summery vibes into the new season with you, nailing autumn's key trends in the process. And the best bit? You've already got everything you need to take on the new season in style.
1. Get maximum mileage from your maxi dress
'70s boho remains a key influence for autumn/winter 2016, so don't pack that floaty maxi away just yet. Take a tip from the Chloe and Etro catwalks and team yours with boots, chunky jumpers, parka jackets and long woollen scarves as you adjust to the dropping temperatures.
2. Tie it up
Almost every look in Chloe's AW16 collection was accessorised with a silk scarf, wrapped bandana-style around the neck. This quick trick will give any outfit an instant shot of '70s-inspired je ne sais quoi.
3. Get the skinny
Don't have a Chloe-style silk scarf, but do have a long skinny version? Look to Missoni. Statement colours and textures will update your dress-up and dress-down wardrobes alike.
4. Make the most of your midi
Pleated midi skirts aren't going anywhere for autumn - they just need to be cosied up a little. Team yours with a cashmere jumper and snuggly scarf, switching sandals for knee high boots and tights when winter looms.
5. Roll with it
A fitted roll-neck sweatshirt is your secret weapon when it comes to trans-seasonal styling. Slip it under your favourite summer dresses now, and a round-neck jumper in a contrasting shade later on.
6. Get crafty
Give an old jumper a new lease of life by getting in on this season's haberdashery trend. Get as creative as you like - dig out all those old pendants, broken beads and odd earrings and see where they take you...
7. Climate-proof your culottes
Can't face the prospect of a bare-ankled autumn? Simply team your favourite culottes and cropped trousers with boots. Opt for a comfy but chunky block heel for an ensemble which will take you anywhere.
8. Go hell for leather
Autumn may be on the horizon, but you can carry on wearing those summery T-shirts and pretty blouses a little bit longer - simply team them with a heavy duty midi skirt. Black leather is a perennial winner, but a softer, coffee-toned neutral is perfect transitional material.
9. Belt up
A chunky belt is just the thing to stop your cosy new winter coat from turning you into the abominable snowman, and these waist-whittling wonders just so happen to be dead on trend for the new season. Time to wear your belt loud and proud, ladies.