How to style joggers for work according to a style expert
A fashion explains how to style joggers for work so you can stay stylish and comfortable all day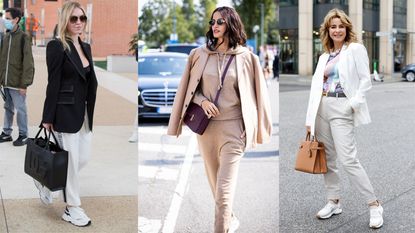 (Image credit: Getty Images)
Wondering how to style joggers for work? We don't blame you. This comfortable piece of loungewear has become a fixture in many a work-from-home wardrobe and if you're wondering how to translate this level of comfort into your regular office 9-5, we've got good news for you, it's totally doable.
Transforming your best joggers into office-ready attire is easier than you might think. Post lockdown, athleisure styles have become a permanent fashion trend and as part of this shift towards dressing for comfort, joggers have found themselves at the front of the makeover queue. While the joggers you wear for carrying out chores shouldn't be making an appearance in the boardroom in the near future, the cut and comfort elements from joggers have been woven into more polished iterations of the silhouette that are totally ready for your 9-5.
When it comes to how to style joggers for work, the answer is all about creating a balanced look, and by adding more polished and tailored pieces to your joggers, you can easily make them more office-appropriate. The other thing to look out for is color and fabrication. Opt for darker washes and fabrics that are closer to tailored styles - such as wool blends, that will naturally appear more polished, even with a cuffed ankle and a stretch waist. Lastly, think about your footwear. Switch sneakers for heels, or a sharp loafer to ensure this look is more on time than about beating your PB time.
How to style joggers for work: 3 ways to wear this comfy pants style for your 9-5
To nail how to style joggers for work, it's important to keep things simple. Your joggers will naturally always feel more casual, but as the market for loungewear has increased, the lines have been blurred and you can find slightly more tailored or evening-inspired pairs of joggers that will take you through your 9-5 and beyond. A great aesthetic for implementing the latest Stealth Wealth trend, coined Rich Mom aesthetic, your joggers can certainly look chic and polished for work with a few simple tweaks.
1. How to style joggers for work with a blazer
Abercrombie Silky Joggers
RRP: $90 (US only) | Inspired by the best loungewear, these soft and silky pull on pants are a great switch out for joggers. With a stretchy, cord tied waist and loose leg, they deliver on comfort, while the luxe fabrication and palazzo cut renders them smart enough to wear to the office. Opt for black or navy for added polish.
RRP: $119 / £79.99 | The best blazers are the perfect answer to how to style joggers for work. A well-tailored blazer instantly makes everything look more dressed up and office appropriate. In one of this season's hottest fashion color trends, this green hue is the ideal update to your spring capsule wardrobe.
RRP: $40 / £30 | Styling a pretty blouse with your joggers will instantly help to lift it and bring it closer to office dress codes. It also means that if you want to slip off your blazer at your desk, you wont be left in an outfit that will raise eyebrows. Sticking to the same color as your joggers will create a figure lengthening look.
2. How to style joggers for work with a shirt
RRP: $195 / £115 | While you might think joggers and automatically think of baggy, waffle jersey pants, in essence, the new crop of fashion joggers have borrowed key styling details such as a stretchy waistband and paired them with slimmer leg silhouettes to create items that can be dressed up or down.
RRP: $29.99 / £19.99 | A white linen shirt is ideal for summer outfits for work. Keeping you cool, whilst looking put together, a slightly oversized linen shirt, paired with slim leg joggers creates a sleek silhouette. Make sure your frame isn't overwhelmed by trying out a stylish half tuck into the waistband to enhance your curves.
RRP: $149.95 / £127.84 | Balance the oversized nature of the shirt, and the casual vibe of an elasticated waist with a chic pair of heels. We love the androgynous styling given to these capsule wardrobe favorites. The buckle at the front gives a nod to some of the best loafers, while the heel adds elegance to your pants.
3. How to style joggers for work with a sweater
RRP: $295 / £179 | Probably the most casual look of our selection, these joggers borrow classic sports styling with 'go-faster' side stripes. The cream hue and excellent cut lifts them from errand joggers to chic day wear, but make sure the rest of your outfit looks and feels elegant to keep the polished tone for work.
L.L. Bean Cotton Pullover
RRP: $89 (US only) | A simple sweater, worn alone, or over a tucked in shirt is ideal for this look. Mimicking the cream hue from the pants in your top is a risky move - especially if you're a fan of a morning coffee, but it immediately also suggests you have every single deadline, and your laundry totally under control.
Alfani Buck Fronted Loafers
RRP: $79.50 / £66.05 | Swap sneakers for loafers to lean into that androgynous mood. The soft leather and designer-inspired buckle help to finish this ensemble off in style. If you really wanted to up the ante, you could wear a pointed toe court shoe in one of the side stripe colors for a cohesive and directional look.
Rivkie is a fashion editor, writer and stylist with over fifteen years' experience in the industry. Having studied design and pattern cutting at the London College of Fashion, Rivkie fell in love with styling and journalism, covering fashion weeks in London, Paris and New York.
Specialising in plus size fashion, Rivkie has long championed that style is for everyBODY and has been a regular talking head on a host of radio stations and television shows, pushing for greater representation for plus size women and fashion throughout her career.