Frame jeans review—why this A-list-approved denim is worth splashing out on
Our Frame jeans review scores top marks for both timeless and trend-led denim.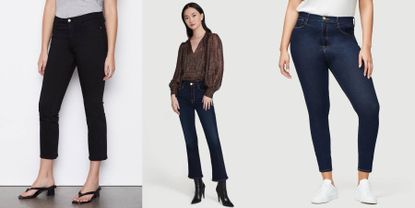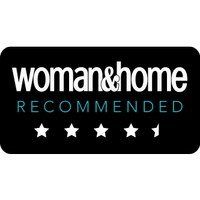 (Image credit: Frame)
Teaming trend-focused design with quality craftsmanship, Frame jeans deliver on both style and substance.
Reasons to buy
+

Good mix of classic and fashion-forward styles

+

Super-soft fabrics

+

Great fit
Reasons to avoid
-

Large collection offers too much choice for some
Why you can trust Woman & Home Our expert reviewers spend hours testing and comparing products and services so you can choose the best for you. Find out more about how we test.
Frame jeans in numbers
Collection size: 250+
Size range: 23"-34" waist
Leg lengths: Varies by style, on average 29"
Sustainable options: Yes
Starting price: $205/£149
Finding jeans that are cool and chic is not an easy task, so here at w&h HQ, we've been busy inspecting as many jeans collections as possible. For this Frame jeans review, three members of the team poured over the collection to give you expert advice on quality, fit, and style. The good news is that this denim range is everything you could want and more, assuming you can afford the hefty price tag.
As part of this Frame jeans review, we've put our beloved best leggings to one side and spent months trying every pair of jeans we can get our hands on. It's all part of our quest to find the very best jeans on the market right now, and Frame is ticking a lot of our boxes...
Frame jeans review
Dazzling denim where fit and comfort doesn't come mean compromising on style
Reasons to buy
+
Large range
+
Multiple leg lengths available
+
Luxurious fabrics
+
Made in the USA
If you haven't heard of Frame before, allow us to fill you in. The brainchild of branding experts Erik Torstensson and Jens Grede, they launched in 2012 with just a single pair of jeans—the blue skinny. The move from branding to clothing might seem like quite the leap for this denim-minded duo, but their dedicated knowledge of what makes people tick, click (and most importantly for them, buy) meant they were perfectly placed to create a brand of jeans that everyone wants to wear.
Based between LA and London (which accounts for the laid-back feel), Frame has moved from being a denim-only brand to a fashion house that creates four ready-to-wear collections each year—pretty impressive stuff for a label that's just nine years old.
In keeping with their minimal aesthetic, Frame jeans are low on branding, but there are a couple of tell-tale signs that set them apart.
The button fastening is engraved with the brand's logo, while some styles have a tiny 'F' embroidered along the seam of the outer thigh. It's blink-and-you'll-miss-it small, but just noticeable enough for denim experts to be able to spot.
Top 5 Frame jeans
We considered the whole range and have picked out the five best and most popular jean styles.
(opens in new tab)
1. Frame Le High straight jeans
Creating a smooth, streamlined silhouette, thanks to the flattering high-waist, nipped-in knees and calf-skimming legs, these straight jeans have been tailored to perfection. The denim used for this classic cut is slightly sturdier than Frame's skinny styles, helping the jean to hold their shape.
(opens in new tab)
2. Frame Le Crop mini boot cabana jeans
The Marmite of jeans, bootcut styles often have the potential to divide a room. As a petite person, I've always given them a wide berth, fearful they'll make me look squat and dumpy, but after giving these a try, it's safe to say I'm converted. The high-rise waist and figure-honing fabric make for one of the most flattering fits I've ever had the pleasure of wearing. A nod to the 90s, this mini bootcut provides the subtlest of flares at the hem.
(opens in new tab)
3. Frame Ali high rise cigarette jeans
If you're after slimming jeans, this is the style for you. Slightly shorter than the Ali Rise Skinny, these are the perfect skinny jean for smoothing and shaping your figure. Crafted from the softest denim we've ever got our mitts on, they're an absolute joy to wear. Jeans for people who don't like the feeling of wearing jeans, you can hop, skip and jump in these without even a hint of restriction.
(opens in new tab)
4. Frame Le Jane straight leg jeans
The everyday jean to rely on, Le Jean is the blue wash straight leg style for casual dressing. With your best t-shirt or simple white shirt, a slinky cami top, or roll neck, you can dress them up or down depending on how you style them. This denim style also included recycled fibers which give the finish a vintage feel.
(opens in new tab)
5. Frame Le High rise cropped straight-leg jeans
If you want a pair of jeans that'll show off your favorite boots or heels, Frame's Le High cropped style is a winner. The slightly shorter leg is perfect for petites or for those who like to show a bit more of their footwear off. The minimal, black pair will seamlessly fit into most wardrobes (even if you're a fan of a stripped back capsule wardrobe) and work with most wardrobe essentials.
The Frame jeans size chart
Most people are overwhelming positive about this denim collection, but there is one consistent bit of feedback in most Frame jeans reviews: working out where you sit in the Frame jeans size chart can be difficult.
The best thing to do is to measure your waist to ensure a perfect fit. But if you're not able to here's a guide to Frame's jean sizes:
Swipe to scroll horizontally
| Jeans size | 23 | 24-25 | 26-27 | 27-28 | 29-30 | 31-32 | 32-33 | 33-34 |
| --- | --- | --- | --- | --- | --- | --- | --- | --- |
| US dress size | 00 | 0 | 2-4 | 4-6 | 8 | 10 | 12 | 14 |
| UK dress size | 4 | 6 | 8 | 10 | 12 | 14 | 16 | 18 |
How do Frame jeans fit?
Making online ordering easy, Frame jeans come up true to size. They're available in odd-number waist measurements as well as even, too, for a more precise fit.
Remember, the fit may be a little roomier or more snug depending on the style of jeans you go for.
How comfortable are Frame jeans?
We've tried a lot of jeans as part of these reviews and nothing has quite compared to the comfort level of Frame's skinnies. Stretchy and soft, they feel more like leggings than jeans.
It does depend on the style, though. The more structured the shape, the higher the cotton content, which means the jeans will feel more rigid and take a little longer to achieve lived-in levels of comfort.
How easy are Frame jeans to care for?
Wondering how to wash jeans? Does designer denim require different care? Good news! There are no unusual instructions when it comes to washing your Frame jeans, so clean them in the same way you would any other pair of jeans.
To minimize color fade, wash inside out at a maximum of 30°C. A gentle or delicate cycle is a good choice, to reduce the chance of shrinking or damaging the fabric.
Once clean, hang and leave to dry in a shady space. Frame jeans can be ironed and tumble dried on low heat, but it's best to avoid this if you can.
How much do Frame jeans cost?
As you can imagine, this level of design and attention to detail doesn't equal cheap jeans, and you can expect to pay between $205-$372 or £149-£270 for a pair of Frame jeans.
You can shop directly from the Frame website, or you can get hold of the brand via the likes of Net-a-Porter, Selfridges and MATCHESFASHION.
Are Frame jeans worn by anyone famous?
We believe these jeans would have been successful in the denim market because they're genuinely great. Of course, a little celebrity endorsement helps popularity, too. With A-listers including Kate Bosworth, Miranda Kerr and Katie Holmes all having been spotted in Frame jean, they're most certainly an A-list favourite.
Are Frame jeans sustainable?
The ratios of the fabrics vary from style to style, but you can find a blend of cotton, lyocell polyester and elastane in your Frame jeans.
Helping to offset the carbon footprint of your jeans, Frame launched their Sustainable Denim range in 2019.
The process of washing and dyeing jeans is notorious for wasting water, so Frame has invested in laser machines to reduce their consumption and eliminate the need to use additional chemicals.
Helping to make fashion more of a circular than a linear journey, Frame also now creates their sustainable denim from post-consumer plastic bottles and recycled cotton.
Does Frame offer easy shipping and returns?
One of the biggest perks of shopping direct with Frame is their free international shipping with no duties or taxes. All orders placed outside of the US are delivered within three to seven working days.
If your purchase doesn't quite fit the bill, you can contact Frame's customer care team, who will initiate a return request on your behalf within three days. The returns window is a generous 60 days (double the standard 30), giving you plenty of thinking time to decide whether your new jeans are keepers or not.
Once Frame has received your return in the post, it can take up to 14 days for the return to be processed, depending on how busy they are.
Frame jeans verdict
If you're willing to really blow the budget on one amazing pair of jeans, then Frame is the place to do it. Their seasonal styles may date in a couple of years, but you'll be wearing their signature skinnies for decades to come.