Salma Hayek bringing back shoulder pads with a bedazzled cut-out dress is something you need to see
Salma Hayek's shimmering dress with shoulder pads is everything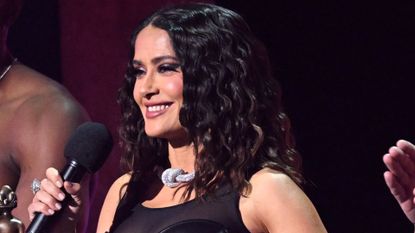 (Image credit: Getty Images)
Salma Hayek never fails to impress - but the star recently brought back a fashion trend from the '80s that blew us away.
When you think of '80s fashion, you might think of big hair, bright colors, short shorts, and most notably, shoulder pads. Although shoulder pads are typically met with a bit of disgust and laughter from people now, some fashion designers and manufacturers are starting to bring them back into sartorial rotation - and Salma Hayek, like the queen she is, just proved it.
At Milan Fashion Week, Salma, who recently revealed how a Magic Mike lap dance almost killed her, stunned in a blue dress designed by Gucci, looking fabulous as ever. The blue dress is mid-length and cut at the bottom with an asymmetrical hem, and cinches perfectly at her waist.
The Gucci gown also boasts an intricate, silver sequinned print that imitates that of stars or small fireworks. The highlight of the dress, however, are the shoulder pads that Salma so effortlessly pulls off - although, the star is no stranger to exploring textures and shapes (e.g. her iconic leather and latex look from a few weeks ago).
With her hair perfectly slicked back and tossed behind her shoulders, the shoulder pads get accentuated even more, perfectly complementing her enviable figure.
Along with the dress, Salma wore a pair of sky-high platform silver heels to match, as well as some simple silver earrings as to not take away from the intricacy of her gown. She also sported a silver clutch to pull the look together, completing what is truly a perfect red carpet 'fit.
Salma attended the event with her 15-year-old daughter, Valentina, who also looked stunning for the event, wearing a striking blue, oversized button-down and leather skirt combo - one we will be copying immediately in our own wardrobes.
She posed with friend Jodie Turner-Smith, who also wore a look that gave a nod to '80s fashion. Her shimmery, zebra print top (taking a note from Katie Holmes' sparkly zebra pants, we see) perfectly matches with her heeled, thigh-high, lace-up boots - and last but not least, her iconic chunky black belt that perfectly cinches her waist, really emphasizing her silhouette.
Clearly, '80s fashion is slowly creeping its way back into the trend cycle - and we're really not mad about it, seeing as a lot of us probably have a boatload of '80s styles (looking at you, blazer with shoulder pads) in the depths of our wardrobes.
In fact, lots of specific, vintage items are coming back, including the denim maxi skirt, which pays homage to those iconic, Britney-esque denim trends of the '90s. Perhaps, even, one might consider Wellipets' frog clogs or rain boots which were quite popular among children in the '90s - even royals like Prince William and Harry once sported them (no doubt under the fashion guise of Princess Di) - and made their way onto runways this season.
Madeline Merinuk is woman&home's US lifestyle news writer. She covers celebrity, entertainment, fashion, and beauty news but is also obsessed with internet trends - you can find her reciting trending TikTok sounds out loud at any given time.
After winning multiple student journalism awards for her investigative work, she graduated from Hofstra University in 2021 with a B.A. in Journalism. After graduating, she worked at today.com, the digital site for the Today Show, where she wrote pop culture news and interviewed big-name personalities like Emily Ratajkowski, Haley Lu Richardson, Emma Corrin, and more.
Her personal interests, in no particular order, are: cheese, Joni Mitchell, reading, hot yoga, traveling, having multiple chapsticks in every handbag at all times, and dancing to ABBA songs as if she were in the Mamma Mia movies.