Katie Holmes sports dazzling zebra pants at fashion week and we need a pair
Katie Holmes' zebra pants are a need!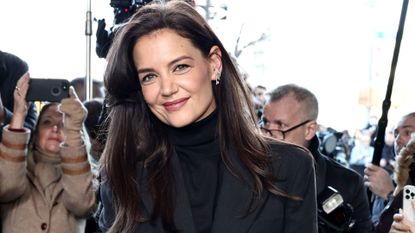 (Image credit: Getty Images)
One of our favorite women on planet earth, Katie Holmes, stepped out in style for New York Fashion Week in sparkly, zebra-print pants.
Katie Holmes undoubtedly has her pants game on lock. From wide-leg trousers to her best jeans, Katie is always impressing us with her ability to pull off truly any style - and her appearance at the Marc Jacobs show for New York Fashion Week was certainly no exception.
Throughout the beginning of February, celebrities, influencers, designers and models alike have been gathering for a slew of the many fashion shows that have been taking place in the city to show off Fall and Winter collections for 2023. Recently, Katie Holmes attended the Marc Jacobs show with a plethora of other A-listers, but stood out among the crowd in a truly unique, yet timeless, look.
Although, of course, Katie's zebra pants are totally stealing the spotlight for this look, we certainly have to acknowledge that the rest of her layered outfit is also a 10/10.
Starting at the top, Katie paired a super chic black turtleneck - a capsule wardrobe staple we can't live without - with a long black blazer, adding a sort of menswear-feel to the outfit. On the bottom, obviously, are the true stars - the zebra pants.
Not only are the pants zebra-printed (a pattern we suddenly wish we were seeing a lot more of, might we add), but they're also sparkly.
We'd imagine a pair of pants that's covered in tiny sequins could potentially get uncomfortable, but we just know Katie would do anything in the name of fashion, seeing as she always look so damn chic. The pants also boast a super flattering cut, flaring out at the ends slightly for a nod to '70s fashion.
For accessories, Katie stuck to a round, black leather clutch with gold hardware, as well as dangling diamond earrings, to add just a little more sparkle to her already glowing get up.
At the Marc Jacobs show, Katie sat in truly the most iconic seating arrangement humanly possible: front row, and next to a handful of other A-list celebs, including Alan Cumming, Mindy Kaling, Savannah Guthrie, Anna Wintour, and none other than Kate Hudson. Although, of course, all of the stars attending the show looked fabulous, Katie's outfit certainly stood out among the crowd in the best way.
Madeline Merinuk is woman&home's US lifestyle news writer. She covers celebrity, entertainment, fashion, and beauty news but is also obsessed with internet trends - you can find her reciting trending TikTok sounds out loud at any given time.
After winning multiple student journalism awards for her investigative work, she graduated from Hofstra University in 2021 with a B.A. in Journalism. After graduating, she worked at today.com, the digital site for the Today Show, where she wrote pop culture news and interviewed big-name personalities like Emily Ratajkowski, Haley Lu Richardson, Emma Corrin, and more.
Her personal interests, in no particular order, are: cheese, Joni Mitchell, reading, hot yoga, traveling, having multiple chapsticks in every handbag at all times, and dancing to ABBA songs as if she were in the Mamma Mia movies.