Salma Hayek reveals how a Magic Mike lap dance 'nearly killed her'
Magic Mike isn't so magical after all...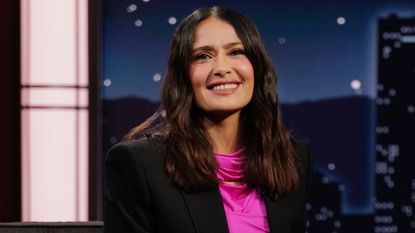 (Image credit: Getty Images)
On a recent taping of Jimmy Kimmel Live, Salma Hayek revealed that she almost got injured while getting a lap dance from her Magic Mike co-star, Channing Tatum.
Everyone is familiar with the Magic Mike franchise and for the last installment of the franchise, aptly titled Magic Mike: The Last Dance, long-respected actor Salma Hayek (who got candid about menopause recently) reveals that she had a lap dance scene with co-star Channing Tatum that could have ended really badly.
Jimmy played a clip of the scene, which features Channing giving Salma a pretty intense lap dance - but it was only a short clip, seeing as the whole scene wasn't really appropriate for cable TV. "That's just the beginning of it," Salma said to Jimmy, laughing.
Jimmy hilariously responded, "He's Channing all over your Tatum," to which the audience obviously responded with uproarious laughter.
He goes on to ask Salma if filming that scene was "exciting" for her, to which she responded, "Yeah... somewhat, but also challenging."
She continues to explain that shooting that scene almost ended up in a bit of a lap-dancing-induced accident. "There's one part that's not in it where I'm upside down, and my legs had to be somewhere," pointing to her shoulder, "But, upside down, one loses sense of direction, and I didn't do what I was supposed to do, so in the rehearsal, I went, like, head down—almost hit my head."
As if almost hitting your head wasn't enough of a scene, she also said that her pants almost fell down, and Channing had to hold them up for her - oh, and she forgot if she was wearing underwear or not. "He held on to my pants, but I was really concerned because my pants were going away, and I couldn't remember if I had underwear or not at this moment," she told Jimmy, laughing.
"So, instead of putting my hands to protect my head, I just held on to the pants. He's like, 'Put your hands up,' and I'm like, 'No, no, no, no'," she continued. Then, luckily the crew came over and helped her get back to an upright position where there was no risk of head injury or unwanted exposing of private parts.
However, if we learned anything from Salma Hayek's Golden Globes dress or her see-through fishnet dress, she probably didn't have much to worry about anyway.
She told Jimmy that Channing said to her, "What's wrong with you?"

"I said, 'What's wrong with me? You nearly killed me!"
She also revealed that she had never received a lap dance before starring in Magic Mike, but continued that if you're going to start somewhere, it might as well be with someone as good-looking as Channing Tatum. Additionally, she said that after years of starring in movies where she often has played stripper roles, it's nice to take a backseat.
"You know what, I deserve it," she said. "I had to play the stripper in so many movies before, and now I get to sit down and enjoy."
Madeline Merinuk is woman&home's US lifestyle news writer. She covers celebrity, entertainment, fashion, and beauty news but is also obsessed with internet trends - you can find her reciting trending TikTok sounds out loud at any given time.
After winning multiple student journalism awards for her investigative work, she graduated from Hofstra University in 2021 with a B.A. in Journalism. After graduating, she worked at today.com, the digital site for the Today Show, where she wrote pop culture news and interviewed big-name personalities like Emily Ratajkowski, Haley Lu Richardson, Emma Corrin, and more.
Her personal interests, in no particular order, are: cheese, Joni Mitchell, reading, hot yoga, traveling, having multiple chapsticks in every handbag at all times, and dancing to ABBA songs as if she were in the Mamma Mia movies.