We're still thinking about Salma Hayek's leather, latex, and fishnets look as celeb pals label her 'hot mama'
Salma Hayek debuts not one, but three trends...
(Image credit: Getty Images)
In a look that some are labeling as "bikercore," Salma Hayek stunned in a leather and fishnet outfit earlier this week.
It's truly no secret that Salma Hayek is one of the most badass women out there, from her stints in the Magic Mike movies to her hilarious and charismatic personality off-screen.
The Frida star further cemented her spot as one of the hottest women in Hollywood when she showed up to the Brit Awards on Saturday evening wearing a leather and fishnet look that stunned fans alongside the red carpet.
The grungy take on red carpet style came from Alexander McQueen, specifically the spring 2023 collection. The leather top led into an asymmetrical skirt complete with buttons and zippers, effectively giving off the look of a biker-esque leather jacket.
The outfit was complete with ever-trendy fishnet stockings and a pair of laced-up, platform leather boots to add an extra edge to the look. For jewelry, Salma sported a diamond, knotted-collar necklace, which really solidified the whole punk vibe she had going on.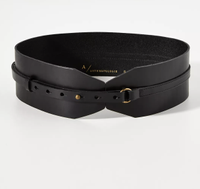 (opens in new tab)
Leather Corset Belt, £60 ($72) | Anthopologie (opens in new tab)
Inject some of Salma's style into your own look with this stunning leather corset belt - where over a crisp white shirt for a more wearable day-to-day look.
After Salma, who recently got candid about menopause, posted a video of her eye-catching Brit Awards look to Instagram, fans and her celebrity friends alike sung the actress' praises.
"Hot mama," Vanessa Hudgens commented.
World-famous model Cindy Crawford, who recently revealed a new bangs hairstyle, also commented on Salma's post with three flame emojis.
The star, whose newest feature film concludes the Magic Mike franchise, recently guest starred on Jimmy Kimmel, where she hilariously revealed how a lap dance "nearly killed her" while they were shooting the movie.
"There's one part that's not in it where I'm upside down, and my legs had to be somewhere," pointing to her shoulder, "But, upside down, one loses sense of direction, and I didn't do what I was supposed to do, so in the rehearsal, I went, like, head down - almost hit my head."
For the sake of the Magic Mike cast and crew, as well as the world at-large, we're glad she's okay.
Aside from her Brit Awards look, Salma is no stranger to sexy red carpet looks. At the premiere Magic Mike's Last Dance, the star posed in another look with fishnet detailing. Her dress, which was see-through fishnets from top to bottom, featured tastefully placed embroidered floral patches throughout - and she completed the look with a chic, matching black bra and black undies. Only Salma could pull off something so simultaneously chic and sexy.
"You've been a savage since you were born chica. you're rocking everything you put on," someone commented under her video.
Madeline Merinuk is woman&home's US lifestyle news writer. She covers celebrity, entertainment, fashion, and beauty news but is also obsessed with internet trends - you can find her reciting trending TikTok sounds out loud at any given time.
After winning multiple student journalism awards for her investigative work, she graduated from Hofstra University in 2021 with a B.A. in Journalism. After graduating, she worked at today.com, the digital site for the Today Show, where she wrote pop culture news and interviewed big-name personalities like Emily Ratajkowski, Haley Lu Richardson, Emma Corrin, and more.
Her personal interests, in no particular order, are: cheese, Joni Mitchell, reading, hot yoga, traveling, having multiple chapsticks in every handbag at all times, and dancing to ABBA songs as if she were in the Mamma Mia movies.