Queen Letizia's bubblegum pink peplum look and unique hat steal the show at Charles' coronation
Queen Letizia arrived at Westminster wearing the chicest outfit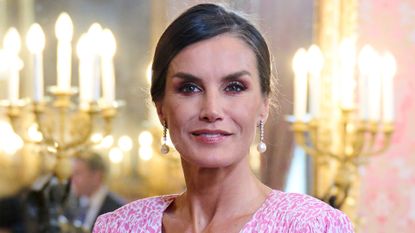 (Image credit: Carlos Alvarez/Getty Images)
Queen Letizia arrived at Westminster Abbey to celebrate King Charles' coronation wearing the chicest, bright pink dress - and a very unique hat we can't stop thinking about.
You can follow along with our live coronation blog for updated coverage of the day for more information on the royals and world leaders from around the globe that gathered to celebrate the coronation of King Charles III.
Of course, one of the most notable parts of watching such a historic celebration is seeing the outfits that everyone is wearing - particularly the royal women from across the world. So far, we've already seen, of course, the British royal women in some incredible ensembles (we really love Princess Beatrice's hot pink dress), but we're obsessed with the looks from the European royals as well, like Princess Mary of Denmark's regal purple ensemble.
One woman, though, who never fails to stand out as one of the chicest royal women out there is Queen Letizia of Spain - who has already been on our radar recently for fashionable looks like her flowing white dress.
Her coronation outfit proved to be no exception!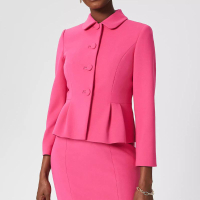 Dania Jacket, $480 / £229 | Hobbs
This peplum jacket is very similar to Queen Letizia's candy pink version, with the same peplum waistline that adds some extra flare to this classic look.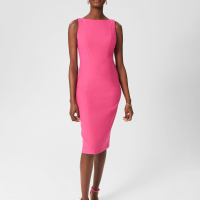 Dania Dress, $375 / £179 | Hobbs
For a look that can be worn time and time again for all manner of formal events, there's no going wrong with this Hobbs number. When worn with the jacket it makes a real statement that is fit for a Queen.
A vision in pink, Letizia arrived with her husband, King Felipe VI, in a bubblegum pink gown with peplum detailing at the waist. The neckline features floral embroidery and tiny buttons down to her waist.
Of course, we can't forget about her fabulous hat (or anyone's fabulous hat for that matter, seeing as there have been quite a few today) - which is large and circular, and features an overlay of pink lace. She also sported a pair of small, clustered diamond earrings, as well as a pink rectangular clutch that perfectly matched her dress.
Letizia also rocked a fun pair of matching pink, slingback heels for the occasion. She also kept her hair in a neat, slicked back bun and kept her makeup naturally glam, as to not draw attention away from her incredible outfit.
And it wasn't the first time this weekend that Letiza stole the show with her perfectly put-together look, at the coronation pre-party at Buckingham Palace, Queen Letizia rocked a lime green ruched dress, from non-other than Victoria Beckham.
Madeline Merinuk is woman&home's US lifestyle news writer. She covers celebrity, entertainment, fashion, and beauty news but is also obsessed with internet trends - you can find her reciting trending TikTok sounds out loud at any given time.
After winning multiple student journalism awards for her investigative work, she graduated from Hofstra University in 2021 with a B.A. in Journalism. After graduating, she worked at today.com, the digital site for the Today Show, where she wrote pop culture news and interviewed big-name personalities like Emily Ratajkowski, Haley Lu Richardson, Emma Corrin, and more.
Her personal interests, in no particular order, are: cheese, Joni Mitchell, reading, hot yoga, traveling, having multiple chapsticks in every handbag at all times, and dancing to ABBA songs as if she were in the Mamma Mia movies.