Queen Letizia of Spain's flowing white dress is a summer wardrobe dream
Queen Letizia's newest warm-weather look is one of her best yet!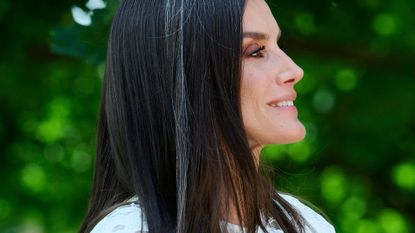 (Image credit: Getty Images)
Queen Letizia recently stepped out in a flowing white dress, and we're utterly obsessed with the summery style.
As we know, royals have a certain expectation to dress conservatively when out and about with their royal counterparts - but that doesn't mean they can't incorporate a bit of their personal style. Queen Letizia of Spain, who recently wowed in a beautiful polka-dot dress, is truly the champion of this feat and debuted yet another summery outfit that has us scouring the internet for a similar style.
On May 3, the Spanish royal family hosted a lunch for the President of Colombia, Gustavo Francisco Petro - and Letizia brought her fashion A-game for the royal engagement.
In a look that has the perfect balance between modest and trendy, the Queen sported a gorgeous, flowing white dress. The dress is a midi length, hitting right between her knees and ankles, and features a cap sleeve cut on the top. It also boasts a delicate lace pattern, perfect for adding a touch of sophistication to what is already a very stylish wardrobe piece.
This isn't Letizia's first go at a midi dress, however - the effortlessly chic royal recently was spotted wearing a fabulous floral print midi dress too.
She styled the white dress with a pair of super chic, nude slingback heels - a perfect shoe staple to have in your closet for this summer, seeing as you could pair them with just about anything. She also chose a simple pair of hoop earrings bedazzled with pearls to add just a touch of glamour to the otherwise simple (yet gorgeous!) look - which is quite the departure from the typical color-pop accessories she often goes for.
The dress is from Spanish clothing brand Sfera, but unfortunately, it's sold out everywhere online. However, we've wrangled up a few styles that are quite similar to the Queen's, because there's no better summer wardrobe staple than a classic white dress.
---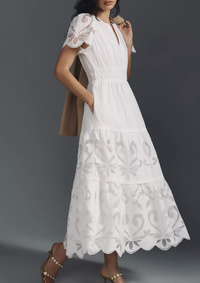 The Somerset Maxi Dress: Cutwork Edition, $220 (£277) | Anthropologie
It's rare to come across such a beautiful dress but we're obsessed with this gorgeous style from Anthropologie. Pair with simple jewelry for a look just like Letizia's.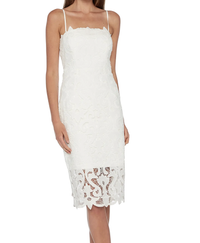 BARDOT Lina Lace Sheath Dress, $139 (£175) | Nordstrom
Large-scale openwork lace elevates this sleek sheath dress to stylish new levels. Try it at a summer wedding or garden party.
Standing by King Felipe VI's side, the European royals greeted their lunch guests at Zarzuela Palace in Madrid, Spain, with Colombian First Lady Veronica Alcocer actually wearing quite a similar style dress to Letizia's. Clearly, there's a trend of white dresses going around for the summer of 2023.
Madeline Merinuk is woman&home's US lifestyle news writer. She covers celebrity, entertainment, fashion, and beauty news but is also obsessed with internet trends - you can find her reciting trending TikTok sounds out loud at any given time.
After winning multiple student journalism awards for her investigative work, she graduated from Hofstra University in 2021 with a B.A. in Journalism. After graduating, she worked at today.com, the digital site for the Today Show, where she wrote pop culture news and interviewed big-name personalities like Emily Ratajkowski, Haley Lu Richardson, Emma Corrin, and more.
Her personal interests, in no particular order, are: cheese, Joni Mitchell, reading, hot yoga, traveling, having multiple chapsticks in every handbag at all times, and dancing to ABBA songs as if she were in the Mamma Mia movies.