J Crew Cyber Monday sale: there are some amazing 60% discounts on these cosy winter clothes
The J Crew Cyber Monday sale is offering some incredible deals on chic winter pieces...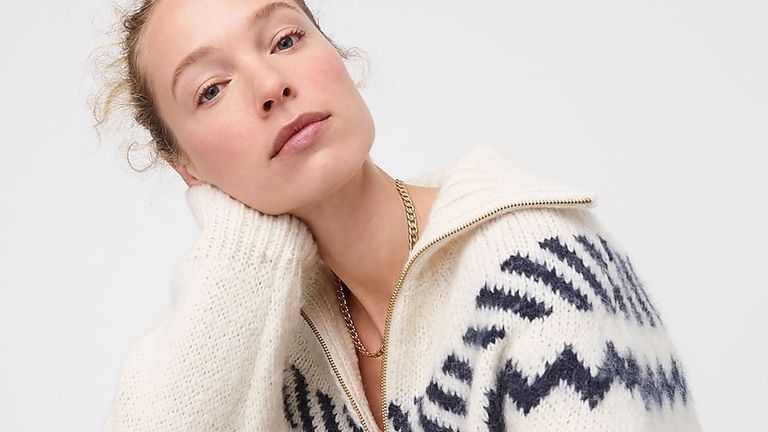 (Image credit: J Crew)
By Amy Hunt
It's about that time where the majority of us have exhausted our winter lockdown wardrobe - we've worn the same joggers and sweaters four times over the last week and we're in dire need of a refresh. Cue the J Crew Cyber Monday sale.
In the UK, the retailer is currently running 40% off many of their full-price items, and in the US, a whopping 50% off PLUS an extra 10% off. And the deals truly are a sight to behold! 
But remember, in the US, you'll need to use the code CYBER at the checkout to enjoy the discounts. In the UK you'll need to use the code SHOP40 to get the 40% off discount. 
With discounts on everything from stylish jumpers to jumpsuits, as well as kids and mens clothing (Christmas shopping, anyone?) it's one of the best Cyber Monday deals out there, and there's something for everyone looking to upgrade their wardrobe as the colder weather (and festive season) rolls in.
Here are our top picks for the J Crew Cyber Monday sale - just be sure to buy ASAP, as the deals will likely be finishing up in the next 24 hours or so.
J Crew Cyber Monday sale - quick links: 
Best J Crew Cyber Monday US deals
Swingy cable-knit mockneck sweater: $128 $51.20 (save $76.80) | J Crew A perfect pick for winter, this mockneck sweater will cope you warm and cosy even on the coldest of days. And it's now got a huge 60% off! Save an enormous $76 if you buy now.View Deal
Shirtdress in leafy jacquard: $128 $51.20 (save $76.80) | J Crew In a chic jacquard print, this lovely winter dress is also a huge $76 off right now at J Crew! It's still available in all sizes, so if View Deal
Half-zip turtleneck sweater in Fair Isle: $168 $100.80 (save $68)  | J Crew A comfy, cosy white sweater in a classic Fair Isle pattern is a must for winter (and fall), and we adore this one from J Crew. It's now got an enormous £75 off, so get it while it's still reduced in price, as we can see this one going back up to full price post-Cyber MondayView Deal
Drapey ruffleneck top: $89.50 $46.99 (save $42.51) Made from crinkle-resistant fabric (so no ironing, woohoo!), this top is ideal for all seasons, and can be layered up for winter. It's now a huge 47% off, reducing the price from $89 to $46 View Deal
Ruffle-sleeve jumpsuit in 365 crepe: $148 $88.99 (save $59.01) | J Crew This chic ruffle jumpsuit is now a huge $59 off! It's perfect for any Zoom Christmas parties, and is utterly timeless, so it'll work for years to come - you know, when we're eventually allowed to dress up and socialise again...View Deal
Slim double-weave shirt: $79.50 $31.80 (save $47.70) | J Crew Desperately searching for Christmas gift for the man in your life? Look no further, because this sophisticated and stylish shirt that will suit anyone is now a huge £35 off for Cyber Monday only. We're buying three...View Deal
Supercozy waffle henley pajama set: $98 $39.50 (save $58.50) | J Crew  This is a J Crew bestseller, and we can see why! The super cosy pajama set is now a huge 59% off, and comes three different colours - grey (above), black, and pink.View Deal
But remember, the J Crew Cyber Monday is coming to an end very soon - so shop these incredible deals as soon as possible!