Best Rolex watches for women: The key styles that will never date
Nothing marks a milestone quite like investing in one of the best Rolex watches for women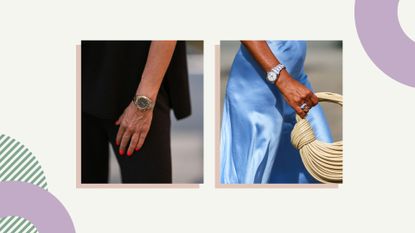 (Image credit: Getty Images)
When it comes to watches, none is more iconic than the Rolex. It's a mark of both style and status - just two of the many reasons why the best Rolex watches for women have become such covetable and collectible items.
For over a century, Rolex have been crafting watches for achievers and explorers. Timepieces that have enhanced and supported their journey's across the globe, so buying a Rolex is a big deal. While a number of Rolex watches are built for performance, they are often reserved for marking milestone occasions like a promotion, birthday or anniversary, there are few luxury items that hold such widespread appeal. If you're looking to invest in one of the best watches for women, plumping for one of the best Rolex watches is a savvy move. Whether you're opting for a Lady-Datejust or an Oyster Perpetual, Rolexes are the perfect kind of investment buy. Incredibly wearable, they're also likely to hold or increase their value over time. While you might only slip on your best designer heels for special occasions or carry your best designer bags with particular outfits, a Rolex can be worn any time or place and will instantly elevate any look. A Rolex will remain a stylish and reliable part of your capsule wardrobe for years to come.
"Wearing a Rolex adds a heightened level of luxury to any outfit – it speaks for itself," explains celebrity stylist and private shopper Rachael Perry. "It's a standalone piece, so you don't need to worry too much about matching your Rolex to your other jewelry. They look great with precious stones (such as diamonds) and mixed metals. For example, you can still wear a gold Rolex with white gold or platinum jewelry, and a steel Rolex with gold jewelry."
If you've looked at how to sell clothes online you'll know that the best Gucci bags and best Chanel bags have great resale potential and the same is true for women's Rolexes - particularly because they're so hard to get hold of in the first place. Not all styles will dramatically increase in price in the way rarer watches will, but nearly all will hold their value, making some of the Rolexes for investment a great purchase. It is not a stretch to say that Rolex changed the face of women's jewelry. Pre-Rolex, even the best jewelry brands only designed pieces for women with aesthetics in mind. Watches and bracelets were always dainty and delicate, instead of built to be functional and durable. Rolex wanted to change that, giving women a watch they could rely on, without compromising on appearance.
Best Rolex watches for women
Why you can trust Woman & Home Our expert reviewers spend hours testing and comparing products and services so you can choose the best for you. Find out more about how we test.
1. Lady-Datejust
Best for all ages
Specifications
Price: From approx $6,500 / £5,400
Reasons to buy
+
Huge range of styles, dials, and metals
+
Recognizable design
+
Great for everyday
Reasons to avoid
-
Unlikely to significantly increase in value
A smaller take on the iconic Datejust style, the classic Lady-Datejust was designed to provide its female wearers with a better fit. It's considered a timeless and feminine style and is one of the most varied lines in the collection, available in a broad range of styles, dials and metals - although the mother of pearl, diamond set dial above is our personal favorite. Shoppers can choose from the Oyster, President, or Jubilee bracelets, as well as light, colored, dark, gem-set or diamond-paved dials. The options you choose are of course reflected in the price, which range from approximately $6,500 / £5,400 to price on request iterations. Functions include minutes and second hands, instant date settings and stop-seconds. The Lady-Datejust is self-winding via a perpetual rotor, with a power reserve of around 55 hours.
2. Oyster Perpetual 28
Best for accessible price point
Specifications
Price: From approx $5,400 / £4,100
Reasons to buy
+
Iconic Oyster bracelet
+
Waterproof
+
Accessible price point
Reasons to avoid
-
Not rare enough for collectors
If you're after a watch that perfectly summarises Rolexes' history, the Oyster Perpetual is a wise choice. Not only is it the heir to the first Rolex waterproof watch case, but the word perpetual also makes a big nod to the self-winding mechanism which made the brand its name. Combining form and function in a sleek package, the designs remain waterproof today. The Oyster Perpetual 28 is the smallest in the Oyster Perpetual range, with the 28 referring to the 28mm face. Key features include the iconic flat, three-link Oyster bracelet, crafted from robust steel, with a choice of colored faces. As far as Rolexes go, the Oyster Perpetual is a more affordable option, with prices starting around $5,500 / £4,200.
3. Oyster Perpetual 31
Best for a Rolex for evening wear
Specifications
Price: From approx $5,500 / £4,300
Reasons to buy
+
Accessible price point
+
Elegant design
+
Different sizes available
Reasons to avoid
-
Fewer finishes available
If the Oyster 28 has piqued your interest but not quite hit the mark, consider the slightly larger Oyster Perpetual 31. It has a very similar dial configuration to the 36 and 41, and is available with a range of faces. Ideal for evening wear, this is the timepiece to slip on for life's special moments.
"The Rolex Oyster Perpetual Datejust is the epitome of a classic and elegant timepiece," says Lisa Broun, Senior Watch Buyer at the Watches of Switzerland Group. "It consolidated all the major innovations Rolex had contributed to the modern wristwatch and was the first self-winding waterproof chronometer wristwatch to display the date in a window at 3 o'clock."
Sleek but durable, the oyster-steel is highly resistant to corrosion, creating a piece that can be passed on and cherished for years to come.
"Available in a variety of different sizes with a large selection of dials in different colors, finishes and materials, the Oyster Perpetual Datejust combines elegance with precision, grace with resistance and beauty with performance. It remains a major draw for clients and at Mappin & Webb we try to create an experience as memorable as the collection itself."
4. Day-Date 36
Best for collectors
Specifications
Price : From approx $37,000 / £29,550
Reasons to buy
+
Historic style
+
Crafted from luxurious materials
+
Investment piece
A watch steeped in brand history, the Rolex Day-Date was the first to display the day of the week in full when launched in 1956. This is a watch that implies status, and is available only in 18-carat gold or 950 platinum. Super high-end, the quality, craftsmanship and expensive materials used is of course, reflected in the much higher price bracket, particularly when compared to pieces such as the Oyster Perpetual 31. Prices obtained from Rolex start at around $38,000 / £29,550, with the majority of the styles listed as price on request.
The 36mm dial is available in light, colored, dark, gem-set or diamond-paved option, encased in either yellow, pink and white golds, or platinum. As you can imagine, this really is a standout style and idea for wearing with evening wear or for a special occasion. This luxurious and exclusive timepiece is one that is likely to hold its value.
5. Yacht-Master 37
Best for performance
Specifications
Price: From approx $10,800 / £9,250
Reasons to buy
+
Available with a non-metal strap
+
Built for waterproof performance
+
Timeless but modern feel
The Yacht-Master 37 is a watch built for performance. It is both extremely hard-wearing and waterproof, making it a smart choice for keen sailors or anyone with a love of watersports, or who enjoys life on the open seas. The chronograph feature allows you to use it as both a display watch and stopwatch, for those who like to keep track a more detailed log.
The colorways of the Yacht-Master 37 are more limited than other lines, sticking to a sophisticated palette of silver, pink gold and black. Unlike other collections, which only offer metal straps, there is the Oysterflex bracelet option, which bends and moves with the wearer, offering a sporty and less formal alternative - ideal for how to style loafers for women, just add your fave Breton top for the full nautical look - great for adding polish to those smart casual outfit ideas.
6. Datejust 31
Best for availability
Specifications
Price: From approx $8,300 / £6,300
Reasons to buy
+
Tends to be readily available to buy
+
Distinctive design
+
Embellished designs available
Reasons to avoid
-
May not increase in price
Another of the best Rolex watches for women which takes its name from its most distinctive feature, the Datejust was the first self-winding wristwatch to display the date in a window close to 3 o'clock on the dial. One of the brand's most iconic and instantly recognizable designs, the watch has aesthetically changed as little as possible over time, retaining its core features.
There is a choice of Jubilee, Oyster or President bracelets, but the five-link Jubilee is steeped in history, having been specially designed for the 1945 launch of the Oyster Perpetual Datejust. The dials can be light, colored, dark, or gem-set.
7. Datejust 36
Best for unisex design
Specifications
Price: From approx $7,000 / £5,545
Reasons to buy
+
Statement, unisex design
+
Good choice of design options
Reasons to avoid
-
May not increase in price
4mm may sound small, but when it comes to watches it is not an insignificant detail. Some may find that the Datejust 31 doesn't offer the impact they're looking for, which is when the Datejust 36 becomes a brilliant option. At this size, the watch is unisex, with features both male and female Rolex wearers will love. Compared to the Datejust 31, the dials are almost identical, with the namesake display date in place of 3 o'clock. Again, the breadth of options is impressive, this time with a choice between the Oyster or Jubilee bracelets, as well as light, colored, dark or gem-set dials.
---
Brief history of Rolex watches
How do you become the world's most iconic watch brand? For Rolex, it all started in 1905, when Hans Wildorf founded a company in London that would go on to create the first waterproof watch to be worn on the wrist, calling it the Oyster. The movements and mechanics in the original Rolexes were manufactured by a Swiss factory in Bienne, before the brand moved to Geveva (a city famous for watchmaking) in 1920.
Between 1926 and 1935, the Rolex was seriously put through its paces, establishing itself as a brand for the adventurous. The Rolex Oyster crossed the channel in 1927 to prove its waterproof capabilities, before being worn by a crew on an expedition to fly over Everest. A Rolex was also worn by driver Sir Malcom Campbell as he broke the world speed record nine times by 1935.
The thing that really set Rolex apart from the crowd and its competitors? In 1931 the brand both invented, and subsequently patented, a self-winding mechanism with a free rotor. It was based on a principle that was later adopted by the entirety of watchmaking, changing the industry forever.
Over the succeeding years, Rolex continued to build a name for itself as a watch brand that did so much more than tell the time. Rolexes were not only worn by adventurers, but their popularity soared with the rise of intercontinental travel, as the need to keep track of the time over multiple zones increased. Rolex quickly came to be associated with excellence, whether that was through achievements, wealth or status.
Key launch dates for the most iconic Rolex watches include:
1945: The Datejust
1953: The Explorer
1953: The Submariner
1955: The GMT-Master
1956: The Oyster Perpetual Milgauss
1957: The Lady-Datejust
1960: The Deep Sea Special
1963: The Cosmograph Daytona
1967: The Sea-Dweller
1971: The Oyster Perpetual Explorer II
1978: The Sea-Dweller 4000
1992: The Pearlmaster
1992: The Yacht-Master
2007: Yacht-Master II
2012: The Sky-Dweller
2014: The new Cellini collection
2017: Cellini Moonphase
---
How to shop for a Rolex
Shopping for a Rolex is not always quite as straightforward as buying other luxury items and while you can get a Burberry trench coat online, that isn't the case for Rolex watches. Shopping in-store is not without its quirks too, with low stock levels, there are long waiting lists to consider.
Fake Rolex watches are rife, so for complete peace of mind it is important to buy in-store through an official, approved Rolex jeweler. This way your Rolex will not only come with full authentication but a five-year guarantee. It also affords you the opportunity to try on different designs, to see which you prefer. You can have the strap or links adjusted with ease too, for the best possible fit. Not to mention the experience in-store is a special one. The sales staff in Rolex are notoriously knowledgeable, turning the process of purchasing one of the best Rolexes for women into something to treasure.
If the Rolex you're hoping to buy is a popular style, you may have to join a waiting list (which can start from around six months long to a three year period for some styles . Production is small for such an iconic brand, with only four factories in the world. Styles like the Rolex Datejust tend to be more readily available, whereas the Sports models are more difficult to get hold of. Building a relationship with an authorized dealer and having a purchase history with the brand will help you to rise higher up the waiting list. Hence why so many watch fans and enthusiasts have built up a collection of Rolexes over a long period of time.
As you would expect, there is a huge market for vintage and pre-loved Rolexes. If you're buying second-hand, choose a trusted watch dealer and do your research first. You're parting with a lot of money, so don't want to end up disappointed.
---
Do women's Rolex watches hold their value?
In short, yes. In the same way that a men's Rolex watch retains its value, or for rarer designs, the value can increase, the same is said for the women's versions from the high-end brand. In addition to this, Rolex increased the prices of its watches by around 4% at the start of 2022, which suggests that future price hikes can be expected. Invest in one of the most timeless and best Rolex watches for women now and in the future, it could be worth more than you paid for it.
Jess Beech is an experienced fashion and beauty editor, with more than eight years experience in the publishing industry. She has written for woman&home, GoodtoKnow, Now, Woman, Woman's Weekly, Woman's Own and Chat, and is a former Deputy Fashion & Beauty Editor at Future PLC. A beauty obsessive, Jess has tried everything from cryotherapy to chemical peels (minus the Samantha in Sex and The City-worthy redness) and interviewed experts including Jo Malone and Trinny Woodall.