You actually only need three items in your skincare routine, according to a top dermatologist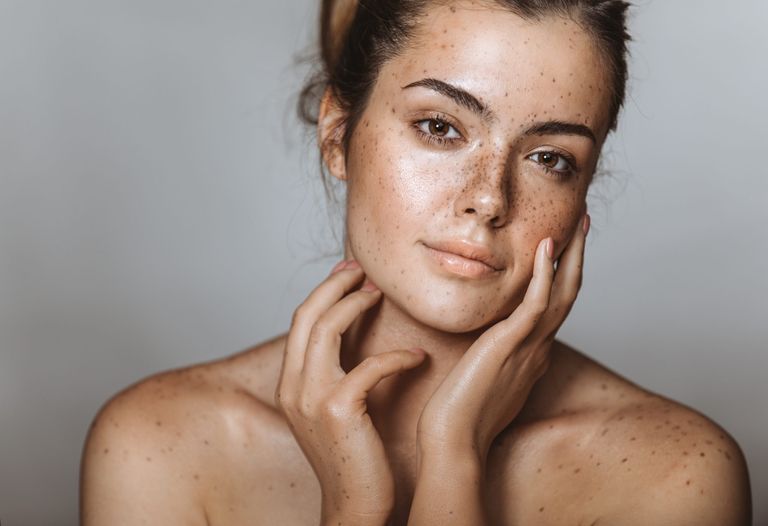 Skincare routines have come a long way since the holy trinity of cleanse, tone and moisturise. Nowadays, it can feel a little bit like you're back in chemistry class, deciphering between AHAs and BHAs.
There's no doubt that there are a wealth of options available to suit every skincare need, but sometimes we can't help wondering whether complicating things is spurring on the frown lines we're trying to get rid of.
According to one skincare expect, we should be keeping things far more simple. Emily Newsom, M.D., a dermatologist at Ronald Reagan UCLA Medical Center, argues that we had it right with a three-step process, but the products need a little tweaking to reflect what we know about skincare today.
MORE:This is the one skincare product that experts wish you'd stop using on your face
She stresses the importance of incorporating an SPF (at least factor 30) into our daily routines, if we've any hope of keeping dark spots, pigmentation and wrinkles at bay.
Our daily skincare routine should consist of:
"I like to keep things pretty simple," Emily told SELF. "It might not make for great blogging, but it's fine."
Cleanse twice a day to remove dirt, grime and make-up (we'd recommend a double cleanse at night). Then apply a moisturiser to hydrate and keep the skin's protective barrier functioning.
An SPF will protect your skin from the sun's harmful UV rays, and should be used all year round, rather than just on sunny days. If you'd like to combine the two and get a moisturiser with an in-built SPF, feel free - just make sure it's factor 30+ (and 5* UV protection, of course).
Emily's not the only skincare expert to stress the importance of SPF. "Sun protection is your best strategy in keeping your skin youthful. Sun exposure contributes greatly to wrinkles, loss of firmness and brown spots," said Dr. David Lortscher, dermatologist and CEO ofCurology.
There are certain ingredients you can look out for in SPF products that will help fight UV rays, if you don't mind getting a bit technical.
"Look for sunscreens that have ingredients such as titanium dioxide and zinc oxide to absorb rays and reflect them off the skin, as well as octocrylene (a moisturizing chemical sunscreen) and octisalate (an organic sunscreen that absorbs UVB rays) to maintain longevity of the product on the user," said Dr. Howard Sobel, founder ofSobel Skin.
What other products can you add in to your skincare routine?
Once you've got the basics down, incorporating some more specialist skincare products based on you skin's needs could help you see even better results.
Best for:reducing fine lines
Retinol is simply another name for vitamin A, which is found naturally in the body. Retinol penetrates each skin cell and encourages it to behave like a younger, healthier version of itself.
The options are vast for applying retinol, whether you choose a hard-working day cream, overnight serum or wrinkle-tackling eye gel.
We love:Elizabeth Arden Retinol Ceramide Capsules, £42
Best for:hydration
Don't be fooled by its scary-sounding name, this beauty staple isn't out to sizzle away your delicate skin. Hyaluronic acid can actually be found within our own skin cells, but annoyingly it depletes as we get older.
MORE:The best retinol creams to anti-age your skin and prevent wrinkles
Levels naturally dip due to the ageing process, but they're also affected by environmental conditions, such as exposure to extreme temperatures and the everyday smog of pollution we face living in the city. Topping up levels with a serum or moisturiser containing this wonder ingredient is a fast track to smooth, soft, pillowy skin.
We love:The Ordinary Hyaluronic Acid, £5.90
Glycolic acid toners
Best for: exfoliation, brighter skin
Alpha hydroxy acids (also known as AHAs) are acids derived from food and plant sources like sugar, milk, and fruits. The mildest, and most commonly used, is glycolic acid, which is derived from sugar.
MORE:This hyaluronic acid serum is so popular it's sold out five times
A glycolic toner will slough away dead skin cells revealing a brighter, fresher complexion. But with that comes a higher risk of sun damage, so make sure you always use an SPF following any kind of acid product. We'd recommend starting slowly when it comes to glycolics, trialling it once a week, with a 5% exfoliant.
We love: REN Ready, Stead, Glow Daily AHA Tonic, £25
Stay tuned for more product recommendations on woman&home.