Make-Up To Take 5 Years Off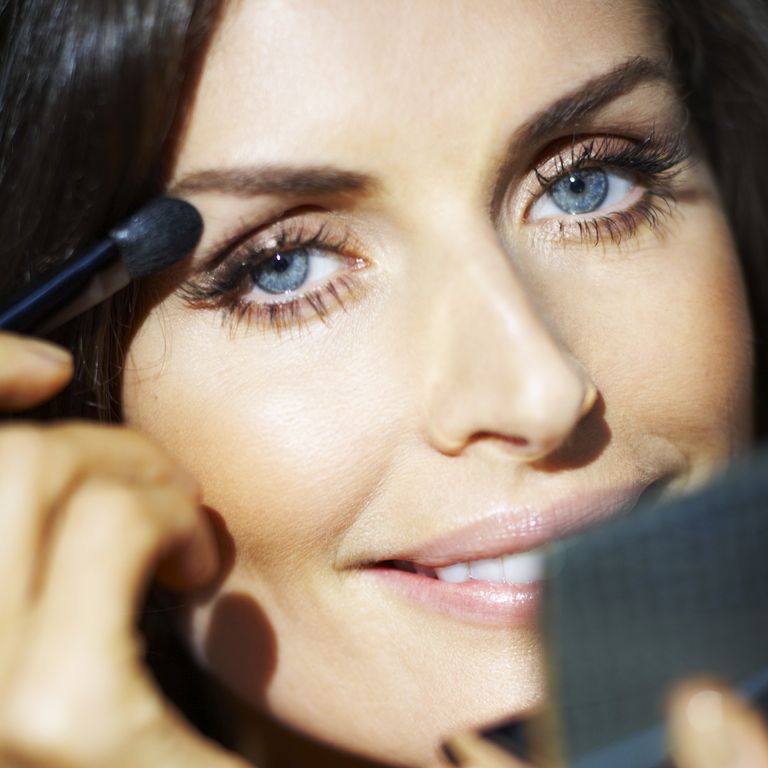 Our pick of the best make-up for fast, easy ways to a glamorous and more youthful-looking you
Want to learn how to look younger with make-up? It's easy - you just need a few good products and a little know-how. For those of us who don't have the time or inclination to spend all morning in front of the mirror applying make-up every day, we've discovered a beauty line which will transform you in to a make-up pro - or at least have you looking like a new and improved version.
Studio 10 is perfect for mature faces and those who'd categorise themselves as beauty novices. It features a series of kits: foundation, eyes, a correcting palette and contouring kit. It's the ultimate brand for those of us who want to learn how to look younger with the power of make-up and applying it couldn't be easier.
While in an ideal world we'd splash out and invest in the lot, in reality if there's one product that will revolutionise your routine, it's the Visible Lift Face Definer. It's a game-changer and the clue is in the name. It features a basic contouring powder to lift and accentuate cheekbones (remember blending is key) a flattering-to-all gel blush and a highlighter. The one-shade-suits-all blush gives that dewy youthful flush we all want, while the highlighter works to lift and lighten your features.
You can pat the products on with a fingertipand pop the super-slim palette in your handbag for round-the-clock touch-ups. Friends will think you've had a make-up lesson, but you'll know you've simply learned to apply make-up like a pro. Easy!
Keep reading to discover even more beauty tips and tricks to take years off your look...
Sarah Jessica Parker's Ageless Make-up
The Sex And The City star was in London yesterday, promoting her brand new fragrance Stash, £32. During an interview, the 51 year-old style icon revealed the secret to her ageless look is Laura Mericer Caviar Stick, £23. The creamy texture and pen applicator are great for gliding over crows feet. 'You have to blend it quickly, while it still has some warmth and movement in it, then it's cooked. And you just keep adding and adding. Jungle is my favourite but I also love Khaki, Plum and Tuxedo. I always make sure I'm well stocked.'
Learn How to Double Line
Make-up artists have been 'double lining' for years and now Bobbi Brown has spilled the beans so you can perfect it at home. "Double lining is a make-up artist inspired technique that really makes eyes stand out," says Bobbi. We love it because it's ridiculously easy and so much softer and more flattering than harsh black liner alone. Plus, it'll make your products last the distance without transferring - even on hooded lids. Always work one eye at a time, first pull the lid taut and line with Bobbi Brown Long Wear Gel Liner, £18.50, and Ultra Fine Eye Liner Brush, £22.50. Then, quickly, while the gel is still wet, go over the line with a skinny brush dipped in powder shadow. You can smudge it a bit with a cotton bud for a smoky look or leave it super neat. Be generous with the product, you should be able to see a hint of colour when eyes are open. Read more beauty tips here
The New Lightweight Foundations
Even if you've never been a fan of foundation, now's the best time to try a new lightweight formula, because hiding just a few minor flaws makes skin look significantly younger in seconds. Try Givenchy Photo'Perfexion Light, £30.50 - our favourite, easy-wear foundation that let's your skin show through. Read more beauty tips here
Prep and Prime Your Skin
"I'm not a big fan of powder, as it ages and shows up lines," says Tom, "and the more foundation you wear, the more powder you'll need to fix it. But if skin is prepped well - softened, smoothed and refreshed - you'll use less, and need to cover less, so skin looks fresher and more youthful, regardless of age. Don't cover up if you don't actually need to." To even out your skin, try Estée Lauder Idealist Pore Minimising Skin Refinisher, £36. Read more beauty tips here
Bronzing Tips
Sculpt your skin with a warm, healthy, honey bronzer, like this Estée Lauder Bronze Goddess Bronzer, £27 that is more flattering than a classic 'dark brown' contouring product. Choose either a liquid, mousse or a powder, whichever you are most comfortable using. Suck in your cheeks and (because the colour isn't too heavy), really work it into the hollows, blending beautifully so there are no lines or edges to your make-up. Read more beauty tips here
The New Lip Shades
Right now, you need a full-on vibrant pop of colour, from a tangerine coral to red and fuchsia. "For me, there is nothing more sexy or sensual than seeing a woman applying it straight from the tube," says Tom Pecheux. And nothing is sexier than Tom Ford's new True Coral Lip Color, £35. The trick is to be brave: you'll be amazed how a hit of lip completely re-energises your looks. The trick to carrying off a vibrant lip is to consider the texture against your skin. Go for a lipstick formula with a cream sheen (not a heavy shimmer), or try a matte texture (you can always gloss it up a little if it's too much). Read more beauty tips here
The New Blushers
Every woman looks better with a bit of blusher, and the new hot pinky coral - is one of the most flattering shades - like this Benefit Bella Bamba, £23.50 - it seems to suit every skin tone. To keep it fresh, avoid highlighter; you want to give the cheeks all the attention. Read more beauty tips here
How To Apply Blusher
Blush is back, and it's the most vibrant and energetic colour ever - like this Guerlain Blush G Secret To A Healthy Glow, £41 - helping to plump up the cheeks and create extra volume in the face. The trick is to be confident with colour: superior new make-up technology enables new vibrant colours to look super sheer on the skin. Apply a powder with a fan brush and bring it up into the temples and hairline, and blend, blend, blend! Read more beauty tips here
Make Mascara Black
"Black on your lashes helps define colour best," says Sharon. To apply, brush straight in front of you towards the mirror to elongate lashes, then drag the lashes out to the sides as you brush with the wand to 'set'. We love new mascara is MAC False Lashes, £17.50. Read more beauty tips here
How To Apply Eye Make-Up
The look right now is all about 70s-inspired colour, but keep it soft, and go for a clean finish. "Always brush powder eyeshadow on to the back of your hand before applying to avoid pigment dropping on your cheek," says Sharon Dowsett, Maybelline UK director for make-up. If you make a mistake with liner or shadow, "Dip a shadow brush in eye make-up remover solution and wipe the skin next to the line clean so the shape looks more crisp." Contour and shape your eyelid with a neutral eyeshadow such as Mac Satin Taupe, £10. Next, take your one hit of colour and create a halo around the eye. Read more beauty tips here
Spring's Must-Have Colour Trend
Lavender is the must-do shade for spring. A hint of lilac or purple is more flattering for most of us to wear; the trick is to mix it with brown and grey neutrals to help balance out the colour and create a more modern smoky eye. Get everything you need in this Pastel Sugar Sparkle Eye Quad by Bobbi Brown, £30 Read more beauty tips here
How To Apply Primer & Foundation
"Primer makes foundation go on better, as it smoothes out the surface and foundation sticks to it, making it last longer too," says Make-up artist Dina Catchpole. "Better to use primer and foundation than foundation and powder, especially on older skin." Once skin is primed, "just apply a few dabs of foundation where you need it - maybe the chin, around the nose and eyelids, then blend quickly with your fingers, pressing it into the skin, and that's it." If you have particularly oily skin, try Bare Escentuals Prime Time Brightening Foundation Primer, £18 Read more beauty tips here
How To Apply Lipstick
Use a lip pencil all over for better staying power and a precise lip. Then apply cream lipstick over the top, (Estee Lauder Pure Colour Long Lasting Lipstick in Scarlet Siren, £18 is our pick) blot it and reapply. Press colour into the lips with fingertips, so that it looks bold, yet natural. Read more beauty tips here For the latest w&h news and exclusive offers follow us on Twitter or 'like' us on Facebook