What is a keratin lash lift and is it better for your lashes?
Curious about keratin lash lifts? The experts answer all your questions on this trending treatment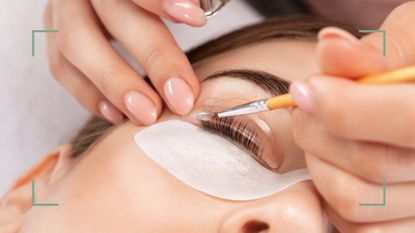 (Image credit: Getty)
Interested in the idea of a keratin lash lift? We've asked the experts to answer all your questions on this flutter-enhancing treatment.
We know that keratin, a protein often found in the best eyelash growth serums, makes up the majority of the hair on our heads, and it's abundant in our lashes too. "Keratin is something our bodies produce naturally to form the structure of hair, skin, and nails," explains Kintija Belska, Lash Expert at Elleebana Europe. It makes our strands stronger, which is why it's found in at-home keratin hair treatments too.
During the process of a lash lift, the bonds in our lashes are broken before being re-set into a more lifted shape. If the treatment is carried out by a qualified therapist, this shouldn't cause any noticeable damage to the lashes, but it doesn't hurt to strengthen them at the same time – which is where keratin comes in. "Keratin helps repair the hair after a structural change," explains Debbie Law, International Trainer at Nouveau Lashes. So if you fancy a treatment that improves how your lashes look and feel, this could be the right option for you.
What is a keratin lash lift?
"Keratin lash lifts contain keratin to protect the health of lashes during a lift," explains Belska. In most cases, the keratin part of the treatment won't come until after the lash lift has taken place and will be an add-on to care for your lashes post-treatment. "Keratin can only work after the last lift has been done," says lash guru Daxita Vaghela.
"It is an added treatment to the lift or perm to deeply nourish, thicken the lashes and add shine. Keratin contains vitamins A, D, and E, which allow it to smooth and moisturize the lashes and inhibit aging."
A nice way to think about it is to compare the keratin part of the treatment to slathering on your best hair mask or using a bond builder for hair to nourish strands after having your hair bleached. This extra step will help minimize any damage that has been caused and reinforce your lashes post-treatment.
Is a keratin lash lift better than a normal lash lift?
For those wondering what is a lash lift generally, and how one with keratin compares to one without, a keratin lash lift and a normal lash lift are nearly identical. The key difference is that a keratin lash lift will either contain keratin in one of the treatment solutions or keratin will be applied to the lashes in a separate solution as a finishing touch.
However, it is important to note that keratin is an animal-based product which makes a keratin lash lift unsuitable for strict vegetarians, vegans, or anyone who takes a stance against animal cruelty. If that's you, "there are plant-based alternatives that stimulate the production of your own keratin and promote the overall health of your lashes," advises Belska.
"When Nouveau Lashes reformulated LVL Lash Lift in 2022, finding a vegan alternative to keratin was one of the non-negotiable deliverables," explains Law. "The reinvented formula contains Keravis, which is a vegan keratin alternative. It is packed full of conditioning ceramides that work to replenish and protect natural lash hydration and lash health."
So don't worry if keratin is off the menu for you – there are alternatives that can boost your lashes. "We also have the option of eating keratin-forming ingredients (which can be derived from plant and animal-based foods) in our diet to improve the condition of our hair," adds Belska. Leafy greens like spinach, carrots, and sunflower seeds are all thought to increase the production of keratin in our bodies.
What are the benefits of a keratin lash lift?
While a normal lash lift performed properly won't damage your lashes, it also won't enhance their condition either. This is where a keratin lash lift has the upper hand, as it offers the opportunity to nourish and treat your lashes as well as lifting them.
"Keratin lash lifts are good for your lashes, but so are any well-formulated vegan alternatives," says Belska. "The lash lift itself doesn't need to contain keratin in order to work, and it would actually be most beneficial to choose a keratin aftercare product that you can use on your processed lashes on a daily basis."
Worried you can have too much of a good thing? There is a school of thought that over-processing hair with keratin can cause it to weaken, but Belska doesn't agree. "There isn't such a thing as too much keratin as lashes will absorb what they need and discard the rest. Keratin lash lifts are not to be confused with keratin hair treatments (like a Brazillian blow dry or hair Botox) where the harsh process itself could cause damage to the hair – especially if repeated too frequently."
Just be wary that not all brands are transparent about their formulas. "You could have products that claim to contain keratin but haven't been formulated in a way that allows keratin to be absorbed by the lashes," adds Belska. "In which case, you may not see an improvement in your lash condition."
How long does a keratin lash lift last?
A keratin lash lift lasts for the same amount of time as a regular lash lift, which is "between five to eight weeks," according to Vaghela. Instead of wearing off, the treatment grows out, so baby lashes will become less curved as they grow, and more mature lashes will eventually enter their shedding phase and fall out. If you want to pre-empt this return to straighter lashes, you could have your lashes lifted every four weeks.
During the five to eight weeks after your keratin lash lift you'll have the benefit of softer, stronger lashes too. If you find that your lashes tend to snap, then the addition of keratin can extend the length that your lashes grow to – which then extends the results of your treatment as a whole. "At Elleebana we have various products that contain keratin or 'plant keratin' for improved lash quality," says Belska. "They improve the lash quality and include a lash-lifting adhesive that coats and protects the hair during treatment processing time."
Can you wear mascara with a keratin lash lift?
Just as you can top a normal lash lift with mascara, there's no reason why you can't wear mascara with a keratin lash lift. You might not want to though, as the lift should have made your lashes look longer without the need for your best lengthening mascara – especially if you opted for a tint as part of the treatment. As a lash lift is working with your natural lashes, it's not possible to add more volume with one, so you may still need something to enhance this. The best volumizing mascara will make for a quick fix, or you might want to consider eyelash extensions instead.
If you've chosen a keratin lash lift because you're worried about the health of your lashes (maybe they're very brittle or prone to breakage) then you'll need to know how to remove mascara properly. Too much rubbing or scrubbing can cause problems, so go slowly and softly with the help of one of the best makeup removers that has an oil base.
Jess Beech is an experienced fashion and beauty editor, with more than eight years experience in the publishing industry. She has written for woman&home, GoodtoKnow, Now, Woman, Woman's Weekly, Woman's Own and Chat, and is a former Deputy Fashion & Beauty Editor at Future PLC. A beauty obsessive, Jess has tried everything from cryotherapy to chemical peels (minus the Samantha in Sex and The City-worthy redness) and interviewed experts including Jo Malone and Trinny Woodall.