How To Master Red Lipstick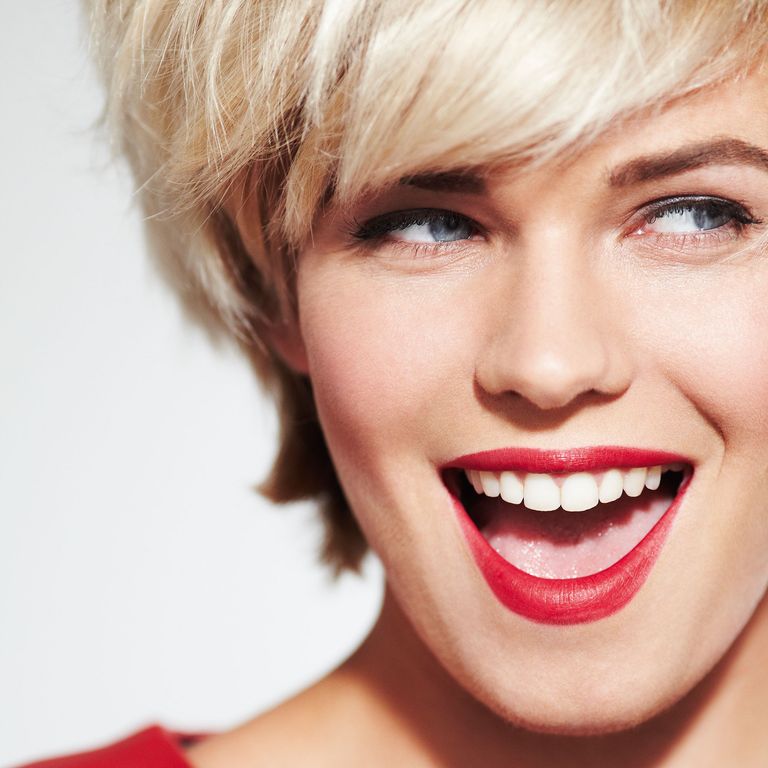 Madonna does it. Liz Taylor was always at it. Marilyn hardly went a day without it... As beauty pedigrees go, the red lip is peerless. But that sexed-up status can be a problem too, making the rest of us worry it's a bit conspicuous, only for special occasions or for the young and fearless. Ever hastily wiped off your lipstick just before leaving the house? This is for you. Red lipstick endures with good reason: it flatters every face, and that very longevity means there is a formula, tone and texture out there for everyone - so let's find your perfect match.
Picking If you've experimented with red lipsticks before, you've probably noticed how some furnish your face with life, while others seem to sap it away. The secret is your undertones. As a general rule, if you're fair, suit silver jewellery and blue clothes, you've probably got cool undertones and suit equally crisp blues and true reds. And if you love gold, tan easily and have greenish veins, try warmer reds with yellow undertones.
Still unsure? No7's Match Made Lipstick Service whizzes up a list of suitable shades for your skin using a digital device. So far, so logical, but don't underestimate your gut too. "Go with your instinct," says Florrie White, Clinique Colour Pro. "Pick out three shades that your eyes are drawn to, apply in one mirror then walk over to another one to catch yourself in a different light. Leave wearing your preference and test it out at different times of day, and with friends. If you like what you see and hear, buy it."
Prepping Most of the gripes we have with wearing red lipstick - smudging, fading, feathering, bleeding - could be solved with a few prep steps. "Create a perfectly smooth base by buffing away any dry skin and hydrating with lip balm," says Florrie. Old toothbrushes make great lip scrubbers, but Bliss Fabulips Sugar Lip Scrub, £14, is a more glamorous option.
Now ring-fence that fabulous colour with it's practical pal - liner."Look into the mirror and smile, tightening the skin on the lips to see where to apply the pencil. Starting on the outer corners, trace just outside the natural lipline. This will help cheat a fuller pout, create perfect symmetry to the lips and stop the lipstick bleeding," explains makeup guru Charlotte Tilbury.
Perfecting The lipstick-wearing world is divided into those who love the precision of brushes and those who think, "Why bother, when the bullet is a perfect ergonomic applicator?". Either way, layering is a must. "Apply the first layer all over the lips, blot with a tissue, then apply a second layer," says Florrie. This takes away any surface oils but leaves the pigment so it's less likely to slide onto the rim of your glass. "You can also use a fine dusting of translucent powder over the lips to really hold it in place." The texture of your lipstick (and what you're up to!) will dictate how long it lasts; sheeny or sheer formulas will slip, but are easier to reapply than matte, which goes the distance but can dry out. And if your lips are feeling tight or powdery, cushion with a bit of balm over the top.
READY? Take your pick from the season's hottest hues
NARS Multiple Tint in Alice, £29, Narscosmetics.co.uk
A sexy fire engine red from French actress Charlotte Gainsbourg's limited-edition collection with NARS. Blends beautifully and looks fabulous on cheeks too.
By Terry Rouge Expert Click Stick in Rouge Initiation, £24.50 from Spacenk.com
The colour is fabulous, a velvety chilli red with warm undertone, but the best thing about this lipstick is the application. Click it up, use the sharp edges to line perfectly then fill in the middle in a couple of swipes. So clever and pretty fun too.
Suqqu Extra Glow Listick in 104, £23 at Selfridges.com
A hot glossy pink-red, the coverage is sheer but buildable so excellent for day-to-night top-ups, the shade looks great on dark skin.
Clarins Joli Rouge Brillant in Cherry, £19.50
Sheer and slightly pearly, feels like a balm and could be applied fairly fear-free even without a mirrow. An ideal starter for red refuseniks.
MAC Lipstick in Dubonnet, £15.50
Dark and vampy, this classic shade from MAC is like a fine wine, with cool undertones that make teeth look whiter.
Elizabeth Arden Ceramide Ultra Lipstick in Cherry Bomb, £21
If you have fair skin and only buy one red, make it this. The colour is classic old Hollywood but the creamy texture makes it a little easier to wear than traditional mattes. A nice all-rounder with blue undertones. Topshop Matte Lip Bullet in Boyracer, £8
Topshop makeup should not be overlooked, the pigment is strong and the prices are excellent for the quality. This particular shade is big and bold with cool tones and matte texture. Great on blondes.
Bobbi Brown Luxe Lip Color in Parisian Red, £25
A creamy, opaque scarlet that's very grown-up indeed. Best suited to evening wear, this will instantly make you feel glamorous.
Charlotte Tilbury Matte Revolution in Red Carpet Red, £23
Va-va-voom ruby with a very pigmented, fully matte finish (the name red carpet is no lie) Mysteriously, the shade seems to suit everyone.
Clinique Pop Lip Colour + Primer in Passion Pop, £16
Deep semi-matte red with in-built primer.Great if your lips are dry or lined, stays comfortable for a good half day before you need to top .