Easy summer hairstyles: 23 sweat-proof looks for perfect holiday hair
Whether you're heading on holiday soon or are patiently waiting for summer to reach the UK, weatherproof your hair with these simple summer hairstyles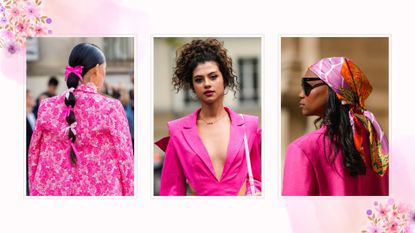 (Image credit: Future / Getty)
woman&home newsletter
Sign up to our free daily email for the latest royal and entertainment news, interesting opinion, expert advice on styling and beauty trends, and no-nonsense guides to the health and wellness questions you want answered.
Thank you for signing up to Woman & Home. You will receive a verification email shortly.
There was a problem. Please refresh the page and try again.
They may be simple, but these easy summer hairstyles have to work hard in the heat. These 'dos will keep hair from sticking to a sweaty face, stay frizz-free in hellish humidity, and can even be achieved without the oppressive heat of a hairdryer.
From heatless curls to air-dry waves, a good summer hairstyle will save your hair from being blasted/fried/singed into compliance. Because, let's face it - the last thing you want to do in 30-degree heat is bust out your best hairdryer, straighteners or curling tongs, and your hair will thank you for it, too. The best rule of thumb to follow? "I find that less is more when it comes to summer hair," says Ondine Cowley, Artistic Director at Gielly Green. "I love creating a middle parting and slicking hair back into a low ponytail - it's so simple." And if your hair does fluff up? Cowley's advice is to embrace it. "I think the frizzy look in a ponytail or hair worn up can be really sensual and desirable."
So whether you're jetting off to sunny climes or just waiting for the UK weather to finally turn, these summer hairstyles will keep you looking - and feeling - cool in the heat.
22 of the best easy summer hairstyles
1. Parallel plaits
"Braids are fantastic as they tighten any frizz, and keep the hair intact, so even if your hair does frizz up, it's not visible," explains Ondine Cowley, Artistic Director at Gielly Green. Create a neat center parting, then braid each side as tightly as you can. For an extra flourish, adorn the finished look with a fancy clip either side.
2. XXL bow
No time? No worries. Your basic low-slung ponytail can be elevated to red carpet-ready with a length of ribbon tied into a bow. This leather look shakes off any schoolgirl connotations. It's one of the easiest ways to dress up your hair for summer (or for a summer wedding).
3. Milkmaid braid
Pretty and practical, this hair-up style will keep your neck cool when it's hot. Split hair into two sections, divided down the center, plait each side, then pull up on top of your head and secure with pins.
4. Center slick
This is one of Cowley's go-to easy summer hairstyles - the slicked down center parting. Great for those days when you CBA to wash your hair, the natural oils will help keep things smooth and sleek. Add kirby grips, hair slides or golden barrettes, as seen here, to dress it up.
5. Chill chignon
The beauty of a loose, low-slung bun is it looks effortlessly chic, and luckily, it's a cinch to master. Secure hair into a low ponytail, but on the final tie don't pull the hair through completely so you create a relaxed loop, with the ends sticking out underneath. It's giving French girl hair vibes.
6. Claws out
There are some great hair clips hairstyles out there to help you through a sticky situation and work whatever your hair type or texture, whether that's curly, straight, naturally textured or braided. Claw clips are the fashion world's go-to accessory, and will get hair out of your face in seconds. Scoop hair back into a half-up, half-down style and secure with your claw clip.
7. Short and slick
Sweat will make hair greasier in summer. Roll with it, and slick down your roots, tucking each side behind your ear, ideal for short hairstyles. Generally speaking, Cowley recommends using less product in the summer so that hair feels softer and is less likely to get greasy. "However, if you have short, dry, frizzy hair, you could use a drop of serum to smooth things down but refrain from anything else," she says.
8. Bubble ponytail
Pump up your pony and tie off the loose hair with elastics. Fluff up and tease each section as you work down the ponytail to inject volume. You can keep it minimal with some hair-coloured elastics or go all out with coloured bows or bejewelled clips.
9. Clever cover-up
Your hair can feel the burn of UV rays, just like your skin, which is why this particular trend is so genius. A satin headscarf covers a multitude of sins, from grey regrowth to greasy roots, all the while protecting hair from the drying and damaging effects of the sun.
10. No heat waves
Do you remember braiding your hair before bed on a school night, eagerly undoing each one in the morning to reveal crimpy waves? Well, it turns out it's a baller move for adults, too, especially when you don't want to bust out the hairdryer.
"Part hair into four sections, so your parting looks like a hot-cross bun running down the center, and from ear to ear," advises Cowley. "Plait each section when damp, and it will come out as mermaid waves in the morning." The smaller and tighter the plait, the more defined the wave. If you want a softer wave, go with fewer, thicker plaits.
11. The pineapple
If you're looking for one of the best easy summer hairstyles for curly hair, meet the pineapple. Originally created by the curly girl community as a way to prevent tangles and preserve ringlets overnight, this pile of cascading curls is great for sweaty days. Tilt your head forwards, and loosely gather tendrils on top of your head.
12. Head girl
"I love a chunky hair band worn with hair down in the summer," says Cowley. "If you have a lot of frizz around your hairline, my top tip is to spray hairspray into your hand, apply on to the hairline using your palms, then add your Alice band." Check out our guide to the best headbands for short hair if you're looking for more inspiration.
13. Butterfly twists
Short 'dos or long hairstyles, curly girls or straight textures, anyone can copy this pretty twisted updo using butterfly clips, a 90s accessories icon. Take small sections from the front of your hair, and twist back, securing with your mini claw clip.
14. Slicked back
Turn a sweaty mess into a Bond girl moment with this wet-look style. The great news is this trend works with any hair length and type, be it straight, wavy or curly. Your hair can benefit, too – just apply a deep conditioning treatment from root to tip, scrunch in and you'll reap the nourishing rewards in the heat.
15. The hun
There are few hairstyles that excel in both practicality and prettiness like the half bun, aka the 'hun'. This half-up, half-down style keeps hair away from sticky foreheads and lends itself to any hair texture, including braided hairstyles. Use your thumbs to separate the top section of hair from your ears up and fix it with a hair tie. Twist the loose tail around the base of the elastic and tuck it in to secure.
16. Dutch braids
This style is similar to the French braid but rather than folding strands over the center, work them underneath to create a three dimensional, pop-out plait. We love this summery style, split into 5 sections, with hair left loose at the ends to soften the look.
17. Power ponytail
If you're looking for easy summer hairstyles, they don't come much more effortless than a low ponytail. It's the combination of smooth on top and voluminous, natural texture that really elevates this look from humdrum hairstyle to elegant updo.
18. Boho braids
Channel noughties Sienna Miller-at-Glasto with some cutesy boho braids. Start with a center parting then loosely plait down each side, securing with an invisible hair elastic. You can add a couple of click-clacks for good measure, as seen here.
19. The VIP pony
Ponytails are the MVP of hairstyles. On short hair, a simple low ponytail looks like a well-planned, properly executed hairdo, but they can look a little 'meh' on long hair. That's why we're embracing the plaited ponytail, which makes the whole thing look a lot more elegant and stylised. Create a mid-height ponytail then plait down to the ends and secure.
20. No sweat headband
The humble stretchy headband is having a major fashion moment. Play it safe with goes-with-anything black or match it to your summer dress, as seen here. Best of all, you can pick these sweat-wicking, hair-taming headbands up for less than $4/£3 on the high street.
21. The Olaplex bun
"The "Olaplex bun" has been trending on TikTok and this lends itself brilliantly to summer," says hairdresser, Neil Moodie. Coat your hair in any conditioning treatment and tie into a top knot. The conditioner doubles up as a styling product, keeping everything smooth and frizz-free in the heat.
22. Bit on the side
Hot-weather hairdo in less than a minute? Yes please! Using a few well-placed kirby grips to pin one side back will help you escape a humidity meltdown on clammy days.
23. Balloon ponytail
Bigger and bolder than the bubble ponytail, the segments are backcombed to pump up the volume between each hair tie. Start with a high ponytail then use a texturizing spray on the loose hair to add some grit and encourage volume.
---
How should I dry my hair on a hot day?
The mere mention of straightening irons, curling tongs or even the best hair dryers can make the sweat pour from your forehead in summer, but some of us do need a bit of heat to tame hair into compliance, especially when there's high humidity to contend with.
Cowley says, "Leave to dry naturally until it's about 80% of the way there for curly hair and then 90% for straight hair, and then blow dry the last bit. This will make hair more manageable without using too much heat."
Sign up to our free daily email for the latest royal and entertainment news, interesting opinion, expert advice on styling and beauty trends, and no-nonsense guides to the health and wellness questions you want answered.
Stephanie Maylor is a Beauty Editor working across five national magazine titles, with almost 15 years' experience in the industry. She has written for many brands, including woman&home, Grazia, Now, More!, Fabulous, NW, Woman, Woman's Own, Woman's Weekly, Essentials, Best, Chat, and OK! online.
In 2010 she launched her own beauty blog, which was shortlisted for Best Beauty Blog in the 2011 and 2012 Johnson & Johnson Beauty Journalism Awards. She has interviewed many high profile industry experts and celebrities including Alesha Dixon, Twiggy and Christina Hendricks.