The best waterproof foundations: 9 foolproof formulas to survive all weathers
The best waterproof foundations are the ultimate go-to product for drizzly days, and these tried and tested products will keep you flawless all day long...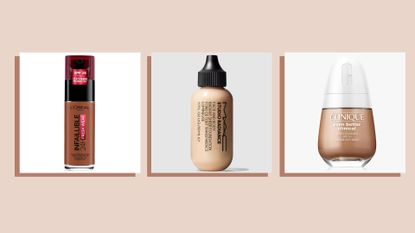 (Image credit: L'Oreal, Mac, John Lewis)
The best waterproof foundation not only has to work to even out your complexion, but it also has to be able to stand up against the elements and stay put no matter what gets thrown at it. An essential part of a weather-proof beauty look, the best waterproof foundations are key to a glam look that won't budge.
The best foundation can be relied on to keep your complexion intact no matter what the day brings, and in climates prone to dampness or downpours, waterproof properties are somewhat of an essential. But finding a waterproof foundation that still provides that luminous skin finish without being overly matte or cakey isn't always easy. Thankfully, there is now a huge variety of waterproof complexion products on offer, providing everything from light skin tints to heavy-duty full-coverage finishes.
"Water-resistant makeup has a sense of longevity," explains Rebecca Moore (opens in new tab), NARS National Senior Make-up Artist, which is why it is increasingly popular. "It doesn't matter on the time of year, water resistant makeup can help to makeup last a long duration of time. In summer it can help to prevent any excess oil, which can cause the makeup to shift. Equally, in colder months, this can help to keep the longevity of the makeup through bad weather or from transferring on your clothes such as your scarf."
Whatever conditions you are shopping for, or even if you just want a long-lasting everyday product, you can't go wrong with these top picks.
How we tested the best waterproof foundation
Why you can trust Woman & Home Our expert reviewers spend hours testing and comparing products and services so you can choose the best for you. Find out more about how we test.
When testing the best waterproof foundation, the main thing we looked for, unsurprisingly, was how well each product fulfilled its waterproof claims. We tried these foundations in a variety of conditions, from light rain to running shower water, to see how well they stood up. But aside from this, we also paid attention to how each foundation performed as a makeup product, looking at how it applied and sat on the skin, how well it lasted throughout the day, how it layered with other products, and also the finish it gave.
The best waterproof foundation, chosen by our beauty team
1. MAC Studio Radiance Face and Body Radiant Sheer Foundation
Best glowy waterproof foundation
Specifications
RRP: $39 / £30
SPF: No
Shades: 30
Finish: Radiant
Base: Water
Skin type: All
Reasons to buy
+
Extremely waterproof
+
Light, glowy finish
+
Comfortable wear
Reasons to avoid
-
Not for those who like very full coverage
If you're weighing up foundation vs tinted moisturizer and want a product that offers the best of both worlds, the MAC Studio Radiance Face and Body is it. A lightweight and glowy iteration of the classic Face and Body foundation, this product boasts the same long-lasting, lightweight and waterproof finish but with extra radiance and hydration. When testing, we loved the light watery texture that almost instantly became silky smooth and weightless once blended. We noticed that it sinks in quickly, behaving like the best face moisturizers, to deliver a natural luminescence that isn't at all oily, with sheer but buildable coverage.
In terms of its waterproof claims, we were skeptical due to its weightless feel and appearance that made it seem as though it would slide off easily. However, it really delivers. We tested this on our hands under running water, and also scrubbed at our face with warm shower water, and absolutely no product came off. We didn't even have to set it with a powder or finishing spray, which we were extremely impressed by. So whether you are planning to go for a dip in the pool or just want a foundation that can survive a downpour, this isn't going anywhere.
2. L'Oréal Paris Infallible 32hr Freshwear Liquid Foundation
Best long lasting waterproof foundation
Specifications
RRP: $15.99 / £11.99
SPF: 25
Shades: 26
Finish: Soft matte
Base: Water
Skin type: All
Reasons to buy
+
Transfer proof
+
Contains brightening Vitamin C
+
Flawless finish
Reasons to avoid
-
May cling to very dry skin
The best drugstore foundations are constantly getting better, and L'Oréal products in particular are on par with some of our favorite high-end brands. The Infallible 32hr foundation promises no fading or shifting throughout the day, as well as being fully waterproof. When put to the test, we found all of the above to be true - even when we attempted to rub the foundation away with warm water. Despite the soft matte finish, it doesn't feel uncomfortable or thick on the skin, and when wet it really won't budge.
This foundation retains luminosity after blending, giving a flawlessly natural effect that is ideal for everyday wear and can be built up to give full coverage. Easy to apply and soft on the skin, this is a foundation that will impress and suit everyone that likes the look of smooth, blemish-free skin that isn't at all cakey. However, due to the matte finish, we recommend that those with very dry skin use a heavy-duty moisturizer or primer when prepping the skin to avoid any clinging. But for the price point and performance when faced with water, we can't recommend this long-lasting foundation enough.
3. Clinique Even Better Clinical™ Serum Foundation
Best waterproof foundation for oily skin
Specifications
RRP: $43 / £35
SPF: 20
Shades: 42
Finish: Matte satin
Base: Water
Skin type: Oily
Reasons to buy
+
Easily covers blemishes
+
Stays perfect throughout the day
+
Includes skincare ingredients
Reasons to avoid
-
Not for drier skin types
Clinique foundations are some of our favorites as they combine skincare and makeup to provide a gorgeous base that also gets to work on improving your complexion. The Even Better Clinical Serum in particular uses Vitamin C, Hyaluronic acid and Salicylic acid - just a couple of the skincare acids that can make a real difference in your routine - to promote radiance and even skin texture. But aside from the skincare benefits, it also works fantastically as the best waterproof foundation for oily skin.
Though this base can work for any skin type, it will really look its best on those with an oilier skin type. We used this foundation with a mattifying primer, but for our combination skin, we reckon it would've performed best with just a moisturizer. When testing, we found that it instantly gives a matte finish even with a small amount of product, so a little goes a long way. But what we loved most about this foundation is how well it stayed on for a full day's wear - it even survived several hours in a sweaty London pub without budging an inch. When it came time to remove, water alone was no match, and only Clinique's best cleansing balms could do the trick.
See our full Clinique Even Better Clinical Serum foundation review to learn more about this flawless, mattifying base.
4. Shiseido Synchro Skin Self-Refreshing Tint
Best natural waterproof foundation
Specifications
RRP: $43 / £37
SPF: 20
Shades: 12
Finish: Natural
Base: Water
Skin type: All, especially dry
Reasons to buy
+
Natural finish
+
Ideal for everyday wear
+
Super hydrating
We're big fans of a skin tint here at w&h, as they provide that little extra boost that brightens and evens out the skin tone, perfect for laid back and natural makeup looks. However, we have often found that skin tints don't have the best staying power, and they can often fade throughout the day. That was, until we tested the Shiseido Synchro Skin Self-Refreshing Tint. Undoubtedly the best waterproof foundation for those who like a sheer, natural base, it retains its lightweight appearance without compromising on lasting power.
When testing, we loved how hydrating this formula felt on the skin. Promising to deliver 24hr hydration, this is definitely one of the best foundations for dry skin that provides a long wearing antidote to dry and dehydrated complexions. It also boasts 12 hours of waterproof, crease-proof, transfer-resistant, and shine-resistant wear, which we found to hold up pretty well. As the coverage is more sheer than most other foundations in this guide, its waterproof powers weren't as immediately obvious as they are with thicker formulas where you can easily spot streaking. However, after a long and sweaty day of commuting, our skin still looked just as good as it did in the morning, keeping that naturally fresh finish. If you're after a tint that you can rely on to stay put, this has our vote.
5. Morphe Hint Hint Skin Tint
Best waterproof foundation for everyday wear
Specifications
RRP: $18 / £16
SPF: No
Shades: 21
Finish: Radiant
Base: Water
Skin type: All, especially dry
Reasons to buy
+
More affordable
+
Hydrating
+
Transfer proof
Reasons to avoid
-
Not as heavy duty as other waterproof foundations
Morphe offers a great variety of makeup products that provide premium quality at more affordable prices, and their foundations in particular are some of our favorites. If you're a fan of dewy makeup but want a base product that will survive day-long wear without losing its glow, the Hint Hint Skin Tint is here to provide. Designed to hydrate whilst providing medium-buildable coverage that blurs imperfections, this light and comfortable formula promotes the ultimate healthy glow that still allows your natural skin to peek through.
When testing, we loved using the dropper tool that ensures no product is wasted, and also means that you can build up to your desired level of coverage. This is also ideal if you like to mix your foundations with other products like moisturizers or highlighters to get an even more natural look. Though touted as water-resistant as opposed to fully waterproof, we found that it holds up against a day of sweat and rain, even making it through a workout without sliding off our face. Plus, almost immediately after application, it had zero transfer whilst managing to stay glowy. However, if you are planning on going swimming or need something really heavy duty, you may want to opt for a thicker foundation. But for an everyday base that is luminous, easy to work with, reliable, and with strong staying power, we love it.
6. Maybelline SuperStay Waterproof Long Lasting Powder
Best powder waterproof foundation
Specifications
RRP: $8.99 / £7.99
SPF: No
Shades: 4
Finish: Matte
Base: Talc
Skin type: All, but best for oily
Reasons to buy
+
Easy to use
+
Affordable
+
Great for mattifying
We find powder foundations to be quite hit or miss, but for mattifying and evening out skin tone, they can be a great option for low-maintenance beauty looks. When testing this foundation, we found that doing some spot concealing and then applying SuperStay over the top gave us a lovely, even complexion that took far less effort to achieve than with most liquid foundations, cementing it as one of our new favorite complexion products. Plus, it removes the need for a setting powder or spray and also gives a blurred finish that we often aim for when using loose powders in our T-zone.
Though we didn't wear this foundation for the full 16 hours it promises to last, we did find that it survived a day's wear comfortably, without the need for re-application. As far as its waterproof capabilities go, it does a great job at staying impenetrable, forcing water to roll off it without causing any smudging or product removal. The downfall of this foundation is that it comes in a very limited shade range, which is manageable when only using a very light layer, however, those who prefer to pack on the product may struggle to find a perfect match.
7. Hourglass Vanish™ Seamless Finish Foundation Stick
Best waterproof foundation stick
Specifications
RRP: $48 / £45
SPF: No
Shades: 32
Finish: Seamless matte
Base: Silicone
Skin type: All
Reasons to buy
+
Foundation and concealer in one
+
Vegan formula
+
Flawless finish
Reasons to avoid
-
Not for those who want a very dewy finish
When it comes to the best foundation sticks, Hourglass gets our vote every time. The Vanish Stick boasts a unique formula that is unlike many others on the market, which is exactly why we love it. It perfectly balances high coverage with a lightweight feel that glides over the skin, making for a blemish-free yet not at-all cakey finish. It is a fantastic option for those with acne-prone skin or in search of the best foundation for oily skin, as it can be relied on to apply over any texture and stay in place once set.
When testing its waterproofing abilities, we were extremely impressed with how the water beaded off our skin without penetrating this foundation, meaning it is one of our top picks for wet or humid weather. It almost gives the skin a waxy protective layer without the thickness or discomfort that would entail, but with all the occlusive properties. We also love how mess-free this product is, making it a perfect piece of kit to travel with or keep in your handbag for any emergency makeup application.
8. Charlotte Tilbury Airbrush Flawless Foundation
Best matte waterproof foundation
Specifications
RRP: $46 / £39
SPF: No
Shades: 44
Finish: Matte
Base: Water
Skin type: All
Reasons to buy
+
Smooth, flawless finish
+
Subtle glow
+
Won't budge throughout the day
Reasons to avoid
-
Thicker formula requires working quickly
When testing the Airbrush Flawless foundation, we found that it has a slightly thicker consistency than most of the other waterproof foundations in this guide. For this reason, it pays to work quickly as it really doesn't take long to try down into a soft matte that is tough to budge. However, with some speedy blending, you will get a flawless finish that will really stay put all day long - even in a downpour. If your skin is on the drier side we recommend using your favorite moisturizer before applying the Airbrush Flawless foundation, but we think that the soft and radiant finish will work for everyone.
If you're on the hunt for the best waterproof foundation that also won't transfer or slip around throughout the day, this is a great option. Even when wet it takes some serious elbow grease to get any type of transfer, so sweat, humidity and rain are no match for it. We also love the subtle scent of this foundation that smells remarkably similar to some of the best perfumes for women, particularly Marc Jacobs Daisy. Channel the makeup trends of 2023 and wear it with a matching dark lip for a radiant and striking look that you can rely on to stay totally waterproof.
Read our Charlotte Tilbury Airbrush Flawless Foundation review to hear our full thoughts on this cult product.
9. Urban Decay Stay Naked Foundation
Best breathable waterproof foundation
Specifications
RRP: $42.78 / £31
SPF: No
Shades: 50
Finish: Natural matte
Base: Water
Skin type: Normal to oily
Reasons to buy
+
Very natural finish
+
Buildable coverage
+
Long lasting
Urban Decay products have always fared well in our experience, and the Stay Naked foundation is no exception. With a lightweight and breathable finish that can also mask blemishes, this is the best waterproof foundation for those who want to avoid that heavy, thick feeling you sometimes encounter with base products. If you're considering a makeup declutter and want one foundation that can be worn several different ways, Stay Naked does just that. Thanks to its light-medium buildable coverage, it works just as well for no-makeup-makeup days as it does for full glam.
When testing, we were impressed with this foundation's waterproof capabilities. It lasted through sweat and didn't run or transfer when we wiped our face - a huge plus for the warmer months. Despite its long-lasting power, it managed to retain the second skin look we love, with no cakiness in sight. If you have particularly dry skin, however, it may cling to certain patches due to the matte formula. But for those with normal or oily skin types, there's no going wrong.
Are waterproof foundations good for oily skin?
"Water-resistant foundations are great for people with an oily skin type," says Moore. "People of this skin type will find that their [regular] foundations will move and separate throughout the day. A foundation with a water-resistant benefit will help to prevent this and ensure for a long-lasting wear." We certainly found this to be the case when testing, as we didn't feel the need for setting powders or sprays to keep our base in tact.
How can I get a natural finish with a waterproof foundation?
Getting a natural finish with any complexion product is actually easier than you think, even with thick and matte foundations that are sometimes prone to caking. "The best way to create a natural long-lasting complexion look is to apply less product and build up coverage - if needed with concealer," advises Moore. "At NARS we love a simple technique by applying your foundation with your hands. Begin with a small amount of foundation in the palm of your hands and apply from the center of the face outwards. Finally pat into the skin for a skin-like finish."
Are all waterproof foundations transfer-proof?
"The majority of the time water-resistant foundations would be transfer-proof, as they are designed to have a good longevity onto the skin," says Moore. Though it is not guaranteed for every waterproof foundation, if the product can survive a soaking, it is more than likely that it will avoid any form of transferring.
How to choose the best waterproof foundation
When shopping for waterproof foundation, particularly when buying online, make sure you are considering a few key things:
Packaging - To us, packaging can make or break a foundation (sometimes literally). Think about what you will be using this foundation for and where you will store it - is it for travelling, stashing in your gym bag, or just keeping at home for everyday wear? If you will be on-the-go, avoid glass bottles and opt for soft, squeezy tubes. Also think about the consistency you're after and whether it will be easiest to apply with a pump, dropper, or by squeezing. Be conscious not to buy a foundation just because the packaging looks nice - really take time to consider the actual product and how it will work for you.
Shade range and undertones - Though most brands now offer wide shade ranges, not all of them cater to the vast variety in undertones. If you wear a foundation with the wrong undertones for your skin, this can completely change your look. Learn more about what undertones you have and be sure to shop for shades accordingly.
Finish - The finish of a foundation is one of the most important things to take into account. If you have no real preference in terms of looks, make sure you pick a formula that will work with your skin type. If you are prone to dryness, it is usually best to stay away from mattifying formulas. If you're on the oily side, consider a waterproof foundation that isn't overly shiny or dewy.
Price point - If this is going to be your new everyday foundation, it is worth spending a little bit extra to get the perfect product. However, you want to buy a product that you can afford to re-purchase when necessary. Don't just assume that the more expensive products are the best - take the time to read up about each foundation and make a choice based on your budget and what seems like the best fit for your needs.
Amelia joined woman&home after graduating with an MA in Magazine Journalism from City University in 2022. She specialises in lifestyle journalism and throughout her undergraduate degree she wrote for a variety of student publications, where she developed a love for all things style, beauty and sustainable fashion. She has previously written for titles including OK! Magazine, New! Magazine and Notion before she started her career as a lifestyle journalist with woman&home after completing an internship with the brand.