Cool brand Hey Bud has epic early Black Friday deals on their dreamy hemp skincare right now
Here's why using cannabis-based skincare products will change your skin forever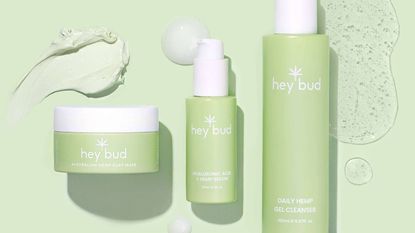 (Image credit: Hey Bud)
As the holidays approach, Australian skincare brand Hey Bud is gearing up for its biggest sale of the year.
After consulting our best skincare guide for every age, you'll likely be on the lookout for the top products to invest in—and we're here to tout the potency of cannabis-based skincare. Specifically, the new line by Hey Bud, one of the fastest-growing skincare lines in Australia.
Hey Bud is offering fans early access to their Black Friday sale. From now until right after Thanksgiving, you get to shop for some of the line's best products for up to 40% off!
---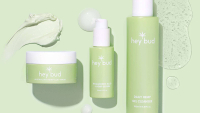 (opens in new tab)
Hey Bud Bundle, Was £85 Now £60 (opens in new tab) | Hey Bud
The hemp clay mask helps regulate oil for dry or oily skin & reduces acne, scarring and blackheads. The oil is packed with natural sources of antioxidants to help improve skin elasticity, reduce appearance of wrinkles & keep skin replenished, while the moisturizer hydrates & nourishes skin with the help of Aloe Vera, Hemp, Marula and Green Tea.
Launched by founders Ollie Watts, Alex Roslaniec and Fedele D'Amico, the brand banks on the power of hemp seed oil when trying to radically clear up your skin. The beneficial properties of the cannabis plant are constantly being spoken of, so why not apply them to our own skin? Specifically, the oil derived from the plant has been found to improve a slew of skin conditions by reducing the production of sebum while also working as an anti-inflammatory.
"Studies have shown that hemp seed oil and CBD stop sebaceous glands from producing excessive sebum, which stops the activation of acne properties such as inflammatory cytokines," reads an official press release. "Hemp seed oil has also been shown to help relieve dermatitis and psoriasis symptoms due to hydration properties."
If popular demand is any proof, the products clearly work. Just a month ago, Hey Bud launched a new daily hemp gel cleanser and hyaluronic acid with hemp serum that sold out in five days and birthed a waitlist of over 25,000 potential customers. That's almost unheard of in the beauty industry.
---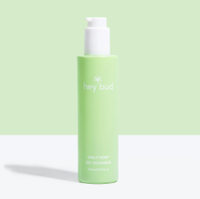 (opens in new tab)
Daily Hemp Gel Cleanser, Was £19, Now £15 (opens in new tab) | Hey Bud
A refreshing gentle foaming gel cleanser infused with grapefruit extract, naturally high in Vitamin C to stimulate collagen production and fight off free radicals. Ideal for a daily gentle cleanse that won't leave the skin dried out or stripped of natural oils.
In addition to Hey Bud's recently debuted new products (the daily hemp gel cleanser and the hyaluronic acid with hemp serum), we suggest you order all three of the line's standard go-to's, a detoxifying hemp clay mask that guarantees results in just one week; a hydrating facial moisturizer and glowing face oil.
What's more, the items make for some of the very best Christmas gifts out there. What are you still waiting for?
Anna Rahmanan is a New York-based writer and editor who covers culture, entertainment, food, fashion and travel news. Anna's words have appeared on Time Out New York, the Huffington Post, Fortune, Forbes, Us Weekly, Bon Appetit and Brooklyn Magazine, among other outlets.