9 Habits Of Women With Flawless Skin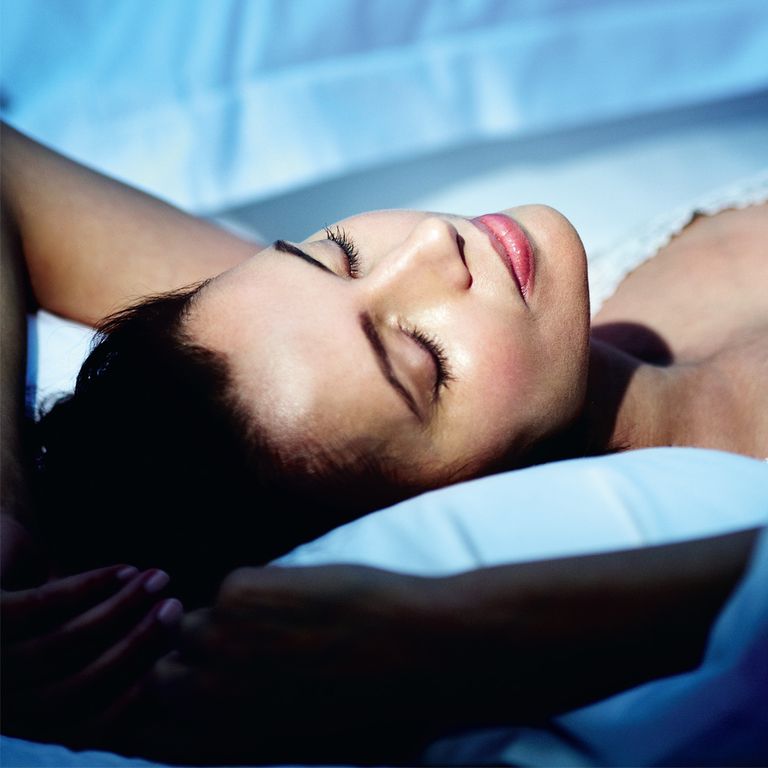 From applying SPF every day to ensuring that your skincare doesn't stop at your jawline, these are the good skin habits and tips that everyone should live by.
Is your daily cleanse, tone and moisturise routine simply not cutting the mustard? Are you finding that, no matter how much you pamper your pores, you're still lacking a healthy glow? You could be missing the 9 vital habits that women with good skin nary veer away from. The tips that are quick and easy to follow, yet so often overlooked. We've rounded them up – from the right water temperature for cleansing skin to the patches your sunscreen is missing – so you can begin making these simple tweaks today. Keep clicking through to find out why it's time to search the kitchen for a new face mask, and how often you should really be giving your skin a gentle scrub. They get their beauty sleep
Ask any dermatologist and they'll tell you: beauty sleep is not a myth. In fact, a lack of shut-eye has been shown to make your skin look duller, exacerbate the appearance of fine lines and wrinkles, and leave you with those telltale dark circles.
Ensure you're getting at least seven hours a night by avoiding a binge on box sets before bed, as bright screens can suppress melatonin, the hormone that makes you sleepy.
A lack of melatonin is bad news for your skin, as it contributes to poor skin function and sluggish cell turnover - in turn, creating further wrinkles and dullness over time. Our suggestion? Swap the remote and late nights for an early one with a good read.
They exfoliate twice a week
Whether it's with a gritty scrub or a chemical exfoliant, women with good skin known the importance of giving cell turnover a helping hand. Dr. Garry Goldfaden recommends buffing your skin at least 2-3 times a week, followed by a gel based cleanser to remove all excess crystals and microbeads. The Goldfaden MD Doctor's Scrub, £65, is a buffing cream to be reckoned with, as it laces a sumptuous hyaluronic acid base with ruby crystals. Just a small amount is needed to polish away dead surface cells, while prepping your pores for the absorption of the final steps of your skincare regimen.
They don't stop at the jaw line
If you're pampering your face with a good skincare regimen, we say well done to you. But if you're halting your creams at your jaw line, you're only doing half the work. Dr. Goldfaden recommends hydrating your neck and chest area, too, as "the skin is very fine and thin and the first place to show the signs of aging". So, you heard him; when rubbing face cream into your cheeks, make sure you take it past your neck.
They explore the kitchen cupboard
While face creams can do wonderful things, there are treasures to be found in your kitchen cupboard. So why not whip up an effective and purse-friendly body scrub or two? You can do so by blending an unction like olive oil or coconut oil with something gritty, like a thwack of sea salt or a heap of brown sugar. As thorough when tackling ingrown hairs as even premium treatments, such hydrating DIY buffers will leave a trace of moisture on your limbs. Your face can reap the benefits of the kitchen cupboard, too, with a slew of ingredients making worthy masks for an at-home facial. Honey makes a fantastic, healing base to be blended with ingredients such as avocado (for dry skin), cinnamon (for acne) and lemon juice (for treating scars).
They turn the hot tap down
Few things feel more relaxing than a steamy shower or a soak in the tub, but cranking up the hot water could be drying out your skin. Instead, opt for a lukewarm wash that will ensure that a) you don't shiver through your morning regimen and b) you don't emerge from the bathroom with reddened, cracking skin.
They wash their face before bed
It's an obvious one and we don't mean to nag, but cleansing your face before bed is crucial. Any lingering makeup, grime and pollutants can clog your pores, and lead to an outbreak of spots, a dull complexion and more prominent wrinkles. By cleansing - or double cleansing to reach deeper debris - you can rid your face of potentially ageing toxins. And, when you consider that it takes just a minute or two, it seems all the more worth it, no?
But never overcleanse their skin
Strike the perfect balance between skin that is purified but never stripped, and your face will return the favour by looking soft and radiant. The trick is finding a cleanser that tends to your skin type, using it no more than twice a day, while ensuring that you lather sans vigorous scrubbing or harsh ingredients. If you find your cleanser leaves your skin feeling tight or looking red, switch to a cream or oil cleanser that gently whisks debris away. Massaging one in - we like Ole Henriksen Pure Truth Melting Cleanser, £24 - and rinsing with water is enough to purify while ensuring skin retains its natural moisture.
They always wear an SPF
Slathering on your sunscreen daily is a must - but you already knew that. What you might not know is that many of us are missing small but vital patches, like the skin along the hairline, jaw line, ears and lips. Ensure you're always wearing an SPF of at least 30 over your entire face, neck, and any other patches of skin that might be exposed to the elements.
They take their skin-kind supplements
As well as "ingesting high amounts of oily fish, like salmon or sardines," Dr. Goldfaden recommends pairing your daily skincare regimen with nourishing vitamins. "Ceramides taken orally can help to hydrate the skin from the inside out," he says. "Our bodies make this lipid, but as we age production declines, so opting for an oral supplement is recommended." Dr. Goldfaden also suggests popping Vitamin F pills to aide in epidermal cellular turnover, and vitamins B and C for a firmer, healthier-looking complexion.