10 Times Avon Changed The Beauty Industry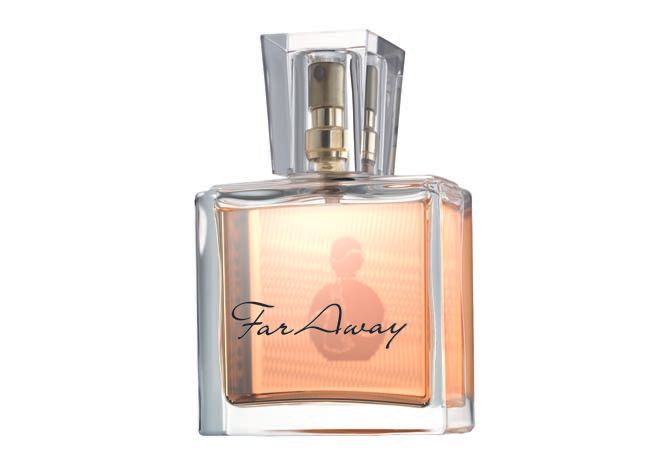 Can you believe Avon is celebrating its 130th birthday this year? Despite shiny, youthful appearances (must be all that face cream) this beauty brand has survived well over a century, two world wars and seen off more rivals than you can shake a lipstick at. So what's the secret? After I paid a visit to the brand's super high-tech headquarters in New York the answer was obvious, huge investment in game-changing research and development. This means we get products that actually work at prices that are pretty impossible to resist - especially when one of those alluring little catalogues is in arms reach. Fancy celebrating by snapping up a super-effective bargain of your own? I've delved into the Avon archives to pick out the very best products past and present and reveal 10 times Avon changed the beauty industry.
1. Far Away Eau De Parfum
It was fragrance that inspired bookseller David H McConnell to switch paths to the beauty 'biz back in 1886, after he offered a free gift with every sale - a perfume called Little Dot - and it whipped up more interest than his books ever did. Sadly the original scent isn't still on the scene, but this,Far Away EDP, £13,is Avon's No1 selling perfume with good reason, it's a uniquely spicy amber, musk and exotic floral blend offers a welcome break from the sea of fruity scents on the market today.
2. Skin So Soft Original Dry Oil Spray
When Skin So Soft Bath Oil was launched in 1961, a two-in-one trend was born offering women the chance to moisturise their skin while doing nothing more than lie back in a bubbly bath. Heaven. Today, this very 2016Dry Oil Spray, £5,offers an even speedier solution, no wonder one is sold every 30 seconds in the UK.
3. ANEW Clinical PRO Line Corrector Treatment with A-F33
After creating the first mass-market skincare product EVER to contain Alpha Hydroxy Acids (AHAs) in 1992 - Avon worked with cosmeceutical gurus Neostrata to bring us this AF-33 molecule - a game-changing collagen booster inspired by Nobel prize winning research. A new souped upANEW Clinical PRO Line Corrector Treatment withA-F33+, £25,dropped in 2015 with even more collagen boosting prowess and the product still sells three a minute.
4. True Colour Perfectly Matte Lipstick
True Colour Perfectly Matte Lipstick, £8 launched in February this year with Avon cleverly pre-empting the matte lipstick trend and evidently they weren't wrong - Avon representatives sell 4 lipsticks every second around the world, and they have over 400 shades on their books.
5. Mega Effects Mascara
You might remember this with it's patented paintbrush-style applicator - created after 5,000 hours of research and 2,000 women surveyed globally. The resultingMega Effects Mascara, £10tackles all those little mascara bugbears - it won't clump, dry out, flake, smudge or sweat off. The wand takes a little getting used to but once you've got the knack it can be used at every angle and coats every last milimeter of every last lash.
6. Supershock Gel Eyeliner Pencil
You'll find Supershock Eyeliner, £6,in countless makeup artists kits and our Fashion Director (and eyeliner guru) Julia Morgan is never without it. The clever innovation is taking a smudgeable but budge-proof gel formula normally found in pots and popping it in an easy to apply pencil. Genius.
7. ANEW Ultimate Supreme Dual Elixir
ANEW Ultimate Supreme Dual Elixir, £28, launches September 29but looks set to be a game-changer. One half is an anti-ageing serum which works on skin's internal ageing factors such as slowing of cell renewal and collagen synthesis, one is a beautiful silky oil which works externally on hydration, creating a protective barrier on skin. The two are seperated to keep them super-potent then mix together when you pump it out to work their magic on your skin. Clinical tests at Avon HQ showed skin's moisture levels were immediately improved by 796% after it was applied (I tested this with my own fair hands!) and after two weeks skin ageing issues like dullness, lines and dehydration were markedly improved. One to watch and you can get a sneak peek samplehere
8. ANEW Clinical Advanced Resurfacing Peel Multi-Acid 5 Complex with 10% Glycolic Acid
There are a fair few home peel products on the market, but none that contain this blend of 5 acids all working in perfect harmony. Some you'll know - exfoliating glycolic, purifying salicylic and hydrating hyaluronic - and some you won't like trioxaundecanedioic and thiodipropionic - both powerful antioxidants patented in the US by Avon. Just one swipe of anANEW Clinical Advanced Resurfacing Peelpad means brighter, smoother and happier skin right away.
9. MagiX Compact Prime
Great primers fill in bumpy pores and lines, give skin a glow and make makeup stick around. This does all that but uniquely comes in rich balm formula, meaning it can live inside compact and be used on the go without spillage. There's only one shade, which is normally a red flag butMagiX Compact Primer, £10really melds with any tone including darker skin without any ashiness, as demonstrated by the how-to videohere.
10. Avon Life
It began with perfume, and so my top 10 shall finish here too with this sneak peek at a beautiful new fragrance designed by Kenzo Takada (yes, THAT Kenzo) Avon Life for Women, £24, is fresh, feminine and really quite chic with violet from Grasse, white tea and waterlily. The complimentary Avon Life For Men, £24, smells just how you'd like a man to, spicy and rich with black pepper, violet and cedarwood. Two gorgeous scents designed by a fashion icon for under £25? Snap them up fast when they launch October 20.