10 Skincare Ingredients That REALLY Work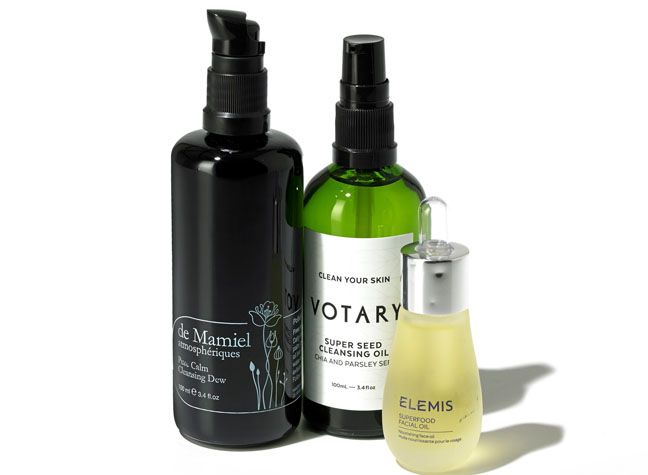 Mother nature is one powerful chemist, but often she needs a little helping hand. Major new advances in biotechnology and biomimetics (human-made substances that copy nature) ensure that we can tap into genius plants, replicate them and enhance sustainability while developing the very best active ingredients. The aim? Fitter, healthier, beautiful skin, and these are the top 10 ingredients that will ensure you get it.
1. Omegas 3 and 6
These essential fatty acids found in various plant oils are essential for hydrated and smooth skin. "Anti-inflammatory, they also minimise skin redness and speed up skin recovery," says facialist Sarah Chapman.
Find it in: Elemis Superfood Facial Oil, £38 with minerals vitamins and omegas; de Mamiel Atmospheriques Pure Calm Cleansing Dew, £50 with blackcurrant seed and prickly pear oil; new Votary Super Seed Cleansing Oil, £55, with a unique blend of 21 edible seeds.
2. Copper
In the form of peptides, copper is turning heads for its proven ability to help treat scars and fight wrinkles, as it mimics the peptide proteins that occur during the wound-healing process, stimulating new fibroblasts that in turn prompt fresh new collagen.
Find it in: NIOD Copper Amino Isolate, £38, which is blended with hyaluronic acid; Iluminage Skin Rejuvinating Pillowcase, £50, a fine weave of copper oxide in the fibres for a better skin when you wake.
3. Retinol
One of the most researched skincare ingredients ever, retinol is an anti-ageing superstar - a brilliant natural skin cell communicator that directs skin cells to work together, improving pigmentation, acne and large pores and helping to increase our own hyaluronic acid production.
Find it in: SkinCeuticals Retinol 0.3%, £37; La Roche Posay Redermic R, £29.50; and new Eve Lom Time Treat Eye Treatment, £50, wrapped in vitamin C, essential fatty acids and vitamin E.
THE ACIDS
4. Phytic acid
A natural plant antioxidant and preservative found in the hulls of nuts, cereal, grains and fruit seeds. Great for sensitive skin, it's used in skin-brightening formulas.
Find it in: Kiehl's Dermatologist Solutions Nightly Refining Micro-Peel Concentrate, £40, with quinoa husk extract; Natura Bisse Diamond Life Infusion Retinol Eye Serum, £219, brightens dark undereye circles, at a price.
5. Milk (Lactic acid)
Diary, soy, almond, goat's milk and kefir - is a gentle but effective AHA exfoliator, great for dry skins.
Find it in: Sarah Chapman London Skinesis Liquid Facial Resurfacer, £36, with lactic and phytic acid with vitamin C for a real skin brightener; 111 Skin Space Aqua Booster, £85 with niacinamide and inositol (aka phytic acid)
6. Glycolic acid
Derived from sugar cane, when used as a chemical exfoliant it evens skin tone and reduces pigmentation, while boosting collagen synthesis.
Find it in: Nip + Fab Skin Glycolic Fix Night Pads Extreme, £14.95 for 60; and FAB First Aid Beauty Facial Radiance Pads, £22 for 60, both super user-friendly.
7. Salicylic acid
A keratolytic exfoliant derived from the willow tree and a Beta Hydroxy Acid. "It treats acne and ageing and provides anti-inflammatory action," says Kate Kerr. It exfoliates from within the pores to reduce blackheads, stimulates collagen production and helps to maintain hydration.
Find it in: ZO Skin Health Offects TE-Pads Acne Pore Treatment, £39 for 601, a daily leave-on treatment; La Roche-Posay Effaclar Duo [+] Unifiant, £16.50, with vitamin B3 to reduce redness while covering oiliness, spots and blackheads.
8. Hyaluronic acid
(HA) plumps out fine lines and wrinkles while helping skin cells repair and function to their max, an absolute must in everyone's regime"
Find it in: NIOD Multi-Molecular Hyaluronic Complex, £38, combines not one but 12 different forms and sizes of HA particles; Avene Physiolift Day Smoothing Cream, £25, with fragmented hyaluronic acid.
THE ANTIOXIDANTS
9. Vitamin C
Helps brighten and boost cell turnover, increase natural collagen production and helps repair UV induced sun damage and pigmentation.
Find it in: Bakel Thio-C Serum, £118 for 10x3ml, a pure vitamin c powder you mix into the serum and use within three days; Roger & Gallet Aura Mirabilis Double Extract, £40, is a vitamin C Cocktail of lemongrass, green mandarin, bergamot and neroli essential oils.
10. Resveratrol
Derived from red grapes and Japanese knotweed, it boosts the body's natural sirtuin "longevity" gene. Suitable for sensitive skin, it neutralises age accelerating internal free radicals and helps promote the skin's natural repair to diminish the visible signs of damage.
Find it in: Caudalie Resverarol Lift Face Lifting Soft Cream, £42, with micronized hyaluronic acid, peptides, grapeseed oil and omega 6; DHC Resveratrol Lotion, £43, with cereal extracts, this protects against pollution and UV.