Here's all you need to know about Cat-proof Christmas trees - and where to get one
If you have a cat, you only know too well what a Christmas tree can look like once your pet has laid eyes on it. Well, now you can buy a cat-proof Christmas tree.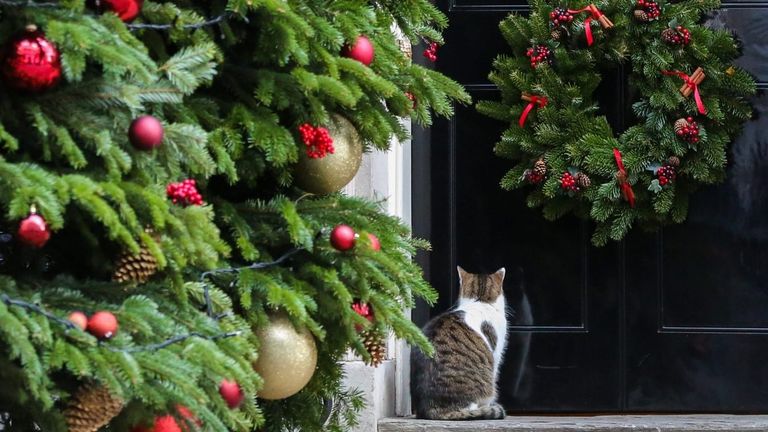 (Image credit: LightRocket via Getty Images)
You've just finished putting the lights, the tinsel, the angel at the top and lots of glass baubles on your beautiful Christmas tree. But then your playful cat walks in and what happens... havoc ensues and the beautiful tree is now in pieces on the floor.
If you cannot bare the thought of this again and don't wish your Christmas to be ruined, then you should look at the cat-proof Christmas tree.
What kind of tree is a cat proof Christmas tree?
The chosen cat-proof Christmas tree is the Nordmann fir. One of the most popular Christmas trees varieties, originally grown in the Caucus mountains in Russia, the Nordmann fir has lush dark glossy green needles and a perfect pyramid shape, with minimal needle droppage, too!
But how is it cat-proof? There is one crucial difference with this one... The lower branches have been removed to maintain the integrity of the fir, but in order to keep your decorations high above the ground and away from pesky paws. Sounds ideal for any pet-owner!
This variety of Nordmann Fir is not shipped from Russia, and so boasts sustainability too. From Scotland these trees all have soft rich-green needles and bushy branches.
The owner of Christmastrees.co.uk, Mark Rofe says, "most cat-owners know all too well the unmistakable sound of a Christmas tree being toppled down after meticulously spending hours decorating it.
"Our cat-proof tree was created for those with mischievous felines. The Nordman Fir is already popular with pet-owners due it's large and soft needles, but we've made it even more pet-friendly by carefully pruning the lower branches to keep the distance between your tree and your cat, and to reduce the temptation for them to swing at any baubles and decorations that would usually be within reach."
The cat-proof tree is available to purchase at christmastrees.co.uk from £129.99 and is available in heights of seven and eight feet.
Paw-fect.
Rachel is a freelance contributor to woman&home, covering news as well as books, lifestyle and travel. Her byline has also appeared in The Independent, The Financial Times, ELLE Magazine, VICE, Glamour Magazine and others. She loves nothing more than talking with people to share their stories. When she is not writing you will definitely find her nose in a book or magazine, or perhaps training for the next half marathon, practicing yoga or eating in London's best restaurants.