Some of the best cheese advent calendars for Christmas 2021 are still in stock—but you'd better be quick!
Countdown to Christmas Day with these delectable cheese advent calendars...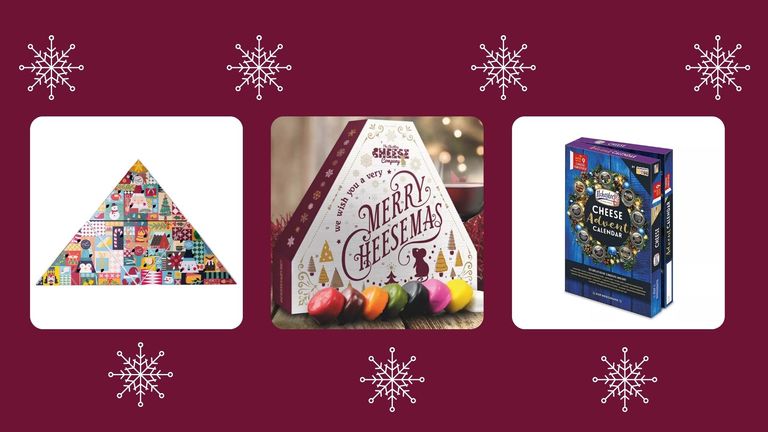 (Image credit: Future)
Cheese advent calendars have grown in popularity over the last four years and what started out as a niche product from one brand has become a competitive market with some of the best cheese suppliers in the UK creating luxurious calendars filled with cheese for the countdown to Christmas.
Our pick of the best cheese advent calendars this year includes mainstream options you can buy in the shops, alongside more niche and premium offerings that make a really special treat or one of the best Christmas food gifts for the turophile in your life.
Looking for Christmas gifts for couples this year? Why not pair your gift of a cheese advent calendar with one of the beer or wine alcohol advent calendars for 2021 so their December evenings are sorted?
Best cheese advent calendars 2021
Lidl Ilchester Cheese Advent Calendar
Specifications
RRP: £18.95
Region: UK
Delivery: Free within seven working days
Refundable: Contact retailer for returns
By far the most popular cheese advent calendar on the market this year, Lidl Ilchester Cheese Advent Calendar includes 24 cheeses for you to enjoy throughout December.
The cheeses include Jarlsberg, Applewood, Mexicana, Ilchester Cheddar Cheese, Ilchester Red Leicester Cheese, Ilchester Double Gloucester Cheese, Ilchester Wensleydale Cheese with Cranberries, and a more unusual festive flavour; Ilchester Wensleydale Cheese and Gingerbread.
As cheese advent calendars go, this one would make a relatively cheap Christmas gift, and the clever book-style design also means that after the first 12 days of the month they can tear off the first half to store uneaten cheese better or throw it away to maximise storage space.
The Welsh Cheese Company Mini Welsh Cheese Advent Calendar
Specifications
RRP: £38
Region: UK
Delivery: Various dates available
Refundable: Non-refundable
If you don't have room in your fridge for The Welsh Cheese Company's giant cheese advent calendar, or you don't think you'll be able to get through the huge 4.2kg of cheese throughout the month, they also offer a mini version which is a bit easier to get through.
Weighing in at just under 1.2kg, this features six different Welsh cheeses in six windows to be opened on certain days throughout December. There are windows for the 1st December, 5th December, 10th December, 15th December, 20th December and of course 24th December and on each date you'll be treated to a full-size truckle (5x200g and 1x180g) to enjoy over the next few days.
The selection isn't as extensive as that in the giant version, but it features some of the brand's favorite festive flavors, including, Perl Las Blue, Black Bomber, Cenarth Brie, Ffili, Tysilio and Bouncing Berry.
Chuckling Cheese Advent Calendar
Specifications
RRP: £29.99
Region: UK
Delivery: Free over £50
Refundable: Contact retailer for returns
When it comes to the best Christmas food each year, nothing beats a glass of wine with a plate full of cheese, chutney and crackers. And while this calendar won't provide the wine, it does come complete with chutney and crackers to give you the full cheese-eating experience.
This cheese advent calendar does things a bit differently as you get 12 days of cheese, six days of mini crackers and six days of mini chutneys. The cheeses included are: smoked, vintage, red onion, Margarita pizza, orange and whiskey, as well as some festive flavours: Sunday roast, pigs & blankets and a limited edition Christmas pudding flavour.
Cheesies Better Than A Cheese-Bored Advent Calendar
Specifications
RRP: £29.99
Region: UK
Delivery: Standard free over £15, next-day delivery available
Refundable: Contact retailer for returns
For those concerned about fridge space but still wanting some cheesy goodness throughout December, this cheese advent calendar is full of dried cheese snacks, rather than fresh produce that needs to be kept refrigerated.
With 24 bags of full-sized Cheesies—which is the brand's cheese snack that has been made by baking cheese until it gets crunchy—this could make a great early Christmas gift for teenagers who are always looking for something to snack on while hiding up in their room.
DIY wooden drawer Advent Calendar
Specifications
RRP: £19.95
Region: UK
Delivery: Next day available
Refundable: 30-day return policy
If none of the cheese advent calendars out there quite float your boat, then why not make your own and fill it with all your favorites? A personalised way to count down to Christmas is the best way and it's super easy and relatively inexpensive too.
Simply buy a range of different cheese miniatures and pop them in here at random so you're left with a little surprise each day. You can get hold of cheese miniatures from your local supermarket—Cathedral City and M&S do lovely selections of mini cheeses or if you're a Babybel fan they could work too.
This advent calendar would also make for a lovely sustainable Christmas gift that could save you money in the long run, as you can reuse it every year and fill it with whatever treats you have in the house! This year's cheese advent calendar can become next year's candle advent calendar (just make sure to clean it out properly first!)
DIY mini cardboard box Advent Calendar
Specifications
RRP: £11.99
Region: UK
Delivery: Next day available
Refundable: 30-day return policy
Another option for those who are worried about fridge space, this alternative DIY advent calendar comes with little cardboard boxes that can fit easily into any spare space you have in the fridge.
It comes in a range of different color options, including gold, silver, black and white, so you could even get one for each member of the family and fill each with everyone's favorite treats—whether that's mini cheeses, chocolate, sweets, or even special trinkets to make a thoughtful jewelry advent calendar.
And if you're super low on fridge space, you could even fill these with the cheese miniatures day by day—although this would probably best if the cheese advent calendar is a gift someone in your household rather than one for yourself.
Aldi Emporium Selection Advent Cheese Calendar
Specifications
RRP: $14.99
Region: US
Delivery: In store only
Calling all cheese connoisseurs: the legendary Aldi Cheese calendar is back for 2021. (The retailer also sells a wine Advent Calendar, and we couldn't think of a more perfect pairing.) Filled with cheesey classics — think Gouda, Cheddar and many more — this one's a bargain at $15. While it's currently sold out online, lucky Aldi shoppers may still spy this one in the Special Buy aisle in store before advent begins.
Who sells cheese advent calendars?
We may be in the era of increasingly niche advent calendars, but cheese advent calendars are still not as common as some other foodie Christmas countdowns, like chocolate, wine or gin advent calendars.
There will be some cheese advent calendars in the supermarkets, but if you want a really high-quality cheese advent calendar, your best bet would be to buy yours from food specialist websites, local delis, artisan cheese brands and small cheese businesses.
If you're desperate to make sure you nab a cheese advent calendar this year, these are some of the places we've seen them on offer so far this festive season:
What to consider when buying a cheese advent calendar
It's important to think about the practicalities of buying a cheese advent calendar, as often, the products inside may need to be refrigerated.
"If you're buying this as a surprise gift for someone, you'll need to think creatively about how to ensure the delivery isn't missed," says w&h senior food writer Jessica Ransom. "Most sellers will ensure the parcel is delivered with adequate cool packs but the cheese will likely need to be refrigerated that day."
Like sending someone one of the best Christmas hampers, you want to ensure someone is at home to receive your gift. Perhaps see if you can get someone else in the household in on your plan to help coordinate delivery times.
How to best store and serve cheese from advent calendars
"Cheese is best eaten at room temperature. If your calendar includes home-ripening cheeses like brie, keep them in the door of the fridge if you want them to ripen quicker or pop them in a bottom draw to slow the process."
"It's important to avoid cross-contamination of different cheeses, as you'll introduce different bacterias, so if you use a knife for blue cheese and then use it for brie, you'll encourage mould to grow on the brie. Try to wrap any un-finished cheeses individually and avoid using the same knife for different cheeses. Clingfilm is a convenient option but there are lots of re-useable beeswax options these days, which also make nice gifts for environmentally-conscious foodies."
What pairs well with cheese?
"While many people assume red wine or port are always the best choice for cheese pairings, don't feel afraid to branch outside of these," says Jessica.
Follow Jessica's expert cheese pairing advice to really elevate your festive countdown this year:
"A crisp beer can be a marvellous pairing for aged cheddars."
"A citrus-led gin can make a nice accompaniment to herbaceous, soft goat's cheeses."
"A buttery white Burgundy is perfect with rich brie."
"The saying 'what grows together goes together' can also be helpful. If the region the cheese comes from happens to share a home with a specialist drink, there's a good chance they'll be enjoyable together. An example of this is Champagne and a cheese called Chaource, which is made in the Champagne-Ardenne region of France."