11 no-strings sex apps for 40+ women who want casual sex
Looking for some adult fun with zero commitment? Try no-strings sex apps...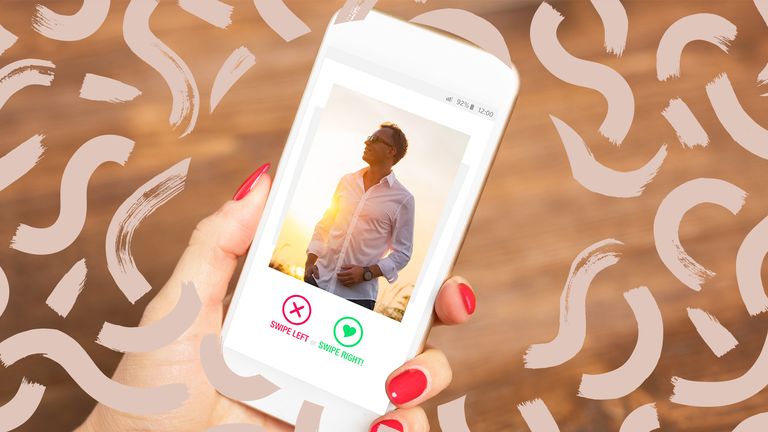 (Image credit: Future)
Thinking about experimenting with no-strings sex apps? It turns out your smartphone really could be the easiest way to find a partner. Here we round up the best sex apps for commitment-free dating.
Some people turn to dating apps in the search of true love, while others pick up their smartphones looking for singles in their area interested in a fun fling. If you fall into the latter camp or are considering no-strings-attached sex, who could blame you?
After all, sex (including solo sex with your best vibrator) certainly has its health benefits, from keeping your vagina healthy and happy to helping you sleep better at night. There's no shame in being a woman looking for sex, as long as you're being upfront with your matches and prioritizing your safety while still having a good time.
"There's no reason why 40-somethings shouldn't enjoy no-strings sex as much as Millennials," says Jessica Leoni, sex and relationship expert with IllicitEncounters.com. Jessica has been counseling couples and individuals about the pros and cons of no-strings sex for more than 20 years. Before you start downloading the best sex apps, Jessica advises considering if fun between the sheets with someone you may never see again is right for you.
There are a few signs to look out for when thinking about whether sex apps are right for you.
Signs that no-strings sex isn't right for you
Do you think you'd feel awful waking up next to someone who you know you're never likely to see again? "Then I would suggest no-strings sex and a sex app are probably not for you and you don't need to sleep with that person to find that out," says Jessica. And even regular sex, without commitment, could cause you to feel hurt in the future.
"Lots of people have 'friends with benefits' who they see on a casual basis for no-strings sex," says Jessica. "In my experience, these arrangements invariably end in disappointment for one of the parties in the long run. It sounds sexist, but it tends to be the woman who ends up wanting a more emotional connection."
How to choose the right sex app
"Clearly the key thing is that there are lots of available potential partners in your vicinity," says Jessica. "So I wouldn't limit yourself to one app. Join a few that seem to cater to your needs. Most offer free trials so you can gauge if it is right for you without forking out at first." Just make it clear that you're looking for sex or no-strings-attached dating.
"Everyone dating is essentially looking for sex," says Jessica. "But lots of daters are looking for a relationship first and foremost and for the sex to come afterward. So you might find it frustrating meeting that kind of person when your primary objective is sex."
Staying safe when using sex apps
Once you've met someone online and feel ready to meet in person, there are a few steps you can take to ensure you remain safe, after you all you are meeting with a stranger. Jessica suggests:
Check if the person is verified on the app. This means they'll have provided identification to the app for their account and so are less likely to be pretending to be someone they're not.
Meet at a neutral venue, certainly in the early stages.
Tell a friend where you are going and who you are with.
Keep your phone on.
Be very careful about going back to a stranger's house if you are in any way uncomfortable about what might happen, particularly if you have had too many drinks.
Best sex apps for the over forties
1. Tinder
Best for large number of users on the site
Specifications
Initial cost: Free
Additional extras: From $0.99 / £0.79 for Tinder Plus
Photos: Up to 6, but many have just 1
Reasons to buy
+Easy to sign up via Facebook+Swiping for dates is simple+Good for finding younger guys
Reasons to avoid
-Largely based on looks-Mainly for younger users
What is Tinder?
Tinder is all about being attracted to how someone looks, rather than what they say about themselves. It's one of the best sex apps because it's so easy to use and has a large number of users. After downloading the app, you can link it to your Facebook profile. You swipe through photos (up to six, but many people have just one) of potential dates based near you. If you're not interested, then you swipe left. Like what you see? Swipe right and if they also swipe right on you, you will be matched. You'll then both have the opportunity to strike up a conversation (or maybe just send a flirty gif). It's free to join, or you can sign up for Tinder Plus or Tinder Gold from $0.99/£0.79, which will help boost your profile so more users see it.
Why is Tinder one of the best sex apps for the over 40s?
"Around 20% of Tinder users are in the 35-44 age group. So while it is predominantly a younger person's app, there are lots of people age 35-plus giving it a go," says Jessica. "Given its popularity, you'd be a fool not to try it if you are 40-plus and looking for no-strings sex. Yes, you might well find some younger guys turned on by the whole Mrs. Robinson thing – and what is wrong with that? They could be a lot of fun and the sex could be great. You are only as old as feel – get out there and see how it goes."
2. Match
Best for meeting all age ranges
Specifications
Initial cost: Free to sign up
Additional extras: From $2.99 / £1.99
Photos: Up to 26 allowed
Reasons to buy
+About matching interests, not just looks+You can also attend group events +People of a similar age
Reasons to avoid
-Takes longer to go through profiles-Not free to make connections
What is Match?
Match is exactly what it says on the tin. You are basically searching for people who have interests or beliefs which "match" with your own. This means you search the site by looking at other people's profiles depending on your search criteria. It can take a lot longer than Tinder to read through bios etc, but you'll have more things in common with those you connect with. The only downside to this is that "the majority of members are looking for a new partner rather than a casual fling," says Jessica. Match is free to sign up but to use it to make connections you need to pay a subscription.
Why is Match one of the best sex apps for the over 40s?
As Match is so popular, you will have a huge pool of potentials to pick from. "It's worth trying Match because it's one of the market leaders and there will be lots of potential dates," says Jessica. And the age of the majority of users will be similar to you. "Almost half of Match users are aged 30-49, while 26.5% are over 50—so there's perhaps a more compatible age profile than Tinder for the over-40s," says Jessica. They also host local events where you can meet potential dates in person.
3. Bumble
Best for women being in charge
Specifications
Initial cost: Free
Additional extras: From $8.99 / £1.99
Photos: 6 slots available
Reasons to buy
+Women take control+Easy to use+Don't need to give out your number
Reasons to avoid
-You have to pay to see expired connections
What is Bumble?
Bumble is very similar to Tinder in that it's based on your location, you look at photos of other users and swipe right or left. But there is one big difference when it comes to Bumble compared to other dating apps and websites. "With Bumble, only the female in heterosexual matches can make the first move with matched male users," says Jessica. "So, initially at first, everything is done on the woman's terms." Women have 24 hours to start a conversation and men have 24 hours to respond or the match expires. The app is free, although you can pay extra for a Bumble Boost, which includes features such as rematching with expired connections or seeing everyone who has swiped right for you.
Why is Bumble one of the best sex apps for the over 40s?
"This is very good for no-strings sex," says Jessica. "You can pick and choose exactly who you think is appropriate according to your needs." There is also a video and voice chat feature within the app, so you don't have to give out your phone number but can talk face to face with someone before meeting. So there's little chance of being catfished.
4. Happn
Best for local connections
Specifications
Initial cost: Free
Additional extras: From $1.99 / £1.99
Photos: Up to 9 allowed
Reasons to buy
+Cuts out travel issues+Good to use on holiday
Reasons to avoid
-Not great in rural locations-You may bump into past dates
What is Happn?
Using the basic functions of Happn is completely free, but you will have to pay for extra features, such as finding out who likes you. It works by location, so once you've signed up and created a profile, you'll be alerted to nearby users and those you have crossed paths with. "Happn is a bit more pot luck than Bumble because you're matching with people in your immediate vicinity," says Jessica. "Obviously, there's a danger that you can keep bumping into an inappropriate match again and again. If you're in a big city, that's not a big deal – it's easy to disappear. Not so easy if you live in a small town."
Why is Happn one of the best sex apps for the over 40s?
Well, one of the best things about this app is that you won't fall for someone who lives at the other end of the country to you. This is especially good for those over 40 years old, who are more likely to have established lives and less likely to move for a relationship. As you can match someone in the immediate area, Happn can be great for a holiday fling when you are away. "It can work for no-strings holiday sex," says Jessica, "Especially if you are going to a popular destination."
5. Illicit Encounters
Best for keeping things top secret
Specifications
Initial cost: Free for women
Additional extras : N/A for women
Photos: Many are password protected
Reasons to buy
+Free for women (men pay)+Everyone is on the same page+Well established
Reasons to avoid
-Some moral issues-Can't use it via an app-Fake profiles often appear
What is IllicitEncounters.com?
This one is not technically an app—and there is a good reason for that. IllicitEncounters.com is a dating site for those who are already in a relationship. You can access it via your phone, but having an app would potentially give the game away to your partner.
"This is a niche site for people in settled relationships who want a casual relationship with a consenting adult, who is also likely to be in a settled relationship," says Jessica. "Men pay to be on the site whereas women can join for free, and male members tend to have a reasonable income."
Why is IllicitEncounters.com one of the best sex apps for the over 40s?
If you want to have no-strings sex but are already in a relationship, then this site could work for you. "It's highly successful because both men and women are on the same page and one of its biggest selling points is the ready availability of no-strings sex," says Jessica. "It has been established for almost 20 years so there is a vast pool of daters in all areas. Have an affair and be sure that your potential new partner is not going to blow the whistle on your infidelity."
6. Pure
Best for instant fun
Specifications
Initial cost: Free for two days
Additional extras: From $14.99 / £12.49 per week
Photos: Not needed but can be added
Reasons to buy
+No time wasting+Good for privacy
Reasons to avoid
-Not that well known-Better in big cities
What is Pure?
Unlike the other apps, your profile on Pure won't last forever. In fact, after uploading your photos and bio, you have just one hour to get to work and make a match with someone. This is done in a similar way to the other swiping apps, although it will also let you know if you have any mutual connections. After the time limit, your profile will disappear, and you will have to sign up again. "It's not that well known and you are likely to struggle to find partners outside of the big cities," warns Jessica.
Why is Pure one of the best sex apps for the over 40s?
With profiles not sticking around for long, you've either got to decide whether to meet up or not—it definitely doesn't encourage messaging for weeks. This means it's great for no-strings sex. "Pure is a relationship app which has been designed especially for casual hook-ups in your vicinity," says Jessica. It's also great for privacy, as none of your details are saved on the site.
7. Feeld
Best for multiple partners
Specifications
Initial cost: Free
Additional extras: From $15.99 / £14.99 per month
Photos: No nude pics allowed on profiles
Reasons to buy
+Easy to sign up via Facebook+Sexually experimental hook-ups
Reasons to avoid
-Not good for rural locations-You may feel daunted at first
What is Feeld?
You sign up to Feeld in the same way you sign up to Tinder (via your Facebook site). The big difference is that those on the site are looking for a more sexually experimental experience. You can even say you want more than one partner at a time, or if you're interested in different types of sex play such as bondage for beginners. which means the possibilities are almost endless. "This is another hook-up app where there are very few boundaries," says Jessica. "You will probably meet people on Feeld who are in open relationships and are very much up for the idea of a threesome. If it is done with other consenting adults, I'm not against it as long as safe sex is practiced."
Why is Feeld one of the best sex apps for the over 40s?
Feeld is one of the best sex apps for over 40s as, after potentially years of not being satisfied in relationships or having ended a sexless marriage, you can explore whatever it is your like, say exactly what you're looking for and there are no judgments. It's great if you live in a big city.
8. CasualX
Best for uploading sexy photos
Specifications
Initial cost: Free for limited use
Additional extras: From $15.99 / £15.49 for one month
Photos: Up to 30 allowed
Reasons to buy
+Easy to swipe+Good for private albums+Everyone is using the app for the same reason
Reasons to avoid
-Not as many users
What is CasualX?
"CasualX is like an X-rated version of Tinder," says Jessica. "This app specially caters for people only looking for casual sex, as the name suggests." While you swipe to make connections in the same way as Tinder, you can also upload and view a private album of photos which will let you get to know the other users on the site rather intimately and can be rather exciting if that fits with your sexual fantasies.
Why is CasualX one of the best sex apps for the over 40s?
This app is great as everyone is on it for the same reasons—to meet others for a casual relationship. Although, as with a lot of the smaller dating apps, there are not as many users as on something such as Tinder. "It is fairly niche and you will be picking from a very small pool of dating," says Jessica.
9. HUD
Best for casual dating
Specifications
Initial cost: Free
Additional extras: Premium from$14.99
Photos : Yes
Reasons to buy
+Scrolling match feed+Section to list what you're into in the bedroom+Offers feature to show STD checks+Both single individuals and couples can join
Reasons to avoid
-Only binary gender options available
What is HUD?
Whether you're single or a couple looking for fun, HUD is a great app for casual hookups and dating. It's free to download, although you can choose to upgrade to a premium or diamond membership for even more features.
As a premium member, you'll get access to advanced search filters, unlimited matches (compared to the 60 matches in basic membership), read status on all messages, and the chance to see who has viewed your profile. If you're a globe trotter, the diamond membership allows you to place your profile anywhere in the world and discover singles in the local area.
For us, the best feature of this sex app is the My Bedroom section. It allows you to select what you like to get up to in the bedroom, from role-play to wax play, so you needn't worry your future matches aren't into the kinks that make you tick.
Why is HUD one of the best sex apps for the over 40s?
Want to spice up your relationship with a third person or feeling flirty and looking for a new fling? HUD is set to become your new favorite. By nature, this app is fun and commitment-free, everyone is on there for the same reason—to find a hook-up. For over 40s, it can be a great way to get back into the dating game with no pressure. There's a video chat function for meeting matches virtually first if you're feeling a little nervous about seeing them in person. And, the SAFELY features allow you to book affordable STD checks and see the status of others on the app for peace of mind. It's open to everyone, and there's a staggering 10 million users on there.
10. Down
Best for setting clear intentions
Specifications
Initial cost: Free
Additional extras: From $1.99
Photos: Yes
Reasons to buy
+Easy to sign up via Facebook+8+ million users+Set clear intentions
Reasons to avoid
-Lots of younger users
What is Down?
Described as a dating app that gives you the power to be totally honest, with Down you can really set clear intentions without worrying about dishing out or receiving mixed signals. Whether you're keen to date (find a partner) or get down (find a casual hookup), you decide what it is you want from your potential match. Swipe up to date, and down to...well, get down.
With a premium subscription, you'll see unlimited profiles, access unlimited chats and have the opportunity to match with people in other cities. You can also supercharge your account for a week to take your app dating game to the next level.
Why is Down one of the best sex apps for the over 40s?
There's no messing around when it comes to this app. All user's intentions are clear and you'll know instantly if you're on the same page with your match. There are over eight million users worldwide, so you're sure to find a hot local single ready to have some fun—no matter whether you're looking for a home hookup or fling abroad
The app is totally private and discreet, and won't tell a user you've shown interest in them until they've also swiped for you.
11. Wild
Best for first-time users in the UK
Specifications
Initial cost: Free
Additional extras: From £4.99
Photos: Yes
Reasons to buy
+Hook-up and friend finder+Free to chat with matches +Private photos only visible to matches+Users verification
Reasons to avoid
-Only available in UK cities
What is Wild?
Wild is a UK app for adults looking for casual hookups or friends in their local area. It features search filters to ensure you're only matching with users who have the same intentions. The app uses photo verification to verify its users, and of its 1+ million users around 65% are verified.
The chat function allows you to get to know your matches for free. Or, you can sign up for a premium subscription, upload private photos that are only visible to your matches and connect with singles anywhere in the UK.
Why is Wild one of the best sex apps for the over 40s?
Like some of the other apps in our top picks, using Wild you can easily set out your intentions and ensure only users who want the same setup as you are able to match with you. While there are benefits of a premium subscription, you don't have to invest with this app as you can chat to your matches for free.
The photo verification is great for ensuring you're always speaking with real people—no catfishes here. For first-time sex app users in the UK, it's a great app for seeing who's out there and matching with people across the country. Your next hookup could only be a matter of miles away...
The app also doubles up as a friend finder, allowing you to connect with locals who are keen to meet a friendly face over a cup of coffee.