Best dating sites for over 50 - whether you want a serious relationship or a short-term fling
These are the best dating sites for over 50, whether you want a long-term relationship or a fling, as approved by the experts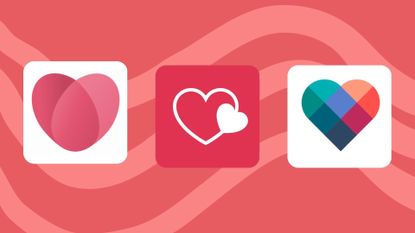 (Image credit: OurTime, eHarmoney, Silver Singles)
Going in search of the best dating sites for over 50 relationships doesn't have to be daunting. While dating is difficult at any age, dating when you're slightly older has a reputation for being particularly tricky.
But as there are so many dating sites for over 50 people these days, along with more people on them in general, they're a great way to dip your toe back in the water. You can meet like-minded people without being set up with a friend of a friend and having to go on awkward blind dates.
It's just important you know what you're looking for before you sign up so you opt for the right one that offers what you want. From more serious dating sites suitable for those looking for long-term committed relationships to the best sex apps that can hook you up with a fling, there's something out there for every interest.
How do I know if dating sites for over 50 are right for me?
In the world of modern dating, dating sites and apps are totally normal to use - across all age ranges. However, much like anything else when it comes to dating, they won't be for everyone.
"It all depends on what you are looking for in a relationship and how much effort you want to put in, so firstly ask yourself what you are looking for and then you can choose," says Tina Wilson (opens in new tab), a relationship expert who specializes in the tech and dating worlds, having started her own dating app - Wingman.
"When choosing the right dating site for you, start by deciding what you want the outcome of your experience to be. If you want casual, choose a hookup site. If you want serious, then choose that. Don't use a serious long-term type platform if you are just looking for a hookup. It will get messy and is misleading. Make it clear what you are looking for and there is likely someone out there wanting the same."
A new phenomenon called dating burnout is also common for those who use these kinds of sites and apps regularly, so it's important to monitor how much time you're spending on them and temper your expectations of platforms you haven't used before.
If you've decided that dating sites are for you though, keep reading for our curated collection of the best dating apps for over 50.
Best dating sites for the over fifties
1. Match.com
Best dating app for over 50 overall
Specifications
Initial cost: Free to sign up
Extra feature: Video coaching
Region: US and UK
Reasons to buy
+
Focuses on matching interests
+
Broad range of ages
+
Group events on offer
+
Can filter by region
Reasons to avoid
-
Takes long time to sift through profiles
-
Have to pay to make connections
What is Match?
One of the biggest online dating websites, Match is great for all ages. You can be specific and find matches using the criteria search, browse through members' profiles, or opt for 'zen mode', which means you'll only be contacted by those who meet your criteria. It's also beneficial for those looking for a same-sex partner as one of the best lesbian dating apps out there. With more than 11 million paid-up subscribers (as of 2022), it's also likely that you'll come across a few people you have something in common with.
Why is Match one of the best dating sites for the over 50s?
As well as being easy to use with a simple interface, Match has a much broader reach compared to other dating sites out there. "It's important that any platform you use has enough potential matches so you can attract a broad dating pool. Over 1.6 million people have already met their partners on Match, and this is a great dating app for people living in regional areas," says Hayley Quinn (opens in new tab), a dating coach specializing in helping people be more confident and improving their communication skills.
With all those people using the app, safety is key. "They also moderate all their profiles making it a really safe site to use," she says.
If you'd prefer to meet someone in person but this isn't happening naturally in your daily life, you can also take advantage of Match.com events. These are an extension of your app use and take place across Europe and the US with at least one event every month where you can informally meet other singles.
2. eharmony
Best for those looking for a serious relationship
Specifications
Initial cost: Free to sign up
Extra feature: Video dates
Region: US and UK
Reasons to buy
+
Matches based on personality
+
Specialised over-50s section
+
Provides lots of over-50s dating advice
What is eharmony?
More than two million people have found love through eharmony online and via the app version, which is also one of the best dating apps for relationships. The site proudly claims it's certified as the 'No.1 trusted dating site' and, on the whole, it's great for those looking for something long-term. The general user base is slightly older and geared towards facilitating serious partnerships.
Anyone who signs up for eharmony needs to fill in an in-depth questionnaire to determine their personality traits, then the eharmony team sends compatible matches daily based on your profile, eliminating the need to trawl through masses of members at all. If you're not a fan of the Tinder way of doing things, where you swipe through potential matches at your leisure, eharmony could be the way forward.
Why is eharmony one of the best dating sites for the over 50s?
Eharmony is a great choice for those who are keen to find a long-term match but who are a little worried about how to get started. They provide a specialized section for those looking to date over 50, which also includes lots of dating advice like how to write a dating profile.
It's also one of the more regulated sites, says Wilson. "Eharmony vets their users too, so I would use it if you're keen to get started," she says.
It also has more than 3.5 million members so there's a good pool of people for you to find someone with who you click with.
3. Ourtime
Best for finding someone with similar interests
Specifications
Initial cost: Free to sign up
Extra feature: Group in-person activities
Region: US and UK
Reasons to buy
+
Developed specifically for over 50s
+
All about your hobbies and interest
+
Verified profiled
+
Can meet members at planned local activities
Reasons to avoid
-
Not suitable if you're looking for someone in a different age group
What is Ourtime?
If you'd rather exclusively focus on finding someone your age, try Ourtime. This dating site is all about helping over 50s find someone who they want to spend most (or all) of their time with. The main premise is about matching up with people who have similar interests. Your 50s is a period of life where you might have a bit more freedom to do what you want with your time - if your kids have grown up or your career has steadied - but you're still energetic and thriving and keen to explore, travel, cook, read, learn, and do so many other things. Ourtime is all about helping you find someone who also loves to do those things to share this important time with.
Why is Ourtime one of the best dating sites for the over 50s?
This website is designed specifically for over 50s, so if you're looking for someone in the same age bracket as you, you're going to have a higher chance of making that happen. It's also great for anyone who is keen on developing new hobbies or wants to explore more, as matches are made based on your interests, rather than your looks, personality, or values. It also provides dating advice for over 50s and gives you suggestions for things to do together if you plan to meet up.
The brand also runs local activities for members to meet each other in person - much like Match.com, so if you're keener on meeting someone face-to-face rather than online, this is a possibility too.
4. Hinge App
Best dating app over 50
Specifications
Initial cost: Free to download
Extra feature: $29.99 / £27 per month for Premium
Region: US and UK
Reasons to buy
+
Available on all app stores
+
Good ratio of men to women
+
Based on personality rather than looks
Reasons to avoid
-
Not as many users as other dating apps
What is Hinge?
Hinge is a dating app that you can download onto your phone from the App Store. While many traditional apps like Tinder are focused on appearances, Hinge focuses on personality and offers users the chance to personalize their profile with unique conversation starters and fun anecdotes, as well as pictures.
Why is Hinge one of the best dating sites for over 50?
If you're someone who spends more time on your phone than on your laptop, chances are you'll find an app a lot more user friendly and useful than a website.
Appearance is important for many people - you've got to be attracted to a potential partner after all - but Hinge encourages users to showcase their personality on the app. So instead of 'liking' someone based on looks, you'll be encouraged to 'like' someone's answer to a question, a voice note on their profile, or an interesting photo. Once you've sent them a 'like' on one of these features, you can start a conversation with them based on this feature. It's the perfect conversation starter and a sure-fire way to avoid any standard 'how are you' introductions.
It's all completely legitimate too, with a verified phone number required to sign up to the app and real-life moderators on the platform to suss out any suspicious accounts.
You can also set your age and location preferences to suit you, much like many of the other dating sites on the list. However, if you live in a smaller town and have your age preferences within a very specific frame, you may run out of users as Hinge doesn't quite have the numbers offered by alternatives like Tinder or Bumble.
5. Illicit Encounters
Best for dating in secret
Specifications
Initial cost: Free for women
Extra feature: Anonymous set-up process
Region: US and UK
Reasons to buy
+
Well established brand
+
Free for women to use
+
Everyone is on for the same reason
+
Secrecy is ensured
Reasons to avoid
-
Some moral issues
-
Fake profiles can appear
What is IllicitEncounters.com?
IllicitEncounters.com is a dating site for those who are already in a committed relationship but want to explore outside of it. You can access it via your phone or on a computer via the website.
"This is a niche site for people in settled relationships who want a casual relationship with a consenting adult, who is also likely to be in a settled relationship," says Jessica Leoni, IllicitEncounters.com (opens in new tab)'s in-house sex and relationship expert. "Men pay to be on the site whereas women can join for free, and male members tend to have a reasonable income."
Why is IllicitEncounters.com one of the best dating sites for the over 50s?
Dynamics are different in every relationship and if you've decided to explore outside of yours, then this dating site will allow you to do this easily and more honestly. A sexless marriage doesn't necessarily have to signal the end of your relationship and this is one way to live out your sexual fantasies, or perhaps get your spark back if you're looking to change that.
"The pool for dating in the over 50's category is limited as many people at this age are already married," notes Leoni. "IllicitEncounters.com caters specifically to people who are in unfulfilled relationships and who are looking for that connection, passion, and excitement to add to their lives, which may include people in this age group."
She explains, "What makes IllicitEncounters.com a good dating site for the over 50s is that everybody is on the same page. Many of our members report feeling lonely and unappreciated in their marriage, they want to learn how to spice up their relationship, or they are desperate to speak to like-minded people. The grass always looks greener when things aren't going so well at home. People are finding a respite from the mundane by looking for an affair. Not only are affairs thrilling and adventurous, but many people also have life-changing positive experiences during or after an affair. It can be escapism from dull or unsatisfying marriages, or as a way to somewhat improve things at home, making partners more tolerant and patient with their spouses."
6. Naturally Dating
Best for those who want to meet someone the old-fashioned way
Specifications
Initial cost: Free to sign up
Extra feature: £20 per event
Region: UK
Reasons to buy
+
Meet people in real-life
+
Events filtered by age category
+
Easy platform to follow up after events
Reasons to avoid
-
Not able to meet people online
What is Naturally Dating?
Naturally Dating is here to help you meet people the old-fashioned way by skipping out on the online swiping step and taking you straight to meeting in person. If you've ever taken part in speed dating and enjoyed it, this could be the app for you. Plus, it's another great choice for those not interested in the Tinder way, much like eharmony.
You sign up through the site and arrange to attend the events here but it's all about speed dating in person. The events take place across the UK and you can meet lots of people in one go to really tell who you have chemistry and who you think you could build a proper connection with.
Why is Naturally Dating one of the best dating sites for the over 50s?
With speed dating events tailored to different age categories, this is the perfect platform to try and meet someone in person from your same age group. However, if you're interested in meeting people from a different age group, you can advise Naturally Dating and they'll help you to meet someone from that age bracket.
With mini dates that last four-five minutes, it's a lot easier to see who you can forge a connection with than it would be online. And once the event's over, you can log onto your account, select who you'd be interested to see again, and if they've selected you too then it's a match.
7. Silver Singles
Best for those after a divorce or bereavement
Specifications
Initial cost: Free to sign up
Extra feature: From $27.95/£24.95
Region: US and UK
Reasons to buy
+
Developed specifically for over 50s
+
International reach
+
Only paying members can see your photos
Reasons to avoid
-
No younger people to match with
What is Silver Singles?
Silver Singles is one of the best dating sites for over 50 as, much like Ourtime, it's exclusively designed for people in this age group to meet someone. While many dating sites show you profiles of people who live nearby, SilverSingles matches people up based on their compatibility. New sign-ups complete a questionnaire that assesses preferences, personality, and lifestyle in great detail, which allows the site's matching algorithm to make intelligent pairings, giving users a better match. This set-up is designed to take the stress out of matchmaking and, as your photos can only be viewed by paying members, more privacy. It also has an international reach, with users in Europe, Australia, the USA, and Canada.
Why is Silver Singles one of the best dating sites for the over 50s?
Whereas most other serious relationship dating sites like Match and eharmony are for all ages, this dating platform is designed especially for those over 50 and above who are looking for love. It's easy to use and will match you up with people based on your compatibility as well, rather than your general life interests, appearance, or other factors.
8. Wingman
Best for those who need a little help from their friends
Specifications
Initial cost: Free to sign up
Extra feature: Match-make friends
Region: US and UK
Reasons to buy
+
Support from your friends
+
Don't have to do the hard work yourself
Reasons to avoid
-
Less control over who you pick
What is Wingman?
If you're feeling a bit shy about putting yourself out there, not good at striking up a conversation or simply don't trust your own taste, Wingman is for you. It's not a dating site, but an app. You'll need to have a smartphone that has access to an app store, like an iPhone, to use this one but Wingman has one fun feature that makes it different from all the other dating apps on our list. Wingman lets you choose a trusted friend - otherwise known as wingman - or even a circle of friends to manage the search for you and take the stress out of the dating experience.
Why is Wingman one of the best dating sites for the over 50s?
"Wingman is a dating app that lets friends and family do most of the work, creating a profile and making introductions rather than having to do it yourself," says Wilson. "It's not easy being single, at any age, and if you are out of the dating game, your confidence can be lacking, so having a friend to help you is less terrifying."
9. Muddy Matches
Best for lovers of rural life
Specifications
Initial cost: Free to sign up
Extra features: From £7.83/month (with a 12-month membership)
Region: UK
Reasons to buy
+
Meet people with the same interests as you
+
Likely to meet someone in your local area
What is Muddy Matches?
Are you a farmer? Do you live in the countryside? Or do you enjoy long walks with your dog? This dating site could be the perfect one for you. Aimed at those in the countryside, Muddy Matches is the dating site for anyone who lives more of a rural lifestyle. It can help you find someone who loves the great outdoors as much as you do, if that's what you're after. The number of users on the platform is relatively small compared to others like Match and eharmony, but this is to be expected on a niche dating site.
If you're new to an area or struggling to make friends in a rural area, Muddy Matches also has a fantastic feature where you can specify that you're looking for friendship instead of a relationship.
Why is Muddy Matches one of the best dating sites for the over 50s?
With 200,000 members across the UK and Ireland aged from 18 to 80, the vast majority of which are seeking serious commitment from a partner, you can meet people in whatever age bracket you're looking for. All of them are also likely to have shared interests with you, having signed up to the site, so you'll be able to develop a relationship (or friendship) based on your hobbies and passions.
How we chose the best dating apps for over 50
We spoke to the experts to determine what makes a good dating app for people over 50 and asked them about the features to look out for. They recommended a range of apps for us to consider and highlighted why they thought they were the best.
We also considered the following factors when curating our list of the best dating apps for over 50:
How easy was the site to use? Dating is hard enough - having a confusing and disorientating dating site or app is the last thing anyone needs. We had a scroll through all the dating apps on our list to make sure they were accessible to the average user with a simple interface and clear instructions.
Was the app free or was there a subscription fee? Most of the best sites on our list do require some kind of subscription to open up the full benefits of the app, but we also thought it was important to highlight the free ones for those who want to dip their toe into the dating pond without a cost attached.
Was the app focused on short-term flings or longer-term relationships? We chose a selection of apps but mainly opted for those facilitating longer-term relationships as this opens up the opportunity for shorter-term flings in the process.
Dating app or site? The majority of the best dating sites for over 50 are available via an app but we made sure there were multiple ways to access the platform as we felt it was important to recognize that not everyone will have a top-tier smartphone like an iPhone - or want to use their phone for this purpose.
How do you date at 50?
Knowing how to create conversation, how to flirt, and what to do if you're nervous when talking to someone new are all factors to consider when getting back into the dating pool, no matter what age you are. To help out, dating coach Wilson has provided some of her top tips for dating online for those who are in their 50s:
Don't overthink it, just do it: "There is no perfect introduction but do start the conversation with something casual and simple, something that shows you've read their profile or looked at their photos. The worst thing you can do is 'hey' as it's so low effort, it's generally ignored," she says.
Don't feel you have to immediately flirt if you don't want to: If you're not comfortable flirting with your match from the start, don't feel like you have to - you can save that for when you meet up and get talking if you decide you're attracted to your match, reassures Wilson. "Don't put pressure on yourself to be 'jazz hands' and to say exactly the right thing, just be yourself."
Talk about what you know: "Use a reference that's in the news or the weather if you don't know what to start talking about. It sounds cheesy but we do it in real life every day, so this shouldn't be any different."
It's okay to be nervous: "Flirting and dating at any age can be a nerve-wracking experience," says Wilson. "No matter your age, always go into it with an open mind and a sense of fun. You are supposed to be enjoying yourself not everyone you meet will be a potential partner so don't get hung up on how many swipes or dates it takes."
Try to avoid drinking too much alcohol, if you decide to drink: "Don't drink too much on your first date if you can avoid it," she says. "Even though nerves can kick in on a date, the worst thing to do is drown them out with alcohol. Reassure yourself that the nerves will pass and the more you do it, the easier it will become."
How to find a relationship on a dating site
While all dating sites can lead to companionship, sex, or marriage, if you're looking for love over 50, or an enduring relationship, Quinn recommends you "prioritize using dating sites that ask detailed user questions as opposed to swiping style apps."
It's also best to stay away from almost exclusively sex-orientated sites like Adult FriendFinder, where the focus is on hook-ups and learning how to sext, rather than forming and maintaining a committed relationship.
Once you've signed up she advises you to "look out for profiles that are complete, and first messages that show the person has read your profile. Weed out any copy-and-paste lines like, 'Hey, great picture, how are you?', in favor of people who comment on something specific. The most valuable way someone shows they're interested is that they consistently send you high-quality messages that ask sincere questions and show a real desire to get to know you."
While it's easy to be put off by poor photography, Quinn suggests not judging too soon. "Sometimes people, particularly single men, can be a lot better in real life but are somewhat camera shy with a limited selection of pictures!"
Tuning into one of the best relationship podcasts could also help as many of them talk through the ups and downs, trials and tribulations of dating online.
How to date safely online
Safety is key for anyone dating at any age. "When it comes down to red flags, if it sounds too good to be true, then it probably is," says Leoni. "Trust your gut instinct. If it feels like your date isn't being totally honest with you then that is the number one red flag. Make sure that if you do meet up with somebody new that you always meet in a public place and have a contingency in plan in case it doesn't feel right. Always tell a friend or relative where you're going too."
Leoni has also shared her top tips to stay safe when dating online:
Set up your dating site with a new email account and only go by your first name.
Don't part with your details until you are sure the person you are 'dating' is bona fide and never before you meet the person.
Strike up a friendship first over the phone, and make sure you can talk to each other.
Wait until you are comfortable with them before the meeting, otherwise, it could be awkward and uncomfortable, and set the ground rules before the meeting - make sure you both know what the date is about and where the line is drawn.
Tell someone you trust about where you are going and get them to call at a fixed time to make sure everything is ok.
Meet somewhere public but discreet. Go somewhere you are familiar and comfortable with to alleviate first-date nerves.
Opt for a short meetup on your first date - one to two hours maximum, or perhaps for a lunch date or a quick evening drink. This keeps the pressure off but gives you enough time to get an impression of them.
Arrive and leave independently - it's safer and if things don't work out it's easier for all. And always have an exit strategy handy, just in case!
Keep in mind the first date is about getting to know each other in person and seeing if there is a spark.
Speak soon after to let them know how you felt, don't lead them on if you are not keen, but on the same token don't just ignore them.
Debra Waters is an experienced online editor and lifestyle writer with a focus on health, wellbeing, beauty, food and parenting. Currently, she writes for the websites and Woman&Home and GoodtoKnow, as well as the Woman, Woman's Own and Woman's Weekly magazines.
Previously, Debra was digital food editor at delicious magazine and MSN. She's written for M&S Food, Great British Chefs, loveFOOD, What to Expect, Everyday Health and Time Out, and has had articles published in The Telegraph and The Big Issue.