The cheapest prosecco and champagne deals in supermarkets ahead of the Platinum Jubilee
Stock up on the cheapest prosecco and champagne in the supermarkets without compromising on quality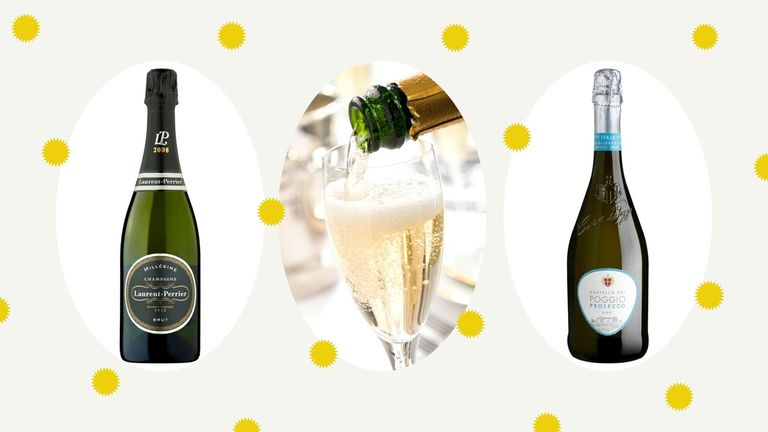 (Image credit: Getty/Future)
Contributions from
Hunting out the cheapest prosecco and champagne deals allows for big savings on bubbles, especially if you're planning on entertaining guests and buying in bulk. A delicious bottle of fizz can make any occasion that little bit more special, whether you serve yours with canapés when guests arrive or it's saved for a special toast after dinner.
Whether your bubbly of choice is crisp champagne, extra-dry prosecco, or fruit-filled sparkling rosé, opting for one of these cheapest prosecco and champagne deals means you don't have to compromise on quality, with some of the best champagne and most popular prosecco brands offering special discounts at selected supermarkets.
Not only are these bottles of bubbly a way to make the upcoming Platinum Jubilee bank holiday weekend even more special, but a bottle of champagne is a fail-proof wedding anniversary present, while a bottle of prosecco teamed with some luxury chocolates makes for a great gift for couples celebrating an engagement or new home.
We've scoured the top UK supermarkets to find the cheapest prosecco and champagne deals on offer. Stock up now and it's one less thing to think about over the bank holiday weekend while you're getting your Jubilee decorations up!
Cheapest prosecco and champagne deals
These are the cheapest prosecco and champagne options in UK supermarkets right now, plus the standout deal on bubbles from each retailer that's not to be missed.
Best Aldi champagne and prosecco deals
Best Asda champagne and prosecco deals
Best Lidl champagne and prosecco deals
Best Morrisons champagne and prosecco deals
Best Ocado champagne and prosecco deals
Best Sainsbury's champagne and prosecco deals
Best Tesco champagne and prosecco deals
Best Waitrose champagne and prosecco deals
What makes a good prosecco?
When it comes to finding the best processo, a higher price point doesn't always mean better quality. This is what to look out for when shopping for prosecco:
Be wary of added sugar—"Proseccos that are fresh and less sweet (with a lower dosage) tend to be better—a high sugar content is often disguising a lower quality wine," Harry Ballman, co-founder of bottle shop and wine subscription service, Cépage (opens in new tab), and sommelier at London's prestigious Wiltons in St James, tells us.
Look for the DOC or DOCG stamp—"These relate to the quality of a bottle of Prosecco as approved in Italy," Rob Weatherhead, co-owner of Affordable Wines (opens in new tab), tells us. "DOC loosely translates to the designation of controlled origin. And means it is of a quality currently applied to circa 300 wines from Italy. DOCG is the next level up again and currently, there are around 80 wines that have passed the quality certification to warrant this stamp."
The Glera grape—"Prosecco is made from the Glera grape, but not always 100%. Check the grape makeup of your chosen wine, if possible," Weatherhead continues.
What makes a good champagne?
We've all heard of the big champagne brands, but are they really the best? The experts explain what makes good champagne and their pointers for selecting the best-quality fizz.
Check the vintage—"Whilst a lot of what goes on a bottle itself is purely visual and for shelf stand out, if a bottle of champagne makes a big deal about its vintage it is usually because it is worth shouting about," Weatherhead explains.
Check the sugar dosage—"Brut champagnes that have a higher dosage (6-12 g/l) tend to be rich and have a creamy texture, whereas Extra Brut (3-6 g/l) or Brut Nature (3g/l or less) are fresh and zingy," Ballman explains.
Look for award winners—"There are lots of awards in the wine industry which doesn't help define the good from the bad. But if you find champagne that has been winning Gold medals at awards, it is a good measure of its quality," Weatherhead tells us.
Anna is an editor and journalist, specializing in SEO and digital content production. First carving her career in communications and advertising agencies in Berlin and Barcelona, Anna's former life saw her work for film studios and inside a fashion house, before she moved to Metro.co.uk (opens in new tab) where her career highlights include heading up the SEO desk during the Covid-19 pandemic. Anna's published work ranges from culture and films to human interest features and live news coverage.

In her spare time, she enjoys watching movies, discovering the next big thing in music, traveling, online shopping, and poring over poetry and magazines. When she's not consuming those things, she's probably writing about them.

Originally from Glasgow, Anna has lived in Berlin, Barcelona, and London, not to mention stints in Guernsey and Athens. When she's not struggling to navigate a new language, she's always chasing the next hot trend and perfect black dress (you can never have too many).
With contributions from