How to dress a pear-shaped body to best flatter your figure
Everything you need to know to make the most of your pear-shaped body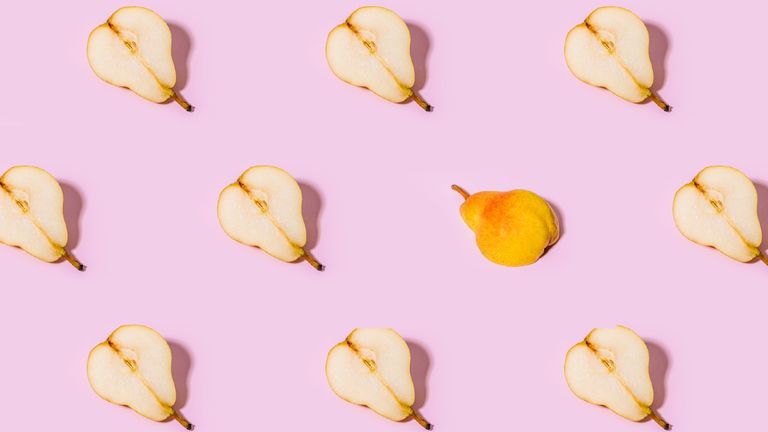 (Image credit: Getty)
Not sure how to dress for your pear-shaped body? No problem. Shopping for outfits that best flatter your figure will become a whole lot easier once you gain a better understanding of your body shape.
What is a pear-shaped body?
While deciphering which body type you have can be a tricky task, you should be able to tell if you have a pear-shaped body by simply looking in the mirror. Do so while wearing either your underwear or a form-fitting outfit - anything that will allow you to get a proper idea of your silhouette. If you're still unsure, taking measurements of your shoulders, bust, waist, and hips and comparing them will help.
"A pear has narrow shoulders and a small waist," says stylist Susie Hasler. "Their hips are broader than their shoulders, and they tend to gain weight easily on their bottom half." You're also likely to have a relatively modest bust, curvy thighs, and a generous bum.
You probably wear skirts and trousers at least one size bigger than your tops and may struggle to find clothes which fit around the waist and hips.
Clothes size and height don't come into body shape - you can be a petite pear shape, a plus-size one, or anything in between.
Pear body shape outfit ideas
There are two key ways to approach dressing for a pear-shaped body. Firstly, you can take advantage of your curvaceous bottom half and draw attention to it with figure-hugging silhouettes. Or, you can distract from the area by keeping clothing on your bottom half dark and understated (think indigo jeans and black trousers), instead adding extra interest to the top half of your outfits.
"Use visual tricks such as V and scoop neck tops, chunky necklaces, and earrings," advises aesthetics specialist Dr. Galyna Selezneva. These, plus colorful, printed tops, will draw the eye up and away from your hips.
If you're clever with your styling, you could even create the illusion of a much-coveted hourglass figure. It all comes down to striking a balance between your narrow shoulders and wider hips by adding extra bulk up top. Double-breasted jackets, ruffles, pussy-bow detailing, and statement sleeves will all boost your bust and broaden your shoulders, evening up your proportions. Tucking tops into high-waisted skirts and trousers, opting for fitted dresses, and choosing cropped jackets will also help. And never underestimate the transformative power of cinching in your middle section with a belt, or even throwing on some shapewear to streamline your shape underneath.
The best clothes for a pear body type
There are different types of styles that can work well with pear body shapes—it all depends on what kind of look you want to go for. Pear body shapes are fabulous for creating drama on the bottom half, so it's great to go for wider-leg trousers or bootleg cuts. Or if you'd rather accentuate your smaller middle and disguise your hip and thigh areas, fit-and-flare skirts can be really helpful. Off-the-shoulder tops are also a good way to emphasize your smaller top half.
Best dresses for pear body shape
A-line dresses: An A-line dress will disguise wider bottom areas while drawing attention to the smaller top half of your body.
Wrap dresses: The detail on wrap dresses will accentuate your smaller waist while skimming over the hips for a more flattering look.
Best tops for pear body shape
Bardot tops: Bardot tops are perfect for showing off the smaller upper frames of pear body shape types, with the off the shoulder design drawing attention to the neck and chest areas.
Structured blazers: Wearing a structured blazer can balance out a pear body shape by giving the shoulders a wider stance and giving the waist a clinched look.
Best bottoms for pear body shape
Wide leg trousers: These types of trousers create volume and emphasize your lower half, rather than trying to minimize it and cover it up—it's almost like steering into the skid!
Bootcut and flare jeans: Like wide-leg trousers, flare jeans create some drama on your bottom half and help to balance wider hips and thighs.
Fit-and-flare skirts: Skater skirts clinch in at the waist to accentuate this smaller part of pear body shapes and disguise wider thighs.
What looks are "unflattering" for pear body shapes?
If you have a pear-shaped body, there may be particular pieces you feel more or less confident in than others. But it's all down to personal preference, not hard and fast styling rules.
"One of the most common things I'm asked by my clients is what they should wear for their body type," says stylist Karen Williams. "However, whilst I am always aware of different body shapes, I don't let these fashion rules dictate what works and what doesn't, and I'm reluctant to put women into boxes as I find this can cause an unhealthy body obsession."
"I want women to dress for their own gaze, not the eye of others, to trust their instinct and to go with the things that make them feel great." We couldn't agree more.