Everything you need to know about dressing to flatter a rectangle body shape
Dressing a rectangle body shape is simple - here's everything you need to know.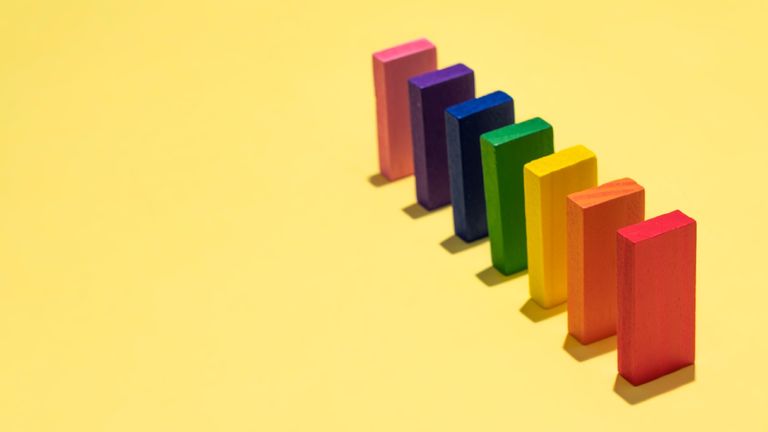 (Image credit: Getty)
Lucky you! A rectangle body shape is one of the easiest body types to dress, all thanks to your slender physique. 
What does a rectangle body shape look like?
Confused as to whether you're a pear shape, apple shape, or rectangle body shape? The easiest way to find out is to look at your silhouette in the mirror. Do you have a slim frame? Narrow shoulders? Are your bum and bust relatively small? If so, you're likely to fall into the rectangle category.
But confusion can lie around the middle. Although rectangle shapes might have a little waist definition, it is only slight, and therefore not enough to tip you into hourglass territory. Hence why rectangle frames are also sometimes referred to as straight-up-and-down or athletic. 
Which clothes look best on a rectangle body shape?
There's a reason why most models have a rectangle body shape - it's because it allows you to wear pretty much anything. Be sure to choose clothing that enhances your arms, defined shoulders, and slender legs while using clever styling tricks to create the illusion of enhanced curves around your bust, waist, and bum. 
"The rectangle can pull off many styles, but the key is to go for details," says stylist Susie Hasler. "They can very easily wear layered styles such as tank tops and shirts underneath jumpers. They can also carry off lighter colored jeans and anything that's going to add shape to them."
Be bold and brave with your choices. Pussy bow blouses, high necklines, and ruffles will not only add interest to your look but make your bust look bigger too. On the bottom half, don't be afraid to experiment with cuts, colorways, and prints. This is your chance to really have fun with fashion - so make the most of it!
What closet staples do you need to invest in for a rectangle body shape?
As we've already established, the options are pretty much endless if you have a rectangle body shape. But if you're still unsure where to start, we've rounded up a few key styles to consider adding to the basket…
Double-breasted blazer
Cropped biker jacket
Flowing trench coat
Skinny and straight-leg jeans
Flared and bootleg jeans 
Wide leg culottes
Striped top
Ruffled blouse
Shift dress
Wrap dress
Pleated skirt
Bias cut skirt
What looks are the most "unflattering" on a rectangle body shape?
There's very little any body shape should steer clear of, but especially not rectangles. Besides, fashion shouldn't feel restrictive. 
"My mantra is if there's something you love wearing, who cares whether it's emphasizing your best bits or hiding your worst," says stylist Karen Williams. "It's time we stepped into our power and feel great by our own standards."
"It's all about being brave and having self-belief, don't be pigeon-holed and don't rule out things that you should or shouldn't wear because of your age, shape, or size." Hear, hear.