The Best Night Creams For Oily Skin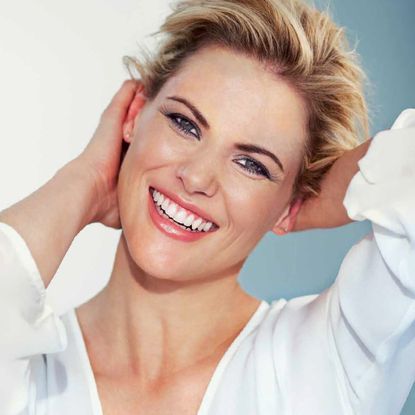 Ten of the best creams to moisturise and repair oily or combination skin
There are plenty of advantages to having oily skin - that excess of sebum means your complexion will stay plumper and juicier as you age, plus you don't have to worry about flaking skin in winter (thank goodness!) But that's not to say having oily or combination skin is always simple, and picking a night cream can be particularly tricky. Traditional rich and heavily perfumed formulas can leave pores overloaded and skin looking puffy come the morning.
When looking for the best night creams for oily skin, the good news is there many modern formulas which take into account your skin's need for light, easily absorbed nourishment as well as containing ingredients that mattify and rebalance your sebum production.
So what should you look out for in a night cream for oily skin? Many people find a cool, gel-like texture best, absorbing quickly with no greasy residue and avoiding that puffy face that indicates your cream is too rich. Some moisturisers contain micro-particles of powder, like our top pick from French brand Carita, these are fab for dulling down shine and absorbing excess oil while you sleep, so you awake to a mattified complexion. Some super-smart formulas even help regulate your skin's own natural production of sebum, getting to the root of the problem and having a cumulative de-shining effect over time.
Although many of these products are oil-free, which you may feel most comfortable using on oily or combination skin, it can actually be beneficial to use an oil-based product (fight fire with fire, if you will!) This is because when we strip our skin cells of their natural protective oils, they can overcompensate by producing more, so giving our skin the nourishing oils it needs can prevent it going into panic mode!
Click away to find our pick of the best night creams for oily skin, at any budget...
Facialists and skincare therapists alike recommend incorporating a simple massage technique into your daily skincare application to get the best out of your products and your cheekbones. Here is guest wellbeing and skincare therapist at Fortnum and Mason, Marie Reyonlds top tips for defining your contours:
1. Apply cream using your index finger with your middle finger over the top for extra pressure, firmly press under and up into the curve of your cheekbones, starting from the sides of the nose. Do both sides at the same time.
2 Use a firm, pressing-gliding action and follow the curve of your cheekbone, always pressing under and up into the muscle to give that lift, ending up at the ear.
3 At the ear where you have lymph nodes (the posterior auricular glands - it's like a hollow) gently massage anti-clockwise on this point to stimulate and help drain fluids and toxins. Repeat three times, day and night.
Garnier Miracle Sleeping Cream, £12.99
Renowned for their ultra-replenishing wrinkle-fighting credentials, night creams commonly come in a dense heavy-duty form. But not anymore, bouncy, pillow soft formula's able to hold their weight in nourishing oils and active ingredients are the latest skincare innovation to arrive on Western shores from the world's skincare capital, Korea. And the one causing the biggest buzz in the beauty world? Garnier Miracle Sleeping Cream (opens in new tab). Combining the restoring powers of an overnight mask with the light, springy and fast-absorbing texture of a day cream, it seeps beneath the skins barrier to delete the tell tale signs of fatigue and even skin tone. Plus, you won't awake to heavy leftover residue from the night before.
Vichy Normaderm Night Detox, £15
If you find you wake up to oilier skin than you went to bed with, it's an overnight overproduction of sebum that's to blame. Normaderm Night Detox (opens in new tab) regulates sebum as you sleep, while nourishing skin with Vichy thermal water so your skin looks refreshed, feels hydrated and pores look smaller by morning.
Philosophy Renewed Hope in a Jar, £35.50
If you're already a fan of Hope in a Jar, (opens in new tab) mark your calendar for April 1 when this souped-up version goes on sale. This one contains a blend of three Alpha Hydroxy Acids to gently exfoliate daily oil, dirt and dead skin cells and shrink the appearance of pores.
Fillume Volumising Moisturiser, £24.99
If you find most night creams too heavy for your oily skin, Fillume's (opens in new tab) light gel-like texture and lack of fragrance will feel like a breath of fresh air. The formula is all about re-volumising skin, with hydrating hyaluronic-acid and plumping sesame seed actives.
Elemis Pro-Collagen Marine Cream, £80
A night cream for people who don't get on with night creams, Marine Cream (opens in new tab) has a super-light, silky texture that leaves no greasy residue behind. You won't notice it's there five minutes later, but it will be secretly working under your skin to boost elasticity and plump up fine lines. Yes, it has a powerful scent but that's from natural rose and mimosa absolutes - no unnecessary perfuming here.
Erborian Sleeping BB Mask, £32
Don't be put off by the name, this isn't a Mask or a BB cream (promise!) it's actually a nightly skin treatment that's light in texture, packed with energising ginseng and gives skin a noticeable glow without filling it with oils or rich emollients. It smells lovely and sinks in fast, no big surprise Erborian (opens in new tab) uses Korean technology - it's the skincare capital of the world right now.
Thalgo Hydra-Marine 24hour Gel Cream, £35
Thalgo Hydra-Marine 24hour Gel Cream (opens in new tab) is another gel and water-based moisturiser, both ideal textures for quenching oily skin with moisture but not encouraging puffiness or shine come morning. The formula feels cool to the touch and sinks into skin seconds, while an active ingredient called 'lumisource' promises to help detoxify cells for a bouncy, bright complexion.
Darphin Exquisage Beauty Revealing Cream, £65
A cream for those of us who don't want to turn back the clock, just to look fabulous at our age, full stop! Exquisage isn't solely for those with oily skin but it's CelluVie complex focuses on radiance, skin tone and texture rather than heavy hydration, making it great for anyone who doesn't want to overload their skin before bed. It's not as light as some of the others here, but melts away in seconds.
Carita Ideal Control Powder Emulsion, £62
Powder is like kryptonite to excess sebum, so the biotech extract of flax in Carita's (opens in new tab) hydrating cream is perfect for mattifying skin without clogging pores. If you're worried this might dull down your natural glow, don't be - this refreshing, gel-like texture also thoroughly hydrates skin for a juicy, healthy look.
Decleor ylang ylang purifying night balm, £32.50
Using an oil-packed heavy balm might seem a little counterproductive, no? But this Purifying Balm (opens in new tab) with Ylang Ylang, Hazlenut and Jojoba actually helps regulate sebum production by giving skin all the good oils it needs, so it won't overcompensate by producing all that excess while you sleep. The lemon oil helps shrink unruly pores while the formula feels and smells absolutely dreamy.