The best hair dryers for fine hair – get ready for volumised locks that hold a style
Replicate the volume of a professional blow dry with the best hair dryers for fine hair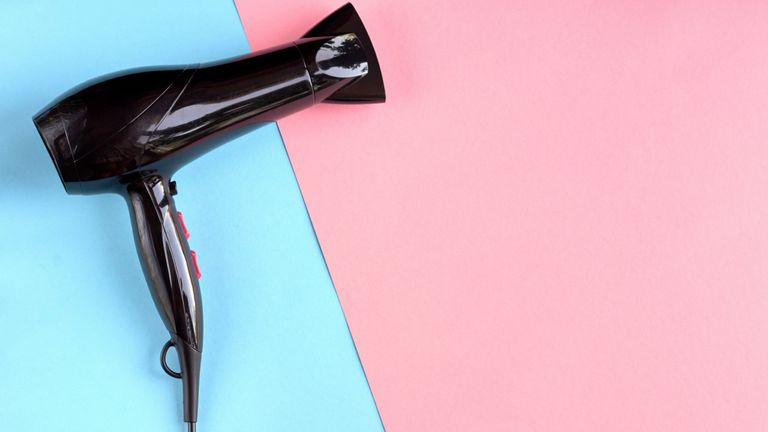 (Image credit: Getty images)
In our bid to find the best hair dryers for fine hair we tried and tested dozens and dozens of the best hair dryer models on the market. And while the overall winner might not come as a shock, there are some unexpected surprises in the mix too.
As a longstanding titan of the hair industry, GHD's newest creation, the Helios,  topped our list with its power and gorgeous selection of colours. We also love the shiny finish we get from Cloud Nine's futuristic-looking Airshot Pro, while Dyson's pioneering Airwrap makes it a doddle to achieve a whole menu of at-home blow-dry looks.
How to choose the best hair dryer for fine hair
When trying to pick the best hair dryers for fine hair, stay on the lookout for anything with multiple heat and power functions. Low speeds can give you more styling flexibility, while a quick shot of power will help when you want to create volume. And lower heat settings will stop too much damage, which is a good thing for all hair types.
"With finer hair, you need to control the direction of the blow dry so that you can stop it blowing out of the brush – a low-speed button can help with this, so make sure your hair dryer has this," explains Craig Taylor, creative director at Hari's. "Personally, I like a hair dryer that is simple (just a few heat settings and a cold button) and not with too much functionality, as I think they last longer and have better motors.
"I also like a cold button for when I'm trying to set movement into the hair or root; blowing cold air helps set the bend and body that you're trying to mimic in the hair. My favourite brand to work with is Parlux, as they are long-lasting, have a great motor and come with a cold button, a few heat settings and different speeds."
The best hair dryers for fine hair you can buy right now
The best overall hair dryer for fine hair
Specifications
Weight: 1.495kg
Power: 2200W
Speed settings: 2
Heat settings: 3
Cord length: 3m
Warranty: 2-year guarantee
Available colours: Black, neo-mint, powder pink, ink blue, white, plum
RRP: £159
Reasons to buy
+Fast and powerful for soft and shiny finish+Gorgeous design  +number of striking colours
Reasons to avoid
-Pricy-Slightly heavy
Eight years after the straightening-iron powerhouse entered the hair dryer area with their Air blow dryer, GHD dropped the irresistible Helios earlier this year. And it seems, with its most recent offerings, the cult brand has stepped up its design game, as, just like its newest Platinum+ styler, the Helios hair dryer will take any dressing table from bleak to chic.
Not only does it look fabulous in every one of the six stylish colour options, but it also packs a serious punch when it comes to power. A mega-high wattage means that you're getting a forceful 120km/h shot of air through the concentrated nozzle, which goes a long way in adding volume to fine hair and will leave you with a shiny, bouncy look in seconds. 
It is at the high end of the price spectrum and comes in heavier than most of the rest, but it is so streamlined that you can't feel the difference in weight when using – so, for the results it gives, we think it's a price worth paying.
See our full GHD Helios  hair dryer review
2. Cloud Nine Airshot Pro Hair Dryer
The best hair dryer to reduce carbon footprint
Specifications
Weight: 480g
Power: 1600W
Speed settings: 3
Cord length: 3m
Warranty: 2-year guarantee
Available colours: White & pink
Technology : Ceramic mineral-infused heating element
RRP: £199
Reasons to buy
+Fast and powerful+Quiet+Luxe look and feel
Reasons to avoid
-Lower wattage 
Even the name gives us an inkling that this hair dryer is one to look out for. Cloud Nine's Airshot Pro, which hails from one of the founders who created the legendary GHD, really does give you a professional-like shot of air for more control over your style. And not only does it shoot out a mega dose of power, but, in keeping with the brand's kindness ethos, it's also good for the environment at the same time. Its Eco-Precision Motor monitors velocity to hyper-optimise air flow at fast speeds and cut drying time by 50 per cent, while its lower wattage uses less energy than competitors on the market.
Its ceramic mineral-infused heating element also distributes healing minerals tourmaline and sericite on to your locks to nourish and strengthen, while leaving a healthy and shiny finish. And for any fine-haired types out there who also suffer from frizz, the Airshot Pro also features clever technology that reduces frizz and flyaways for a salonesque finish.
3. Parlux Superturbo 2000
The best salon-quality hair dryer for fine hair
Specifications
Weight: 570g
Power: 1440W
Speed settings: 2
Heat settings: 3
Cord length: 2m
Warranty: 1-year guarantee
Available colours: Black
RRP: £64.95
Reasons to buy
+Salon-like results+Affordable price
Reasons to avoid
-Not as powerful as others-Quite basic-looking
Walk into any hair salon and chances are you'll glimpse a Parlux on every counter. It's the signature dryer you'll see your stylist using to give you the gorgeous bouncy look that you somehow always fail to replicate yourself. So, investing in this humble purchase could give you a better chance at perfecting how to blow dry hair. Despite being one of the brand's most basic dryers, it still boasts a punchy motor and sleek durable casing.
It is less powerful than some of the other offerings on the market, but when it comes to working with fine hair, that can actually be a pro, as a slower air flow will give you more control over wispy locks and stop them from escaping your styling brush. A concentrator nozzle also makes for fast drying, despite the lower wattage. It's not the prettiest hair dryer around, but for the super-pleasing price and the even more exciting salon-like results, it definitely deserves a place on our list.
4. T3 Featherweight Compact
The best travel hair dryer for fine hair
Specifications
Weight: 394g
Power: 1200W
Speed settings: 2
Heat settings: 2
Cord length: 2.75m
Warranty: 2-year guarantee
Available colours: White & rose gold, black, hot pink, soft lavender
Extras: Folding handle
RRP: £125
Reasons to buy
+Light and sturdy+Gorgeous design+Smooth finish
Reasons to avoid
-Slow drying
Jetting off on holiday is all lovely and exciting until you finish up your first day frolicking in the sea and have to brave the hotel hair dryer tucked in your room's dusty bathroom drawer. So, T3's Featherweight Compact is here to save you from the horrors of holiday hair dryers with its light and nimble design, effective performance and enviable results. Oh, and it looks like something straight out of a five-star salon.
With a folding hinge that makes it a breeze to fit into your carry-on, the dryer has an unusually small barrel that looks slightly odd but makes for painless styling. Despite being slightly slower than our other favourite hair dryers, it packs a stronger punch than most tools you'll find in a hotel room and comes with a cool-shot option and a concentrator nozzle for sleek styling. It may not be the best dryer we've come across, but for a post-beach session we'll take it!
5. Dyson Airwrap Complete
The best multi-tasking hair dryer for fine hair
Specifications
Weight: 660g
Power: 1300W
Speed settings: 3
Heat settings: 4
Cord length: 2.62m
Warranty: 2-year guarantee
Available colours: Grey & fuschia, black & purple
RRP: £449.99
Reasons to buy
+Light, compact+Clever attachments to create styles
Reasons to avoid
-Expensive-Not as powerful as a dryer
While professionals make achieving a bouncy blow-dry look effortless, anyone who's ever tried it themselves will understand the perils of barrel brushes and how one wrong twist can leave you looking more electrocuted than electrifying. So, when the Dyson Airwrap came on the scene, it caused ripples among blow dry fans with its intriguing attachments that claim to do all the hard work for you. While the multi-functional tool does take some getting used to and it might not quite be for everyone, if you're one who relies on a plethora of different hair tools or changes up your look day to day, then this one is definitely for you.
While the Airwrap does give your monthly mortgage a run for its money, its strenuous, all-purpose attachments do mean that you're really getting the most bang for your buck. Not only is there a dryer attachment that essentially transforms it into the wishlist staple Dyson Supersonic hair dryer, but if you invest in the Complete set, it also comes with two different-sized barrel attachments to easily create waves and curls, two brush attachments for straightening and smooth drying, and a round brush to create a dreamy blow dry. It's not quite powerful enough to leave a smooth, frizz-free finish on thick and curly hair, but for fine hair it does the job in seconds.
And hailing from the brand that somehow turned vacuum cleaners into a luxury asset, it boasts some serious airflow technology. Powered by a Dyson digital motor, the Airwrap uses the Coanda effect, which is generated by a forceful spinning impeller that creates a pressurised flow of air to pull hair towards the attachment. Temperature-controlled air is then blown on to the magnetised hair, drying it and setting it in place without using any surplus heat. So, you're left with a bouncy, shiny and healthy look that could rival even the most talented hair stylists around…
6. BaByliss Salon Pro 2200 Hair Dryer
The best cheap hair dryer for fine hair
Specifications
Weight: 940g
Power: 2200W
Speed settings: 2
Heat settings: 3
Cord length: 2.7m
Warranty : 5-year guarantee
Available colours: Black & rose gold
Technology: Tourmaline-ceramic
RRP: £27.99
Reasons to buy
+Fast and powerful+High-end look
Reasons to avoid
-Results not as sleek as with others-Quite noisy
On opening the box to this glossy-black masterpiece, you wouldn't be amiss in mistaking it for a high-end splurge. The modest dryer boasts almost feminine contours in its sleek barrel, with an attractive clinched vent at the back that can be easily popped out for regular cleaning to avoid any overheating.
And for such a humble offering, its energy is staggering. The forceful jet of air allows for quick drying and accurate styling; however, on the highest speed it can almost be a bit too powerful to control fine hair, so if your locks tend to be on the wispy side we'd opt for the lower setting. Plus, the robust airflow does make the dryer one of the noisier ones we've tried. 
We did also find that, despite the use of hair-strengthening tourmaline-ceramic technology, results weren't as sleek as after using some of the other dryers on our list, but for such a reasonably priced option it definitely holds its own against the industry's best.