The best drugstore eye creams that offer high-end results
The best drugstore eye creams do it all—tighten, brighten, and smoothen—all for under $25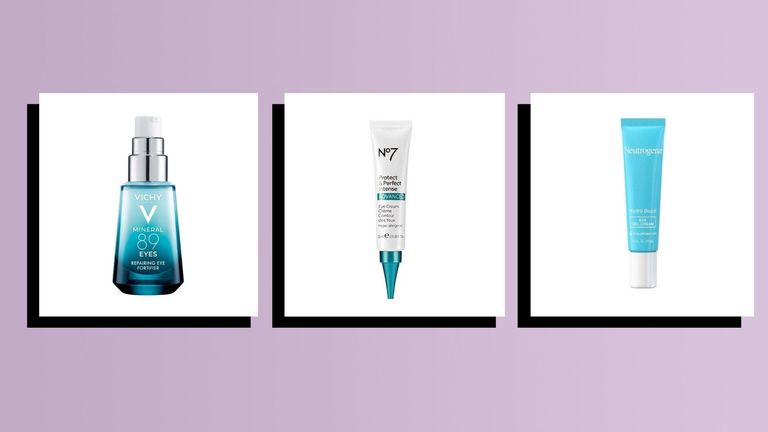 (Image credit: Future)
The world of budget beauty, not to mention the best drugstore eye creams and moisturizers, in particular, have come leaps and bounds in the past few years. Not a month goes by without the emergence of a new affordable skincare brand, whose impressively cost-effective range provides stiff competition to more expensive counterparts. Trying the latest ingredients—ones that have beauty insiders buzzing—needn't break the bank any longer.
Nowhere is this more evident than when browsing the roster of the best eye cream out there today. Boasting intelligent formulations designed to help with everything from smoothing fine lines and wrinkles to puffy eyes and even (in some cases) those tricky dark circles, the quality of these products is as surprising as their price tags.
With so many choices on offer though, you could well suffer from a case of shopper's overwhelm. We've gone out and done the research about which affordable eye creams, which all clock in under $25, are worth adding to cart.
The best drugstore eye creams, according to our beauty experts
1. CeraVe Eye Repair Cream
Best drugstore eye cream for dark circles and puffiness
Specifications
RRP: $10.70/£9
Target concerns: Dark circles, puffy eyes
Ingredient call-outs: Hyaluronic acid, niacinamide, ceramides, marine and botanical complex
Fragranced: No
Reasons to buy
+Smooth, lightweight texture that barely feels noticeable under makeup+Non-comedogenic+Helps strengthen the skin barrier and address inflammation and puffiness+Allergy-, dermatologist- and ophthalmologist-tested; hypoallergenic+Accepted by the National Eczema Foundation
Reasons to avoid
-Doesn't address lines-May not be the best allover choice for more mature skin
Ceramides, a blend of lipids found naturally in the skin, are the hero ingredient of this particular eye cream. Boasting three different varieties, this product should help strengthen your skin barrier's defenses. Why is that important? The skin barrier— that is, the uppermost layer of your skin—is key in protecting against the damaging effects of UV, pollution, and environmental wear and tear.
However, this top layer weakens as we age (and can be compromised further by diet, stress, and using the wrong products) meaning we can experience more dryness and irritation. That's far from ideal for the thin, delicate skin around the eyes. CeraVe's protective formula looks to replenish supplies of lipids, while plumping hyaluronic acid, moisturizing glycerin, and brightening niacinamide work on smoothing out and puffy eyes and dark circles. It's also fragrance-free, making it ideal for a range of different skin types particularly reactive or sensitive skin. If you're on the lookout for the best eye cream for dark circles that won't break the bank, this is an ideal bet.
2. La Roche-Posay Toleriane Ultra Eye Contour
Best drugstore eye cream for sensitive eyes
Specifications
RRP: $24.99/£17
Target concerns: Dry, sensitive skin
Ingredient call-outs: La Roche-Posay Thermal Spring Water, neurosensine, niacinamide, shea butter
Fragranced: No
Reasons to buy
+Fragrance-, paraben-, preservative-, alcohol-, lanolin-, and colorant-free+Hypoallergenic and formulated for delicate, sensitive skin around the eye area, as well as for contact lens wearers+Instant soothing, calming feel+Allergy- and dermatologist-tested
Reasons to avoid
-Does not address lines
If using the best mascaras for sensitive eyes is your jam, or are prone to allergies, hay fever, or skin flare-ups under your eyes or on your eyelids, this one's for you. Formulated to relieve tightness and irritation and reduce sensitivity, it features a calming cocktail of anti-inflammatory neurosensine, niacinamide, nourishing shea butter, and the brand's signature Thermal Spring Water. We also found that it felt light and absorbed well on our eyelids (crucial before applying eyeshadow!).
Those whose allergy itch spot is their eyes as well as those who wear contacts will appreciate its featherlight, soothing texture. Furthermore, this eye cream—along with the rest of the Toleriane range—has been given the seal of approval from Allergy UK. Impressive credentials.
3. Neutrogena Hydro Boost Eye Awakening Gel-Cream
Best drugstore eye cream for tired eyes
Specifications
RRP: $13.84/£7.53
Target concerns: Dry, tired-looking underye areas
Ingredient call-outs: Hyaluronic acid
Fragranced: Yes
Reasons to buy
+Smoothens undereye skin, relieving signs of stress+Hyaluronic acid hydrates and moisturizes+Fast-absorbing water-gel formula is pleasant and non-goopy+Ophthalmologist-tested+Oil- and dye-free; non-comedogenic
Reasons to avoid
-Mildly scented-Doesn't address lines or wrinkles; isn't an outright anti-aging formula-Doesn't address puffiness
Want a product that can handle—or even, dare we say it, reverse—the effects of harsh weather conditions like too much time in the sun without your trusty sunglasses, or late nights staring at the computer screen? This tried-and-tested eye cream from everyone's fave childhood drugstore brand Neutrogena sorted the above scenarios and, addressing those generalized "tired eye" symptoms, and as a result, became a fixture in our SOS beauty kits.
A gel-cream hybrid (always a plus!) that feels refreshing and lightweight yet works just as hard as its creamier counterparts, it boasts of a hydrating formula thanks to always-a-winner hyaluronic acid and glycerin. We put it through its paces during a late-night Netflix true crime binge and woke up looking surprisingly refreshed with minimal to no dark circles, despite the three hours of sleep we got.
4. No7 Protect & Perfect Intense Advanced Eye Cream
Best drugstore eye cream for deep wrinkles
Specifications
RRP: $9/£10.70
Target concerns: Deep lines and wrinkles, dark circles, shadows, puffiness
Ingredient call-outs: Antioxidants, Matrixyl 3000+, Double Defence Technology
Fragranced: None added
Reasons to buy
+Hypoallergenic; suitable for sensitive skin+Visible smoothening and brightening results in two weeks+A little goes a long way around the orbital area
Reasons to avoid
-Some users report it being not as effective for puffiness
For years, No7 has been at the forefront of high-performance, low-cost beauty, and this eye cream is a brilliant example of its continued excellence in the field. This has the brand's most concentrated version of their Matrixyl 3000 Plus technology—a peptide (mini-protein) complex that helps stimulate collagen production and makes skin appear firmer—lies at the heart of Protect & Perfect Eye Cream, giving it more fighting power against deep lines and wrinkles. What's more, it also contains antioxidants such as vitamin C, which not only protect against environmental aggressors, but also help even skin tone.
Hypoallergenic and suitable for sensitive skin, a pea-sized amount of the cream went a long way. A few days in and we did see some brightening effects, and some users did report visible smoothening and plumping after two weeks of use. Some say it was a bit on the less effective side when it came to reducing puffiness, but for those looking for a little lift and softening of deep-seated lines, you might have just met your match.
5. Vichy Mineral 89 Eyes
Best drugstore eye cream for dryness
Specifications
RRP: $24/£15
Target concerns: Dryness, dullness, dark circles, fine lines and wrinkles
Ingredient call-outs: Vichy Volcanic Water, caffeine, hyaluronic acid, shea butter
Fragranced: No
Reasons to buy
+Light gel formula is non-greasy and not sticky+Hyaluronic acid provides all-day moisture and relief from dehydrated undereyes, even under makeup+Fragrance-, alcohol-, paraben-, and mineral oil-free; doesn't clog pores+Dermatologist recommended and allergy-tested+Suitable for sensitive skin and contact lens wearers
Reasons to avoid
-Higher end of the drugstore price point spectrum
If you're already a fan of the face serum in the Mineral 89 range, you'll love Vichy's complementary Mineral 89 eye product, which offers the same hydrating benefits (courtesy of the brand's 89% Vichy Volcanic Water and hyaluronic acid). Where the eye cream differs is in the additions of pure caffeine extract (to brighten and tighten) and a collagen boosting peptide, derived from algae that helps both decongest and 'thicken' skin. This works to increase the space between veins and skin, thus reducing the appearance of dark circles. Its water-like texture means it slides on like a dream, too.
After a few days of use, we found that our eye areas were noticeably softer and more "awake," without tell-tale fatigue shadowing even after a late night out. The gel texture is also a huge pro for those who want a lighter formula for wearing under makeup or for warmer months.
6. The Inkey List Retinol Eye Cream
Best retinol drugstore eye cream
Specifications
RRP: $9.99/£9.99
Target concerns: Fine lines and wrinkles, aging, hyperpigmentation
Ingredient call-outs: Vitalease (stabilized retinoid compound), antioxidants, sodium hyaluronate
Fragranced: No
Reasons to buy
+Alcohol-, fragrance-, and cruelty-free; vegan+Ideal for most skin types+A little goes a long way+Fast-absorbing, non-greasy; great under makeup
Reasons to avoid
-Some users with sensitive skin have reported reactivity or a mild burning sensation
When it comes to ingredients that slow down the aging process, retinol is widely regarded as the gold standard. Why? Well, it does it all: retinol stimulates the production of the skin's building blocks (collagen and hyaluronic acid), prevents pigmentation and increases cell turnover. Such benefits usually come at a price, so this affordable product from The Inkey List really is a unique find.
Formulated with heavyweight hydrators such as hyaluronic acid and glycerin to help reduce the chances of excessive dryness, it smoothens, brightens, and firms. Note: If you're new to retinol eye products, or your skin tends to sit on the more sensitive side of the spectrum, do ensure you patch test first as some users did report some reactivity. However, all in all a pretty effective anti-aging eye cream, as we did notice brighter, smoother skin on the undereye area after a few uses. As for how effective it is against hyperpigmentation, we think that might take a longer trial period; but at less than $10, we think this a pretty sustainable experiment.
7. Derma-E Anti-Wrinkle Eye Treatment
Best drugstore eye cream for puffiness and fine lines
Specifications
RRP: $14/£17.46
Target concerns: Fine lines and wrinkles, puffiness, dryness
Ingredient call-outs: Retinol, golden aloe-infused beads, grape seed extract, reishi mushroom
Fragranced : No
Reasons to buy
+Superior lightweight feel that absorbs almost instantly+Great under makeup+GMO-, gluten-, soy-, and cruelty-free; vegan+Gentle and lightweight enough to use even on eyelids
Reasons to avoid
-Very runny consistency; must be careful against spillage/wastage
Touted as a treatment for the eye area, Derma-E Anti-Wrinkle definitely feels more like a watery serum than a heavy cream—meaning if you're #TeamLightweight, this is definitely up your alley. Skeptics might raise eyebrows on its efficacy against deep lines given its nearly water-like consistency, but rest assured a week's use of this dark horse gave us more wide-awake, zero puffy peepers with no dehydration lines than anything we've tried in the past month.
It's fairly gentle as far as eye retinols go, therefore we appreciate it being a gateway product for those starting to dip their toes into the world of retinoids. Another plus? We love how it immediately gave us smoother, less tired-looking eyes on plane travel, jetlag be damned. One caveat though is how its lip gloss-like applicator tends to dispense more product than intended, so store upright or twist the cap tight and proper to prevent runs and unwanted spillage.
Ayesha is a freelance contributor to woman&home who often covers beauty pieces. A fan of eyeliners and one-liners, a career in beauty journalism seemed inevitable for Ayesha. Her path wasn't without its detours though. She originally planned on becoming a divorce lawyer, but decided to amicably part ways with that particular objective in her mid-twenties. It was a good decision all round and we're happy to report that both are better for it as a result.
Rather than referencing case law these days, Ayesha can be found writing about all things cosmetics, hair and self-care in her role as Senior Features Writer for Get The Gloss. As well as her daily features, she writes a monthly hair column called 'Who, What, Hair' (which combines her love of puns and buns perfectly), in addition to a column exploring the new and exciting options that are now available for women of darker skin tones called 'Not Fair'. She's also been shortlisted for a number of awards over the years - twice for Best Online Beauty Journalist at the Johnson and Johnson Journalism Awards and most recently, Best Digital at the Jasmine Awards. It seems swapping law for lipstick has been worth it (thank goodness!).