L'Oréal Paris Revitalift Eye Serum review: can this drugstore eye treatment fix tired, puffy eyes?
w&h Beauty Ed tries L'Oréal Paris Revitalift Eye Serum—and she's got thoughts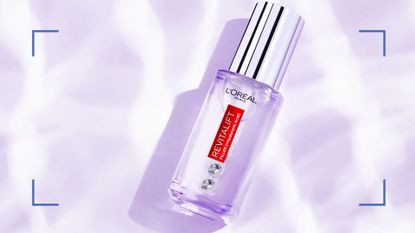 (Image credit: L'Oreal Paris)
A combination of tried-and-true hero skincare ingredients and a genius applicator makes this a real contender for 'morning eye' savior of the moment.
Reasons to buy
+

Excellent ingredients

+

Instant results

+

Clever design

+

Genuinely enjoyable to apply
Reasons to avoid
-

More of a morning fix than evening treatment
Why you can trust Woman & Home Our expert reviewers spend hours testing and comparing products and services so you can choose the best for you. Find out more about how we test.
Specifications
Price: $29.99/£24.99
Texture: Serums
Targets: Dehydration, puffiness, skin tone, lines
Key ingredients: Hyaluronic acid, caffeine, niacinamide
Fragranced: No
L'Oréal Paris always nails the beauty zeitgeist—and Revitalift eye serum certainly ticks plenty of 2022 skincare boxes. This follow-on from the French beauty giant's bestselling Revitalift Filler HA Serum boasts buzzy ingredients hyaluronic acid and niacinamide in an of-the-moment serum texture and gives a little nod to all-the-rage cryotherapy into the bargain.
But that's not to say Revitalift eye serum (full name Revitalift Filler 2.5% [Hyaluronic + Caffeine] Eye Serum) is simply here to tick off trends, it wants to solve your problems. The Revitalift Filler range is formulated around plumping and hydrating the skin, and this particular product aims to tackle fine lines around the eyes, reduce puffiness and brighten dark circles. Essentially it promises to do everything the very best eye cream can but in a featherweight serum texture. But does it deliver the goods?
L'Oréal Revitalift Eye Serum review, by our Beauty Editor
Beauty Editors probably shouldn't pick favorite subject matters, but I'm just going to come right out and say it: I love skincare the most, and anything for the eyes is guaranteed to get my attention. As the owner of a pair of peepers that puff up at the first suggestion of trouble (not using the best makeup remover, one too many glasses of picpoul) eye treatments are top of my testing agenda, so when I heard about L'Oréal Paris Revitalift Eye Serum, I swiped a sample in a hot minute.
Revitalift eye serum packaging
Yes, I get unreasonably excited about eye treatments and am never without one or three in my skincare routine but the packaging is rarely what gets me going. Revitalift Eye Serum bucks that trend as not only is it housed in a nice fairly airtight tube—as opposed to the standard pot which not only allows oxygen to get at and degrade your skincare ingredients, but also presents a hygiene issue with all that finger-dipping—the packaging construction also significantly boosts the results.
Why? Because when you unscrew the lid and pull out the flexible wand you'll spot three metal ballbearings on the end. These apply just the right amount of serum cleanly and efficiently but also give your undereye area a cooling, drainage-inducing massage into the bargain. This inspired touch transforms the experience of using the serum (more on that later) and is unique in the drugstore eye cream field. Top marks for innovation.
What's the formula like?
The ingredients list is top-notch. We get everyone's favorite hydrator hyaluronic acid (HA) in two molecular weights—one sits in the top layer of the skin keeping it all plump and cushioned while another absorbs deeper to stimulate natural HA production. There's also niacinamide, which is an excellent all-rounder skin conditioning and tone-improving ingredient, plus caffeine, which can stimulate circulation to de-puff.
It's fragrance free which I strongly approve of in an eye cream and really, there's nothing not to like on the ingredients list. If you want a serious nighttime treatment to work on deep lines, or make textural improvements then perhaps retinol eye cream would be more your bag. Otherwise, any skin type, even sensitive skin, should rub along nicely with this formulation.
What does it feel like to apply
It's a serum texture, so feels light and slippery compared with your typical rich eye cream. This is a good thing in my book, firstly because it sits well under natural makeup looks and also because the skin under our eyes is extremely thin compared with elsewhere and I'm of the opinion using an ultra-thick eye cream can overload the area and lead to issues like milia (those annoying but harmless 'milk spots' that sometimes develop around the eyes)
Obviously, I am in love with the applicator. It feels deliciously cooling on hot, puffy morning eyes, and you can feel the satisfying yet gentle 'click, click, click' of lymphatic drainage as you run the wand from inner to outer undereye. The serum itself slips on beautifully and sinks in quickly with a few seconds of tackiness—no shade intended, almost every HA product feels briefly sticky after application, it's the nature of the beast.
Revitalift eye serum results
Having tested Revitalift eye serum for a matter of weeks rather than months I can speak highly of its instant eye-awakening powers while being cautiously optimistic about the long-term results. The combination of cooling massage and perky caffeine visibly reduced my typical morning puff and if you keep the serum in your refrigerator it's even more effective—definitely give that a go.
The surface-level HA instantly plumped up my little crow's feet, while generally giving the area a dewy, refreshed-looking sheen. The lower molecular weight HA and good-old niacinamide I will trust are doing their thing, which is gently improving dehydrated skin and uneven tone over time. Generally, you're looking at a good few months of use for those sorts of results to become visible, and I'm more than happy to get stuck into my second tube of this eye serum to get there.
L'Oréal Revitalift Eye Serum: W&H verdict
As with any of the best skincare products, deciding whether Revitalift eye serum is worth a whirl comes down to expectations. If what you want is a quick pick-me-up for the eyes, something for gentle work on fine lines, and extremely fast and effective work on puffiness, then this would be a great option. The applicator is brilliant and genuinely enjoyable to use, so you won't have any trouble sticking with this product. I actively looked forward to my cooling morning roll-around and found the results just as satisfying.
With that said, if you have very deep lines, sagging skin, or prominent tone issues such as pigmentation, this eye serum won't fix that. Pretty much no topical product can, but the best retinol cream will certainly have a good old shot at reducing lines, and the best Vitamin C serums will be a more powerful brightener than niacinamide. Or, do as I do and take a pick and mix approach to skincare. Due to its multifaceted results yet gentle nature Revitalift eye serum would make an excellent morning eye treatment and the perfect foil to more aggressive skincare ingredients in your evening routine.
---
Beauty Editor, womanandhome.com
As woman&home's Beauty Channel Editor, Fiona Mckim has tried more products than she's had hot dinners and nothing makes her happier than raving about brilliant finds on womanandhome.com or her instagram grid (@fionamckim if you like hair experiments and cute shih-tzus). Fiona joined woman&home as Assistant Beauty Editor in 2013 under industry legend Jo GB, who taught her everything she needed to know (learn about ingredients and employ extreme cynicism). She has since covered every corner of the industry, from interviewing dermatologists and celebrities to reporting backstage at Fashion Week and judging the w&h Beauty Awards.