The ultimate pampering routine for feel-good, spa-at-home vibes
Follow this mood-boosting pampering routine to look and feel amazing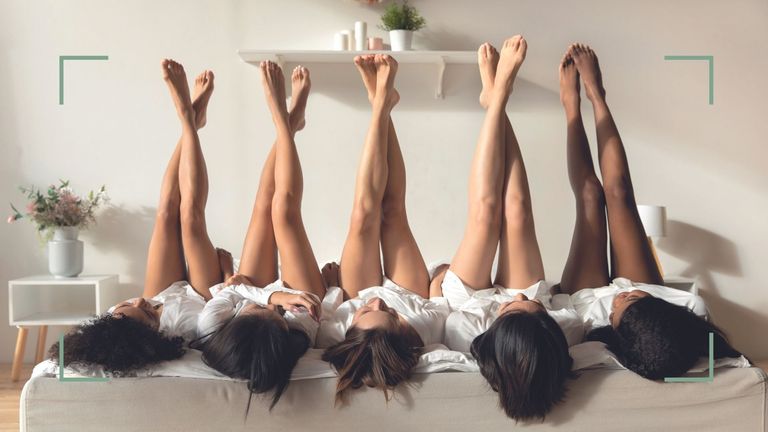 (Image credit: Getty Images)
A pampering routine can come in many forms and can aim to achieve many beauty goals, but above all else, it should make you feel great. There is something wholly pleasurable about using an excellent beauty product at leisure, or the unwavering happiness (or is that relief?) you feel when the bathroom door closes and you finally have some time alone.
Much of what we call a skincare routine is actually about making you feel great, rather than simply look it—although if you can do both, that's even better. But what do the best pampering routines have in common? The answer is simple: three easy-to-customize stages. All you need is a soak in your best bubble bath or oil, your favorite beauty products and time to perform indulgent rituals, like at-home facials or at-home pedicures.
The ultimate pampering routine in 3 steps
Maybe it's a luxurious facial oil that upgrades your evening routine to something more heavenly, or one of the best self tans that makes you feel more confident. Perhaps it's about an amazing body exfoliator for strokably soft limbs, the best cleansers to soothe a tired complexion, or an uplifting floral perfume that you know will put a smile on your face. Every element of this spa at home guide will introduce positive energy to your beauty routine and feel relaxed, rejuvenated and optimistic.
It's these little personal beauty highlights that can make the biggest difference to our well-being—so follow these suggestions to turn your pampering routine into a full-blown spa experience.
1. Begin with a bath
Having a bath is the first beauty trick many of us turn to when we want to boost our mood, relax, unwind or even re-energize ourselves—so how do you want to feel?
For a relaxing bath
There's nothing quite like a long soak to reset the senses and melt away tension—it's the perfect ritual before bed, helping you have a good night's sleep (a hot bath followed by being in a cool bedroom is known to help the body prepare for sleep and tricks you into feeling drowsy).
Aid those relaxing sensations with an essential oil-based bath oil, which nourishes skin and helps you switch off. Or if you're feeling tense, don't underestimate the benefits of a salt bath. They can help with muscle aches and pains, leaving you feeling soothed and relaxed.
Our beauty director recommends
M&S Apothecary Calm Bath Oil | RRP: £8 (UK only)
Deeply de-stressing with soothing lavender, smoky cedar wood, and sweet orange. Love the classy bottle too. 
---
Mauli Rituals Himalayan Healing Salts | RRP: $58/£49
Luxe salts will elevate any pampering routine. These ones are beautifully composed of pink Himalayan salt crystals, 13 high-quality oils including rose, jasmine sambac absolute, and rose otto.


---
Dr. Teal's Hemp Seed Oil Epsom Salt Soak | RRP: $5.99/£7.99
A classic bargain brand beloved of beauty editors everywhere, Dr. Teal's latest Epsom salt blend includes anti-inflammatory hemp seed oil and bergamot and white thyme essential oils. 
---
Temple Spa Restitude Relax & Unwind Shower & Bath Luxe | RRP: £20 (UK only)
Sponsored
Lather up in the bath with this creamy formula made up of a base of coconut and sunflower oil for a moisturizing feel while ginger and turmeric warm the skin and ease the muscles and the scent blend of patchouli, geranium, sweet orange and vetiver helps you unwind.
---
For a nerve-calming bath
Feeling restless and anxious? Run a bath and choose products packed with soothing and calming ingredients like lavender. As you soak in the scented spa at home bath, practice breathing deeply into your abdomen to relax and calm your mind.
If you struggle to stay focused, it can help to imagine you are gently inflating your tummy like a balloon as you breathe in, then slowly deflating it as you breathe out. The warm water will aid those feelings of relaxation.
Our beauty director recommends
Ouai Chill Pills Bath Bombs | RRP: $30/£25 for six
The name says it all—like grown-up bath bombs (no glitter or stained bath here) Instead, we get soothing cannabis sativa, jojoba oil and safflower seed oil, plus a beautiful floral fragrance.
---
Dr Hauschka Moor Lavender Calming Bath Essence | RRP: $25/£17
This 100% natural, vegan bath soak could not be more soothing—it's packed with natural seed oils and smells like a heavenly spa. 
---
Neal's Yard Remedies Women's Balance Bath Salts | RRP: $19.50/£15
For when you're feeling all out of whack, for whatever reason (although lets be honest, it's very likely to be hormones) This aromatherapy blend of patchouli, rose, geranium, and frankincense  is designed to rebalance and harmonize your mind and body. 
---
For an uplifting bath
If you need a reboot, try adding a few drops of an uplifting essential oil—juniper is particularly effective in stimulating a positive mood energy, and focus and light a candle to enliven and uplift your senses.
Our beauty director recommends
Chanel Le Bain de Chance Scented Bath Tablet | RRP: $65/£53 for 10
Most sophisticated bath product ever? These sweet little tablets are certainly up there, scenting the water with timeless Chance Eau Tendre fragrance and giving your bath a sensuous twist. 
---
Aery Positive Energy Scented Candle | RRP: £26 (UK only)
Gorgeous and affordable (as scented candles go), this combines revitalizing notes of mint, grapefruit, and lemon with violet leaf and amber. 
---
Olverum Bath Oil | RRP: $93/£65
Unlike most bath oils, which are designed to be soothing and relaxing, this one is energizing and bracing. It comes down to the essential oils used, which include Siberian fir needle, eucalyptus, and lemon.
---
2. Make your skincare indulgent
To cleanse and comfort skin
Try a facial massage. As well as treating skin with the best skincare products, extend your evening regimen into your pampering routine and use it as a chance to unwind. "Turn your evening cleanse into a moment of mindfulness," says acupuncturist and healing facialist Annee de Mamiel. "Face massage helps you unwind but it's also a reminder to begin to switch off from the day. Plus it doesn't cost a thing!"
Start by warming your cleansing oil in your hands and inhale the essential oils. Choose something with a soothing scent. As you massage, you will increase circulation, boost oxygen, and detoxify your skin. "You'll be surprised how the texture, volume, and radiance of your skin will improve in such a short time," adds Annee.
Not sure how to massage? Follow expert Beata Aleksandrowicz's soothing technique:
Start with mindful circles: "Gently press the flat part of the fingers of each hand into your temples and start to make mindful circles breathing regularly. Go slowly and intentionally—you will feel the tension release with every movement."
Stroke lightly: Any soothing strokes that use the fingers of both hands in long brushing motions across the face will bring a sense of calm. Make sure that your hands are light and you stroke gently.
Touch and breathe: Place the middle fingers of both hands under the cheek bones close to the base of the nose. Breath in, and on the out breath, press gently and hold. Move to the next point along the check bone and repeat. Continue until you have worked underneath a whole cheekbone.
Tap, tap, tap: Using your fingertips, tap five to seven times on the top of the head or both sides of the collarbone. Focus on the feelings and accepting them. Just remember to keep your hands light, sit straight, and breathe regularly."
Our beauty director recommends
De Mamiel Restorative Cleansing Balm | RRP: $65/£39

An effective way to remove makeup and grime, with a beautifully uplifting aromatherapy oils plus manuka honey for blemishes and calming probiotics. Like a true spa moment in your routine. 
---
Sponsored
ESPA Tri-Active™ Regenerating Calming Cica Cleansing Balm | RRP: $70/£50
A soft balm that deeply cleanses, hydrates, and reduces the appearance of redness. It features a nourishing blend of natural oils, Cupuacu butter, and Cica.
• ESPA Tri-Active™ Regenerating Calming Cica Cleansing Balm at ESPA for UK£50
---
Bobbi Brown Soothing Cleansing Oil | RRP: $41.50/£35
Beautiful sensorial skincare that still does plenty of hard work. Includes skin nourishing jojoba, sunflower seed, and kukui nut oils. 
---
Sarah Chapman Ultimate Cleanse | RRP: $78/£54
This super luxurious balm cleanser manages to combine being both sensorial and hardworking. It packs in actives like Vitamin A and peptides but also feels like a dream on skin and, unusually for a balm, comes in a handy and hygienic pump. 
---
Temple Spa Eye Therapist Eye Massagers | RRP: £10 (UK only)
Sponsored
Upgrade your facial massage with these eye massagers that boost circulation and encourage lymphatic drainage for a brighter undereye area. Pop them in the fridge beforehand for a reviving feel too. 
---
To relax and repair skin
There's nothing like a face mask to treat the skin but also, soothe the soul. Aside from tackling any number of skin concerns depending on which one you pick, applying a face mask and letting it do its thing forces you to sit down and take a minimum of 15 minutes for that most overused term but necessary ritual, self-care.
Our beauty director recommends
Faace Menopause Face Treatment Mask | RRP: £29 (UK only)
This caring mask contains rose water to soothe, carrot and pomegranate oils to boost hydration, and rosehip oil to give your hormonal skin a plump and juicy glow.
---
Avene Antirougeurs Calm Mask | RRP: $35/£17.50
When sensitive skin flares up, apply the cooling mask, leave on for ten minutes, then swipe away with a cotton pad to calm flushed, tight-feeling skin.
---
Decree SOS Revitalising Mask | RRP: $85/£65 for six
Calming, restorative, and brightening ingredients of this gold-standard mask will help restore dull skin to its former glory.
---
To steam skin
Steaming your skin is nothing new—women have been hanging their towel-draped heads over basins for decades. What is new is that serious tech brands have now taken facial steaming and made it sexy.
The best facial steamers don't just feel utterly relaxing, they offer so many benefits for your skin too, as the owner of Louise Thomas Skin Therapy and Panasonic Beauty Ambassador, Louise Thomas Minns, explains. "Something that I see a lot when treating my clients is trans-epidermal water loss, which is when the skin loses water because the lipid barrier has been impaired."
"The heating goes on, we're going from hot to cold, and this can dry out the skin. One of the at-home solutions that I would recommend is using the Panasonic Facial Steamer as a humidifier. You can use it to steam your clean skin, open your pores, help decongest, and to achieve a deeper cleanse; but also if you put the steamer on in your bedroom, for example, it will help humidify the atmosphere."
Louise also recommends using the steamer along with your favorite face mask to supercharge its benefits. "The nano-technology helps the steam to penetrate deep into the skin, whilst opening the pores, softening the skin, and helping those hydrating products to seep into the skin more efficiently."
Our beauty director recommends
The Calm Society Happiness Essential Oil | RRP: £10.99 (UK only)
Add a mood-boosting element to your facial steaming with a couple of drops of this uplifting essential oil blend. Notes of cinnamon, bergamot, and juniper berry are all included, designed to 'promote emotional satisfaction'—yes please. 
---
Panasonic Facial Steamer EH-XS01 | RRP: £129 (UK only)
This sleek device steams the skin with tiny particles (18,000 times smaller than regular steam, to be precise) to deeply clarify, open the pores to allow other products to absorb, and gently warm the skin to encourage collagen production. 
---
Drunk Elephant F-Balm Electrolyte Waterfacial | RRP: $52/£44
The silkiest, most juicy hydrating mask for parched skin. So you can only imagine how plumped and soft your skin would feel after steaming it while slathered in this. 
---
3. Indulge your body
To soothe tired limbs
There's nothing that makes self-esteem skyrocket more than when you feel comfortable in your own skin. If you have tired, heavy limbs, try Kate Shapland, founder of cult leg care line Legology's clever technique.
"Give heavy legs the Scandi spa treatment by using the showerhead to alternate warm (not hot) and cold water over feet, ankles, legs, and buttocks," she advises. "Do 20 seconds on each, repeating three times—the skin-firming effects are pretty astounding."
To make your legs feel glorious, buff them before the shower and follow-up with a balm after.
Our beauty director recommends
Legology Air-Lite Daily lift for Legs | RRP: $89/£62
A stimulating and energizing gel-cream that can make a real difference to hot heavy legs. Use it for a quick daily massage for instant and lasting relief. 
---
Sanctuary Spa De-stress Warming Body Balm | RRP: £8 (UK only)
A melting, self-warming gel that smells as relaxing as it feels. The tingly heat effect is pretty powerful, so only apply a little at a time to soothe aching muscles or limbs. 
---
ESPA Skin Stimulating Body Brush | RRP: $33/£21
Body brushing may not be the most comfortable, but it is certainly effective in terms of boosting circulation and drainage. Run this classy brush from ESPA firmly over your skin before you shower for lighter feeling limbs. 
---
To get a pro glow
Going out and want a body confidence boost? The best way to achieve this is pretty simple, invest in a good self tanner and learn how to fake tan so that you achieve a natural (streak-free) glow.
Create a smooth canvas by removing any dry, dead skin as well as shifting any residual fake stuff, by exfoliating at least 24 hours before application.
Use a mitt (no one likes stained palms!) and work in sections, starting from the feet first, working up the body, buff a small amount carefully into your face, blending well into the hairline to avoid any harsh lines.
Gradual tan gives you far more control over the end shade, and is nice and easy to maintain too. Apply every day until you've reached your desired glow, then top up every few.
DHA, the key ingredient in most self-tans, is often drying, so double down on moisturizer to keep skin happy and healthy.
Our beauty director recommends
Sol de Janeiro Bum Bum Body Scrub | RRP: $42/£39
A perfect pre-tanning exfoliator to rid yourself of dry or dead skin cells and leave skin lightly scented with the most delicious pistachio and salted caramel fragrance.  
---
Vita Liberata Heavenly Tanning Elixir | RRP: $47/£34
Vita Liberata make some of the most foolproof and natural-looking self tans out there. This one is even more clever because your tan will keep getting better for three days after application, then fade evenly after a few more. 
---
St. Tropez Tan Enhancing Moisturizer | RRP: $18/£10
Hydration is important for keeping a tan looking its best, but it's just as important to avoid body lotions that contain oil, which can degrade DHA. This ticks both boxes and gives skin a lovely gleam.
---
To smell amazing
Don't limit your pampering routine to the bathroom and don't limit fragrance wearing to your wrists. Treat scent as a total body experience and mist onto your hair, décolletage, and clothes. It takes just moments to inhale a mist of perfume but it can transform your mood for the rest of the day.
It's been discovered that smelling citrus for 10 minutes can enhance your mood for up to half an hour. Mandarin is one of the most evocative scents, while rose encourages calm, vetiver minimizes stress, and lavender oil helps with sleep.
Our beauty director recommends
Jo Malone London English Pear and Freesia Eau de Cologne | RRP: $100/£72 for 50ml
We love the juicy hit of this autumnal fragrance. As well as just-ripe pear notes that are both sweet and slightly tart, the warm amber and wood base makes for a lovely dry-down. 
---
Byredo Slow Dance Eau de Parfum | RRP: $175/£122 for 50ml
Confidence-boosting in a quiet, unassuming way. This blends sweet and bitter notes of opopanax resin, geranium, and violet. Spray it on in the morning and expect to be asked what you're wearing through the day. 
---
Sana Jardin Vanilla Nomad Eau de Parfum | RRP: $145/£95 for 50ml
If a fragrance could embody a warm, grounding hug from someone you love, this would be it. Sweet and comforting vanilla mingling with earthy resins and spices, it's inspired by Marrakesh and produced sustainably and ethically for all involved. 
---
womanandhome thanks Annee de Mamiel and Louise Thomas Minns for their time and expertise