Best foundation sticks: our favorite blendable formulas for flawless coverage
From sheer touch-ups to full coverage, the best foundation sticks are portable, blendable, and easy to use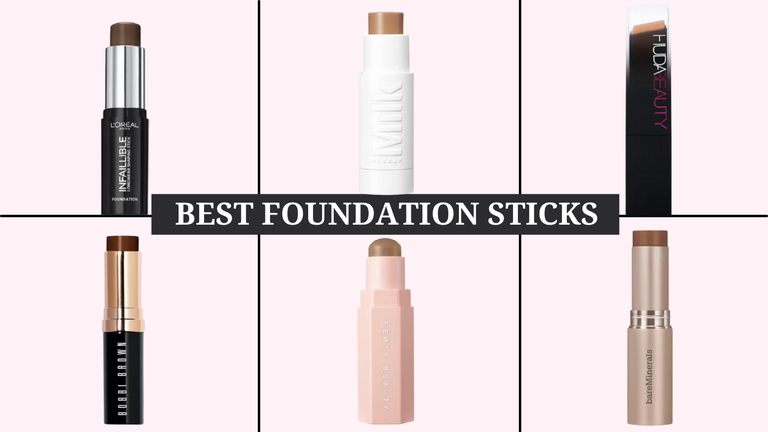 (Image credit: Future)
The best foundation sticks may be the answer to your complexion prayers, especially if you've been longing for great coverage that doesn't cake or crinkle and that comes in a handy, spill-free, purse-friendly formula.
We all know that pinning down a foundation shade and coverage level can be as challenging as finding a new pair of jeans. Then there's the formula itself to consider: Do you prefer the blendability of a liquid, the longevity of a powder, or perhaps a surprisingly versatile third option that you hadn't considered in your quest for the best foundation?
The benefits of having the best foundation sticks on hand
As we'd love to spend an hour learning how to contour or learning how to apply eyeliner, the reality is that most of us need our cosmetics to tick all our boxes in as convenient a formula as possible. That's where the best foundation sticks come to the fore.
Foundation sticks are marginally bigger than a standard lipstick, so similar to the best powder foundations, you can easily pop them in your purse for a quick touch-up when required, and the packaging means they won't ever spill. And just like lipstick, these twist-up sticks are applied directly to the skin, no brush or sponge necessary: Just swipe across your face, then blend out with your fingertips. Unlike a liquid or powder, the really amazing thing is that the foundation stick can then be used as a concealer to precisely target blemishes and dark spots with a little extra camouflage. If you're someone who suffers from acne, rosacea, or pigmentation, carrying such a product with you in your handbag can be super handy, useful, and, yes, comforting.
Foundation sticks also sometimes get a bad rap, given old formulations that tended to drag and get chalky or offer sub-par coverage. The good news is that we've come a long way from those dark ages and that there are some pretty special twist-up bases nowadays that offer maximum travel-friendliness and ease of application without compromising on beautiful, radiant coverage—Milk Makeup Flex Foundation Stick nails this perfectly.
How to choose the best foundation sticks for you
If it's full-coverage you're after, look for something that suggests long-wear in the title—L'Oréal Infallible is a great example of a long-lasting drugstore foundation that delivers way above its pay grade.
Oily skin will benefit from a matte finish to prevent foundation from slipping and sliding, while those looking for the best foundation for dry skin should seek out water-based formulas with hydrating ingredients such as hyaluronic acid or glycerin.
As for choosing the right color match, the selection of undertones and shades has never been better, with many brands offering 20+ ranges. It can be tricky to purchase a new base online, but it is possible to find the perfect foundation match from the comfort of your own home. Many beauty brands offer virtual shade-matching tools to help, and it also helps to have the best foundation brushes on hand when you can for seamless blending.
Considering the undertone of your skin is also vitally important when it comes to nailing a seamless match. Undertone is the shade within your skin tone; sun exposure can change your skin color, but your undertone—cool, warm, or neutral—never changes. Most foundations list the letters C, W, or N after the shade number, so it's easy to pick the right undertone. Here are a few ways to suss out yours:
Hold a piece of paper against your face. If your face looks rosy next to it, you're cool. If you look more yellow, you have warm tones. If you don't see a change, you're neutral.
Assess your sun sensitivity. If you usually burn while under the sun, you're likely to be cool-toned. If you tan, you're probably warm. If you burn, then tan, you're likely to have neutral undertones.
Look at the veins on your wrists. A blue tint denotes cool undertones. If they look greener, you're likely to be warm. If it's a combination of the two, you're neutral.
Assess your favorite jewelry. Cool undertones look great in silver jewelry, while warm undertones are flattered by gold jewelry. Neutral undertones look equally vibrant with either metal.
The best foundation sticks, as chosen by our experts
(opens in new tab)
1. Bobbi Brown Skin Foundation Stick
Best foundation stick for most people
Specifications
RRP: $49/£32
Shades: 43
Coverage: Medium to full
Finish: Natural matte
Skin type: All
SPF: No
Reasons to buy
+
Adapts to skin tone
+
Water and sweat-resistant
+
Buildable coverage
Reasons to avoid
-
Harder to blend with fingers
Meet the OG of foundation sticks. Launched in 1992, this swipe on-base revolutionized the makeup game with its creamy, natural, skin-like texture. If your skin type is a little undefinable—a little Column A and a little Column B—then this is a great all-rounder for you, as the smart formula answers multiple needs at once, controlling oily areas and hydrating dry patches. We've all had those days where a wash of tinted moisturizer isn't going to cut it, and a little more coverage is required. On those days, make this your go-to.
An initial swipe delivers medium coverage at a minimum, but go in with the stick again, and you've got full-on, blemish-masking coverage that airs more on the side of matte. If you're looking for the best foundations for oily skin in stick form, this could be just the thing. This full finish comes with a small price to pay, and the thicker texture isn't the easiest to blend with fingertips alone, but a stippling brush does a fine job at buffing everything in seamlessly.
It's worth noting that wearing this base feels incredibly easy; it's weightless on the skin and looks natural and smooth, rather than cakey, particularly across pores. Despite its inherent portability, the sweat-proof, water-resistant formula means it doesn't require much touching up. In fact, coverage remained pretty flawless by the afternoon, even on the T-zone. Bobbi Brown's cult foundation stick may be an oldie, but it is most certainly a goodie. After this all you need to complete your look is your best eyeliner and a swipe of your best mascara and you're good to go.
(opens in new tab)
2. BareMinerals Complexion Rescue Hydrating Foundation Stick SPF25
Best foundation stick for dry skin
Specifications
RRP: $33/£29
Shades: 20
Coverage: Light to medium
Finish: Dewy
Skin type: Dry
SPF: 25
Reasons to buy
+
Easy to blend
+
Glowy finish
+
SPF 25
+
Vegan-friendly
Reasons to avoid
-
Requires touch-ups
-
Stick is a little melty
If your opinion of foundation sticks has been marred by stiff, cakey sticks of first-generation formulas past, then we urge you to give this a try. Imagine, if you will, a light, hydrating tinted moisturizer in a stick because that's essentially what this is. If you love the sheer, glowy coverage of BareMinerals Complexion Rescue Tinted Moisturizer, you will love this twist-up version. The brand labels this as the first water-based liquid foundation stick, and certainly, its hydrating properties are obvious from the get-go. On application, there was no pulling nor dragging. It felt as silky as swiping on a lip gloss and blended just as easily with fingers.
Made with 30 percent enhanced mineral water, squalane, and natural seed oils, it certainly feels like more of a skincare/makeup hybrid. Trials have shown a 146% improvement in skin hydration after two weeks' use. For our part, skin certainly retained a plump, comfortable feeling throughout the day. The downside of this built-in moisture is the stick itself can be prone to smashing, so don't press too hard. Our favorite aspect of this foundation stick was the radiant, glowy finish.
The coverage is fairly sheer, so it may not veil severe dark spots but certainly has enough pigment to gloss over uneven skin tone and slight redness. For blemishes, a swipe-then-dab approach works best. Apply an all-over layer, then dot on to areas that require further camouflage. Yes, you may have to re-swipe after a few hours, but that's a pay-off easily worth the beautiful, liquid-like finish.
(opens in new tab)
3. L'Oréal Paris Infallible Shaping Stick Foundation
Best budget foundation stick
Specifications
RRP: $12.99/£8.99
Shades: 18
Coverage: Buildable medium
Finish: Natural matte
Skin type: All
SPF: No
Reasons to buy
+
Featherlight feel
+
Long-wearing
+
Buildable coverage
Reasons to avoid
-
May not conceal dark spots
The name 'Infallible' perhaps gives a slightly skewed perception of something a little on the matte, thick and heavy side. Not quite. The stick has a super creamy, flexible consistency, surprisingly so actually, given its long-wearing finish. The coverage is entirely even and uniform and can be built up without feeling heavy or cloying on the skin.
What's lovely about L'Oréal's twist-up foundation is the opportunity to create a light, airy, sheer-ish finish after one quick swipe. With that being said, if you have very obvious blemishes and dark spots, this isn't the kind of stick to cover a multitude of skin sins. It certainly packs enough pigment to even out redness and freckles and expertly treads the line between a natural, velvety finish and offering steadfast coverage. This means even an oily T-zone remains beautifully finished after a few hours worth of wear.
L'Oréal bills this foundation as a multi-tasker: Buy in a shade 1 to 2 grades darker than your natural-born skin tone to contour the jawline and cheekbones if sculpting's your thing. Undoubtedly, the most impressive thing about this foundation stick is its staying power. It was a real joy—and quite a surprise—to look in the mirror in the late afternoon and see a near-perfect finish. It may have the convenience and portability of a traditional foundation stick, but with long-wearing coverage like this, you may not even need to bring it about for touch-ups.
(opens in new tab)
4. Milk Makeup Flex Foundation Stick
Best foundation stick for redness
Specifications
RRP: $36/£32
Shades: 36
Coverage: Medium
Finish: Naturally radiant
Skin type: Dry and red-prone
SPF: No
Reasons to buy
+
Glow-giving finish
+
Comfortable wear
+
Skin-soothing ingredients
Reasons to avoid
-
Concealer required to cover dark blemishes
This twist-up stick is particularly suitable for rosacea sufferers, blotchy complexions, or skin with rosy undertones. This twist-up stick is imbued with blue lotus and chamomile used in tandem to alleviate flare-ups and tone down redness from the inside-out, and the buildable formula will mask the outward signs of pinkish irritable skin quite effortlessly.
This stick was up there for us as one of the more enjoyable formulas to apply—creamy and easy to manipulate over the contours of the face with fingers alone. That pliability comes from the marshmallow root extract—a.k.a. the ingredient that gives marshmallows their deliciously plump and squishy texture. And that added elasticity translates into a seamless, natural finish that doesn't cake or crease.
If ingredients are important to you, this is a kinder choice than most with some great eco-credentials. It's vegan-friendly and cruelty-free, plus the formula is free of nasties like silicones, sulfates, alcohol, and parabens. Although buildable and certainly dense enough to mask hints of rosiness, the coverage requires extra assistance from a supporting-act concealer to cover dark circles and angry blemishes. The radiant finish does act as a kind of real-life Instagram filter, though, gently airbrushing over discoloration and unevenness like an absolute champ.
(opens in new tab)
5. HUDABEAUTY #FauxFilter Skin Finish Buildable Coverage Foundation Stick
Best foundation stick for the gym
Specifications
RRP: $39/£32
Shades: 39
Coverage: Light to medium
Finish: Naturally filtered
Skin type: All
SPF: No
Reasons to buy
+
10-hour wear
+
Humidity- and sweat-resistant
Reasons to avoid
-
Diamond applicator feels awkward
The diamond-shaped bullet has been designed to offer extra precision, making life easier for those who want to create the kind of razor-sharp, Kate Moss-esque cheekbones through contouring and sculpting. But for us, it felt a little more uncomfortable to use than its more common, cylindrical cousin.
Now that we've got that out of the way, let's discuss the perks, of which there are many. Here we have a supremely spreadable, luxurious-feeling stick that offers a light, luminous, and sheer wash of color when blended out with fingertips. Denser coverage is achievable if you apply the stick directly to a flat-headed stippling brush then buff into the skin. It certainly lives up to its name with a filtered, 'Vaseline on the lens' type finish—pores don't seem quite as glaringly gapey, and skin tone appears more uniform. It's sweat-, humidity- and water-resistant too, so a good option for gym bunnies who want a speedy cover-up after—or even before—a vigorous spin class.
(opens in new tab)
6. Fenty Beauty Match Stix Matte Skinstick
Best foundation stick for oily skin
Specifications
RRP: $25/£21
Shades: 20
Coverage: Medium buildable
Finish: Naturally matte
Skin type: Oily/combination
SPF: No
Reasons to buy
+
Smart magnetised packaging
Reasons to avoid
-
Clings to very dry patches
If like us, you're a sucker for packaging, aesthetics don't come much slicker than RiRi's eponymous makeup line, Fenty. Billed as a foundation-cum-concealer-cum-contouring stick, the hexagonal flesh-pink tube is magnetic so you can keep your myriad shades (because in an ideal world, we'd have one as a foundation, a lighter tone to highlight cheekbones, and a darker shade to sculpt bone structure) in one clickety-clump.
This twist-up stick feels a little more solid to apply but does melt with the warmth of your fingers to create a smooth, even, and velvety finish. You'll get an even better effect with a stippling brush. This cream-to-powder formula won't suit everyone, and those with dry, flaky skin should look for something a little more hydrating. But for the shine-prone among us, it's a mattifying marvel that somehow manages to avoid a flat, lifeless finish. Instead, this corrective stick gives a natural appearance—imagine your own skin, but better.
(opens in new tab)
7. Max Factor All Day Flawless Matte Panstick Foundation
Best for oily skin touch-ups
Specifications
RRP: $18/£12.99
Shades: 18
Coverage : Smooth and silky
Finish: Medium
Skin type: Oily skin
SPF : No
Reasons to buy
+
Doesn't slip
+
Natural color
+
Good for oily to combination skin
Reasons to avoid
-
If you liked the original Panstick
One of the first creations by Max Factor back in the 1940s, the iconic Panstik, has been reformulated for the modern age. Now with 30% pure pigments (translation: natural-looking skin colors) it provides a medium to high coverage finish that is smooth, silky and excellent for oily skin. However, if you were a diehard fan of the original formula and you're not oily, then you might not be impressed as it's not as thick and the consistency isn't as hard wearing. That being said, we still like it, and if you weren't obsessed with the original, we think you will too.
We placed it in the areas we felt needed covering the most and then blended it out from there. Like many products we tried, this is best done with fingertips or a soft blending sponge. If you want to apply it all over and with a brush, then you can just expect a fuller and thicker effect.
It's perfect for those who like a dewy look as you can apply a small amount and retouch as and when you please. The shine control end helps to lock the product in place if you apply it pre-foundation and with one quick swipe it also eradicate oiliness afterwards.
8. Maybelline Superstay Foundation Stick
Best long-lasting foundation stick
Specifications
RRP : $12/£8.99
Shades : 18
Coverage : Medium
Finish: Cream to matte
Skin type : Normal-combination
SPF: No
Reasons to buy
+
Easy to apply
+
Has a blending sponge
+
Stays put
Reasons to avoid
-
It could be too heavy for some
-
Caked a little under the eyes
We're big fans of the liquid version of this foundation, so we expected a lot from the stick. And thankfully, it didn't disappoint. Applying it to the skin feels so satisfying, it's silky to touch and the effect is quite thick but blends out well, meaning you don't need to apply much at all.
We used our fingertips and a large blending sponge to smooth it on, and the finish was covered but not too heavy. It lasted on our skin all day (8 hours to be precise), and if we needed to touch up areas, mainly around our nose and mouth, the little sponge was handy to deliver the product on the go.
The blending tip also makes it easy to double up the product and use it as a concealer if you wish. The only downside was it did cake a little bit under our eyes, so we'd skip this area and use normal under eye cover-up there instead.
(opens in new tab)
9. Lottie London All About That Base Foundation Stick
Best for normal skin types
Specifications
RRP : $8.99/£7.95
Shades: 10
Coverage : Medium-Full
Finish : Depends on your skin type
Skin type: Normal
SPF: No
Reasons to buy
+
Melts into the skin
+
Good for normal skin
Reasons to avoid
-
Not a great shade range
-
It doesn't suit all skin types
A matte foundation stick that's perfect if you have non-problematic skin. Full of skincare ingredients, like Vitamins E and C, it gives a seamless medium-full coverage finish on the skin.
We were a little disappointed in the shade range. However, we did find that the colours we tested to be the perfect match for our skins. When it came to texture, it split the camp. This product isn't for everyone. The testers who had oiler complexions loved the formulation and said that it melted in, which meant that blending took hardly any effort. However, it did start to slip after a few hours and need touching up. Those who had dry skin found it a bit harder to blend out.
However, it was a complete win for the testers who didn't suffer from dryness or oily areas, and they found it gave them a significant amount of coverage that lasted all day. So if you don't have any significant skin issues, this little beauty could be the one for you.
(opens in new tab)
10. Revolution Fast Base Stick Foundation
Best for creating a filter-like finish
Specifications
RRP: $8.99/£5.99
Shades : 18
Coverage : Light - Medium
Finish : Matte but dewy
Skin type: Normal and oily skins
SPF: No
Reasons to buy
+
A little goes a long way
+
Extremely pigmented
+
Creates a flawless effect
+
Pretty packaging
Reasons to avoid
-
Separates a little after a few hours
-
Not that long-lasting
This blends beautifully onto the skin and gives you a finish that's both dewy and filter-like. It has an OK shade range, so finding a match was relatively easy, and the shades we tried were very natural and skin-like.
If contouring is your thing, it's worth picking up a darker color to create shadows and shape your face as the pigment is intense, and you only need a tiny amount to create realistic definition. It does tend to slip and separate a little over time, so is probably not ideal for oily or combination skin types, but if your skin isn't especially oil prone we think you'll love it.
When applied all over our face we found it sat into the creases of our forehead, so decided to concentrate the product on the areas we really needed it, like the cheeks and chin, which worked well for us. It covers blemishes and redness well, and we prefer how the foundation looked when we used a sponge to pat it in rather than using a brush.
We must mention the pink and gold casing, as it makes for some of the most glam foundation stick packaging we've seen. A great one to pull out of your handbag if you're out and about.
(opens in new tab)
11. Wet n Wild Photo Focus Stick Foundation
Best for a long-lasting finish
Specifications
RRP : $6/£6.99
Shades : 21
Coverage : Medium-Full
Finish : Demi-Matte
Skin type : Dry-Combi
SPF : No
Reasons to buy
+
Moisturising
+
Great value
+
Dewy finish
Reasons to avoid
-
Creases a little over time
This was the first Wet n Wild product we've ever tried and it impressed. It's currently available in 21 shades, which for a budget stick foundation is very good, and the color match to our complexion was more natural than some of the designer sticks we've tried.
The formulation includes Argan and sunflower oil, which made us wince a little, because of course, our first thought was that it would slip and slide all over our faces. But it didn't: The demi-matte finish that's promised is delivered, and the effect it gives the skin is dewy but not too shiny.
We did notice a slight oiliness appear over time, and it started to crease, so it's probably not quite as long-lasting as it claims to be. However, that being said, we're still fans of this product, and for under $7, it ticks quite a few more boxes than beauty products three times the price.
All about beauty, Lydia House has been writing about creams and complexions for over a decade. Contributing to titles such as Women's Health, Grazia, Stylist and The Evening Standard, Lydia also uses her vast knowledge of the industry to consult leading health and beauty brands like Rituals, Tisserand and The Inkey List. Spending her working life obsessing over ingredients and formulas, Lydia believes that feeding your skin from within is just, if not more important, than the lotions you slather on. And even with a busy life and work schedule, she will always find the time to fit in a pampering session (or two).