10 best drugstore concealers: perfect and brighten on a budget
Our expert guide to the best drugstore concealers for every skin type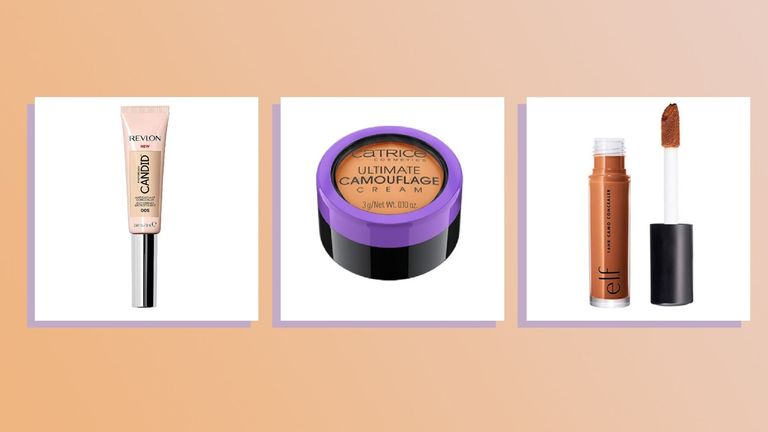 (Image credit: Future/Getty)
Finding the best drugstore concealer may involve a little trial and error, but once you land on the right one, it can feel like you've hit the jackpot. After all, concealer is the secret weapon to everything from hiding a pimple to faking a good night's sleep, and having your arsenal stacked means you're always one step away from a flawless complexion.
With all there is to know and love about the best drugstore concealers, much like the best foundation they rely on many things: your skin type, skin tone, and needs. For instance, the concealer you'd use to brighten your under eyes wouldn't be the same one you'd use to conceal areas where you are breaking out. Likewise, someone with dry skin would opt for a more hydrating formula versus someone with oily skin, who may find a thicker product more suitable for their skin type.
Thankfully, sifting through the makeup aisles on the hunt for the best drugstore concealer doesn't have to be a daunting task. We've rounded up the most noteworthy options to add to your beauty routine whether you're looking to cover up a blemish, hide dark circles, or brighten up your complexion.
How to pick the best drugstore concealer for you
There are several considerations to make when picking the best drugstore concealer, from budget to ingredients, but these are the two key factors, according to the experts:
Consider your skin type: Your skin type will determine the concealer you use. If you have dry skin, look for a cream concealer as a thinner liquid can exacerbate dryness. "Something that is reflective and creamy is great for the under eyes if you are dry because it doesn't exaggerate texture and fine lines, and it helps to illuminate the area," says makeup artist Lindsay Kastuk. If your skin leans oily, opt for a formula that's matte and offers oil control.
Consider the purpose: Do you need concealer to learn how to cover acne with makeup? To color correct dark circles? Revive a dull complexion? "It is very important to think about what you are trying to achieve with a particular concealer so that you chose the correct formula, shade, and application technique," says makeup artist Suzy Gerstein. "When concealing a blemish, you'll want to match your skin tone exactly, as a too-light shade would act as a spotlight and draw attention to the texture you're trying to minimize." Whereas brightening concealers and correctors are great for adding light back to thinner-skinned areas such as the hollows underneath the eyes, as well as using to highlight as part of a soft glam makeup look.
The best drugstore concealer, chosen by our experts
1. Revlon PhotoReady Candid Concealer
The best drugstore concealer overall
Specifications
RRP: $6
Key Ingredients: Caffeine, niacinamide, antioxidants
Shades: 18
Best For: Depuffing, dark circles
Reasons to buy
+
Has antioxidant, anti-pollution, and blue light protection
+
Gives a natural finish
+
Offers buildable coverage
Reasons to avoid
-
Can be drying underneath the eyes
There's not much this concealer from Revlon can't do: it camouflages dark circles, nixes puffiness, has a long-lasting staying power, and lets you build up to medium coverage. The best part? It does it all for a remarkably low price. Antioxidants, vitamin E, and titanium dioxide provide protection against everything from pollution to blue light. Plus, the formula is infused with caffeine to perk up tired under-eyes and make you look well-rested (even if you're not). It also contains niacinamide to brighten up dull-looking skin.
While this pick is better suited for someone with oily skin (it can tend to exaggerate dryness), the formula glides on smoothly and blends seamlessly whether you're applying it with a sponge or a brush. Also nice: its uniquely-shaped, sponge-like wand applicator, which allows you to dot the formula precisely where you want it.
2. L'Oréal True Match Eye Cream In A Concealer
The best luxe drugstore concealer
Specifications
RRP: $16
Key ingredients: Hyaluronic acid, glycerin
Shades: 14
Best for: Dark circles, puffiness
Reasons to buy
+
Hydrates the under-eye area
+
Diminishes puffiness
+
Covers dark circles
Reasons to avoid
-
Doesn't have a long lasting power
Skincare meets makeup in this drugstore concealer from L'Oreal Paris. The hero ingredient? Hyaluronic acid. Like collagen and elastin, hyaluronic acid is naturally found in the skin but depletes with age, causing everything from dryness to an impaired moisture barrier. This concealer, made with 0.5% pure hyaluronic acid, hydrates the under-eye area, protects it from moisture loss, and reduces puffiness over time.
Because it functions as an eye cream and concealer, this formula removes a step of your routine if you're the type to slap on your best eye cream to plump fine lines before applying concealer. And with the fresh, natural-looking coverage that it provides, it's ideal for those looking to escape the cakey, powdery look some formulas can leave behind.
The smoothing concealer promises to provide 24-hour hydration (even once you remove it), and several reviewers claim it outperformed their higher-end concealers. Pro tip: Shake the tube well before applying to ensure the moisturizer and pigments are evenly mixed.
3. L.A. Girl HD Pro Concealer
The best budget drugstore concealer
Specifications
RRP: $5
Key ingredients: Hyaluronic acid, chamomile
Shades: 31
Best for: Highlighting, contouring, concealing
Reasons to buy
+
Multi-use functionality
+
Feels lightweight on the skin
+
Crease-free formula
This pick from L.A. Girl checks all the boxes: a lightweight feel, a full-coverage finish, and a wallet-friendly price tag to boot. It has a creamy yet crease-resistant formula that both dry and oily-skinned folks will appreciate, and is the perfect 'special event' concealer when you need your makeup to last. We're big fans of the built-in paint brush-like applicator because it makes applying the product a breeze.
What's more, it's available in 31 shades—the most of any other concealer shown here—and triples as a correcting, highlighting, and contouring product (if you know how to contour makeup and depending on the hue you choose.) Pick up a peach or salmon-colored shade to color correct dark circles or the mint green shade to neutralize redness such as rosacea. A shade that's one to two shades lighter than your skin tone will brighten up your under eyes and T-zone, while a shade one to two darker than your skin tone will contour and define the outer perimeters of your face.
4. E.l.f. Cosmetics 16HR Camo Concealer
The best drugstore concealer for oily skin types
Specifications
RRP: $6
Key ingredients: Avocado oil, kaolin clay
Shades: 26
Best for: Blemishes, hyperpigmentation
Reasons to buy
+
16-hour wear time
+
Full-coverage
+
Good for combination to oily skin
If there was ever a budget beauty product that's truly won the approval of makeup artists, influencers, and beauty buffs alike, it's this one from e.l.f. Cosmetics. Since launching, the concealer has built a cult following—and for good reason. It has an incredibly matte, full-coverage finish that covers up everything from stubborn hyperpigmentation to pesky blemishes. And, if you need a formula that'll last from the initial morning application to post-work happy hour, the 16-hour crease-free formula will deliver.
It may take a few runs to perfect your application technique (the formula dries down quickly, which means you'll have to work one eye at a time for easy blending), but all in all, for a drugstore concealer that offers this much coverage and wear-time, this is a rock-solid option.
5. Catrice Ultimate Camouflage Cream
The best color-correcting drugstore concealer
Specifications
RRP: $6
Key ingredients: Castor seed oil, glycerin
Shades: 2
Best for: Color correcting, brightening
Reasons to buy
+
Brightens dark under eye circles
+
Cancels out discoloration
+
Non-comedogenic formula
Reasons to avoid
-
Only available in two shades
Struggling with dark under-eye circles? A color-correcting concealer can make all the difference in their appearance. This one from Catrice comes in a peach shade (for light to medium complexions) and a salmon shade (for medium to dark complexions), and works to cancel out blue and purple tones underneath the eyes. Its non-comedogenic formula means it won't clog pores for those with oily, acne-prone skin, and if you have fine lines such as crow's feet, or texture concerns, it definitely won't enhance them.
This concealer is ultra-affordable for most budgets. And, because it boasts a thick consistency, a little goes a long way, meaning the jar should last you a while. With thicker products like this, it's best to apply sparingly to avoid caking or creasing. Using a duo fiber concealer brush, pick up a small amount of product and dab onto the areas of concern. Then, with either the brush or your fingers, blend the color corrector out and add more as needed.
6. Makeup Revolution Eye Bright Illuminating Under Eye Concealer
The best brightening drugstore concealer
Specifications
RRP: $10
Key ingredients: Vitamin C, glycerin
Shades: 8
Best for: Brightening
Reasons to buy
+
Lightweight consistency
+
Conceals tired eyes
+
Treats darkness with vitamin C
+
Conceals redness
This concealer from Makeup Revolution won't break the bank, but it will lift and illuminate the under-eye area. Harnessing the skin-brightening power of vitamin C, the formula treats dark circles as it conceals for both short and long-term benefits. It also offers flexible buildable coverage, which is perfect for those who wear natural makeup looks on an everyday basis but still want the option of fuller coverage for evenings or special events. If you have dry skin and prefer a creamy consistency, you'll appreciate the fact that the formula doesn't dry down too quickly, giving you ample time to blend.
Unlike most concealers that feature a wand applicator, this one comes with a fluffy flocked sponge applicator that dispenses the perfect amount of product to ensure nothing is wasted (it also feels extra soft on the skin). While the product is best used for lifting dull under eyes, it can also be used to conceal redness, blemishes, and under-eye bags for a flawless finish.
7. Maybelline Super Stay Active Wear Liquid Concealer
The best long-wearing drugstore concealer
Specifications
RRP: $10
Key ingredients: Antioxidant fruit extract, glycerin
Shades: 16
Best for: Dark circles
Reasons to buy
+
Offers up to 30 hours of coverage
+
Lightweight feel
+
Non-comedogenic
In need of a concealer that can withstand everything from unexpected torrential downpour to your company party? Maybelline's Super Stay Active Wear Liquid Concealer is a winner, providing up to 30 hours of wear and an undetectable, matte finish. It's best used underneath the eyes to conceal dark circles, but with 16 shades to choose from, you can also find a shade to highlight, contour, and even color correct.
We could rave all day about the formula's ability to provide full coverage without feeling heavy on the skin—a combination that even the best drugstore concealers normally struggle to master. That's all thanks to the product's light-as-air consistency that's so easy to layer on. It's also foolproof to apply due to the unique, ergonomic comfort-curve flex applicator, which applies the product evenly to ensure a seamless finish. If you're seeking a formula that's transfer-resistant, waterproof, and defies sweat, throw this one in your cart stat.
8. CoverGirl Clean Fresh Hydrating Concealer
The best drugstore concealer for dry skin
Specifications
RRP: $8
Key ingredients: Coconut milk, aloe extract
Shades: 14
Best for: Highlighting, brightening
Reasons to buy
+
Gives a luminous finish
+
Crease-free formula
+
Lightweight and made for all-day wear
Reasons to avoid
-
Has a slight alcohol scent
Parched skin doesn't stand a chance against this concealer from CoverGirl. Made with skin-loving coconut milk and aloe extracts, it keeps the complexion feeling hydrated and looking refreshed all day—even if you're prone to midday dryness. If you can get past its slight alcohol scent, you'll find that the weightless formula fares well on those who struggle with dry patches.
While you won't get full coverage with this product (it has a sheer, serum-like consistency), it's buildable and you can re-apply it throughout the day as needed. Plus, its lightweight texture means it's less likely to crease if you wear it underneath the eyes. It leaves behind a dewy—not oily—finish, and is great for no-makeup makeup days when you're just looking to even out your skin tone. Like most concealers, this one is housed in a tube with a doe-foot applicator and dispenses a small amount of product at a time for easy layering.
9. Black Opal True Tone Brightening Concealer
The best drugstore concealer for melanated skin
Specifications
RRP: $9
Key ingredients: Turmeric, cucumber extracts, vitamins C and E
Shades: 12
Best for: Dark circles, blemishes, and discoloration
Reasons to buy
+
Multi-use formula
+
Infused with skin-brightening ingredients
+
Doesn't impart an ashy look
+
Has a weightless feel
The only thing better than a concealer that whisks away dark circles, blemishes, and pigmentation is one that does so at an affordable price point. Cue this one from Black Opal, which is under $10 and has a formula so good, it should cost twice that. Formulated specifically with melanated skin in mind, this concealer promises not to impart an ashy look to the skin. Instead, its creamy, lightweight consistency creates an even tone, conceals blemishes, and veils over under-eye circles. The formula is easy to blend (read: it doesn't dry down too quickly) and offers buildable coverage that never feels caked on.
We love a good skincare-makeup hybrid, and this one delivers on both fronts, offering the brightness benefits of turmeric and vitamin C, known to be effective hyperpigmentation treatments for black skin within a skincare routine. Plus we get the moisturizing benefits of vitamin E, and the soothing, hydrating benefits of cucumber extract. On days your skin needs a pick-me-up and some coverage, this concealer fits the bill.
10. Neutrogena Hydro Boost Hydrating Concealer
The best drugstore concealer for spot concealing
Specifications
RRP: $14
Key ingredients: Hyaluronic acid
Shades: 5
Best for: Covering blemishes
Reasons to buy
+
Non-comedogenic, non-greasy formula is good for oily skin types
+
Has a silky-smooth finish
+
Blends seamlessly
If you're prone to breakouts, you're probably no stranger to the drying side effects of the many treatments recommended for how to get rid of acne. That's why this concealer from Neutrogena is perfect for spot concealing blemishes—it contains hyaluronic acid to counteract those side effects and keep your skin hydrated as it heals. Plus, it's oil-free and non-comedogenic, meaning it won't clog pores or add to the chaos if you already have revved up sebum production.
The concealer is the best of both worlds, offering a slip-resistant, flake-free finish for those with oily skin, and a refreshing, thirst-quenching formula for those who lean dry. You never run the risk of accentuated fine lines, looking cakey, or having to blend for hours on end. Rather, the creamy consistency melts right into the skin either with your fingers, a sponge, or a brush for a weightless finish.
---
woman&home thanks makeup artists Suzy Gerstein and Lindsay Kastuk for their time and expertise
Michelle Rostamian is a Los Angeles-based beauty writer with 10 years of experience in the beauty industry. She began her career as a publicist, content writer, and social media manager, representing beauty brands and industry professionals. Currently, she is an editor and writer on all things makeup, beauty, skincare, and lifestyle. Michelle graduated from the University of California, Los Angeles with a B.A. in Communications. She has bylines at Cosmopolitan, Elle, Marie Claire, Allure, The Zoe Report, HelloGiggles, Yahoo, Byrdie, Well+Good, Reviewed, Women's Health, Runner's World, The Girlfriend, and more.