7 soothing skincare ingredients that help calm aggravated skin
In a sneak peek of new beauty bible, The Beauty Brief, Katie Service reveals the soothing skincare ingredients to know now.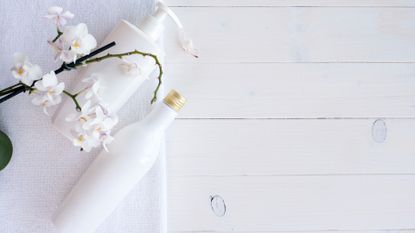 (Image credit: Getty Images)
New year, new skin complaints? A combination of festive excess and aggravating weather conditions can make it tricky to maintain healthy, happy skin at this time of year. If you have puffy eyes (opens in new tab), sensitive skin, (opens in new tab) or rosacea (opens in new tab), finding the right soothing skincare is crucial - and luckily, we've got expert advice on hand.
As the Beauty Editorial Director at Harrods and former make-up artist who assisted the legendary likes of Charlotte Tilbury, what Katie Service doesn't know about skin probably isn't worth knowing. Here, in a sneak-peek extract from her debut book, The Beauty Brief: An Insider's Guide to Skincare (£15.99, Thames & Hudson) Katie reveals the ultimate soothing skincare to seek out.
(opens in new tab)
SOS - Skincare Saviours
"Sunburn, peeling, breakouts, bacne, liver spots, rashes, cracked lips and sore spots... Bad skin happens to good people. We've all been there. But if you're having a skincare crisis, the worst thing you can do is panic and throw the kitchen sink at it.
Aggravated skin doesn't take much to become even more aggravated (and inflammation leads to premature skin ageing), so my best advice if you want to save face is to avoid piling needless ingredients into the mix that could make the situation worse. Take a step away from the bathroom sink and think: "What single ingredient or technique might help put out the flames of this miniature Vesuvius that has erupted on my face?" If you need some level-headed inspiration, then read on for my list of SOS skincare."
Seven calming and soothing skincare ingredients
1. Adaptogens
Want skin that's more zen? Adaptogens are helpful herbs–including ashwagandha and turmeric which manage the stress hormones released from the adrenal glands. In skin care, they are often loaded with antioxidants and anti-inflammatories.
2. Arnica
The bruise buster. Arnica is obviously brilliant in body creams to help soothe damaged skin and fade away bruises. A little-known fact is that it's also brilliant in concealers and eye creams for reducing the swelling and puffiness from undereye bags.
3. Calamine Lotion
An old-school treatment for insect bites and sunburn. On application, the calamine evaporates from the skin, resulting in a cooling effect. Calamine lotions often contain zinc oxide or carbonate as well, which add to this soothing feeling and also have antiseptic properties.
4. Cucumber
Will cucumber slices actually help reduce puffy eyes, or are they better off in a salad? Cucumber extract is mildly soothing, but the real benefit is more likely to come from storing cucumber in the fridge and applying it to the skin cold. The cold will help reduce swelling and puffiness
5. Almond Oil
A calming natural oil that is rich in fatty acids and natural moisturizing factors. Almond oil has zero fragrance and so won't trigger any adverse skin reactions, making it an excellent choice in a skin crisis such as cracked heels or post-holiday peeling.
6. Vitamin E
An antioxidant, this is a great moisturizer/skin healer and is often recommended for scarring. On the label, you'll see it written as d-alpha-tocopherol, d-alpha-tocopherol acetate, dl-alpha-tocopherol, or dl-alpha-tocopherol acetate. The letter "d" as a prefix indicates it was derived from natural sources, "dl" from synthetic; it's thought that natural forms are more effective than synthetic.
NB Most internet sources will tell you to apply the stuff neat to scars to help reduce their appearance, but studies suggest this is a myth, and in some cases, it can actually make them worse.
7. Ice
Frozen H2O is a potent secret weapon. The humble ice cube (wrapped in gauze) is a superior sunburn soother, eye bag de-puffer, circulation, and blood-flow booster, and post-workout or injury compress to reduce swelling. You can pimp your ice tray with all sorts of frozen beauty goodies.
Uber makeup artist Lisa Eldridge once told me that she likes to freeze cubes of green tea to slide over and brighten a tired complexion early in the morning. On a hot day, I like to soak my cleansing pads in water and then leave them in the freezer to chill. Simple but oh so effective and, so long as you have access to a freezer, it's absolutely free.
Beauty Editor, womanandhome.com
As woman&home's Beauty Channel Editor, Fiona Mckim has tried more products than she's had hot dinners and nothing makes her happier than raving about brilliant finds on womanandhome.com or her instagram grid (@fionamckim if you like hair experiments and cute shih-tzus). Fiona joined woman&home as Assistant Beauty Editor in 2013 under industry legend Jo GB, who taught her everything she needed to know (learn about ingredients and employ extreme cynicism). She has since covered every corner of the industry, from interviewing dermatologists and celebrities to reporting backstage at Fashion Week and judging the w&h Beauty Awards.