The best hair straighteners to smooth, style, and care for your hair
From cordless to steam to curling, we've picked the best hair straighteners for every hair type and styling need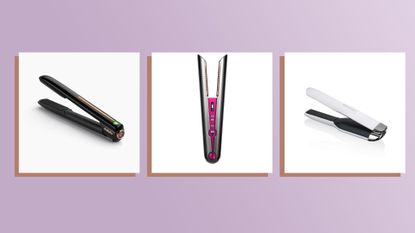 (Image credit: BaByliss, Dyson and ghd)
There's a lot to consider when choosing the best hair straighteners. Using a flat iron may be the quickest way to achieve smooth hair but it also has the potential to cause damage if you're not careful.
"Straighteners are not all created equal," says Dr Tim Moore, ghd VP of Smart Devices, "you must invest in the best tools for styling your hair." But finding the right hair straightener model is not easy. Firstly, you'll need to weigh up price versus performance as, best hair dryers aside, hot stylers are probably the most expensive beauty tool you will buy. Hair type plays a part, too. The best hair straighteners for curly hairstyles will not necessarily be the best for fine or bob hairstyles. Learning which features and technology will suit your particular needs is crucial when making a large investment in a daily styling tool.
It's a focus on clever tech rather than extreme heat, as well as convenience and—yes, we admit—status symbol power that makes the Dyson Corrale our best hair straightener pick. But don't have to spend hundreds to find a flat iron you'll be happy with. For effective smoothing that won't set you back the equivalent of a weekend vacation, Nicky Clarke Touch Control Ceramic Straightener is one of the best hair straighteners at a very reasonable price. Got questions about what makes the best hair straighteners? Check out our FAQ section at the bottom of this article. We've got expert advice on everything from styling temperatures to heat protectors and cleaning your straighteners.
The best hair straighteners, chosen by our beauty team
Our beauty team has tried and tested the best hair straighteners, both new and classic, from brands including Dyson, T3, and of course the best GHD straighteners to narrow down this definitive list of the best hair straighteners money can buy.
Each straightener has been tested on multiple occasions and several hair types and textures. We assessed them for styling results, ease of use, beautiful and functional design elements plus added extras like swivel cords and materials that protect hair health.
(opens in new tab)
Best overall hair straightener
Specifications
RRP: £363/$499
Weight: 561g (when cordless)
Cord length: 4.34m
Warranty: 2 years
Added extras: Cordless capability, choice of two colors, flight-ready feature for packing in carry-on
Best for: Damaged hair, versatile styling
Reasons to buy
+
Intelligent, kind-to-hair technology; luxury
+
Smooth, versatile styling
+
Cordless capabilities
+
Great for travel
Reasons to avoid
-
More expensive than its luxury counterparts
-
Magnetic cord can be unstable
There are many reasons the Dyson Corrale is the best hair straightener, but there's one big reason it might not be: the price. Either it's a reasonable expenditure, doable if you save up, or totally out of the question in which case, that's fine! Scroll on, there are plenty more stylers in the sea. Looks-wise this may not be the most elegant shape. Still, its chunky body and sliding lock feature does have a certain utilitarian appeal, and that trademark Dyson pop of fuchsia elevates the optics.
The experience
If you can invest, here's why you should: Much like the Dyson Supersonic Dryer, the Corrale pushes the hair-styling experience forward. And despite packing in lots of clever features, using it feels simple and familiar. There's nothing about this straightener that would confuse a first-timer—all that complex technology is hidden away inside. The smoothing tourmaline plates are floating and uniquely flexible so it's impossible to clamp the hair and frazzle it, even if you really tried. Those plates also make beach hair waves easy. We were able to rotate the styler a full 360° and pull a shiny curl out the other side without it tugging or getting caught.
The tech
Heat control is central to the Corrale experience. Choose from three heats on an LED screen, and sensors check the plates 100 times per second so that the temperature is perfectly maintained. No hot spots or temperature spikes. It's also cordless or can be used plugged in with a handy, albeit slightly too easy to knock off, magnetic cord. In exchange for wire-free convenience, the Corrale is heavier than your average straightener, but that weight is so well-balanced it doesn't feel unwieldy. Bonus marks for an excellent charging-to-styling-time ratio too: A 40-minute charge buys you about 30 minutes of styling time that's ample for just about any head of hair.
See our full Dyson Corrale Hair Straightener review
(opens in new tab)
Best hair straightener for intuitive styling
Specifications
RRP: £171/$235
Weight: 391g
Cord length: 2.5m
Warranty: 2 years
Added extras: Auto turn-off function, lockable plates and screen
Best for: Regular heat stylers, long hair
Reasons to buy
+
Intelligent bespoke modes
+
Excellent design
+
Long plates great for curling and smoothing
Reasons to avoid
-
More complicated than average
T3 is the master of bespoke hair-styling experiences. But how do you get personal with straightening? You create a customized Heat ID profile that the T3 Lucea ID Smart Straightening & Styling Iron remembers, then styles your hair at its temperature sweet spot afterward. That's how.
The experience
What exactly does personal mean in practice? Intelligence on your side. T3 makes the set-up process as smooth as a sheet of freshly ironed hair after an at-home keratin treatment. You will need to read the instructions, but it's a glossy photography-heavy booklet not an infuriating jargon-packed manual. Once the info is inputted and locked on the device's touchscreen, it'll remember your ID for next time or allow you to switch it up and work in manual mode should you choose. Let's not forget the most important bit—how was our tester's hair? Very nice, actually. It was straight, glossy, and smooth, which is what you want, and all of the above happened quickly, thanks to unusually long plates.
The tech
One excellent feature of the T3 Lucea is Refresh mode, designed for day two when full-on heat isn't needed, but a little style touch-up might be. The touchscreen did come with a few warnings about not pressing it in the wrong place at the wrong time, which indicates that accidents may be possible. But we didn't have any issues, so perhaps it was just overcautiousness on T3's part. This, plus Lucea's beautiful design, convinced us that a woman must have designed it. Or at least someone who understands how we really style our hair day-to-day, who also knows that we'd like our tech to look gorgeous and perform. Oh, and that sometimes we need a bit of saving from ourselves in the heat department.
See our full T3 Lucea ID review
(opens in new tab)
3. GHD Original IV Styler
Best simple to use straightener
Specifications
RRP: £108/$149
Weight: 700g
Cord length: 2.7m
Warranty: 2 years
Added extras: Automatic sleep mode, universal voltage
Best for: Everyday styling all hair types
Reasons to buy
+
Straightforward to use
+
Trustworthy design
+
Slimline plates
Reasons to avoid
-
Non-variable temperature
You probably recognize this one. GHD Original Styler is known as one of the best hair straighteners of all time (so you'll rarely see it in the GHD sales), the hot iron that launched a million copycats and convinced us we needed our hair in poker-straight sheets back in the early '00s. Your hair goals may have moved on since then, but there is much to be said for revisiting this classic, versatile hair straightener.
The experience
Stylish, and straightforward: Velvety black casing, matte ceramic plates with a narrow shape that sets this aside from other stylers, which tend towards chunkier builds. They're also particularly useful for short hairstyles or waves and boast a floating mechanism that slips over the hair very nicely, with no snagging or tugging. The controls are simple, just one flick switch to turn the device on then allow half a minute to reach its set temperature of 185 ("any hotter damages the hair, any cooler and the result is compromised," says GHD). This will be music to the ears of anyone who feels confused by numerous heat options—sometimes, these things are best decided by the experts.
The tech
Naturally, technology has moved on since the 2001 model, with incremental improvements on everything from heating-up time, smoothness of styling and safety leading us to this version 4.0. Nifty features like a non-tangling swivel cord—an extra-long 2.7 meter one at that—plus automatic shut-off after 30 minutes enhance the experience. Is the GHD Original IV Hair Straightener the shiniest most high-spec hair straightener out there? Nope. it's a classic, trustworthy, and dare we say iconic piece of beauty design that has stood the test of time. They're also built to last (as owners of the 'original originals' who used them every day for the entire 2000s never once experiencing a technical glitch can attest.)
4. Remington Wet 2 Straight Pro Straightener
Best hair straightener and dryer
Specifications
RRP: £99.99/$30.99
Weight: 14.8 ounces/420kg
Cord length: 10ft
Warranty: 5 years +1 if you register your product online
Added extras: 10 heat settings digital controls, auto shutoff, storage pouch, heat-proof pouch
Best for: Fine to medium hair, straightening only
Reasons to buy
+
Dries and straightens
+
Ultra-smooth results
+
More affordable than others
+
15-second heat-up
The experience
A hair straightener that also dries your hair sounds like it could go one of two ways; a hair-frazzling nightmare, or a genius hack that'll change your styling game forever. Luckily, the Remington Wet 2 Straight Pro Straightener definitely errs on the latter side. Run the plates over towel-dried (not soaking) hair and it'll gently evaporate excess water and release steam through its unique venting system, leaving strands dry and silky smooth in far less time than doing the two separately. In practice, it all works pretty well. You have to take it section by section, so this might not be practical for very thick or curly hair types, but it certainly saved our fine, mid-length-haired tester some precious time. It also didn't have any of the worrying 'sizzle' or toasting hair smell we half expected when we first heard about the device.
The tech
As well as turning two jobs into one, the Wet 2 Straight aims to care for the condition of your hair with auto sensors that adjusts the plate temperature with each pass. This means it can go lower on the heat while drying then gently ramp things up as you finish your style. You also have the option of using it in dry mode, essentially your usual hair straightening experience, if it's not hair washing day. Of the 10 temperature settings available, the hottest is 450°F/230°C and it can get there in 15 seconds before shutting off after 60 minutes automatically, which is always reassuring. Titanium and ceramic plates offer even heat, seamless smoothing without snags and help prevent heat damage down the road.
5. Glamoriser Smart Straightener
Best straightener with bluetooth connectivity
Specifications
RRP: £89.99/$155.99
Weight: 8.8 ounces/250g
Cord length: 3m
Warranty: 2 years
Added extras: Includes heat mat, ionic technology, variable temperature 175-455°F/80-200°C
Best for: Tech fans who want bespoke settings
Reasons to buy
+
Bluetooth function
+
Good value
+
Bespoke settings via app
+
Slimline floating plates
The experience
There is much to recommend using this straightener in terms of smooth, snag-free styling, a long swivel cord and slimline floating plates that are particularly useful on short hair or for bangs. But really, the USP worth shouting about with the Glamoriser Smart Straightener is Bluetooth connectivity. This links up to an app on your phone, which you can then use to turn the irons on and create customized settings based on your hair type, which it will remember for every use. Possibly most useful of all, you can adjust the auto shut-off feature from 5-20 minutes after use to ensure your flat iron isn't frying the carpet while you drive to work.
The tech
Aside from the clever app-controlled settings, which will appeal to some as much as it'll put other technically challenged types off (you can use it without the app if that's the case) This also boasts a digital display so you can keep an eye on heat, which comes in an unusually large range from 175-455°F/80-200°C. The ionic plates help combat frizz and universal voltage means they'll work wherever you take them. Yes, the app might be a little more complicated than simply plugging the flat irons in and pressing the on button, but the nifty tech will reward you for the extra effort.
6. Panasonic EH-HS0E Enrich Advanced Care Hair Straightener
Best straightener to hydrate damaged hair
Specifications
RRP: £149/$200
Weight: 8.8 ounces/250g
Cord length: 5.6'ft
Warranty: 1 year
Added extras: Nanoe hydrating technology, intelligent thermal sensor, 3D flexible floating plates
Best for: Dry or color-treated hair
Reasons to buy
+
Gentle on the hair
+
Hydrates as it straightens
+
Very smooth
Reasons to avoid
-
Could open a little wider
The experience
Panasonic's straightener looks the part with its matte black casing and champagne accents, but the real beauty of it lies in how much it cares for your hair. The main thing you'll notice is the 3D flexible plates in an ultra glossy finish. These gently adjust as you straighten to swiftly smooth hair in one shot without too much direct heat, which is great for condition. It heats up fairly quickly, about 20 seconds to get to the lowest of five heat settings and another ten or so to the top. The tactile, outer casing is pleasant to hold and offers a secure grip.
The tech
Much like the Panasonic Nanoe & Double Mineral hair dryer, this straightener uses Panasonic's unique Nanoe technology. This takes microdroplets of water from the air, splits them into tinier particles, and feeds them back into your hair to hydrate it from within. This is great news for dry or dehydrated hair types, but also for anyone who would prefer their hair straightener didn't frazzle their ends. Which is everyone, right? That aside, we also get an intelligent thermal sensor within the plates to make sure the heat is completely even, which does away with damaging hot spots and leaves hair uniformly silky and shiny after use.

(opens in new tab)
7. Nicky Clarke Hair Therapy Touch Control Ceramic Hair Straightener
Best cheap hair straightener
Specifications
RRP: £59.99/$82
Weight: 560g
Cord length: 3m
Warranty: 1 year
Added extras: Auto turn-off, lockable plates and screen
Best for: Fine to medium hair
Reasons to buy
+
Excellent value
+
Plenty of heat options
+
Reliable smoothing
Reasons to avoid
-
Slimline plates not ideal for thick hair
Disproving the "you get what you pay for" adage, celebrity hairstylist Nicky Clarke's Hair Therapy Touch Control Ceramic Hair Straightener offers a good deal more than expected for a (relatively) low investment.
The experience
The gold-toned plates are made of glossy ceramic and mineral tourmaline, which help smooth the hair as it goes. We found that the slimline nature of the styler made it light and nimble, but on the flip side it doesn't capture all that much hair in every pass. Anyone with a thick, curly, or natural hairstyle might need to factor in some extra styling time. A few little extras make this a cut above your usual reasonably priced styler, namely the ultra-long, three-meter cord and a handy little lock at the base of the device, which keeps the plates together for travel and storage.
The tech
The sleek, slimline straightener looks attractive enough with its tactile matte coating and fancy touch-control display. Plug it in and turn it on using a little silver button, and LEDs offer an impressive eight temperatures in gradients of 10 degrees, from 160°F to 230°F. Often, the worry with touchscreen devices is accidentally pressing things you don't want to, but here a handy padlock button locks your chosen temperature in place. The only thing worth worrying about is the human inclination to whoosh to the top of the heat scale—230 degrees is too spicy for the majority of hair types. Try to show restraint, as the device won't intuitively do it for you.
(opens in new tab)
Best cordless hair straightener
Specifications
RRP: £200/$275
Weight: 810g
Cord length: 1m
Warranty: 2 years
Added extras: UK and EU adaptors, roll-up heat mat, silicone sleeve, storage case
Best for: Frizzy hair that needs top-ups
Reasons to buy
+
Convenient and portable
+
Floating plates
+
Powerful straightening
+
Lighter than you expect
It's not strictly true to say there were no cordless straighteners before the BaByliss 9000 Cordless Hair Straightener, but there really weren't any worth bothering with. A disappointing bunch of weak, clunky devices that couldn't run for 15 minutes without needing to be charged preceded this model, so no wonder it was met with a glowing reception.
The experience
This certainly matches the big boys and their big long wires for power and straightening results. It runs on a lithium-ion, high-performance battery and offers three heat settings. Because the plates are of the floating ceramic variety, they heat up quickly and maintain your chosen temperature throughout. One or two passes per section straightened our hair satisfyingly, although we did hear the occasional clicking noise, which we assume was the floating plates adjusting into place.
The tech
So far, so premium straightener. But what about that cordless capability? Overall, pretty impressive, especially if you're looking for the best straighteners for curly hair. Imagine being able to give hair an after-work refresh, the way you would reapply lipstick. Imagine styling while keeping an eye on small children running around. This is the beauty of the BaByliss 9000: Sure it's packing a bit of extra weight and the charging time could be better. But the portability is truly a godsend. At the moment, you get 30 minutes of styling for three hours of charge. So as long as you're relatively organized about charging between uses, that shouldn't be a problem.
See our full BaByliss 9000 Cordless Hair Straightener review
(opens in new tab)
Best hair straightener for thick, damaged hair
Specifications
RRP: £182/$250
Weight: 600g
Cord length: 2.4m
Warranty: 1 year
Added extras: Integrated comb, integrated water tank
Best for: Straightening thick hair without direct heat damage
Reasons to buy
+
Very effective on thick or curly hair
+
Adds shine
+
Large plates
Steam hair straighteners have come a long way since the models you might remember from the 1990s. And L'Oréal Professional's latest, the SteamPod 3.0, is a perfect example of how the benefits of these devices can outweigh their drawbacks.
The experience
Steam is an excellent styling aid to have at your disposal as it's both ultra-effective at smoothing and not nearly as damaging as direct heat. In this device, the steam flows out from above the ceramic floating plates and below a little comb. The idea is that your hair is exposed to the steam first, then the plates, then the comb, so instead of getting all frazzled and parched, it's filled with moisture and left glossy and sleek. There's denying that this element works very well: With one pass, our hair was smooth and shiny without any disconcerting 'hot hair' smell or visible hot spots.
The tech
The SteamPod is larger than most straighteners, which makes it more difficult to control. There's also no getting away from the fact that the water cartridge requires some fussing around with. Particularly as the instructions state you should only use lime-free demineralized water, and the warranty doesn't cover scaling should you do otherwise. That said, demineralized water is available cheaply in bulk online. Overall, these complications might be off-putting enough for someone with fine, relatively smooth hair. But for thicker, coarser hair types, it could be a game-changer as you can straighten much larger areas at once with far less worry about frazzling your hair while you're at it.
See our full L'Oréal Professionnel SteamPod 3.0 review
10. Cloud Nine The Cordless Iron Pro
Best luxury travel-friendly straightener
Specifications
RRP: £349/$492 (approx.)
Weight: 290g
Cord length: Cordless
Warranty: 1 year
Added extras: Faux leather style case, white faux leather roll bag, charging pod, protective heat resistant guard, universal voltage charger and plug adaptors, luxury travel bag, boar bristle dressing brush
Best for: Medium thickness hair, quick top-ups and holidays
Reasons to buy
+
Revive mode to shine
+
Colour protection technology
+
Light and easy to take on-the-go
+
Rounded barrels for versatility
Reasons to avoid
-
Not hot enough for very thick, curly hair
While there are several great cordless straightener models on the market, with some already included in this guide, the Cloud Nine Cordless Pro is the one we would opt for regular travel—and it's all thanks to its light and agile design.
The experience
At only 290g this is probably one of the lightest stylers we have ever come across, meaning it's not only a sensible option for travel, it's also perfect for throwing in your handbag if you're frizz-prone and want a midday top-up. The long-lasting battery also means that it will see you through a few hair straightening sessions and the chic charging pod will top-up the battery in no time.
The tech
Like other Cloud Nine models, this boasts the brand's unique vibrating revive mode, which limits the plates contact time with your hair in order to prevent heat damage. Variable temperature control also helps to prevent heat damage. Our one niggle is the top temperature of 170°c. While that'll keep your tresses healthy, it's not quite hot enough to leave a completely smooth and sleek finish on coarse or very thick and curly hair. However, it does a great job of ironing out kinks on the go, tackling baby hairs and bouts of frizz so still has its uses for those hair types. The rounded barrels also mean that you can use this styler to add volume or even throw a few curls or waves into the hair, once you've perfected your twisting action.
11. Revamp Progloss Ultra X Shine Wide Ceramic Hair Straightener
Best wide hair straightener for curly hair
Specifications
RRP: £99.99/$136
Weight: 470g
Cord length: 3m
Warranty: 2 years
Added extras: Silicone heat resistant mat
Best for: Very long, thick or curly hair
Reasons to buy
+
Extra-wide plates for super-fast styling
+
Smooth, sleek results
+
16 heat settings to suit all hair types
Reasons to avoid
-
Wide plates can be harder to control
With its extra-wide and extra-long plates, Revamp's Progloss Ultra X Shine Wide Ceramic Hair Straightener is just the ticket for styling long, thick, and particularly curly hair types.
The experience
If you're used to navigating slimline straighteners, expect an initial adjustment period when you first try this styler. With wider and longer ceramic plates than most, it can be tricky to control at first. However, once you get the knack for it, it's a total dream to use—capturing large sections of hair in every pass, significantly cutting down on styling time.
The tech
As well as quick and (eventually) easy styling, the maxi-sized straightener boasts an impressive 16 heat settings. Varying from 80ºC to 235ºC, there's a temperature to suit every hair type, from fine to thick, as well as artificial hair such as synthetic extensions (use the lowest setting for this). Asides from heat settings, the styler features ionic technology as well as infused plates with keratin, coconut, and argan oil for super smooth, sleek results.
12. ghd Unplugged Cordless Styler
Best ultra-light cordless hair straightener
Specifications
RRP: £299/$299
Weight: 300g
Cord length: Cordless
Warranty : 2 years
Added extras: Heat resistant travel storage case and charging wire
Best for: Fine to medium hair, keeping in a handbag
Reasons to buy
+
Compact, lightweight design
+
Portable and useful for travel
+
Ceramic-coated plates create a sleek style
Reasons to avoid
-
The battery could last longer
Ghd Unplugged is the brand's first-ever cordless styler to rival the likes of BaByliss, Cloud Nine, and Dyson. Sleek, powerful, and portable—it's ideal for styling on the go and is one of the most compact designs we've seen.
The experience
The ghd Unplugged's lightweight and compact design is the first thing that struck us. 35% lighter than the ghd Platinum+ Hair Straightener (and almost 50% lighter than the Dyson Corrale), the small yet powerful styler is super easy to maneuver and control. The plates themselves are narrow, which can be a downside for thick, long hairstyles as it will take longer to style. Yet they do offer extra precision and remain a great option for on-the-go touch-ups and traveling as Unplugged has been approved for safe traveling in the cabin and the hold.
The tech
The Unplugged styler is charged using USB-C which means you can charge it in your car, via your laptop, or on a plane. Once charged, the battery life is 20 minutes, providing enough time to switch styles or touch up your look. The high-gloss plates feature ceramic coating for smooth, snag-free styling and the temperature reaches 185ºC in just 45 seconds. After three minutes, the plates will automatically switch off to preserve battery life. With a brilliant cordless design, this hot tool is ideal for travel and on-the-go styling but may not be able to replace your everyday corded tool.
13. Phil Smith Hair Straightener
Best affordable hair straightener for calming frizz
Specifications
RRP: £19.99 (UK only)
Weight: 450g
Cord length: 1.8m
Warranty: 1 year
Added extras: No additional accessories
Best for: Fine to thick hair, everyday smoothing
Reasons to buy
+
Simple, easy-to-use design
+
Wide range of heat settings
+
Very reasonable price point
You'll get great bang for the buck with Phil Smith's metallic pink, chic styler. Coming in at just £19.99, it's one of the more affordable hair straighteners on the market—yet, despite the price tag, it really delivers on results.
The experience
Featuring a sleek, slimline design, this styler is ultra-comfortable to hold and easy to maneuver with a handy swiveling (albeit fairly short) cord. Top tip? Be prepared and have a mirror positioned nearby to make up for the shortfall in cord length. Once styled, hair looks shinier and feels healthier. Two big ticks.
The tech
Considering the price point, we were impressed to find that the styler boasts six temperature settings, ranging from 120°C to 220°C. What's more, it heats up in just 60 seconds and turns off automatically after 60 minutes for peace of mind. Ionic technology and ceramic-coating aluminum plates help keep your tresses looking shiny with frizz noticeably reduced. This is a great purse-friendly option that matches up to those twice and even thrice its price point.
14. Flower Ceramic Styling Iron
Best travel-friendly hair straightener for boosting shine
Specifications
RRP: $69.99/£69.99
Cord length: 3m
Warranty: 1 year
Added extras: No added extras
Best for: Dull hair, frequent flyers
Reasons to buy
+
Four heat settings up to 225°C
+
Lightweight design
+
Shiny results
Reasons to avoid
-
The design is quite basic
If you're after a simple-to-use hair straightener without all the added frills that can be more trouble than they're worth—this one from Drew Barrymore's FLOWER hair tools range could be for you. It's sleek, compact, and weighs barely anything, which makes it ideal for frequent flyers.
The experience
The sleek design features a rounded barrel shape that not only smooths hair without causing creases—but can also be used to create curls and waves. The straightener itself is super lightweight (one of the lightest we've tried) so you don't have to worry about that dreaded arm ache. The unusual bright purple color may not be to everyone's exact taste, we think it will look great on top of any dressing table!
The tech
Looks aside, this straightener has four heat settings (up to 225°C) to suit different hair types and needs as well as an automatic shut-off for peace of mind. While it doesn't feature fancy ionic technology or oil-infused plates—it does have tourmaline ceramic floating plates that really get the job done for glossiness. Hair looks shiny and feels smooth after use.
15. Grundig Touch Control Hair Straightener
Best budget straighteners for lasting results
Specifications
RRP: £49.99 (UK only)
Weight:: 600g
Cord length: 1.8m
Warranty: 2 years
Added extras: Ceramic coating
Best for: Frizz-prone hair
Reasons to buy
+
Plenty of heat options
+
Gentle on the hair
+
Long-lasting smooth results
Reasons to avoid
-
Takes longer to heat up than others
These hair straighteners are a great all-rounder with impressive technology that won't break the bank. With eight heat settings, ionic technology, and automatic shut-off—they tick all our hair straightener boxes—for just £49.99.
The experience
Sleek and straightforward to use, the ceramic coated plates come in a long, narrow design that works equally well on long hairstyles as it does on short hairstyles. They have a good grip and straighten each section of hair in one to two swipes, eliminating frizz as they go with clever ionic technology. Hair is left smooth, sleek, and silky soft. We were really impressed with how long the results lasted, too, which probably comes down to the special materials used in the build (more on that below.)
The tech
Considering the reasonable price point, the tech is impressive. These straighteners boast a wide selection of heat settings (8 in total) varying from 160 to 230C, which can be adjusted using Touch Control (you simply press the temperature setting you would like and voila). Ceramic coating and ionic technology mean that heat is evenly distributed and hair is never dried out. What's more, you don't need to fret about whether you've turned your straighteners off as they automatically switch off after 60-minutes of no use.
16. Signature by Dionne Smith Mini Hair Straightener & Curler
Best ultra-slim styler for short hair and flyaways
Specifications
RRP: $93/£80
Added extras: Swivel cord, ceramic coating
Best for: Natural hair, short hair
Reasons to buy
+
Suitable for all hair types, particularly curls
+
Uniquely slim plates
+
Can be used to curl and straighten hair
+
Adjustable heat settings
Reasons to avoid
-
Not ideal to straighten a whole head of very thick or long hair
If you want to straighten short hair or tight curls and kinks, consider this mini straightener from Dionne Smith a worthy investment. Small-in-size but mighty-in-power, the unique tool can get right to the very root for sleek, salon-worthy results.
The experience
Not only can this hair tool be used to straighten and smooth strands but it's also ideal for creating tight curls and waves with its skinny design and rounded edges. If it is a straight style that you're after, this tool gets right to the roots to tame flyaways and flatten hair—which is especially great for naturally curly and afro-textured hair.
The tech
This straightener features a digital temperature display to show the heat, which is adjustable— heating up to 230 degrees. It also has a swivel cord which makes styling effortless (especially when curling). As for the plates, they're ceramic coated to help smooth strands with every glide. While it may be too small for long hairstyles, it's a great choice for short hair and fringes.
---
How to shop for the best hair straighteners—FAQs
There are so many uses for hair straighteners, so consider how you will be working with them. If you have coiled or frizzy hair that you straighten daily, floating plates and customizable heat that protects your hair's health should be a priority. If you have fine hair and are as adept at how to curl hair with straighteners as you are smoothing, long narrow plates and a curved outer edge will make life a lot easier.
What to consider when buying hair straighteners
Price: Some of the best hair straighteners are big-ticket items, but if you're on a budget or have low-maintenance hair, you can get away with a simpler (read: cheaper) model.
Heat settings: Thick hair generally needs a high temperature for efficient smoothing. If you have fine or damaged hair, look for options with the flexibility to go low.
Accessories: For heavy users or confident stylers extras like a travel case, heat pad or convertible head that turns your flat iron into the best curling iron make a savvy buy.
Plate size/width: Your straightener should accommodate your hair type. This means larger plates for thick, long hair and narrower irons for short or finer types.
Plate material: Flat iron plates can be made of many materials, with ceramic, titanium and tourmaline generally considered the best for protecting hair condition.
Which temperature should I use for my hair?
Your iron's temperature should be contingent on your hair type. The finer your hair is, the lower the heat setting needs to be. Only those with coarse, thick hair should use the highest settings.
To prevent heat damage for your tresses, we recommend the following:
For thin hair types: set your iron anywhere between 180-200° Fahrenheit
For thick hair types: set your iron anywhere between 200-300° Fahrenheit
How can I tell if my straightener is set too high?
Major indications of heat damage include hair dryness, dullness, and split and snapped-off ends. An immediate consequence you'll notice is limpness, which will affect your hair's ability to hold your desired style throughout the day. As a good rule of thumb, reserve your flat iron for special and specific events rather than for everyday use (if you can help it). Or, consider investing in one of the best hair straightener brushes, which are designed to minimize heat damage.
Which hair straightener plates are best?
There are a few plate materials to choose from when it comes to buying hair straighteners. Ceramic plates evenly distribute heat, eliminating cold and/or overheated spots and thereby reducing hair damage.
A similar iteration, ceramic-coated plates feature a metal base with a ceramic layer to prevent your straightener from chipping and wearing out.
Titanium irons heat up quickly and stay hot consistently, allowing you to create silky locks in a fraction of the time. Titanium also features an ionic charge, which smooths hair and prevents frizz, while tourmaline requires less heat than ceramic and titanium but still delivers similar results. Less heat means less damage down the road.
How often should I clean my flat iron?
We recommend cleaning your flat iron once a month, which seems excessive but trust us, it's important.
Learning how to clean straighteners properly will stop your flat iron from accumulating considerable amounts of heat protectant and styling products build-up over time. This residue can inhibit the effectiveness of your flat iron. The cleaner your iron, the better the styling, and the more likely you are to achieve your desired style. it's that simple.
What type of heat protectant should I use?
As a barrier between your hair and flat iron, the best heat protectant products features hair-strengthening ingredients. These add a layer of defense against heat damage. Here's what to look out for when it comes to heat protection for hair (opens in new tab):
Humectants: Humectants attract moisture and block frizz, which is especially important for healthy hair maintenance. The result? Hydrated, shiny, and enviable locks. Humectant examples include glycerin, panthenol, and propylene.
Amino Acids: Amino acids work as strengthening and conditioning agents. In the world of haircare, their main function is to supply nourishing antioxidants and repair surface damage. For example, keratin, as a structural protein, makes hair more damage-resistant and revives dried-out, overheated, and colored hair.
Natural oils: Natural oils seal and protect your hair cuticle, all while locking in moisture. More evidently, they offer sheen and slip to tresses, even as you use a heat styling tool. If we're calling out superhero ingredients, then coconut oil deserves all of our attention. Coconut oil particularly repairs split ends and shields your locks against the effects of heat-styling tools. Not to mention, a little goes a long way.
---
As woman&home's Beauty Channel Editor, Fiona Mckim has tried more products than she's had hot dinners and nothing makes her happier than raving about brilliant finds on womanandhome.com or her instagram grid (@fionamckim if you like hair experiments and cute shih-tzus). Fiona joined woman&home as Assistant Beauty Editor in 2013 under industry legend Jo GB, who taught her everything she needed to know (learn about ingredients and employ extreme cynicism). She has since covered every corner of the industry, from interviewing dermatologists and celebrities to reporting backstage at Fashion Week and judging the w&h Beauty Awards.