The best hair straighteners to smooth, style, and care for your hair
From cordless to steam to curling, we've picked the best hair straighteners for every hair type and styling need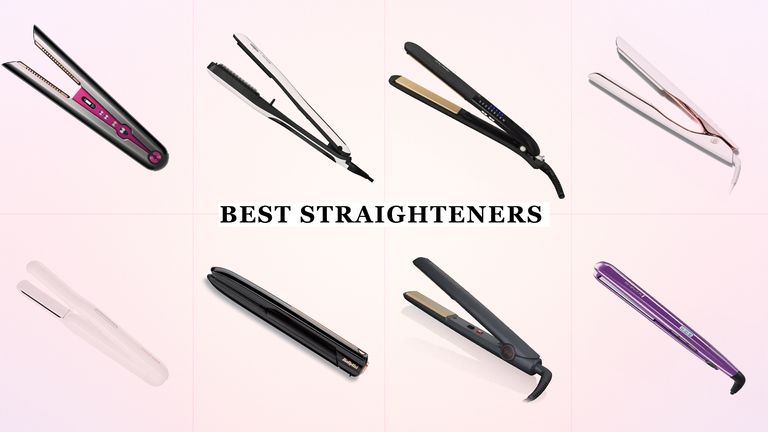 (Image credit: Future)
There's a lot to consider when selecting the best hair straighteners, as repeated heat styling has the potential to cause damage if you don't choose a flat iron model with the best temperature settings and plate materials for your hair type.
And while most of the best hair straighteners will help you achieve your hair goals, premium tools can do it in seconds rather than minutes—a crucial distinction for busy women. Another important consideration? These heated hair tools ain't cheap—the average pair of the best hair straighteners can easily put a dent in your bank balance and, best hair dryers aside, are likely the most expensive hair tool you are likely to invest in. It's imperative to come equipped with sound research, strategy, and information before making this investment.
"As a result of reduced exposure to extreme heat, heavy styling-tool users are noticing a healthy change to their hair," A-List stylist Jen Atkin explains about how world events have changed our styling habits. "There is a desire to maintain this. We are anticipating a trend for more people looking to achieve their desired style, but with less heat."
It's this anticipated focus on clever technology rather than extreme heat, as well as supreme convenience and—yes, we admit—a touch of status symbol star power that makes the Dyson Corrale our overall best hair straighteners. Obviously, it's not a realistic beauty budget for everyone, and you definitely don't have to spend that much to get a great hair tool. For effective daily smoothing that won't set you back the equivalent of a new washing machine or a destination vacation, Nicky Clarke Touch Control Ceramic Straightener is one of the best hair straighteners that comes in at a very reasonable price.
Key features to look out for when looking for the best hair straighteners
Weighing up the Dyson Corrale vs GHD Platinum or considering what type of straightener is best for you? Here are a few key features to look out for.
Price: There's no denying the best hair straighteners are big-ticket items, but there are also plenty of perfectly reasonable best hair straighteners out there that have plenty to offer.
Adjustable heat settings: Your straightener's temperature setting depends on your hair's texture, so it's imperative to select an option that lends flexibility.
Accessories: Investing in a pair of the best hair straighteners is expensive so options that include tangible perks, such as a compact travel case or heat pads, can be great.
Plate size/width: Your straightener should accommodate your hair type by its thickness and length. This means larger plates for thick, long hair and more narrow irons for short, thin, or finer tresses.
Plate material: There are different materials that can be used to make flat iron plates in order to protect your hair. It's important to make sure that your plates are either ceramic, titanium or tourmaline to give your locks the best protection possible.
Additionally, think about how you plan to use your straighteners. If you have coiled or frizzy hair that you straighten every day, features like floating plates and customisable heat that protect your hair's health should be a top priority.
For fine and/or flat hair, you may well use your straighteners to wave and curl as much as you do to smoothen hair. If so, long narrow plates and a curved outer edge will make life a lot easier.
The best hair straighteners, as reviewed by our experts
Flat iron uses truly run the gamut, so it's important to find the right model for you. We've looked at recommendations for the best hair straighteners from both hair experts and shoppers and then tested multiple models from top-tier brands, including Dyson, BaByliss, and GHD straighteners, among others to pick out the best ones. We've weighed the pros and cons to bring you the very best hair straighteners, factoring in usability for particular hairstyles, styling uses, and technology to bring you salon-quality results at home. We've also answered common questions you may have pre-purchase.
Best overall hair straightener
Specifications
RRP: $499/£363
Weight: 561g (when cordless)
Cord length: 4.34m
Warranty: 2 years
Added extras: Cordless capability, choice of two colors, flight-ready feature for packing in carry-on
Reasons to buy
+Intelligent, kind-to-hair technology; luxury+Smooth, versatile styling
Reasons to avoid
-Expensive -Magnetic cord can be unstable
There are so many reasons why the Dyson Corrale is our top pick for the best hair straighteners, but there's one big reason why it might not be: the price. Either it's a reasonable expenditure, just about doable if you save up, or totally out of the question for you. If the latter is the case, that's fine! Scroll down the page, as there are plenty more stylers in the sea.
If you can invest, here's why you should: Much like the Dyson Supersonic Dryer, the Corrale pushes the hair-styling experience forward. And despite packing in lots of clever features, using it feels simple and familiar. There's nothing about this straightener that would confuse a first-timer—all that complex technology is hidden away inside.
The smoothing tourmaline plates are floating and uniquely flexible (hence those little "teeth" you can see at the side). This means it's impossible to clamp the hair and frazzle it, even if you really tried. Those plates also make creating waves significantly easier, even for beginners. We were able to rotate the styler a full 360° and pull a shiny curl out the other side without it tugging or getting caught. We cannot stress enough how unusual that is (Actually, we can: it has honestly never happened with any other of the best hair straighteners in our test runs.).
Heat control is central to the Corrale experience. Choose from three heats on an LED screen, and sensors check the plates 100 times per second so that the temperature is perfectly maintained. This is crucial, as hot spots and temperature spikes are notoriously damaging to hair. It's also cordless or can be used plugged in, depending on preference. The cord is attached with a magnet, which is handy, albeit slightly too easy to knock back off. In exchange for wire-free convenience, the Corrale is a touch heavier than your average straightener, but that weight is so well-balanced it doesn't feel unwieldy. Bonus marks for an unusually good charging-to-styling-time ratio too: A 40-minute charge buys you about 30 minutes of styling, which should be ample for just about any head of hair.
Looks-wise this may not be the most elegant shape. Still, its chunky body and sliding lock feature has a certain utilitarian appeal, and that trademark Dyson pop of fuchsia elevates the optics up a bit. And we'd argue that it helps you replicate coveted professional tips for styling straight hair.
See our full Dyson Corrale Hair Straightener review
Best straightener that doesn't damage hair
Specifications
RRP: $235/£171
Weight: 391g
Cord length: 2.5m
Warranty: 2 years
Added extras: Auto turn-off function, lockable plates and screen
Reasons to buy
+Intelligent bespoke modes+Excellent design
Reasons to avoid
-More complicated than average-Touchscreen requires care
T3 is the master of bespoke hair-styling experiences. But how do you get personal with straightening? You create a bespoke Heat ID profile that the T3 Lucea ID Smart Straightening & Styling Iron remembers, then styles your hair at its temperature sweet spot afterwards. That's how.
And what exactly does that mean in practice? A bit of intelligence on your side, essentially. Luckily, like any modern tech company, T3 makes the initial set-up process as smooth as a sheet of straightened hair. Yes, you will need to read the instructions, but it's a glossy photography-heavy booklet packed with advice on selecting the right hair thickness, length, and condition options for you. Once all the info is inputted and locked on the device's touchscreen display, you're set! It'll remember your ID for next time or allow you to switch it up and work in manual mode should you choose.
Another great feature of these best hair straighteners is the Refresh mode, designed for Day Two when full-on heat isn't needed, but a little style touch-up might be. This mode, plus Lucea's gorgeous pearly finish with metallic accents, has us convinced that a woman must have designed it. Or at least someone who truly understands how we actually style our hair day-to-day, who also knows that we'd like our tech to look gorgeous and perform. Oh, and that sometimes we need a bit of saving from ourselves in the heat department.
At the risk of getting so carried away by the features, we forget to mention what our reviewer's hair was like after trying it and let us be the first to tell you: very nice. It was straight, glossy, and smooth, which is what you want, and all of the above happened quickly, thanks to unusually long plates. As an aside, the touchscreen did come with a few warnings about not pressing it in the wrong place at the wrong time, which indicates that accidents may be possible. That said, we didn't fall foul of any issues, so perhaps it was just over-cautiousness on T3's part.
See our full T3 Lucea ID review
3. GHD Original IV Styler
Best classic straightener
Specifications
RRP: $149/£108
Weight: 700g
Cord length: 2.7m
Warranty: 2 years
Added extras: Automatic sleep mode, universal voltage
Reasons to buy
+Straightforward to use+Trustworthy design+Slimline plates
Reasons to avoid
-Non-variable temperature-Lacks extra features
You probably recognize this one. The GHD Original Styler is known as one of the best hair straighteners and is the hot iron that launched a million copycats and convinced us we needed our hair in poker-straight silky sheets back in the early aughts. Your hair goals may have moved on since then, but there is much to be said for revisiting this classic, versatile hair straightener.
Of course, the technology has moved on since the 2001 model, with incremental improvements on everything from heating-up time, smoothness of styling, and safety, leading us to this version 4.0. But the principle remains the same: a slick but user-friendly device to straighten or wave hair with minimal to no fuss.
In terms of looks, this is classic, stylish, and simple: velvety black casing, matte gold ceramic plates, and long, narrow plates. Those slimline plates are one of the features that make it one of the best hair straighteners and set the GHD original aside from other modern stylers, which tend towards chunkier builds. They prove particularly useful for styling short hairstyles and when attempting to curl hair with straighteners or negotiating 'S bend' waves. Those glossy gold plates also boast a floating mechanism and slip over the hair very nicely, with no snagging or tugging.
The controls are nice and simple, just one flick switch to turn the device on, then allow half a minute to reach its set temperature of 185 ("any hotter damages the hair, any cooler and the result is compromised," says GHD). This will be music to the ears of anyone who feels a bit confused by numerous heat options—sometimes, these things are best decided by the experts. That aside, nifty features like a non-tangling swivel cord—an extra-long 2.7 meter one at that—plus automatic shut-off after 30 minutes (goodbye, "did I or didn't I shut it off" anxiety) enhance the user experience.
Is the GHD Original IV Hair Straightener the shiniest, most novel pair of hair straighteners money can buy? Nope. It's a classic, trustworthy, and—dare we say—an iconic piece of beauty design that has stood the test of time when so many others haven't. Some would argue that's a far better accolade. It's also worth noting that these babies are built to last. This assertion is based purely on anecdotal evidence, but as someone who owned a pair of the 'original-originals' and used them every day for half a decade never once experiencing a technical glitch, I'm convinced.
4. Remington S5500 1" Anti-Static Flat Iron
Best hair straightener for frizzy hair
Specifications
RRP: $24.99/£18
Weight: 10.4 ounces
Cord length: 6 ft
Warranty: 60-day money back guarantee
Added extras: Eight heat settings 310°F to 450°F, titanium protection coating, and 410°F for fast styling
Reasons to buy
+Long, thin plates perfect for hard-to-reach sections+LCD screen for viewing temperature+Affordable+30-second heat up
Reasons to avoid
-Some shoppers say the plates do not touch evenly when squeezed together-Pulls on hair
The ultimate solution to frizzy hair is an adjustable, easy-to-control, gentle straightener—especially since frizz happens when hair is dry and damaged. Enter The Remington 1" Anti-Static Flat Iron: a standout for its innovative features and ergonomic design.
As the name suggests, the anti-static flat iron straightener reduces the amount of negative charged particles to keep frizz at bay as it heats up. You're probably wondering why this matters: Static is the result of an imbalance of too many positive or negative charges, and since hair naturally has a negative charge, you'll need to use positively charged products and tools to combat static. Ultimately, they neutralize each other and work in harmony to keep your locks in place.
The straightener also incorporates titanium coating and long ceramic plates for faster heat-up, quicker styling, and seamless control, preventing heat damage down the road.
5. Bio Ionic 10X Pro Straightening & Styling Iron
Best straightener for fine hair
Specifications
RRP: $230/£167
Weight: 0.9 ounces
Cord length: 9ft
Warranty: 5 year manufacturer's warranty
Added extras: Vibrating plates, dual voltage (120V-220V), 1 hour automatic shut-off
Reasons to buy
+BioCeramic Heaters for constant, even heat+Rounded tip allows for versatile styling from roots to ends+Fast and easy to use
Reasons to avoid
-Some shoppers say it snags-Could be more effective at providing shine
A godsend for fine hair, the Bio Ionic 10X Pro Straightening & Styling Iron conditions and hydrates strands, leaving them silky and shiny after use. Compared to other straighteners, this iron features natural volcanic minerals, which emit negative ions and drive water molecules deep into hair. Jargon aside, negative ions are exceptional for locks: They help hair dry faster, seal the cuticle to trap moisture, neutralize static, and minimize frizz. The iron also leverages vibrating plates, designed to swiftly smooth hair in one shot. Plus, it features a soft, lightweight handle for a more comfortable and secure grip.
6. Nicky Clarke Hair Therapy Touch Control Ceramic Hair Straightener
Best cheap hair straightener
Specifications
RRP: $82/£59.99
Weight: 560g
Cord length: 3m
Warranty: 1 year
Added extras: Auto turn-off, lockable plates and screen
Reasons to buy
+Excellent value +Plenty of heat options
Reasons to avoid
-Not intuitive -May not suit all hair types
Somewhat disproving the old 'you get what you pay for' adage, celebrity hairstylist Nicky Clarke's Hair Therapy Touch Control Ceramic Hair Straightener offers a good deal more than expected for a (relatively) low investment.
The sleek, slimline straightener looks attractive enough with its tactile matte coating and fancy touch-control display. Plug it in and turn it on using a little silver button, and LEDs offer a very impressive eight temperatures in gradients of 10 degrees, from 160°F to 230°F. Often, the worry with touchscreen devices is accidentally pressing things you don't want to, but here a handy padlock button locks your chosen temperature in place. Really the only thing worth worrying about is the natural human inclination to whoosh right to the top of the heat scale and stay there—230 degrees is far too much heat for majority of hair types, so try to show restraint, as the device won't intuitively do it for you.
The gold-toned plates are made of glossy ceramic and mineral tourmaline, which help smooth the hair as it goes. We found that the slimline nature of the styler made it light and nimble, but its flipside doesn't capture all that much hair in every pass. Anyone with very thick, curly, or textured hair might need to factor in some extra styling time.
A few little extras make this a cut above your usual reasonably priced styler, namely the ultra-long, three-meter cord and a handy little lock at the base of the device, which keeps the plates together for travel and storage.
Best cordless hair straightener
Specifications
RRP: $275/£200
Weight: 810g
Cord length: 1m
Warranty: 2 years
Added extras: UK and EU adaptors, roll-up heat mat, silicone sleeve, storage case
Reasons to buy
+Convenient and portable+Powerful straightening
Reasons to avoid
-Pricey-Long charging time
It's not strictly true to say there were no cordless straighteners before the BaByliss 9000 Cordless Hair Straightener, but there really weren't any worth bothering with. A disappointing bunch of weak, clunky devices that couldn't do half a head of hair without needing to be charged have preceded this model, so no wonder it's been met with a glowing reception.
It certainly matches the big boys and their big long wires for power and straightening results. It runs on a lithium-ion, high-performance battery and offers three heat settings. Because the plates are of the floating ceramic variety, they heat up very quickly and evenly and maintain your chosen temperature throughout. One or two passes per section straightened our hair satisfyingly, although we did hear the occasional clicking noise, which we assume was the floating plates adjusting to our hair.
So far, it's what you'd expect from a premium straightener. But what about that cordless capability, you ask? Overall, pretty impressive, especially if you're jonesing for the best straighteners for curly hair. Imagine being able to give hair an after-work refresh, the way you would reapply your lipstick. Imagine styling your hair while keeping an eye on small children running from room to room (You get the point.).
Best of all, imagine getting to a hotel and not having to panic at how far away the plug socket always is from the one good mirror. This is the true beauty of the BaByliss 9000: Yes, it's packing a bit of extra weight, which is noticeable while you're using it; the charging time could also be improved. But the portability is truly a godsend. At the moment, you get 30 minutes styling for three hours of charge. But most heads of hair take less than half an hour to straighten, so as long as you're relatively organized about charging between uses, that shouldn't be too much of a problem.
See our full BaByliss 9000 Cordless Hair Straightener review
Best hair straightener for thick curly hair
Specifications
RRP: $250/£182
Weight: 600g
Cord length: 2.4m
Warranty: 1 year
Added extras: Integrated comb, integrated water tank
Reasons to buy
+Very effective on thick or curly hair+Adds shine
Reasons to avoid
-Pricey-A bit fussy
Steam hair straighteners have come a long way since the models you might remember from the 1990s. And L'Oréal Professional's latest, the SteamPod 3.0, is a perfect example of how the benefits of these devices can outweigh their drawbacks.
Shall we start with the benefits? Steam is an excellent styling aid to have at your disposal as it's both ultra-effective at smoothing and not nearly as damaging as direct heat. In this device, the steam flows out from above the ceramic floating plates and below a little comb. The idea is that your hair is exposed to the steam first, then the plates, and then the comb, so instead of getting all frazzled and parched as you straighten, it's filled with moisture and left glossy and sleek. There's definitely no denying that this element works very well: With one pass, our hair was smooth and noticeably shiny without any disconcerting 'burning hair' smell or visible hot spots.
Now onto the drawbacks, and there are a few: For one thing, the SteamPod is larger than most modern straighteners, which makes it a bit more difficult to control. There's also no getting away from the fact that the water cartridge, although happily now built-in, in contrast to the 2.0, still requires a little bit of fussing around with. This is particularly true as the instructions state you should only use lime-free demineralized water in the device, and the warranty doesn't cover scaling should you do otherwise. That said, demineralized water is not expensive online, and many options offer enough quantity to last for years.
Overall, these complications might be off-putting enough for someone of a fine, relatively well-behaved hair type to pass. But for other hair types, it could be a game-changer. Steam is known to be particularly effective at gently smoothing curls and coarser hair, which often suffers extreme dryness due to regular straightening at the highest heats. In the spirit of fair testing, we had a curly, thick-haired reviewer try the device as well and she is now entirely sold, reporting that you can straighten much larger areas at once, and she's far less worried about frazzling her hair when she uses it.
See our full L'Oréal Professionnel SteamPod 3.0 review
9. Cloud Nine The Cordless Iron Pro
Best hair straightener for travel
Specifications
RRP: $492 (approx.)/£349
Weight: 290g
Cord length: Cordless
Warranty: 1 year
Added extras: Faux leather style case, white faux leather roll bag, charging pod, luxury white faux leather travel pouch, protective heat resistant guard, universal voltage charger and plug adaptors, luxury travel bag, boar bristle dressing brush
Reasons to buy
+Revive mode to shine+Colour protection technology+Light and easy to take on-the-go+Rounded barrels for versatility
Reasons to avoid
-Pricey-Not hot enough for very thick, curly hair
While there are several great cordless straightener models on the market, with some already included in this guide, the Cloud Nine Cordless Pro is the one we would opt for regular travel—and it's all thanks to its light and agile design. At only 290g this is probably one of the lightest stylers we have ever come across, meaning it's not only a sensible option to take travelling with you, but it's even perfect for throwing in your handbag if you're particularly frizz-prone and want a midday top-up, or you're just in a rush and didn't have time for a morning style session. The long-lasting battery also means that it will see you through a few hair straightens and if you find yourself running, the chic Charging Pod will top-up the battery in no time.
Like other Cloud Nine models, it comes with the brand's unique vibrating revive mode, which works by limiting the plates contact time with your hair to half of what it would usually be in order to prevent heat damage. Variable temperature control also helps to prevent heat damage, as you can choose the lowest temperature that's suitable to your hair type so that you're not exposing your locks to surplus heat.
Our only one niggle is that the highest temperature is 170°c which, while better for keeping your tresses healthy, is not quite hot enough to leave a completely smooth and sleek finish on coarse locks or very thick and curly hair. However, it does work great for ironing out kinks on-the-go and tackling baby hairs and bouts of frizz for those hair types, and is a dream for a full straighten on other hair types. The slightly rounded barrels also mean that you can add a bit of volume to hair with these too or even throw a few curls or waves in there, once you've perfected your twisting action.
How to get the most out of your straighteners
Which temperature should I use for my hair?
Your iron's temperature should be contingent on your hair type. The finer your hair is, the lower the heat setting needs to be. Only those with coarse, thick hair should use the highest settings.
To prevent heat damage for your tresses, we recommend the following:
For thin hair types: set your iron anywhere between 180-200° Fahrenheit
For thick hair types: set your iron anywhere between 200-300° Fahrenheit
How can I tell if my straightener is set too high?
Major indications of heat damage include hair dryness, dullness, and split and snapped-off ends. An immediate consequence you'll notice is limpness, which will affect your hair's ability to hold your desired style throughout the day. As a good rule of thumb, reserve your flat iron for special and specific events rather than for everyday use (if you can help it). Or, consider investing in one of the best hair straightener brushes, which are designed to minimize heat damage.
Which hair straightener plates are best?
There are a few plate materials to choose from when it comes to buying hair straighteners. Ceramic plates evenly distribute heat, eliminating cold and/or overheated spots and thereby reducing hair damage.
A similar iteration, ceramic-coated plates feature a metal base with a ceramic layer to prevent your straightener from chipping and wearing out.
Titanium irons heat up quickly and stay hot consistently, allowing you to create silky locks in a fraction of the time. Titanium also features an ionic charge, which smooths hair and prevents frizz, while tourmaline requires less heat than ceramic and titanium but still delivers similar results. Less heat means less damage down the road.
How often should I clean my flat iron?
We recommend cleaning your flat iron once a month, which seems excessive but trust us, it's important.
Learning how to clean straighteners properly will stop your flat iron from accumulating considerable amounts of heat protectant and styling products build-up over time. This residue can inhibit the effectiveness of your flat iron. The cleaner your iron, the better the styling, and the more likely you are to achieve your desired style. it's that simple.
What type of heat protectant should I use?
As a barrier between your hair and flat iron, the best heat protectant products features hair-strengthening ingredients. These add a layer of defense against heat damage. Here's what to look out for when it comes to heat protection for hair:
Humectants: Humectants attract moisture and block frizz, which is especially important for healthy hair maintenance. The result? Hydrated, shiny, and enviable locks. Humectant examples include glycerin, panthenol, and propylene.
Amino Acids: Amino acids work as strengthening and conditioning agents. In the world of haircare, their main function is to supply nourishing antioxidants and repair surface damage. For example, keratin, as a structural protein, makes hair more damage-resistant and revives dried-out, overheated, and colored hair.
Natural oils: Natural oils seal and protect your hair cuticle, all while locking in moisture. More evidently, they offer sheen and slip to tresses, even as you use a heat styling tool. If we're calling out superhero ingredients, then coconut oil deserves all of our attention. Coconut oil particularly repairs split ends and shields your locks against the effects of heat-styling tools. Not to mention, a little goes a long way.