T3 Lucea ID review: This intelligent iron takes hair tech to another level
The T3 Lucea ID is smart, smooth and pretty darn sexy, too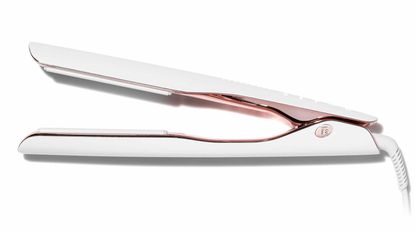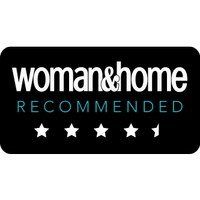 (Image credit: T3)
T3s intelligent straightener and styling iron takes hair straightening settings to another level
Reasons to buy
+

Intelligent heat customisation

+

Ionic technology

+

Beautiful design

+

Unique refresh mode
Reasons to avoid
-

Lengthy set up

-

Touchscreen mistakes possible
As technology goes, it's quite tricky to push things forward when trying to create the best hair straighteners (opens in new tab). You run the hair between heated plates, it's straightened and that's your lot, right? Wrong says the T3 Lucea ID.
Instead, every person who picks up this new-gen styler enjoys bespoke settings based on their hair length, thickness and condition. Settings that they don't even have to work out for themselves because the device does it for them along with ionic smoothing technology, a heat-smart microchip and secondary mode for day-two hair.
After that, yes, you run the hair between heated plates and it's straightened – because that's why these tools are in our lives. But with these intelligent extra features, T3 promises to take the guesswork out of hair styling and care – and (mostly) pulls it off. The initial set-up is more complex than your average styler's on-off button, and the smooth touchscreen capability does have some vulnerabilities. But these are small niggles in contrast to the mightily impressive technology and very pleasing design and feel of the Lucea ID.
T3 Lucea ID review
Specifications
RRP: £189 Weight: 391 grams Cord length: 2.5m Warranty: 2 years
Technical performance
The T3 Lucea ID positively sings with unique technical features. Let's start with the biggie – T3 Heat ID, a set of personalised heat settings based on your hair texture, length and whether or not it has been colour-treated. Setting this up is the first thing you do after switching the styler on, which is a case of tapping at various symbols on the stylers touchscreen panel to describe your hair. The Lucea ID then calculates your perfect heat setting from a choice of nine, whirrs up to said temperature in a few seconds and, providing you're happy with what's on offer, sticks with it every time you style.
Refresh mode is another interesting addition. This setting is designed for second-day styling. This is when you haven't had time to wash or get the best hair dryer (opens in new tab) involved, but want to top up yesterday's look with a little bit of heat. This mode sits at a lower temperature than your usual HeatID – high enough to smooth and style but with less damage. Including this function shows an intuitive understanding of how women really style their hair, which is often a case of troubleshooting and top-ups rather than a full 'do. It's nice to feel that you can easily switch into a kinder mode for these occasions.
The materials used here are all top-notch, another hallmark of T3 whose dryers, curlers and stylers never disappoint with their tactile feel and beautiful design. For the Lucea ID this means a sleek touchscreen panel so absolutely no buttons or switches upset the device's pearlised outer casing. The plates are made of glossy ceramic, are temperature controlled by a smart microchip, and a tiny vent just above them releases a stream of ions to counteract frizz-causing positive charges in the hair.
User experience
Once you get over some initial set-up hurdles you're in for a very nice time with the Lucea ID. Naturally, due to the touchscreen and intelligent Heat ID mode, you will need to actually read the instructions to get going with this styler. If you're anything like me (which is to say, very easily turned off by complicated technology), this might give you an initial pang of "Why can't I just switch it on and go?" but a very user-friendly booklet walks you through the process, which takes no more than a minute or two.
The touchscreen controls certainly feel satisfying – thumb an LED switch for three seconds and a little notification noise and vibration let you know that the styler is on. Then, tap symbols to describe your hair length, condition and thickness – the booklet contains plenty of information to guide your selection if needed. Lock the screen by tapping the on button and a series of little bars will appear, a bit like a phone battery display, to indicate how hot the styler thinks you should go. There is also a manual mode if you'd rather just choose the heat yourself and a separate button that switches directly to refresh mode so it's easy to toggle between the two. In the spirit of honesty I did have a couple of false starts during set-up, where I wasn't quite sure if the screen was locked or unlocked or which bleep meant what. But I got the hang of it in a few minutes – nothing out of the ordinary for me when setting up a new bit of kit.
Speaking of the instructions, there is a fair bit of emphasis on not touching things at the wrong times. We're instructed not to touch the area above the power button when switching the iron on or off, and not to touch the power button when styling. Clearly, it's a bit easier to accidentally hit a "button" when it isn't actually a physical button sticking out. But I didn't find this to be a problem in my test sessions and anyone with a touchscreen phone should be able to navigate this foible easily.
In terms of the actual straightening experience, this is a smooth and satisfying one, making the T3 Lucea ID a one of the best straighteners for curly hair (opens in new tab). The plates are 10cm longer than is standard for T3 and most other styler manufacturers, which means efficient styling. I also found the slim, elegant plates and curved outer edge of the styler helped with creating waves – something I never really have the knack for, but this made it as easy as it'll ever be.
One last tiny but very welcome touch is a little velcro strap attached to the lead. This helps wrap it away neatly and prevents the formation of those Medusa-like electrical cord tangles that seem to develop of their own accord in my hair-tool drawer.
Results
And what about the hair? Smart tech and sexy design aside the proof of the pudding is of course in the eating – and the Lucea ID proved very satisfying indeed. Those glossy plates slid over my hair with ease, leaving it sleek, straight and (I can only assume) somewhat relieved of the damage that my natural inclination to pick the highest heat would cause.
Did I notice any particular smoothing effect from the ions? Not really, but I trust they were doing their job. The refresh mode was a gift for five-minute styling top-ups. My hair was more than happy to comply with the lower temperatures on day two, which once again, I trust will be helping my hair's condition in the long run.
Beauty Editor, womanandhome.com
As woman&home's Beauty Channel Editor, Fiona Mckim has tried more products than she's had hot dinners and nothing makes her happier than raving about brilliant finds on womanandhome.com or her instagram grid (@fionamckim if you like hair experiments and cute shih-tzus). Fiona joined woman&home as Assistant Beauty Editor in 2013 under industry legend Jo GB, who taught her everything she needed to know (learn about ingredients and employ extreme cynicism). She has since covered every corner of the industry, from interviewing dermatologists and celebrities to reporting backstage at Fashion Week and judging the w&h Beauty Awards.