Shark vs Dyson hair dryer—a beauty editor's thoughts on which high-tech styler to go for
We compare the Shark vs Dyson hair dryer—they're the two hot tools everyone is talking about, but which is best?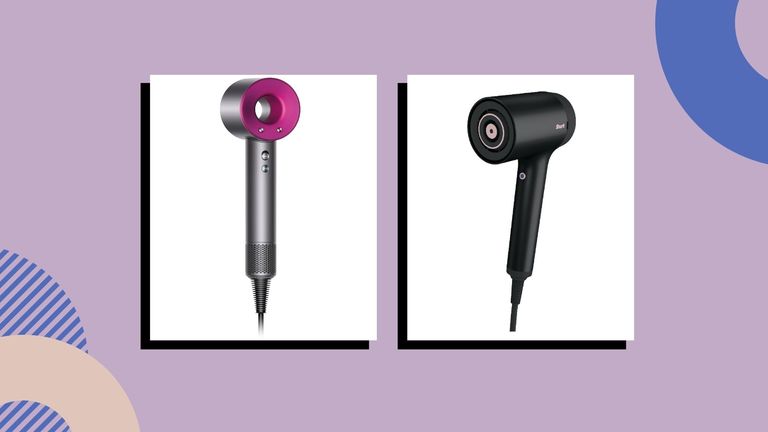 (Image credit: Future)
If you're weighing the benefits of a Shark vs Dyson hair dryer, we can help with that. Good hair days often begin with the best hair tools, but being the best is by no means an easy feat. These days, a great hair dryer needs to go above and beyond—smoothing strands, eliminating frizz, delivering salon-worthy results—all while maintaining the health of our hair. And the latest tools making waves in the industry do exactly that. Enter: the Dyson Supersonic and Shark hair dryer.
Two technology giants, both renowned for their vacuum cleaners, have broken into the beauty industry with high-tech models that are frequently hailed as the best hair dryers on the market. First came the Dyson Supersonic Hair Dryer in 2016, which revolutionized the hair dryer industry with a sleek device that dried hair in seconds thanks to its clever airflow technology. Next, landed the Shark hair dryer (or the Shark STYLE iQ Ionic Hair Dryer & Styler to use its full name) another super-smart hair tool to challenge the Dyson for your bouncy blow dry.
Both deliver excellent results, but which one is best? We've put them head-to-head to find out…
Shark vs Dyson hair dryer review
Specifications comparison
| | Shark STYLE iQ Ionic Hair Dryer | Dyson Supersonic |
| --- | --- | --- |
| RRP | £229.99 | £299.99 |
| Weight | 730g | 659g |
| Power | 1600W | 1600W |
| Speed settings | 3 | 3 |
| Heat settings | 3 | 4 |
| Cord length | 2.5m | 2.5m |
| Warranty | 2 years | 2 years |
| Available colors | Black and rose gold | Iron and fuschia, black and nickel |
| Extras | 2 intelligent attachments | 5 styling attachments included |
| Review rating | 4/5 | 4.5/5 |
Shark STYLE iQ Ionic Hair Dryer & Styler £
Shark STYLE iQ Ionic Hair Dryer & Styler £229.99 £179.99 (save £50) | Shark
Shark Black Friday deals are live including this £50 discount on the Shark hair dryer. The two intelligent attachments will adapt to any hair type, while ions smooth and concentrated airflow negates the need for extreme heat.  
Dyson Supersonic Hair Dryer Special Gift Edition: £299.99 | John Lewis & Partners
Dyson Supersonic Hair Dryer Special Gift Edition: £299.99 | John Lewis & Partners
This limited edition is now sold out on Dyson's site but UK shoppers can still get their hands on the stunning navy and gold limited-edition gift set at John Lewis. As well as the five styling attachments, this set includes a paddle brush, comb and holding case ideal for traveling with your hair dryer. 
Design comparison
Shark STYLE iQ design
The first thing you'll notice when considering the Shark vs Dyson hair dryer is probably some visual similarities between the two. The small barrel shape of the Shark resembles that of the Dyson and, as with the Dyson, you'll find the heat and airflow control settings on the barrel, while the power switch is placed on the handle. There are three heat and airflow settings to choose from (low, medium, and high) that allow you to customize the speed and heat to suit your hair type and desired home blow dry.
The Shark style iQ comes complete with two attachments (a nozzle and a diffuser), which magnetically attach to the barrel—just like the Dyson. The difference is, however, that the Shark recognizes which attachment is connected and alters the heat and speed settings accordingly to give you the best results. Clever, huh?
Weighing 730g, the Shark hair dryer is heavier than its competitor but lighter than most traditional hair stylers on the market. After giving it a whirl, we must admit that we did notice the weight and expected it to feel less bulky. In saying this, it's easy to maneuver—thanks to the small, compact design. Take your pick from two stylish colorways, black or rose gold.
Dyson Supersonic design
Before Dyson Supersonic landed on our shelves back in 2016, hair dryers had been built with large heads carrying bulky motors. Dyson changed this. Their team of engineers created a small, powerful motor that they positioned in the handle resulting in a less top-heavy device that's far lighter, weighing just 697g, and easier to control.
Aesthetically, the Supersonic has a futuristic, sleek design that's unrivaled in the hair dryer market, which is one of the reasons Dyson hair dryer deals are as rare as hen's teeth. The signature slate gray barrel, featuring fuchsia pink details and gunmetal buttons, is a beauty to behold and will elevate any dressing table. On the barrel, you'll find three heat settings (60C, 80C, and 100C) and three airflow settings, while on the handle, there's the power switch and a cold shot setting that's ideal for anyone who wants to know how to get shiny hair.
After testing it out, we can confirm that the Supersonic has the edge in the Shark vs Dyson hair dryer design stakes, it feels as good as it looks. Easy to maneuver and super lightweight—the quiet yet powerful styler dries hair quickly without weighing your arm down.
Technical Performance Comparison
Shark STYLE iQ technical performance
Small in size but mighty in power, the Shark Style iQ gets to work quickly, drying hair in a matter of minutes. For best results, we recommend rough drying your hair first with a towel before selecting your preferred style attachment (more on those later). As well as speed, the Shark scores well for noise—although we could hear it more than we could the Dyson, it's impressively quiet, especially when you compare it to traditional hair dryers.
In terms of results, hair is left looking visibly sleeker with a more polished finish (as compared to air drying hair). This is thanks to the Shark being an ionic dryer, whereby it gives off negative ions to counteract water's positive ions. As a result, heat is evenly distributed, closing the hairs' cuticle and removing moisture for a smoother look. This would make it an excellent choice for anyone with frizzy hair or a curly hairstyle who likes to blow dry it smooth.
Dyson Supersonic technical performance
Super in name, super in nature—the Dyson Supersonic is powered by a motor that's six times faster than that of the average hair dryer. This high speed produces a stream of controlled air that dries strands in second, without having to rely on extreme heat that ultimately damages hair. Anyone with a long hairstyle who usually spends ages drying will appreciate this.
When using the techy tool, you'll notice how it doesn't feel that powerful compared with other high-tech dryers like the ghd Helios. Rather, you get a steady stream of air at a targeted angle that smooths the cuticle without much noise (or heat). As well as cutting down drying time, hair looks and feels healthier after continued use.
User Experience Comparison
Shark STYLE iQ user experience
The Shark hair dryer comes with two savvy attachments, the concentrator, and the diffuser—both of which can be customized to suit your hair type. For the concentrator, you can either pick pre-style mode, which opens the nozzle for an all-over rough dry), or precision styling mode, which narrows the nozzle for a sleek result). Both modes really work and are super useful for when you want to customize your look.
Then there's the diffuser which features adjustable prongs which can be retracted for short hairstyles or extended for medium hairstyles or longer. You also needn't worry about mastering how to use a diffuser, the temperature automatically adjusts when you change the styling attachment. So, for instance, if you have curly hair and go for the diffuser—the heat will be less and gentler.
Both attachments connect magnetically and are easy to maneuver (thanks to the small barrel). We did find that the diffuser is slightly trickier to connect and doesn't stay in place as well as the concentrator does though.
Dyson Supersonic user experience
Ergonomic and compact, the Dyson Supersonic is a joy to use. You'll be surprised every time you pick it up just how light it is. Unlike traditional hair dryers, you'll never have to worry about aching wrists or arms—which is great news for those of us with longer, thicker hair that can take a little longer to dry.
As well as being comfortable to hold, the standard device comes with five magnetic styling attachments to create various styles and finishes. There's a styling concentrator, smoothing nozzle, diffuser, wide-tooth comb, and gentle air attachment for scalp care. All connect themselves magnetically and are easy to remove—albeit sometimes a little too easy when they come off by accident— but we'll take it for no more faffing around bits of plastic.
Results Comparison
Shark STYLE iQ results
In terms of results on the hair, we didn't see too much of a difference in the Shark vs Dyson hair dryer. With a modern, functional design and powerful motor, the Shark Style iQ is a great hair investment. It dries hair quickly and efficiently, smoothing and sealing the hair cuticles with negatively charged ions. After use, hair looks shinier and feels softer. The best part? The intelligent, innovative stylers really create a bespoke hair drying experience, all while cutting down on heat damage.
Dyson Supersonic results
The Dyson Supersonic looks the part and acts the part. Its jet-like motor efficiently dries hair cutting drying time in half while smoothing strands with its use of negative ions. It can also create a variety of looks—from bouncy blow-dry when using the gentle flow attachment to sleek and straight (when using the super concentrator). Compared to its competitors, the sleek device is the quietest and lightest we've tried—impressive, considering its mighty power.
The verdict—Shark vs dyson hair dryer
Compared to most traditional hair dryers, the Dyson Supersonic and the Shark Style iQ are a cut above the rest. They both deliver salon-worthy blow-dries using clever ionized technology to eliminate frizz and bolster shine—all while cutting down on drying time with powerful motors.
But if we had to choose between the two (which of course, is the reason we're here), the Dyson Supersonic just takes the lead. Why? Well, first of all, we're completely obsessed with the sleek design that looks the part and makes a statement on any dressing table. It offers significantly more attachments and caters to a wider variety of hair types with five stylers as opposed to Shark's three.

Overall, the Dyson Supersonic steals the show creating a sleeker finish with less frizz when compared to the Shark dryer. The downside? The Dyson is significantly more expensive. If you can spare the extra money, we'd highly recommend opting for the Dyson. If, however, you're looking for a more affordable option—the Shark dryer will not disappoint. Its easy handling and sleek design make it a very good choice.